Play Dough Recipes and
Clay Dough Recipes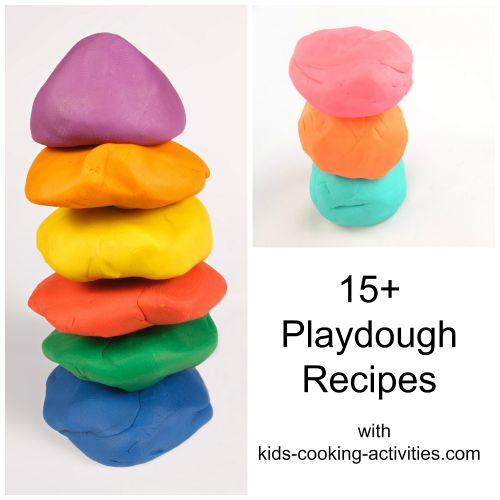 Play dough recipes and clay dough recipes are great fun for kids and allow their creativity to shine.
Allow your child to add the ingredients together when making the dough. Cooking and making the dough from scratch can be as much fun as playing with it.
Kids Craft Recipe Book
Our craft recipe book has 14 recipes that use common ingredients and provide kids with on-going activities after they create the recipe.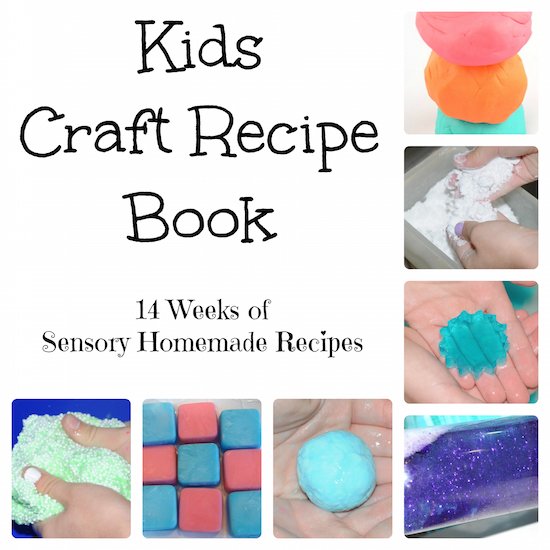 ~This post contains affiliate links and I'll earn a small commission if you shop through them. There is no extra cost to you. This is how we help support our family and continue to bring you amazing content. To learn more see the
advertising disclosure here.
~
Play Dough Recipes
Any basic dough recipe has flour, salt, oil, and water. Then you can add an essential oil for a calming scent and food coloring if desired.
Best Play Dough Recipe
2 Cups flour
1 teaspoon salt
4 teaspoon cream of tartar
2 Tablespoons vegetable oil
2 cups water
10-15 drops Food coloring or powdered tempera paint(optional)
2 teaspoons vanilla or peppermint extract (optional)
Mix all ingredients in saucepan. Cook over low heat until it just begins to look dry (not completely). Take out of pan and place on bread board or counter top. When cool enough to touch, knead until smooth and pliable.
Pumpkin Pie Play Dough Recipe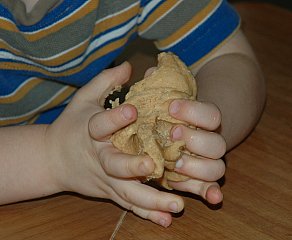 Double the
recipe above
and add the following ingredients:
1 container -1 ½ ounces of pumpkin pie spice
orange food coloring
Follow the directions to make the dough as the recipe above.
Sawdust Dough
2 Cups sawdust
1 Cup flour
1 Tablespoon glue
Hot water or liquid starch
Moisten with water or starch until modeling consistency is reached. When formed into desired objects you can allow to dry until hard and then paint, if desired.
Coffee Ground Play Dough Recipe
2 Cups used coffee grounds
1 1/2 Cups cornmeal
1/2 teaspoon salt
Add enough water to moisten. Has a very different feel and look. Not good for finished products.
Uncooked Play Dough Recipe
1 Cup flour
1/3 Cup salt
1/3 - 1/2 Cup water
2-3 drops food color
3-5 drops of either liquid detergent or vegetable oil
Mix the flour and salt in a large bowl. In separate bowl, mix all liquids together, and then slowly add to the dry ingredients. Knead to mix, adding more water by teaspoons if necessary for proper consistency. Store in air tight container in the refrigerator.


Kool-Aid Play Dough
2 Cups flour
1/2 Cup salt
2 Tablespoon vegetable oil
2 pkgs. unsweetened Kool-Aid or 1 small package of Jell-o gelatin
2 Tablespoons cream of tartar
2 cups boiling water
In a saucepan stir flour, oil, Kool-aid, salt and cream of tartar. Add water. Stir over medium 3-5 minutes. Continue to stir until ball forms then take off heat. Allow to cool and knead several times. Store in plastic container or Ziploc bag.


Flour Dough
6 Cups flour
Powdered tempera
1 1/2 Cups vegetable oil
1 Cup water
Mix the flour with the desired color and amount of powdered tempera. Add the vegetable oil and water and knead well. If necessary, add more water in small amounts until the dough is soft and elastic. Store dough in a refrigerator in a covered container.


Soap Dough Recipe
2 Cups soap flakes
1/4 Cup water
Put soap flakes in a large bowl. Add water and squish and squeeze until mixture is all damp and squishy. When mixture sticks together, it's ready to sculpt. Figures become firm in refrigerator. Then allow to dry completely before handling. Can be painted when dry.
Making Stove Top Playdough
Edible Play Dough Recipes
Edible Peanut Butter Play Dough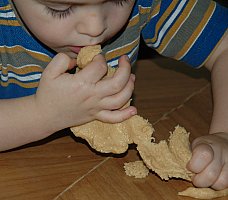 18 ounce jar of peanut butter
6 Tablespoons honey
¾ Cup Nonfat dry milk
Mix three ingredients to form into a workable dough. Enjoy playing. You can decorate with raisins and then eat if desired.
Peanut Butter Oatmeal Dough
2 Cups creamy peanut butter
2 Cups oats
2 Cups dried milk
2/3 Cup honey
Mix all together in mixing bowl until well blended.
Oatmeal Play Dough
1 Cup flour
2 Cups oatmeal
1 Cup water
Mix ingredients together and kids can mold and create with the dough.
Yummy Edible Play Dough Recipe
1 1/4 Cup confectioners' sugar
1 1/4 Cup powdered milk
1 Cup corn syrup
1 Cup peanut butter
Mix ingredients together in bowl. Kids can mold, create and eat when finished.
Clay Dough Recipes
Sand Clay Recipe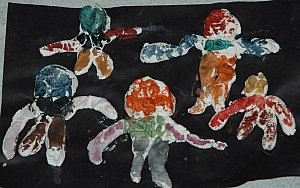 2 Cups sand
1 Cup water
1 Cup cornstarch
Mix in pot over low heat until thickened. Let cool and mold into shapes. Dry and paint if desired.
Salt Clay Recipe
2 Cups salt
1 Cup + 2 Tablespoons water
1 Cup cornstarch
Mix salt and 1/2 cup water in heavy saucepan. Cook over medium heat, stirring constantly until salt dissolves. Remove from heat. Combine cornstarch and remaining water and add it to the salt water. Cook over low heat until mix is thick and smooth. This happens quickly. Spoon the clay onto table or board to cool. Store air tight. It will harden in the sun and can be painted, if desired.
No Cook Salt Play Dough Recipe
1 cup salt
1 cup flour
1 table spoon oil
food coloring or powdered tempera paint (if desired)
water
Mix dry ingredients in a bowl. Put water into a cup and add food coloring. Slowly add water into the mixture of dry ingredients until desired consistency and color is desired. Store in an airtight bag and store in the refrigerator.
Modeling Clay
1 Cup cornstarch
2 Cups baking soda
1 1/2 Cup cold water
Food coloring
Stir starch and soda together. Mix in cold water and stir over heat until mixture has a consistency of mashed potatoes. Turn onto a plate and cover with a damp cloth until cool enough to handle. Then knead. Use immediately or store in an airtight container. This dough has a smooth consistency good for ornaments, modeling or pottery. Dries at room temperature in 3 days or oven at 200 degrees. Bake time will depend on the size of your ornaments but could take up to 2 hours.
Clay Dough Idea
Using a clay dough recipe you can create your own jewelry. Children can roll into balls for beads. Pierce each with a toothpick for hole to thread onto string. Air dry and then paint.
Submit your favorite kids recipe
Do you have a favorite recipe your kids love to make? Or a recipe your kids ask you to make again and again? Share it with us!
Reader's Submitted Recipes
Click below to see contributions from other visitors to this page...

Jessica's Tutti Fruitti Play Dough
I made homemade play dough with fruit to color it. I wanted to try something new instead of using food coloring or Koolaid to color my dough. I had to …
Edible Fun Dough
This fun dough is just as much fun to make as it is to mold and then...eat! Your child can mix these ingredients up with their hands (that's right- let …
Fun Playdough Recipe
I did a 1-wk cooking camp at school last year-and the kids were so interested in simple things, like separating an egg, making mayonnaise and cooking breakfast …
---
Related Craft Recipe Pages:
~
Kids Craft Recipes
, ~
Arts and Crafts
, ~
Homemade Bubbles
, ~
Edible Crafts
, ~
Playdough
, ~
Dough Ornaments
, ~
Potpourri
, ~
Silly Putty
, ~
Finger paint
, ~
Homemade paint
---
Follow Kids Cooking Activities