Edible Crafts for Kids
Edible crafts for kids are great for using as a craft project and eating it for snacktime. Most of these ideas can be used for preschool-grade school kids individually, at playgroup or just as fun activities. Whatever level they are at, you can make these activities easier or more complex.
Kids Craft Recipe Book
Our craft recipe book has 14 recipes that use common ingredients and provide kids with on-going activities after they create the recipe.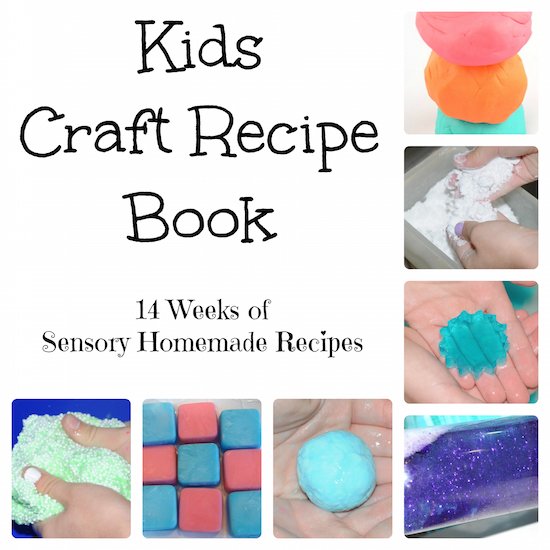 ~This post contains affiliate links and I'll earn a small commission if you shop through them. There is no extra cost to you. This is how we help support our family and continue to bring you amazing content. To learn more see the
advertising disclosure here.
~
Edible Food Crafts
Edible Candy Mosaic
You will need:
jellybeans, M&Ms, skittles or other colorful round candies
frosting for "glue"
large rectangle cookie or graham cracker, for your "canvas"
Frost cookie with frosting. You can use a cookie cutter to imprint a design and fill it in with your candy or make a freestyle design.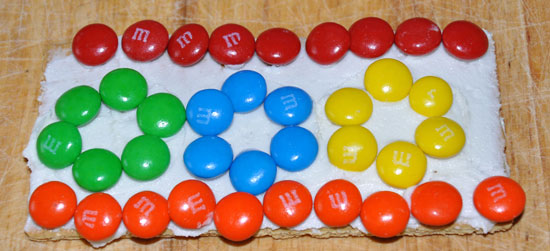 Painted Toast
Paint a slice of bread with colored milk and toast. Simple and fun project. Add making your own butter to this for even more cooking fun.
Painted Toast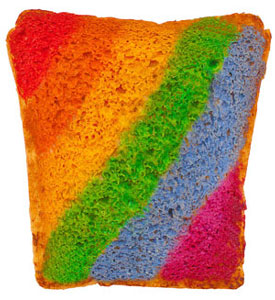 Chocolate Bowl
Edible Chocolate Bowl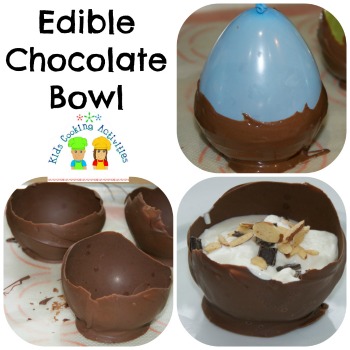 Cupcake Bouquet
Make an edible floral arrangement with cookies on a stick or
frosted cupcakes.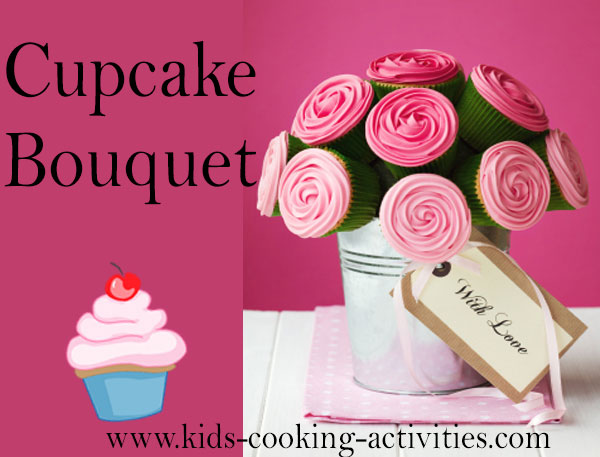 Layered Snack Treat Jar
Layer snacks in a jar for a pretty sand art look. These make great gifts that kids can create or a fun snack for kids. Try snacks such as nuts, raisins, craisins, M&M's, dried cereal and dried fruit. It is like a trail mix in a jar.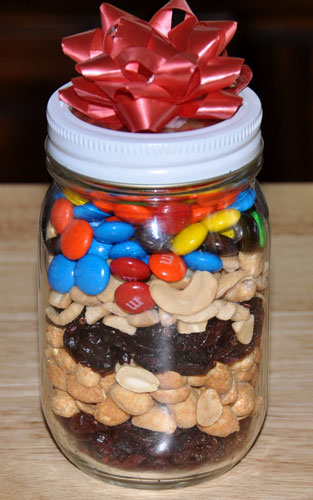 Candy Wreath
This edible Christmas craft makes a great holiday decoration or change the color of wrapped candy to match the holiday.
Here are the directions on making a
candy wreath.

Dirt Cups
A fun edible crafts for kids recipe! In a plastic cup, add chocolate pudding. Add gummy worms poking out of the top. Crush chocolate sandwich cookies and sprinkle on the top to resemble dirt.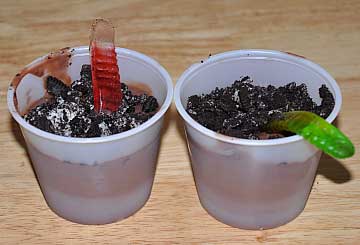 How about a
whole dirt cake with gummy worms?
Birds Nest
How to make an
edible bird's nest.

Edible Playdough
Try an
edible playdough
that kids can create masterpieces and then eat.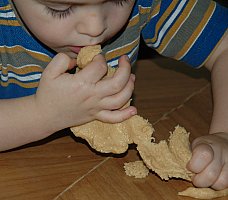 Edible Gum Drop Tree
Using a Styrofoam cone, poke toothpicks over cone with at least an inch of toothpick sticking out. To make a vegetable cone, cook vegetables several minutes to make softer and easier to stick into toothpicks. Poke vegetables into toothpicks creating a edible vegetable tree. Try broccoli, cauliflower, carrot chunks, cherry tomatoes or cucumber chunks. (don't cook tomatoes or cucumbers)
To make an edible candy craft tree use marshmallows, colored or white, circus peanuts, gum drops or gummy candy. Any soft candy works well.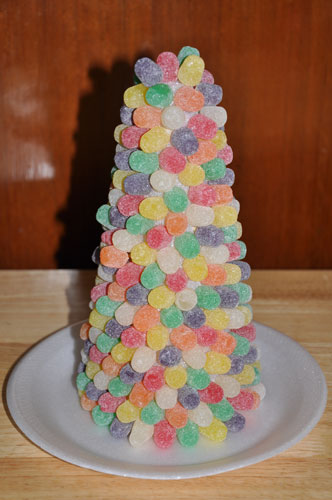 Edible Bracelet
To make a bracelet use circle shaped cereal strung on licorice strings or for an edible candy craft use lifesavers or gummy savers. Tie a knot on the end and wear as a bracelet.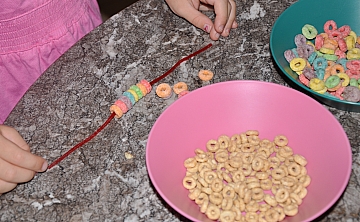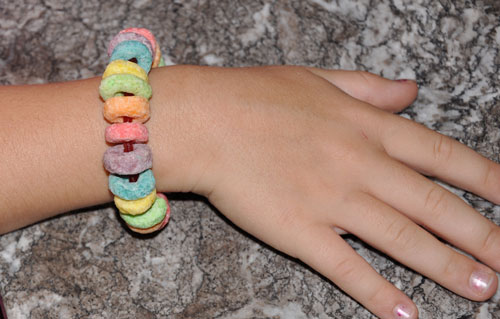 ---
Make teaching easier with our activities and recipes compiled in one easy to read format.
---
More Edible Crafts for kids
Apple Flowers
Apple Flowers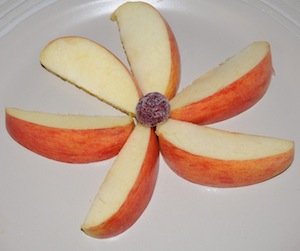 Jelly Bean Bracelets or Necklaces
GRAHAM CRACKER HOUSES
by Sheila (US)
One house of your very own design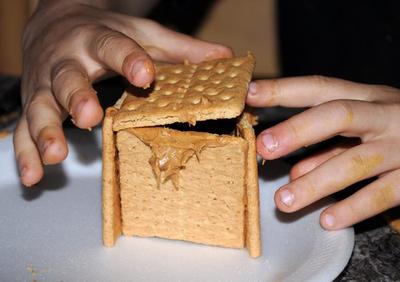 4 or more graham cracker rectangles
1/2 cup peanut butter
Various tubes of decorating icing
Candy shapes like gumballs, gumdrops, chocolate chips, Hershey's Kisses, M&M
Candies
Cookie decorations like candy sprinkles, stars, and silver balls
Place a graham cracker on a flat surface.

Spread a thin layer of peanut butter along all four edges.
Stand another graham cracker upright on one edge and proceed with another graham cracker on another edge.
Keep building using your peanut butter as "glue" to create the house of your dreams.
Add decorating icing, candies, and sprinkles to complete your house.

Put your house on display or eat it up!
More Edible Crafts
Rainbow Noodles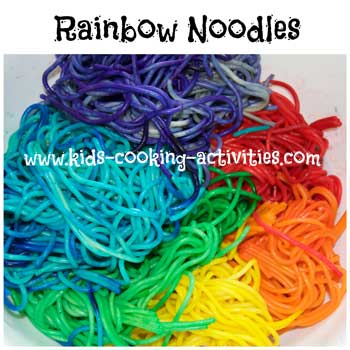 Edible Dominoes

Edible Wreath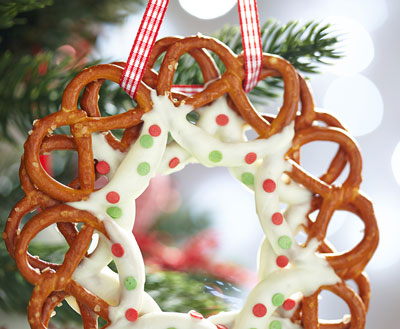 You will need:
pretzel knots
white chocolate or chocolate melts
sprinkles
ribbon for hanging
On a sheet of wax paper, layer pretzels into a wreath shape overlaying the pretzels on top of each other. Melt chocolate in 30 second intervals in a microwave safe dish. Stir after each interval until chocolate is completely melted.
Pick up pretzels one at a time and dip the ends into the white melted chocolate. Place pretzel back in place creating a wreath. Work quickly so chocolate won't set while you are working.
Add sprinkles to wet chocolate and let set. Tie a ribbon around the top when chocolate is set.
More Edible Craft Ideas
Find more edible crafts on our
theme ideas page
and
fun with food
.
Animal Theme Food Ideas

Jar Mixes

You can create cookie mixes, pancakes mixes, soup mixes or cake mixes that resemble sand art.
Jar Mix Recipes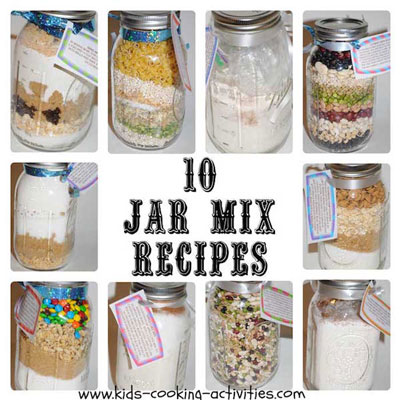 Edible School Supplies
Do you have an edible crafts for kids to share?
Do you have a craft recipe to share?
Share it!
Reader's Submitted Recipes
Click below to see contributions from other visitors to this page...

Ridiculously Healthy Slime Not rated yet
1 avocado 1 juice of a lemon freshly squeezed 1 pear 1 tablespoon aldi manuka honey Perfect to encourage kids to eat healthy! Juice a lemon, …
Surprise Ice Cream and Oreos Gift Not rated yet
Surprise Pot Why the recipe's name is surprise pot you will come to know at the end. Ingredients: cake slices of your choice (3/4 slices) 1 C vanilla …
Edible Domino Cookies Not rated yet
For this edible craft you will need: Rectangle shaped cookies or crackers Frosting or other spread Raisins, Mini M&M candies or other small circle …
---
Related Craft Recipe Pages:
~
Kids Craft Recipes
, ~
Arts and Crafts
, ~
Homemade Bubbles
, ~
Edible Crafts
, ~
Playdough
, ~
Dough Ornaments
, ~
Potpourri
, ~
Silly Putty
, ~
Finger paint
, ~
Homemade paint
---
Follow Kids Cooking Activities