Cook in A Pumpkin Ideas
I've been collecting these cute little pumpkins as I go to the grocery store and I'm thinking of doing dinner in a pumpkin. I think it would be really fun for each member of the family to have their own pumpkin "bowl". We could make it a whole fall celebration with dinner in a pumpkin, apple cider and pumpkin bars for dessert. Maybe watching a movie together eating toasted pumpkin seeds. Sounds like a pumpkin date!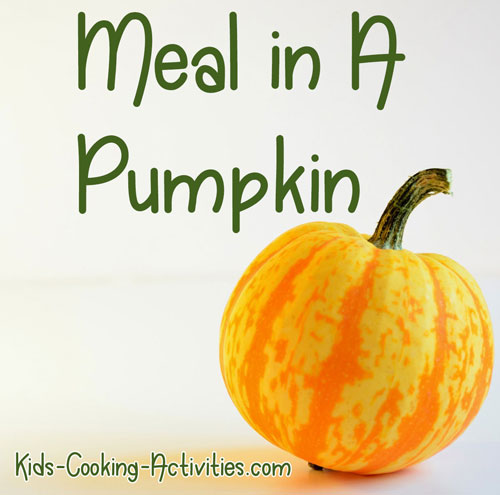 Kids Cooking Activities Teaching Materials
Make teaching easier with our activities and recipes compiled in theme sets and books with an easy to read format
Perfect for teaching!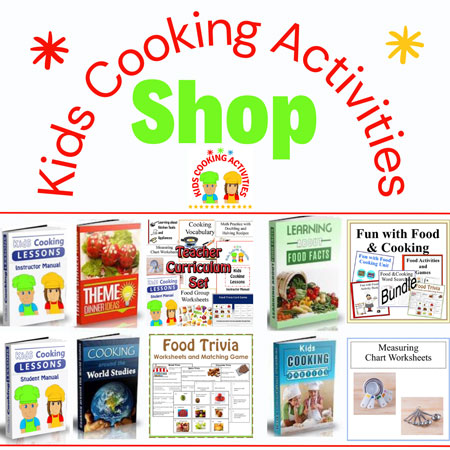 ~This post may contain affiliate links and I'll earn a small commission if you shop through them. There is no extra cost to you. This is how we help support our family and continue to bring you amazing content. To learn more see the
affiliates disclosure here.
~
Dinner in a Pumpkin
1 small-medium pumpkin
Try serving your favorite soup recipe in a pumpkin! This looks great in the middle of the dinner table. Just scoop out and serve.
Cut top off pumpkin, scoop out seeds and strings. Prepare your favorite soup or stew recipe or try some of
our soup recipes.
Place hallowed out pumpkin on a cookie sheet.
Pour prepped dinner into pumpkin. Cook until pumpkin is tender.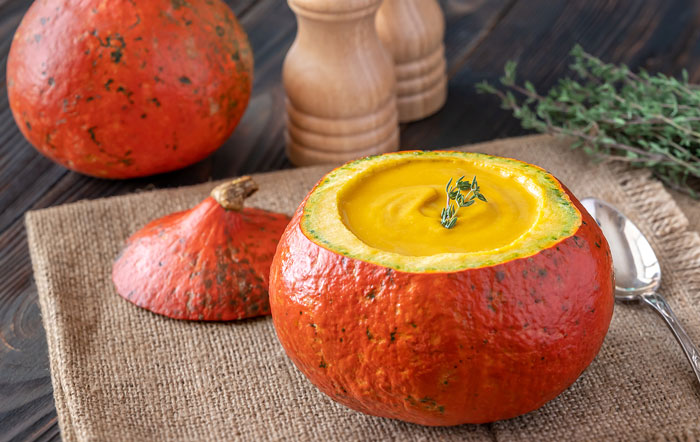 Some Great Ideas for Dinner in A Pumpkin:
Chicken and Nut Stuffed Pumpkin Dinner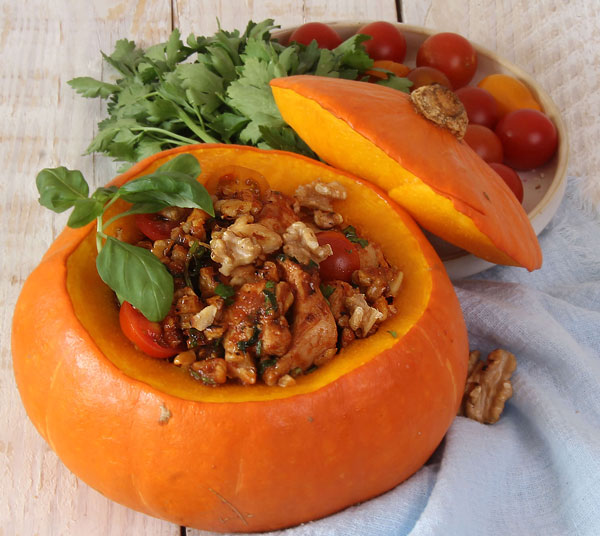 Ingredients:
1 3 lb. Sugar Pumpkin
6 oz. roasted walnuts or other nuts of choice, optional
1 T. olive oil
1 medium sweet onion, diced
1 lb. boneless, skinless chicken breast, diced into bite-size pieces
3 garlic cloves, minced
7 oz. tomato puree
1 C. water
1 oz. fresh basil, chopped
1 oz. fresh parsley, chopped
6 oz. cherry tomatoes
Sea Salt, to taste
Black Pepper, to taste
Directions:
1. Preheat oven to 375° F
2. Using a sharp knife, remove top from pumpkin in one piece and set aside. Remove seeds and stringy pulp from inside pumpkin using a spoon or scoop. Replace lid on pumpkin. Place on a parchment lined baking sheet. Bake at 375° F for approximately 45 minutes until slightly softened. (time will depend on actual size of the pumpkin). Remove from heat and carefully remove lid and set aside to cool slightly.
3. Meanwhile while pumpkin is roasting, toast nuts in dry skillet 5-6 minutes over medium heat until fragrant. Stir often and watch carefully to prevent burning. Remove from heat and set aside.
4. Add oil in large deep skillet. Add onion. Cook, stirring occasionally, until onions become slightly soft and translucent.
5. Add diced chicken and saute' until golden brown.
6. Add garlic, tomato puree, and water. Cover skillet with a lid and simmer over low heat for approximately 20 minutes.
7. Ladle filling into pumpkin. Add chopped nuts, herbs, and cherry tomatoes, reserving a few for garnish. Season with salt and pepper to taste.
8. Return pumpkin to oven and roast for another 20-25 minutes.
9. Serve warm. Enjoy!
Dessert Pumpkins
Put those cute little mini pumpkins to use by serving dessert inside. Hallow the insides and seeds out and fill with your favorite homemade pudding, mousse or ice cream.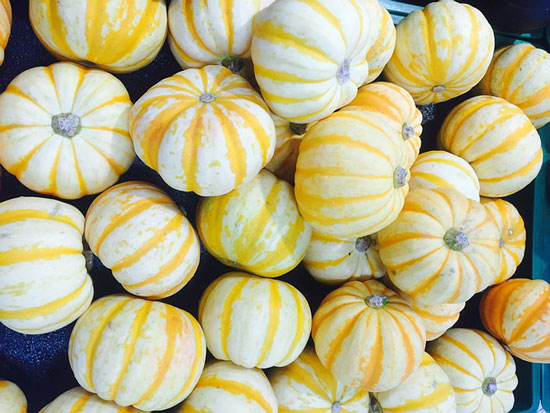 Follow Kids Cooking Activities