Easy Kids Meals with 6 or Fewer Ingredients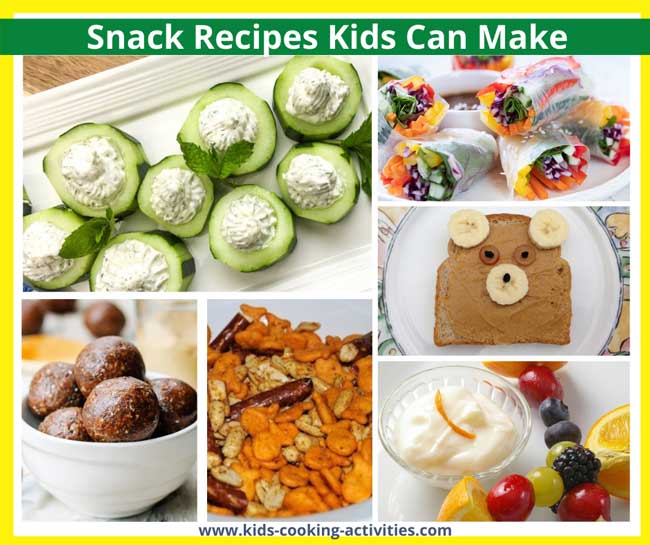 These 6 or fewer easy kids meals were composed with the chef in training age group in mind. To help them continuously learn and practice after the
chef in training cooking lessons.
However they are also great for quick easy meal ideas that your kids can help with. As stated before these kids cooking recipes were composed with 7-11 year olds in mind so you may adjust the recipe directions as needed.
For example, older kids can do the cooking where as younger age groups will not be cooking and do not have the attention span for some recipes. They will do better when given small tasks and helping you create the recipe.
Kids Cooking Activities Teaching Materials
Make teaching easier with our activities and recipes compiled in theme sets and books with an easy to read format
Perfect for teaching!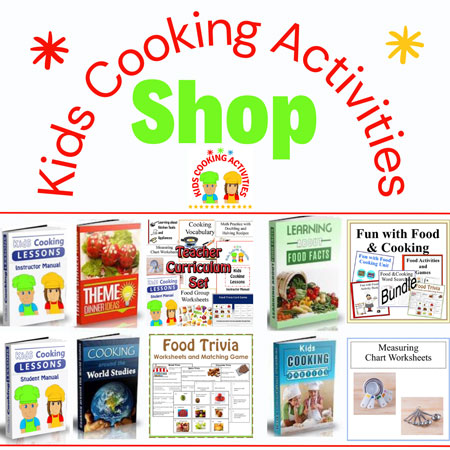 ~This post may contain affiliate links and I'll earn a small commission if you shop through them. There is no extra cost to you. This is how we help support our family and continue to bring you amazing content. To learn more see the
affiliates disclosure here.
~
Easy Kids Meals for Snacks
Quesadillas
2 tortillas
1/4 Cup cheese
Olives or Salsa, optional
Sprinkle cheese on top of tortilla. Add olives or salsa if desired. Place other tortilla on top and bake in microwave for 30 seconds until cheese melts. For a crispy quesadilla, have adult bake in the oven.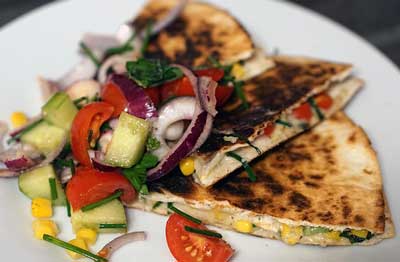 See more
quesadilla recipes
Homemade Apple Leather
Learn how to make
homemade apple fruit leather.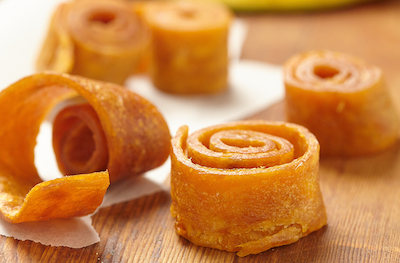 Nachos
On microwave safe plate scatter tortilla chips. Sprinkle with cheddar cheese and melt in the microwave 30 seconds or until cheese is melted. This is a quick easy kids meal that kids can do for an after school snack.
Learn how to make
deluxe nachos
BLT Dip
6 slices bacon
1 Cup Sour cream
1 Cup mayonnaise-don't use miracle whip
1 Cup chopped tomatoes
Crackers
Place a paper towel on a microwave safe plate. Lay bacon on top. Cook bacon in microwave 3-4 minutes or until bacon is crispy. Remove from microwave. Don't forget to use hot pads. Crumble bacon and set 1 teaspoon aside. In bowl add together remaining bacon, sour cream, mayonnaise and tomatoes. Stir to blend together. Cover and refrigerate 1 hour up to 3 hours. Sprinkle reserved bacon on top. Serve with crackers.
See more
dip recipes
Ham and Cheese Roll Ups
Thin sliced ham in rectangular shapes
Cream cheese, softened
1/3 Cup grated cheddar cheese
In bowl combine cream cheese and cheddar cheese. Spread on ham slices. Roll up and cut into bite size pieces. This can also make a great easy kids recipe for lunches.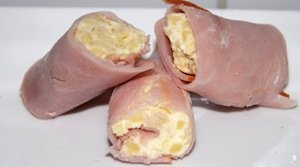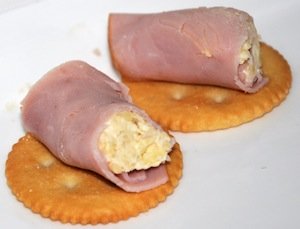 Banana Rollup
See recipes for
banana wraps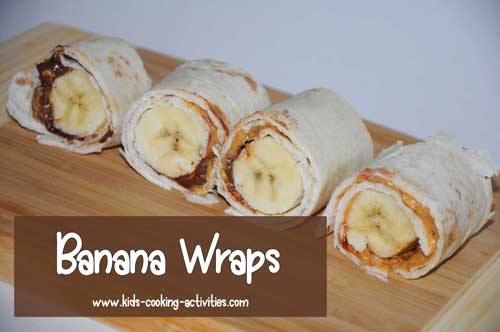 Avocado Crackers
Flavored Popcorn
Pop microwave popcorn according to package directions.
For
Parmesan Seasoning:
Stir together 2 Tablespoons melted margarine and 2 Tablespoons grated Parmesan cheese. Toss with warm popped popcorn.
For Taco seasoning:
stir together 2 Tablespoons melted butter and 1 teaspoon Taco seasoning mix. Toss.
See more
flavored popcorn and popcorn recipes
Banana Balls
1/2 cup cheerios or rice krispies cereal or your favorite, chopped finely
1/2 cup peanut butter
1 banana
Mini chocolate chips, crushed graham crackers or cookies, extra crushed cereal or shredded coconut
In a mixing bowl add cereal, peanut butter and peeled banana. Stir and mash all together. In small bowl add your topping of choice. Form mixture into balls and roll in toppings. Set in fridge until ready to eat or until firm.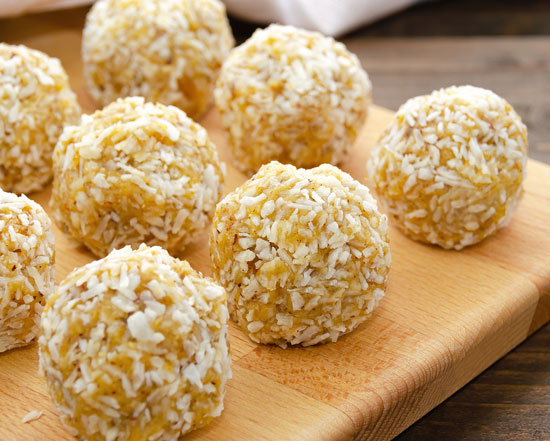 See more Snack Ball Recipes
Pizza Toast
Pizza Toast Recipe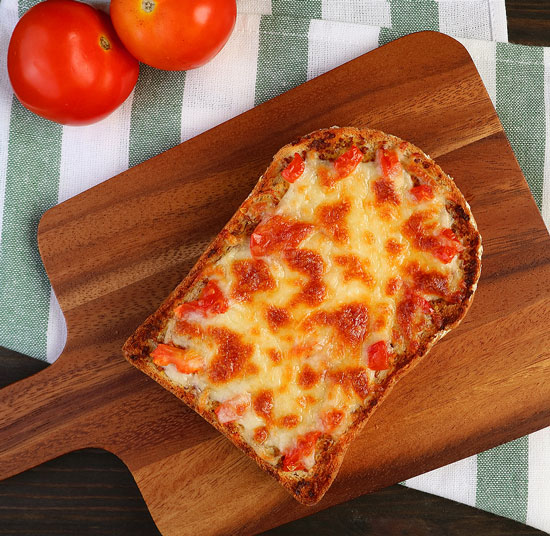 Cereal Snack Mix
3 Cups plain popcorn or pretzels
1 Cup peanuts or mixed nyts
3 Cups Quaker Oatmeal Squares or Chex cereal
3 tablespoons butter, melted
1 tablespoon Worcestershire sauce
Pop popcorn and set aside in a large bowl. Add peanuts and cereal. In separate small bowl mix butter with Worcestershire sauce. Pour over popcorn mixture. Adult should bake at 300 degrees for 15-20 minutes.
See more Trail Mix Recipes
Frozen Yogurt Bites Recipe
Frozen Yogurt Bites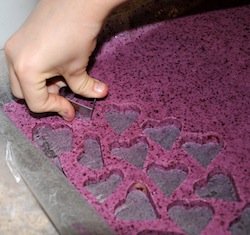 Creamy Fruit Dip
8 ounces cream cheese softened
1/2 cup sour cream
1/4 cup brown sugar
1-2 tablespoons maple syrup
Combine all ingredients together and chill. Serve with fresh fruit.
Homemade Potato Chips
Baking potatoes, thinly sliced by an adult or potato slicer
olive oil or cooking spray
salt
Place thin potato slices on a baking sheet. Spray with olive oil or cooking spray and toss to coat. Sprinkle with salt. Arrange in a single layer. Bake at 350 degrees for 35-40 minutes or until crispy.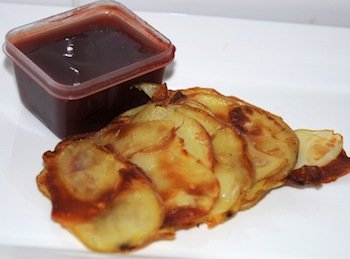 Peanut Butter Dip
1/2 Cup peanut butter
1/2 Cup plain yogurt
2 tablespoons honey
Apple slices, banana slices, celery sticks, carrot sticks or other cut fruit and vegetables
In a small bowl add peanut butter, yogurt and honey. Stir together until well blended. Serve with cut fruit and vegetables of your choice.

See more dip recipes
Banana Chips
Bananas cut in long strips
Place bananas on a sheet of waxed paper lined cookie sheet. Bake for 1 hour at 225 degrees F or until crispy. Allow to cool. Peel off paper and serve with yogurt for dipping or eat as is.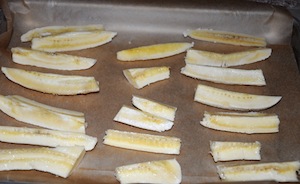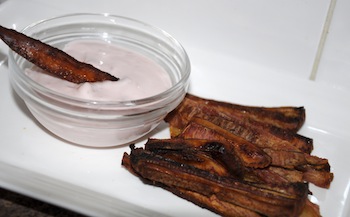 Banana Bites
chocolate frosting or Nutella
chopped nuts, shredded coconut, chopped cookies, etc.
banana
toothpicks
Cut banana in 1 inch slices. Insert toothpick into each slice and place on a sheet of waxed paper lined plate. Freeze 20-30 minutes. This will make it easier to dip. Dip banana slices in chocolate frosting or nutella. Then roll in nuts or coconut whatever you choose. Freeze until firm.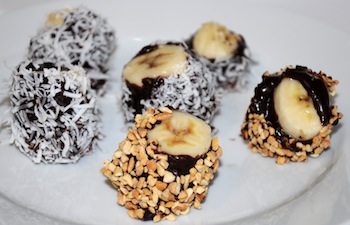 Tortilla Dip
by Sholanda (USA)
Melt two 8 oz bars of cream cheese with one can of rotel tomatoes the microwave for 3 minutes and serve with tortilla chips. * I like to add 1 lb of ground breakfast sausage for a little more substance.
Frozen Yogurt Bites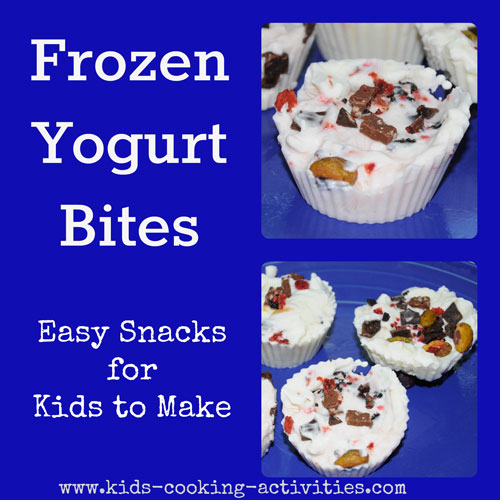 If you need a simple snack that kids can easily put together or maybe a quick after school snack, these are perfect for you! Using your favorite yogurt, berries, chopped fruit and toppings of your choice is all you need.
Ingredients:
Yogurt
Berries or chopped fruit
Toppings: chopped nuts, mini chocolate chips, shredded coconut, etc.
Directions:
Layer silcone cups with yogurt and berries. Top with your favorite toppings. Place in the freezer until solid. Enjoy a frozen mini treat!
More Snack Recipe Pages
See more kids healthy snack ideas.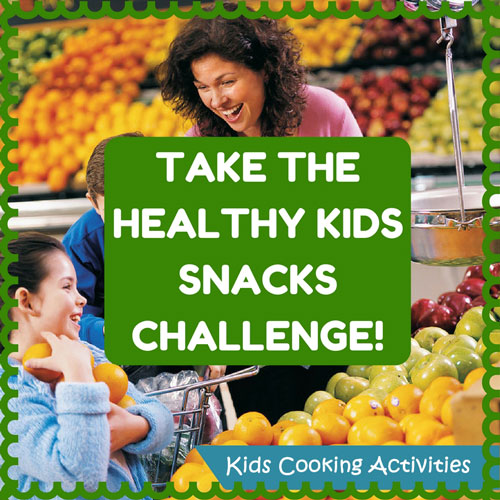 Share your Snack Recipes
Submit your favorite kids recipe
Do you have a favorite recipe your kids love to make? Or a recipe your kids ask you to make again and again? Share it with us!
Reader's Submitted Recipes
Click below to see contributions from other visitors to this page...

---
Related Easy Kids Meals and Ideas:
~
Easy Kids Meals
, ~
Easy Meal Ideas
, ~
Breakfast
, ~
Breakfast 6 or fewer,
~
Side Dishes
, ~
Snacks
, ~
Main Dishes
, ~
Desserts
, ~
No Bake Recipes
, ~
Kids Lunches
, ~
Portion Sizes
, ~
Microwave Meals
, ~
Hidden Vegetable Recipes
, ~
Healthy Kids Meals
, ~
Picky Eater Tips
, ~
Family Dinner
, ~
How to menu plan
, ~
Diabetic
, ~
Toddler Ideas
, ~
Low Calorie
, ~
Gluten Free
, ~
Vegetarian
, ~
Low Carb
---
Follow Kids Cooking Activities