Space Dinner Party
For your space dinner party theme dress in black and tape stars cut out of tinfoil on your shirt. Eat by candlelight and pretend it is the moon light.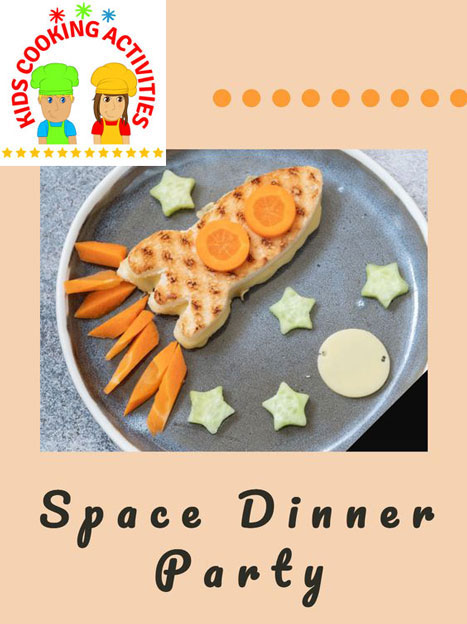 Kids Cooking Activities Teaching Materials
Make teaching easier with our activities and recipes compiled in theme sets and books with an easy to read format
Perfect for teaching!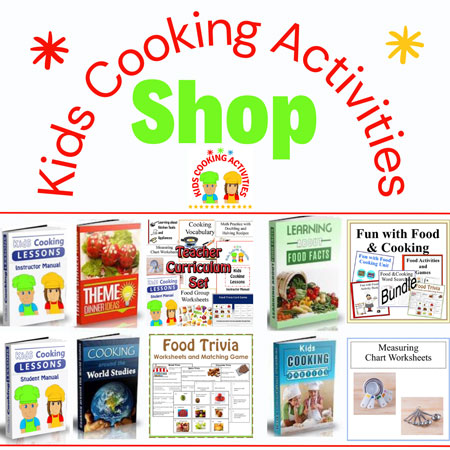 ~This post may contain affiliate links and I'll earn a small commission if you shop through them. There is no extra cost to you. This is how we help support our family and continue to bring you amazing content. To learn more see the
affiliates disclosure here.
~
Space Party Centerpiece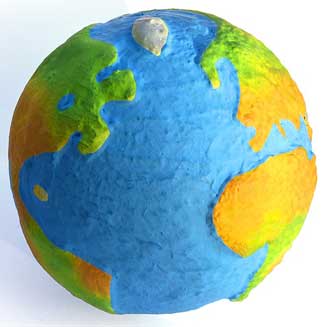 Make a
paper mache
planet. It is very simple to make a round ball with paper mache and a balloon.
Allow to dry and have kids paint their planet however they'd like. Hang above the table or place in the middle of the table.
Space Party Menu
Cheese Ball Planet
2 8-ounce packages cream cheese, allow to soften
1 8-ounce package sharp cheddar cheese shredded
1 envelope onion soup mix-use less if you'd like
1 teaspoon lemon juice
Dash cayenne pepper
1/2 cup pecans or walnuts finely chopped
In a mixing bowl blend together cream cheese and shredded cheese. Blend in onion soup mix, lemon juice and cayenne pepper. Lay a sheet of plastic wrap or waxed paper on the counter. Sprinkle crushed nuts over the plastic wrap. Form cream cheese into a ball. Place cheese mixture on top of nuts. Roll to coat ball with nuts. Serve with fresh sliced vegetables or crackers.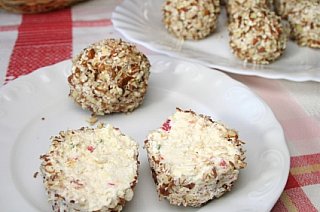 Appetizer Stars
Create a fun appetizer space theme with ham or turkey slices and cheese cut out with star cookie cutters. Also try cutting carrot slices or peppers out of mini star cookie cutters for garnish.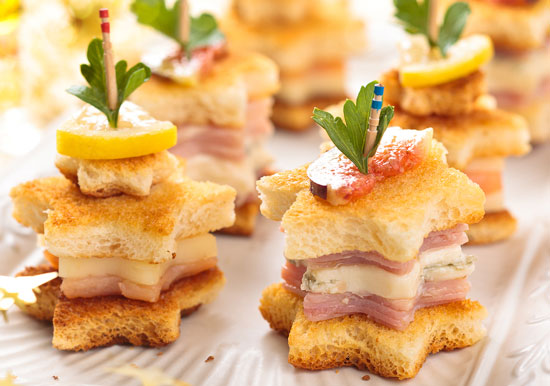 Rocket Ship Scene Lunch
Create a space theme meal by creating sandwiches (grilled cheese in this picture) and add some moon and star garnishes.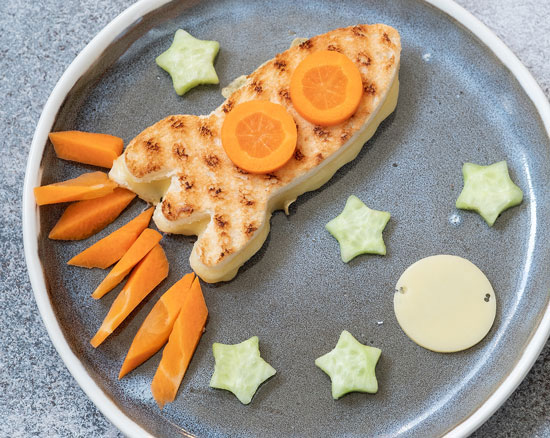 You can buy
space cookie cutters here.
Pinwheel Space Ships
Flatten a piece of bread or use a tortilla. Spread with your favorite filling such as peanut butter and jelly or chicken salad. Roll up and slice. Your sandwiches will look like mini space ships.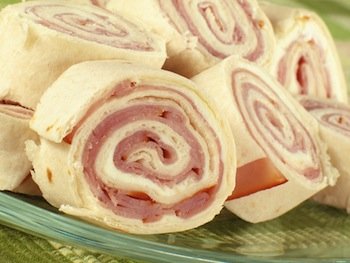 Dessert Planet Ball
Try a
dessert cheese ball
if you'd like that instead.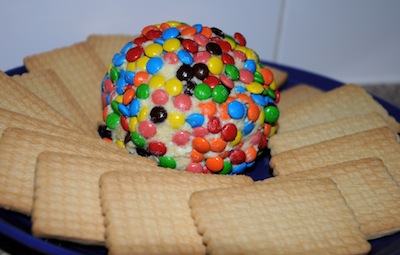 Chocolate Moon Rocks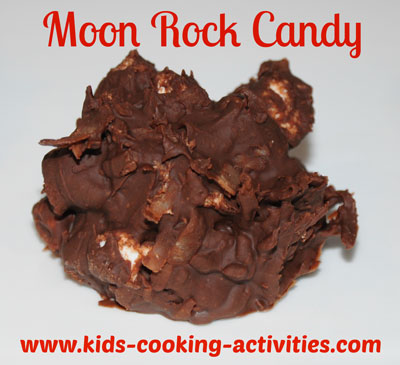 Ingredients:
1 Cup Milk chocolate chips
1 Cup Mini marshmallows
1/2 Cup shredded coconut
Directions:
Melt the chocolate in the microwave in a microwave safe dish. Stirring after 30 second intervals. Then fold in the marshmallows and coconut. Line a cookie sheet with wax paper. Using a muffin scoop, scoop into balls and place on the wax paper. Chill until set. **Makes 6-7 balls.
Create a Rocket Ship Cake
To make a rocket ship or space shuttle, you will need a 13x9 baked recipe that has cooled. Cut it down the middle to create two long rectangles. On your board add foil to the bottom and place one long rectangle towards the bottom of the board.
Cut your remaining rectangle in half. Then one of the remaining halves into 4 triangles as shown in diagram.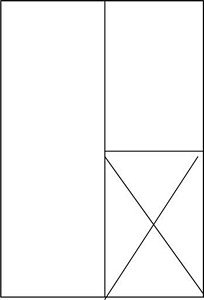 Place the rectangle half above your longer rectangle for the rocket body. Add a triangle for the pointed top. Add another triangle to each side of the bottom of the rocket. Add a crumb coat and allow to sit several hours.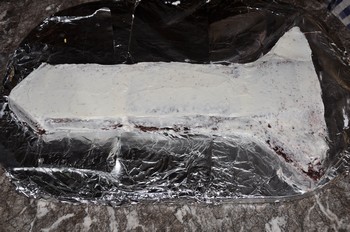 Decorate as you'd like adding whatever features you'd like.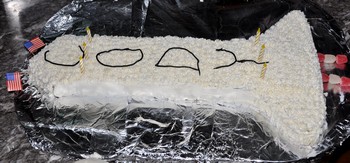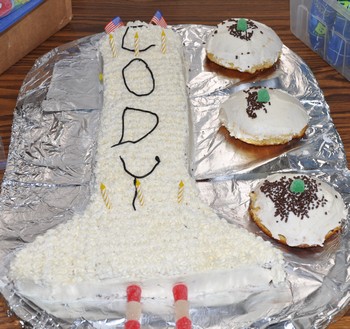 Decorate with piping stars and smoothed sides. Gum drops and flags added for decorations. Space ships mini desserts decorated by the kids.
---
Get all of our Theme Dinner Ideas in
one ebook
, free of ads and easier to use at parties and cooking activities with kids.
30 theme dinner ideas with recipe menu plans, decorating ideas and printable invitations all included in this 83 paged electronic book.
Theme Dinner Ideas
---
Galaxy Cake Pops
Make your own Theme Dinner Party page.
Have you put together your own Theme Dinner Party? Do you have a theme menu or theme dinner idea to share? Tell us about it and we will create your own theme dinner party page.
---
Related Theme Dinner Ideas:
~
Theme Dinner Ideas
, ~
A-Z
, ~
Animals
, ~
Backwards
, ~
Dinosaur
, ~
Disney
, ~
Farms
, ~
Fiesta
, ~
Flowers
,~
Fondue
, ~
Frogs
, ~
Hawaiian Luau
, ~
Homes
, ~
Insects
,~
Italian
, ~
Mother Nature
, ~
Movie Theme
, ~
Mystery Party
, ~
Owls
, ~
Paris
, ~
Penguins
, ~
~Princess and Prince Dinner
, ~
Princess Tea Party
, ~
Rainbow
, ~
Reindeer
, ~
Sleepover Party
, ~
Snakes
, ~
Snowman
, ~
Space
, ~
Sports
, ~
Sunflowers
, ~
Teddy Bear Tea Party
, ~
Transportation
, ~
Under the Sea
, ~
Western Cowboy
---
Follow Kids Cooking Activities