Seeds Facts
Seeds facts and general information about sunflower, sesame and pumpkin seeds.
Kids Cooking Activities Teaching Materials
Make teaching easier with our activities and recipes compiled in theme sets and books with an easy to read format
Perfect for teaching!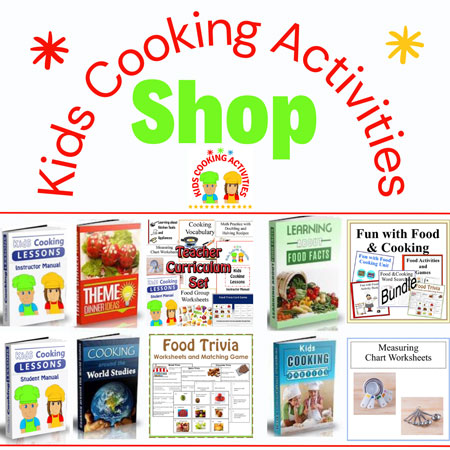 ~This post may contain affiliate links and I'll earn a small commission if you shop through them. There is no extra cost to you. This is how we help support our family and continue to bring you amazing content. To learn more see the
affiliates disclosure here.
~
Seeds are Available:
Year round
How Do Seeds Grow:
Sunflower seeds grow in the sunflower. See picture at top of page.
Sesame seeds grow on a plant.
Pumpkin seeds of course come from inside of a pumpkin.
What to Look for When Buying Seeds:
If buying seeds in their shells look for firm shells with no cracks.
Most seeds are pre-packaged for you.
Storage Tips:
Most all seeds are available pre-packaged and can be stored in the cupboard, fridge or freezer.
How to Cook:
Sunflower seeds, sesame seeds or pumpkins seeds are a great healthy snack as they provide protein and other nutrients. Use seeds as toppings for salads or main dishes.
Nutrition Facts:
Seeds are a good source of protein. They also have iron.
Recipes:
Granola
3 Cups rolled oats
1 Cup slivered almonds
1 Cup cashew nuts
1/2 Cup sunflower seeds or pumpkin seeds
1/2 Cup sesame seeds
3/4 Cup shredded coconut
1/4 Cup +2 T. dark brown sugar
1/4 Cup + 2 T. maple syrup
1/4 Cup vegetable oil
3/4 teaspoon salt
1 Cup raisins or any dried fruit
Preheat oven to 250 degrees. Combine oats, nuts, seeds, coconut and brown sugar. In separate bowl, combine maple syrup, oil, and salt. Combine the two together and pour onto sheet pans. Cook for 1 hour and 15 minutes, stirring every 15 minutes. Remove from oven and add raisins.
More Granola Recipes

Sesame Seed Pistachio Balls
Servings: 3-4
Ingredients:
1 Cup shelled pistachios
1 Cup almond paste
2 Tablespoons coconut oil
1 Cup white sesame seeds
12 pitted dates
whole almonds, for topping or garnish, if desired
Directions:
To prepare the mixture, shell the pistachios and remove the seeds from the dates. Place the dates, almond paste, pistachios, sesame seeds and coconut oil into a food processor. Process the mixture until the pistachios break into small pieces and the mixture makes fine crumbs.
Once ready, take a spoonful of the mixture in your hand and flatten it out. Try to bring the mixture together and form it into a ball by rolling it between your hands. Do not press the mixture too hard while rolling or else it may crumble. Form balls with the rest of the mixture, roll into sesame seeds if desired. Place the balls on a cookie sheet. Place into a refrigerator. Let the balls chill for 1 hour or until the balls become firm. Serve chilled. Add almonds to the top if desired. See more
snack ball recipes.
Kids Cooking Video: Toasted Pumpkin Seeds
Share your food facts and recipes
Do you have a food facts or recipe to share?
---
Related Food Facts Pages:
~
Apple
, ~
Apricot
, ~
Avocado
, ~
Banana
, ~
Berry
, ~
Cherry
, ~
Coconut
, ~
Cranberry
, ~
Dates
, ~
Figs
, ~
Grapefruit
, ~
Grapes
, ~
Kiwi
, ~
Lemon and Limes
, ~
Mango
, ~
Melon
, ~
Orange
, ~
Papaya
, ~
Peach
, ~
Pear
, ~
Pineapple
, ~
Plums
, ~
Tomato
, ~
Artichoke
, ~
Asparagus
, ~
Beets
, ~
Broccoli
, ~
Brussels Sprouts
, ~
Cabbage
, ~
Carrot
, ~
Cauliflower
, ~
Celery
, ~
Corn,
~
Cucumber
, ~
Eggplant
, ~
Garlic
, ~
Green Beans
, ~
Kale
, ~
Lettuce/Salad Greens,
~
Mushrooms,
~
Okra
, ~
Onion
, ~
Parsnip,
~
Peas,green
, ~
Peppers,
~
Potato
, ~
Radish
, ~
Rhubarb
, ~
Spinach
, ~
Summer Squash and Zucchini
, ~
Sweet Potato
, ~
Turnip
, ~
Winter Squash, including Pumpkins
, ~
Beans
, ~
Eggs
, ~
Nuts
, ~
Seeds
, ~
Meat
, ~
Dairy
, ~
Grains
---
Follow Kids Cooking Activities