How to Make Pasta Salad
Learning how to make pasta salad is really as easy as using ingredients you have on hand or using whatever your imagination comes up with. I love pasta salad because it is so versatile. You can switch ingredients easily and create a totally different meal. Try some of these ideas to change up your pasta salad meal.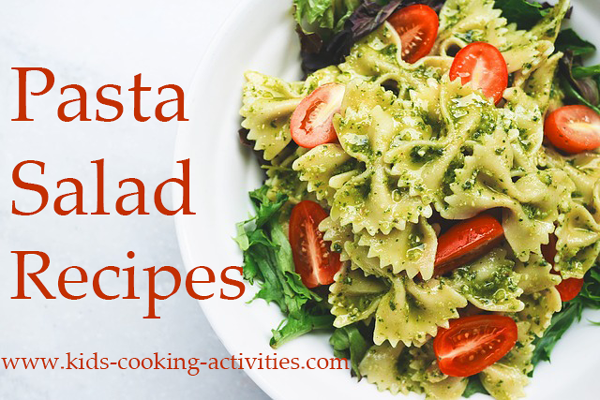 Kids Cooking Activities Teaching Materials
Make teaching easier with our activities and recipes compiled in theme sets and books with an easy to read format
Perfect for teaching!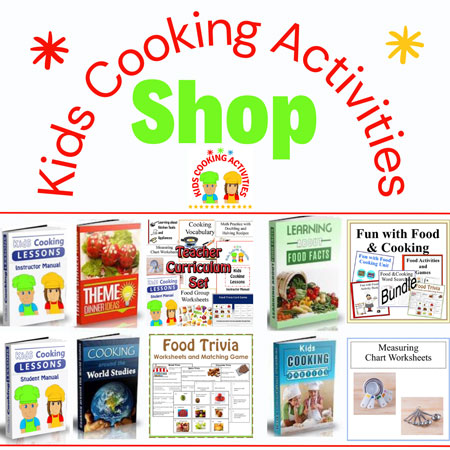 ~This post may contain affiliate links and I'll earn a small commission if you shop through them. There is no extra cost to you. This is how we help support our family and continue to bring you amazing content. To learn more see the
affiliates disclosure here.
~
How to Make Pasta Salad- Ingredient Ideas
Add meat such as diced chicken or beef strips for a full course meal. Also don't forget meats such as crab or tuna.
Try using a different dressing whether it is a mayonnaise based dressing or a vinaigrette you'll get a totally different flavor as well.
Take advantage of the different pasta shapes. You can use bowtie pasta, corkscrew, penne, etc. But don't forget other pasta salad choices such as mini ravioli or tortellini.
Use a lot of color in your salad for more nutrition and eye appeal. Tri color pasta, chopped tomatoes, carrots, black olives all are great color in a pasta salad.
How to Make Pasta Salad Recipes
Tortellini Pasta Salad
Ingredients:
8 oz. frozen tortellini, cooked and cooled
1 cucumber, diced
1 tomato, diced
1/3 Cup feta cheese
1/3 Cup black olives, sliced
1/4 Cup chopped nuts
Olive oil
Salt and pepper
Cook tortellini and allow to cool about 10 minutes. In salad bowl add cucumber, tomato, crumbled feta cheese and black olives. Drizzle olive oil over salad and toss. Sprinkle with salt and pepper. Sprinkle nuts over top.
Pesto Salad
Ingredients:
Cook pasta and drain. Toss with pesto and chopped tomatoes. You can add more chopped vegetables that you like, too.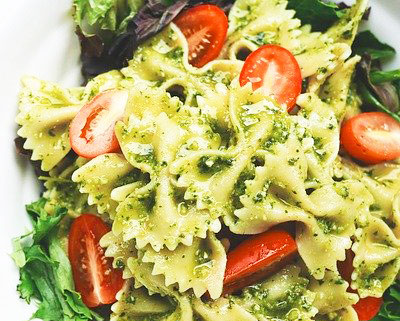 Beef Italian Dressing Pasta Salad
Ingredients: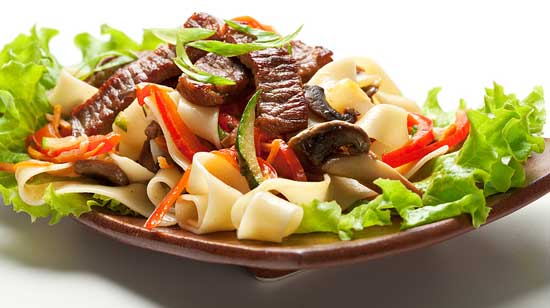 3 Cups pasta cooked and drained
2 teaspoons beef flavor bouillon
1 Cup Italian salad dressing
1 Cup cherry tomatoes, halved
1 lb. Beef strips
2 Tablespoon vegetable oil
6 oz. provolone cheese, cubed
1/2 Cup sliced olives
Brown meat in 1 teaspoon bouillon in oil. Combine meat, pasta, salad dressing and remaining 1 teaspoon bouillon. Let stand 15 minutes.
Add remaining ingredients and mix well. Cover and chill. Serve with grated Parmesan cheese.
How to make Pasta Salad- 7 Layer Recipe
Ingredients:
1 Cup noodles, cooked
3 Cups shredded lettuce or chopped cabbage
3-4 hard cooked eggs, sliced
salt and pepper
1 Cup chopped cooked ham
1 Cup chopped salami
1 pkg. Frozen peas, thawed
½ Cup mayonnaise
¼ Cup sour cream
1 teaspoon mustard
1 Cup cheese
Cook macaroni and rinse with cold water.
In serving bowl , (I like to use a glass bowl so you can see the layers) place lettuce on bottom, top with cooked noodles, cooked chopped eggs, chopped ham, salami and peas.
Combine mayo, sour cream and mustard together and spread over the top. Refrigerate overnight.
Sprinkle with cheese before serving.
Cooking Tips
This needs to be prepared ahead of time and overnight is even better. Cook the macaroni and eggs at the same time while you are shredding lettuce, chopping ham and salami.
Kids are great at washing and shredding lettuce. They can add in the ingredients in the correct layer.
Individual Easy Salad Recipe

Another fun way to serve this is in small individual glass bowls that everyone can have their own layer salad. If they don't like the salad dressing leave it off or use a type they do like.
Mini Layered Salads
Ingredients:
Lettuce
Cooked noodles
Boiled eggs
chopped carrots
Fresh or frozen peas, unthawed
Salad dressing of choice
Cook 1-2 cups of noodles until tender. In a separate pan boil eggs, about one per person. Allow to cool. In a glass cup or clear plastic cups (so you can see the layers), layer lettuce, noodles, eggs, carrots, peas and drizzle with salad dressing.
---
Make teaching easier with our activities and recipes compiled in one easy to read format.
---
How to Make Pasta Salad More Recipes
Ham Pea Pasta Salad
by Tot Snob Kelly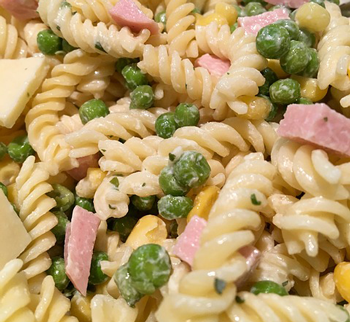 Ingredients:
Any kind of Pasta
Deli Turkey cut up small
Frozen Peas (defrosted in hot water)
Cherry Tomatoes cut in half
Directions:
Toss with olive oil and salt
Mediterranean Grilled Zucchini Pasta Salad
by Faiza
(Pakistan)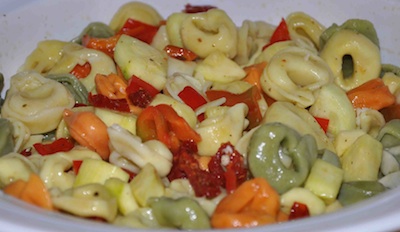 At times, salads turn out to be a real lifesaver. Just like pastas and sandwiches, salads can be prepared with as much time and effort as you wish to give! Try out this salad recipe to give your meal that slight exotic twist!
Ingredients:
2 cups diced prepared smoked chicken sausage
300 grams of prepared frozen cheese filled tortellini
2 medium sized diced red bell pepper
2 medium sized sliced zucchini
2 cups diced cottage cheese
1/2 cup oil-packed sun-dried tomato
1/2 teaspoon garlic powder
Ingredients for the dressing:
1/2 teaspoon dried oregano
2 tablespoons lemon juice
1/2 cup olive oil
3 tablespoons white vinegar (optional)
1 finely chopped garlic clove
Cook tortellini pasta according to the directions on the package. Grease the grill pan with cooking oil. Toss zucchini slices with garlic powder and grill on the greased grill pan on medium-low heat for about 3-4 minutes per side. Squeeze out the excess oil from the sun-dried tomatoes.

To prepare the dressing, whisk white vinegar with olive oil, oregano, lemon juice and garlic powder in a mixing bowl. In large bowl, toss grilled cooked pasta, sun-dried tomatoes and zucchini along with all the other ingredients with the prepared dressing and serve.

Italian Pepper Pasta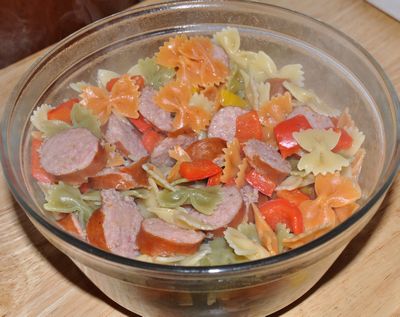 Ingredients:
8 oz. of uncooked bow tie pasta
12 oz. Italian sausage links, cut into 1 in pieces
2 red sweet peppers cut into pieces
1/2 Cup of beef broth
1/4 tsp pepper
Cook the pasta as directed on the package and drain well.
Place the sausage and peppers into a large skillet.
Cook the mixture over medium high heat for 5 minutes, stirring often, or until the sausage is browned and the peppers are tender.
Drain off any fat.
Pour the broth into the skillet.
Stir in the pepper and bring the mixture to a boil.
Reduce the heat to low and cook 5 minutes.
Pour the mixture over the pasta and stir to coat the pasta completely.
Makes 4 servings
Ranch Pasta Salad
An easy recipe with pasta and chopped vegetables. Mixed together with creamy Ranch dressing.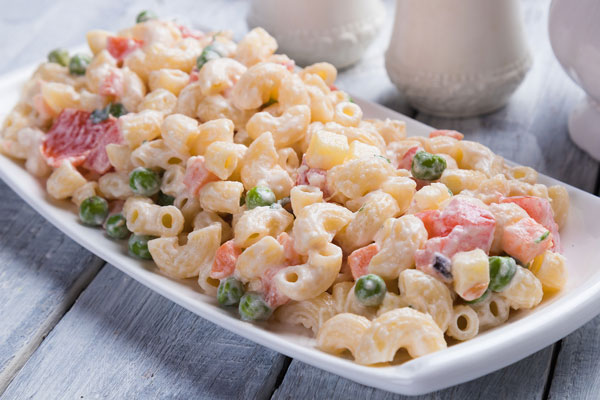 Ingredients:
6 oz. elbow macaroni, cooked
8 slices bacon cooked, cut up
1 large tomato cut up
broccoli, peppers, carrots, whatever vegetables you like
8 oz bag frozen peas
Start with chopping your favorite vegetables into bite size pieces. I use a food chopper. The more bright vibrant colors the better. I have broccoli, yellow peppers, carrots and red peppers.
Cook a package of pasta until tender. I'm using shell pasta here. Mix cooked and cooled pasta with chopped vegetables together in a large bowl.
Stir in 2 Cups Ranch dressing. I like to make
homemade Ranch.
If desired stir in chopped ham or bacon bits. Chill several hours or until ready to serve.
I like to use this
vegetable chopper
for this recipe, because it makes small bite size pieces.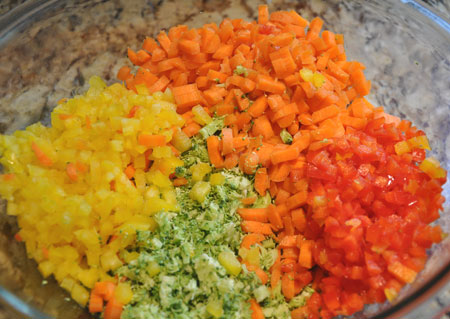 Pasta Salad 4 Ways Video
Do you have a recipe on how to make pasta salad to share?
Submit your favorite kids recipe
Do you have a favorite recipe your kids love to make? Or a recipe your kids ask you to make again and again? Share it with us!
Reader's Submitted Recipes
Click below to see contributions from other visitors to this page...

Garden Pasta Salad
Lemon-Parmesan Vinaigrette 2 tbsp fresh lemon juice 1 tsp lemon zest 1 tbsp white wine vinegar pinch black pepper ¼ tsp paprika ½ tbsp sugar ¼ …
Macaroni Salad
2 cups uncooked elbow macaroni 2 hard-boiled eggs, chopped fine 2 Tbsp chopped crispy dill pickles 1 stalk celery, chopped fine 1 green onion, chopped …
Follow Kids Cooking Activities