Kids Cooking Tips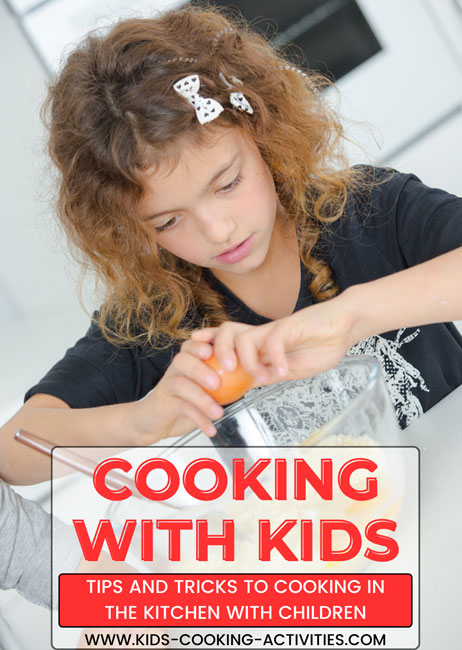 Here are 7 kids cooking tips and ideas on getting kids interested in working in the kitchen.
Kids usually have a genuine interest in baking and creating in the kitchen. It is an activity that sparks their creativity and a desire to want to learn more.
If you can nurture their interest it will grow and kids will learn not only an important life skill but how to eat healthy.
Kids Cooking Activities Teaching Materials
Make teaching easier with our activities and recipes compiled in theme sets and books with an easy to read format
Perfect for teaching!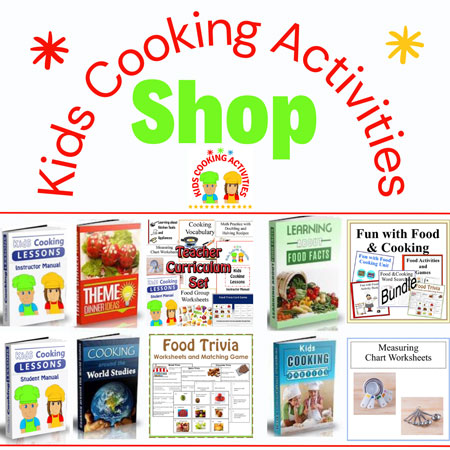 ~This post may contain affiliate links and I'll earn a small commission if you shop through them. There is no extra cost to you. This is how we help support our family and continue to bring you amazing content. To learn more see the
affiliates disclosure here.
~
Cooking with Kids Tips

Give kids room to
experiment and try new recipes
. Don't confuse this with a lack of supervision, however. As a mom and a teacher I've had to fight the urge to say, "Here let me crack that egg for you" or for older children, letting them cut vegetables themselves. Parents and teachers are more apt to step in and help. We need to be nearby to help, however we also need to give them room and not take over the work. Often we tend to take over because it will be faster but resist the urge to take control. Children learn by doing hands on experiences even if it involves spills and messes.

Let children
pick recipes they'd like to try
. Usually kids favorites are dessert recipes but also include lunches, breakfast, snacks and dinner in their learning to cook adventures. If they aren't interested at first, involve them in
appropriate tasks.
Soon they may be ready to try and cook more. Gather cook books, browse
kids-cooking-activities
and let them pick out a few recipes they'd like to try. Being able to take credit for dinner, really is a big boost for a child. Even if it is simply saying, "I picked this."

Put children in
charge of dinner
once a month or once a week, whatever works at your house. Let them find and plan the menu with your help and prepare the meal (with your supervision) for the family. Make sure there are healthy choices in your menu plan such as vegetables included with the meal. This will help kids learn about good nutrition. If they want to have hotdogs and yogurt, what kind of recipes can you come up with to accommodate both ingredients? At the grocery store, pick out a new ingredient and make a mock game of Iron Chef of the House. Who can come up with the most creative ideas for how to use the secret ingredient in a dish?

Help children
learn more about food
in general. How do vegetables and fruits grow? How do you make cheese? Learning facts about the food we eat makes creating something together for lunch or snacktime more real. Check out the
food facts section
for help.

Getting kids interested in working in the kitchen sometimes requires
making food fun
. How about a
theme dinner
? Or center dinner around a theme they choose. Dress up, make a menu and cook the particular meal together. Making meal time and cooking can and should be a fun activity. As we get older it can become a chore but if kids get involved when they are younger, as they grow older it becomes part of a healthy life.

Ask kids to use their imagination
. For instance, while wading through the jungle of broccoli trees, what kind of exotic species are they looking for? Maybe they are trying to paddle their way out of the Royal Gorge while whipping some eggs or even in a race against time crossing the tight rope of spaghetti while expecting the kitchen timer to ding at any second.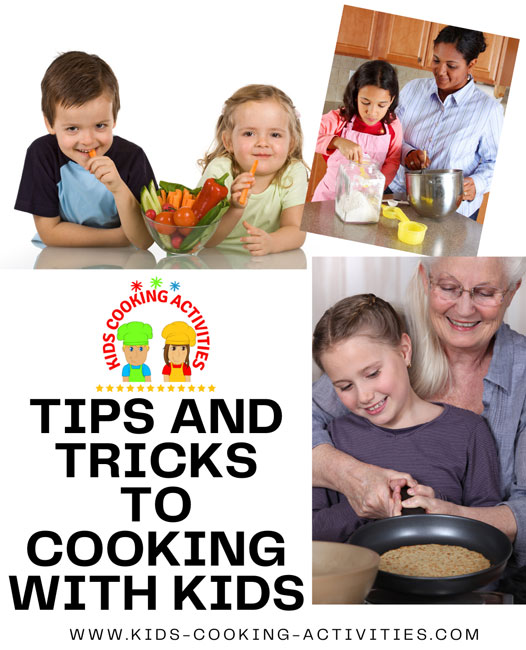 Keep it Safe
Anytime a kitchen is involved,
safety is always number one
. You should be careful with sharp objects, stove, can opener, microwave, back oven and blender that can cause injuries if you are not careful with them. Explain this to your children before beginning and make a game out of this too. See who can safely carry the eggs from the fridge to the kitchen counter. Also, try making a safety patrol, where kids get to point out potential safety places and suggest ways to improve and prevent.
Yes, it may take a little extra planning, but teaching kids to cook is probably one of the most rewarding things a parent can do. Keeping it fun, inspiring creativity and ensuring safety are easy steps for getting kids geared up for the kitchen. So what are you waiting for? Go find the lost treasure buried somewhere in that pile of mashed potatoes.
Whether your children are young or old there are many ways to draw them into the kitchen and teach them basic cooking skills and good nutrition.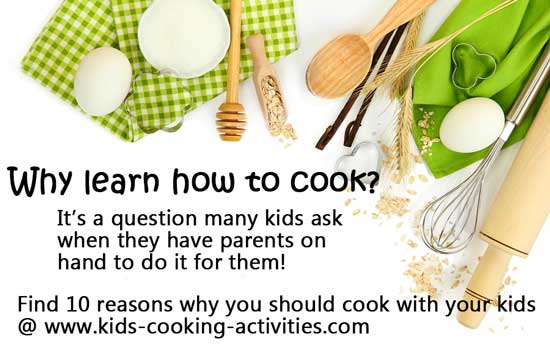 Do you have
kids cooking tips you'd like to share?
---
Make teaching easier with our activities and recipes compiled in one easy to read format.
---
More Help and Resources for How to Teach Cooking
Include these pages in your teaching curriculum.
Kitchen Rules and Safety
- the page includes downloads for Kitchen Safety chart and a Food Sanitation Chart.
Resources for Teaching Children to Cook:
How to start a business
What do you learn in the kitchen?
Kids Cooking Lessons
Add lessons to your homeschooling
Teaching children or adults with Disabilities
Teaching Life Skills

Getting Kids Interested in the Kitchen
Stress Free Cooking Tips
6 Ideas to teach beyond the kitchen
10 Reasons for Kids To Learn to Cook
Kids Cooking Lesson Plans
Follow Kids Cooking Activities