Summer Dinner Ideas
Asking the kids for summer dinner ideas is a great way to get them thinking during their summer holiday. Children know what they like and with encouragement, they can delight themselves and you with their culinary ideas. As the kids transform their great ideas into delicious meals, they develop practical living skills.
Planned Kids Cooking Curriculum
~This post may contain affiliate links and I'll earn a small commission if you shop through them. There is no extra cost to you. This is how we help support our family and continue to bring you amazing content. To learn more see the
affiliates disclosure here.
~
Pizza
Grilled pizza is a fun favorite and the variety of pizza is endless from apple crisp pizza to zucchini pizza. For the vegetarian and non-vegetarian, vegan grilled pizza is a change of pace.
Hummus instead of cheese for this pizza
1 sliced thin tomato
1/3 cup of diced pepperoncini
3/4 tsp. of dried oregano, basil and mixed Italian spices
Prep your pizza dough and make small 6 inch pizza rounds. Oil the grill grates then slide the pizza dough onto the grill. When the heated side is starting to brown, flip it over and spread the hummus on the done side of the dough. Layer the sliced tomato on top of the hummus and sprinkle the remaining ingredients on the pizza. Place pizza back on the grill; cook until bottom crust is golden brown.
Kabobs
Kabobs prompt creative and varied summer dinner ideas. Garden fresh vegetables are delicious treats roasted on the grill. A nice sweet and salty marinade is equal parts of soy sauce and honey.
1 lb. of sirloin steak cubed in one inch squares
24 grape tomatoes or cherry tomatoes, optional
mushrooms, carrots, other vegetables you'd like
Marinate the steak cubes for at least a half hour before grilling. Alternate the cubed steak chunks and the tomatoes on the kebob sticks and then baste the tomatoes and the chunks as they cook on the grill. Serve when the steak reaches the desired doneness.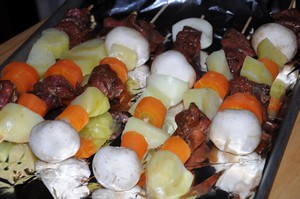 Dinner Wraps
The versatile wrap is another idea that can spark creative summer dinner ideas. Fresh vegetables, cooked vegetables and any kind of meat can be prepared and served in a wrap. Cherry chicken lettuce wraps provide a substantial and delicious meal.
2 tbsp. of canola oil
1 tbsp. of minced fresh ginger root
1 1/4 lb. of skinless boneless chicken, cut into bite size pieces
2 tbsp. rice vinegar
2 tbsp. teriyaki sauce
1 tbsp. honey
1 lb. dark sweet cherries, pitted and halved
1- 1/2 cups shredded carrots
1/2 chopped green onion
1/3 cup of toasted and sliced almonds
12 lettuce leaves
Heat 1 tsp. of oil in a large skillet; add the ginger and chicken and sauté until the chicken is cooked through. Set aside.
Whisk 1 tsp. of oil, vinegar, teriyaki sauce and honey until it is mixed together. Add the chicken mixture, cherries, carrot, green onion and almonds and toss together.
Spoon equal amounts of the mixture onto the center of each lettuce leaf, then roll up the leaf and serve.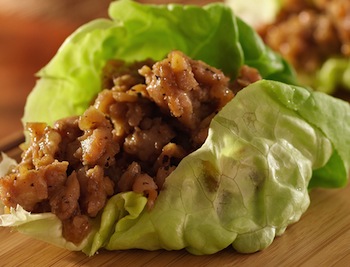 ---
Make teaching easier with our activities and recipes compiled in one easy to read format.
***Also available in paperback.
---
Side Salads
Fresh garden salads complement grilled foods and can produce great summer dinner ideas.
One salad that is a meal in itself is
Polish Summer Salad
.
2 medium cooked white potatoes
7-8 cooked carrots
1/8 of a leek
8 -10 hardboiled eggs
1 jar of refrigerated, kosher dill pickles
1 can of sweet peas or cooked garden fresh peas

Dice potatoes, carrots, leek, eggs, and pickles. Drain peas and add to the other vegetables. Mix with mayonnaise to the desired consistency.
Desserts
Fudgesicles
are a great cold treat and easy for the kids to make.
1 (14 ounce) sweetened condensed milk
1/2 cup milk
1/4 cup unsweetened cocoa powder
1 teaspoon vanilla extract
Mix ingredients until smooth and freeze in freezer pop molds and it is likely take at least five hours to freeze or overnight. Makes 4 larger popsicles. If you'd like more pour into small paper cups and peel paper off before serving.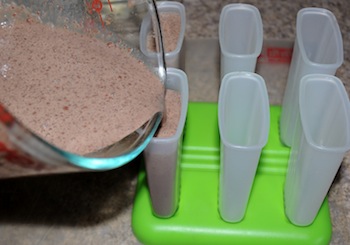 Fruit Pops
Lighter icy snacks are fruit pops which can be as simple as freezing fruit juice in a freezer pop mold. Adding soymilk to the juices, and then freezing can make a cream pop dessert.
Salads, grilled food and icy cold desserts all contribute to great, nutritious and delicious meals. Sharing and preparing summer dinner ideas is one more way of bringing the family closer together as the kids learn practical cooking skills.
Share your Summer Meal Ideas
Submit your favorite kids recipe
Do you have a favorite recipe your kids love to make? Or a recipe your kids ask you to make again and again? Share it with us!