New Hampshire Kids Cooking Schools Directory
Scroll down to see all the New Hampshire kids cooking schools, kids cooking lessons and cooking parties listed in this directory.
To add your Kids Cooking Party business or Kids Cooking Classes to our Kids Cooking School Directory you will need to do the following steps.
Fill out the form on your designated state page.
Wait. This is a manual process. We check and double check to make sure your listing is indeed child friendly, see note below. Your listing will take a few business days to update. Thanks!~
USA Regional Cooking Activities and Geography Cooking Camp
New Hampshire Recipe Highlight- Blueberry
Blueberry Lemonade
Serves: 4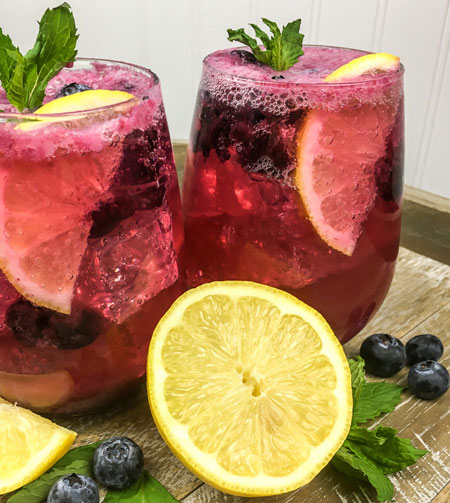 Ingredients:
1 c. fresh or frozen blueberries
3 T. fresh mint, crushed
1-2 T. real maple syrup
3 T. honey
3 c. water, divided
½ c. fresh lemon juice
1 c. club soda
Ice cubes, to serve
Optional Garnish:
Mint sprigs
Fresh blueberries
Lemon wedges
Directions:
1. To prepare the blueberry maple simple syrup, combine the blueberries, mint, maple syrup, honey, and one quarter cup water in a small saucepan set over medium heat.
2. Simmer until the mixture is heated through and starts to thicken, approximately 4-5 minutes. As the mixture simmers, gently press the blueberries with a wooden spoon to release juices while stirring to combine with the other ingredients.
3. Remove from heat and pour through a fine mesh strainer to separate the solids. Reserve remaining liquid syrup and set aside to cool.
4. Add lemon juice and remaining water to a large pitcher. Add blueberry maple simple syrup, to taste, and stir to combine.
5. Fill 4 glasses with ice and fill each 2/3 full with the blueberry lemonade mixture. Top off each glass with some club soda and garnish with sprigs of fresh mint, blueberries, and/or lemon wedges, if desired. Enjoy!
Kids Cooking Directory
Add your kids cooking school, cooking lessons or cooking party details here. Once we receive your payment and review your site your listing will be added to the directory.
Follow Kids Cooking Activities