Fiesta Theme Dinner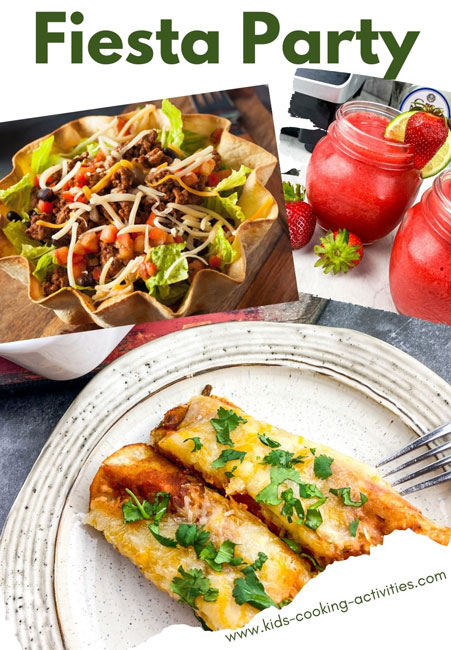 Come to the Mexican Fiesta theme dinner wearing Sombreros, ponchos and sandals. Decorate with pinatas. You can even
learn how to make your own pinata!
Kids Cooking Activities Teaching Materials
Make teaching easier with our activities and recipes compiled in theme sets and books with an easy to read format
Perfect for teaching!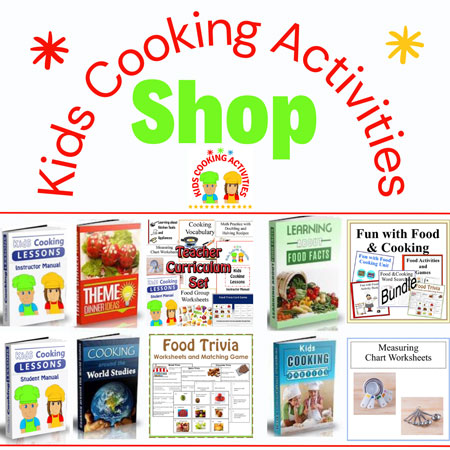 ~This post may contain affiliate links and I'll earn a small commission if you shop through them. There is no extra cost to you. This is how we help support our family and continue to bring you amazing content. To learn more see the
affiliates disclosure here.
~
Centerpiece Idea
Place a large sombrero in the middle of the table or a dish of salsa and chips.
Or place the pinata cookies on a serving dish for the middle of the table.

Mexican Fiesta Menu Ideas
Use the Mexican recipes from our World studies section to complement your fiesta.
Mexican Recipes
Find our favorite
Mexican Recipes here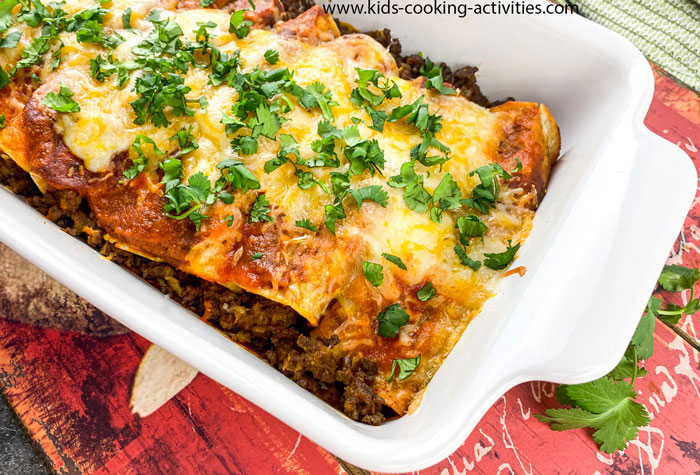 Mexican Fiesta Theme Dinner Ideas
More Mexican menu ideas could be a
taco salad or taco bar
. Place different taco ingredients in small bowls around the table. Let everyone make their own taco or taco salad.
Mexican Refried Beans Soup
by Deborah, (Newtown, Pennsylvania, USA)
We actually were served this at a restaurant. The kids LOVED it and it was incredibly easy to reverse engineer.
1 can refried beans (a brand you like)
chicken broth to taste
toppings (optional: shredded cheese, crunched up tortilla chips, cilantro, black olives, avocado slices, etc.)
Just place beans and enough broth to loosen it up into a soup in a small pot. Heat and serve with the topping of your choice. Ridiculously easy.
Mexican Spaghetti
by Jessica, (Colorado)
1 family sized bag spaghetti
1 bag shredded mix cheese
1 big tub of daisy sour cream
1 stick of butter
1 can tomato sauce
Cook a family size bag of spaghetti noodles. While noodles cook make sauce. When noodles are done put in a glass casserole dish. Layer noodles, cheese, noodles, cheese in a large pan.
In a medium pan, melt the stick of butter, 1/2 of the big tub of daisy sour cream and the full can of tomato sauce. Bring it to boil slowly and when all mixed together and hot, pour sauce over noodles and cheese.
Cover dish and wait until cheese melts or put in oven at 350 degrees for 10 min.
It is so good and I have not seen a kid yet not like it and want more.
Pico de Gallo Recipe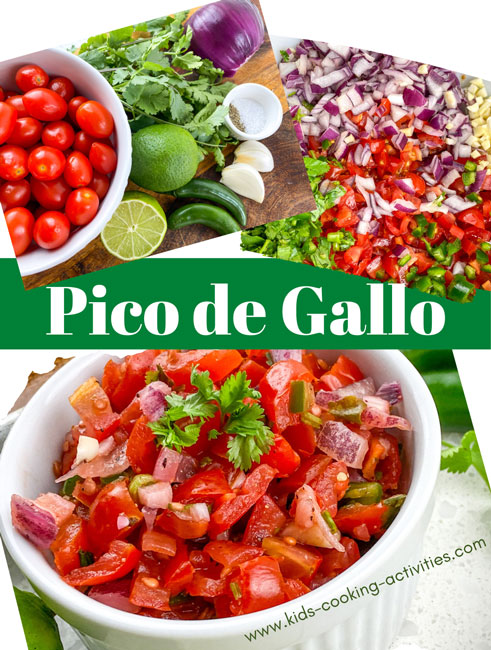 Pico de Gallo Ingredients:
1 pint cherry or grape tomatoes, diced
½ medium red onion, finely diced
2 T. fresh cilantro leaves, finely chopped
1 large lime, juiced
1-2 serrano peppers, finely diced
2-3 large cloves garlic, finely minced
Sea salt and black pepper, to taste
Directions
To prepare, add incgredients to a bowl and stir to combine. Serve as a topping for tacos, salad, enchiladas, etc. or dip with tortilla chips.
Try any of these Mexican Recipes as well: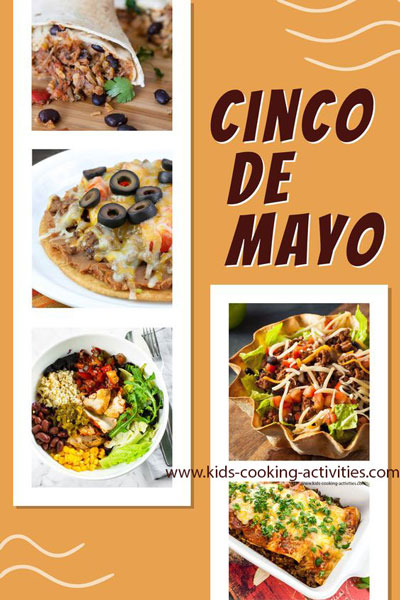 Quesadillas
Chicken Enchiladas
Beef and Bean Enchiladas
Tacos or Burritos
Taco salad bowls
Taquitos
Nachos
Taco Salad
Burrito Bowls
Chalupas
Fajitas
Shredded Beef Tacos
Taco Pie Cup
Black Bean Lettuce Wraps
---
Get all of our Theme Dinner Ideas in
one ebook
, free of ads and easier to use at parties and cooking activities with kids.
30 theme dinner ideas with recipe menu plans, decorating ideas and printable invitations all included in this 83 paged electronic book.
Theme Dinner Ideas
---
Strawberry Mocktail
Ingredients
1 16-oz. bag frozen strawberries
1/3 c. fresh orange juice (1-2 large oranges)
1/3 c. fresh lime juice (3 large limes)
1/3 c. water Lime wedges and/or fresh strawberries, to garnish
Add 1/2 the frozen strawberries into a blender. Add lime juice, and orange juice. Blend on high until smooth. Add remaining frozen strawberries. Blend until smooth.
*For thicker margaritas, add some ice until desired consistency is reached. For thinner consistency, add a little water.
Pour into your serving glasses and garnish with strawberries or a lime wedge if desired.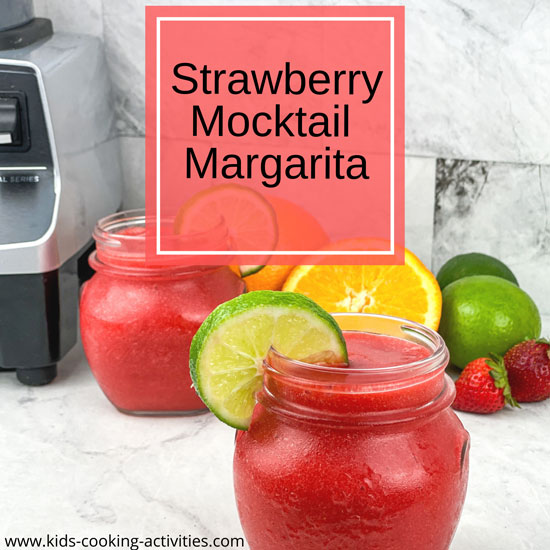 Mexican Theme Dinner Dessert- Pinata Cookies
These cookies are a fun desert for this theme party. Two cookies frosted together with candy filled inside just like a pinata!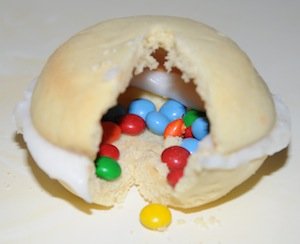 You will need:
muffin tins
small candy for filling
white or other colored frosting
Prep your sugar cookie dough and roll out with a rolling pin. Use a large circle cutter or bottom of a glass that is a little larger than the bottom of your muffin tin. You'll be turning your muffin tin over and use the bottom.
Cut out circles and place around the bottom of the muffin tin. Bake until golden brown. Allow to cool and gently take off tin.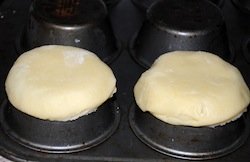 Fill one cookie with your candy and with a piping bag pipe frosting around top edge of cookie. Place a second cookie on top and seal together your pinata.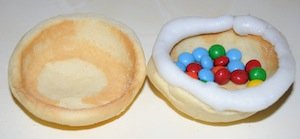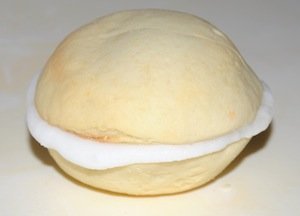 Need Mexican Theme Dinner Party Supplies?
Here are some we like.
Make your own Theme Dinner Party page.
Have you put together your own Theme Dinner Party? Do you have a theme menu or theme dinner idea to share? Tell us about it and we will create your own theme dinner party page.
---
Related Theme Dinner Ideas:
~
Theme Dinner Ideas
, ~
A-Z
, ~
Animals
, ~
Backwards
, ~
Dinosaur
, ~
Disney
, ~
Farms
, ~
Fiesta
, ~
Flowers
,~
Fondue
, ~
Frogs
, ~
Hawaiian Luau
, ~
Homes
, ~
Insects
,~
Italian
, ~
Mother Nature
, ~
Movie Theme
, ~
Mystery Party
, ~
Owls
, ~
Paris
, ~
Penguins
, ~
~Princess and Prince Dinner
, ~
Princess Tea Party
, ~
Rainbow
, ~
Reindeer
, ~
Sleepover Party
, ~
Snakes
, ~
Snowman
, ~
Space
, ~
Sports
, ~
Sunflowers
, ~
Teddy Bear Tea Party
, ~
Transportation
, ~
Under the Sea
, ~
Western Cowboy
---
Follow Kids Cooking Activities