Summer Meal Ideas- Lunch and Dinner During the Summertime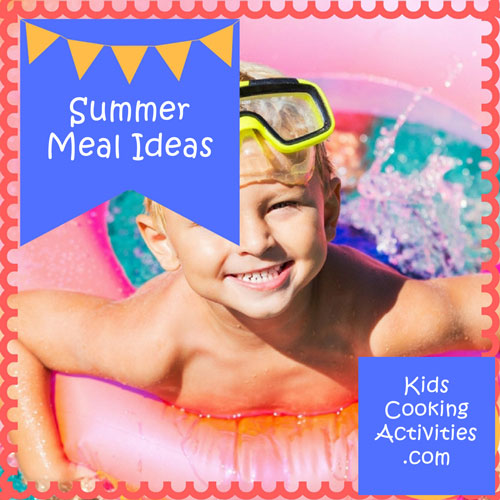 Asking the kids for summer dinner ideas is a great way to get them thinking during their summer holiday. Children know what they like and with encouragement, they can delight themselves and you with their culinary ideas. As the kids transform their great ideas into delicious meals, they develop practical living skills.
Kids Cooking Activities Teaching Materials
Make teaching easier with our activities and recipes compiled in theme sets and books with an easy to read format
Perfect for teaching!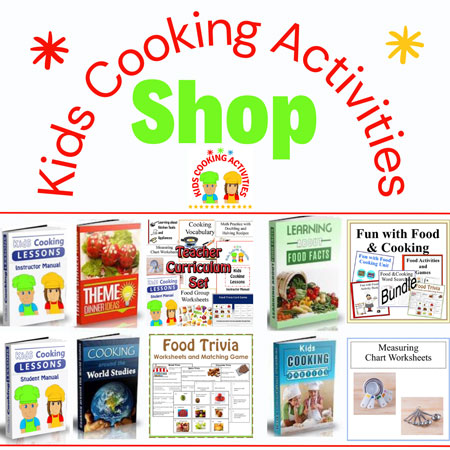 ~This post may contain affiliate links and I'll earn a small commission if you shop through them. There is no extra cost to you. This is how we help support our family and continue to bring you amazing content. To learn more see the
affiliates disclosure here.
~
Kabobs
Kabobs prompt creative and varied summer dinner ideas. Garden fresh vegetables are delicious treats roasted on the grill. A nice sweet and salty marinade is equal parts of soy sauce and honey.
1 lb. of sirloin steak cubed in one inch squares
24 grape tomatoes or cherry tomatoes, optional
mushrooms, carrots, other vegetables you'd like
Marinate the steak cubes for at least a half hour before grilling. Alternate the cubed steak chunks and the tomatoes on the kebob sticks and then baste the tomatoes and the chunks as they cook on the grill. Serve when the steak reaches the desired doneness.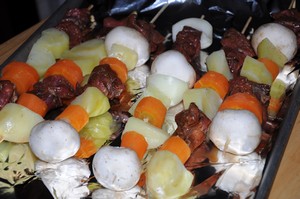 See more
grilling recipes.
Dinner Wraps
The versatile wrap is another idea that can spark creative summer dinner ideas. Fresh vegetables, cooked vegetables and any kind of meat can be prepared and served in a wrap. Cherry chicken lettuce wraps provide a substantial and delicious meal.
2 tbsp. of canola oil
1 tbsp. of minced fresh ginger root
1 1/4 lb. of skinless boneless chicken, cut into bite size pieces
2 tbsp. rice vinegar
2 tbsp. teriyaki sauce
1 tbsp. honey
1 lb. dark sweet cherries, pitted and halved
1- 1/2 cups shredded carrots
1/2 chopped green onion
1/3 cup of toasted and sliced almonds
12 lettuce leaves
Heat 1 tsp. of oil in a large skillet; add the ginger and chicken and sauté until the chicken is cooked through. Set aside.
Whisk 1 tsp. of oil, vinegar, teriyaki sauce and honey until it is mixed together. Add the chicken mixture, cherries, carrot, green onion and almonds and toss together.
Spoon equal amounts of the mixture onto the center of each lettuce leaf, then roll up the leaf and serve.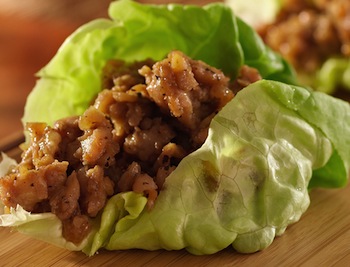 ---
Make teaching easier with our activities and recipes compiled in one easy to read format.
---
Side Salads
Fresh garden salads complement grilled foods and can produce great summer dinner ideas.
One salad that is a meal in itself is
Polish Summer Salad
.
2 medium cooked white potatoes
7-8 cooked carrots
1/8 of a leek
8 -10 hardboiled eggs
1 jar of refrigerated, kosher dill pickles
1 can of sweet peas or cooked garden fresh peas

Dice potatoes, carrots, leek, eggs, and pickles. Drain peas and add to the other vegetables. Mix with mayonnaise to the desired consistency.
More salad recipes here.
Desserts
Fudgesicles
are a great cold treat and easy for the kids to make.
1 (14 ounce) sweetened condensed milk
1/2 cup milk
1/4 cup unsweetened cocoa powder
1 teaspoon vanilla extract
Mix ingredients until smooth and freeze in freezer pop molds and it is likely take at least five hours to freeze or overnight. Makes 4 larger popsicles. If you'd like more pour into small paper cups and peel paper off before serving.
More Popsicle recipes here.
7 Ways to Make Summer Lunches and Dinners for Kids Easy
Summer lunches for kids can be challenging to find the balance of healthy + easy at the same time. But this combination is incredibly important because this is going to help fuel them through the afternoon and onto dinner time. And since we're all super busy parents or caregivers or babysitters having the "easy" aspect is right at the top of the list as well because unless you're a die-hard cook, you probably don't want to be spending a boatload of time in the kitchen.
We are always trying to find various ways to make our lives a little bit easier so, let's start with some ideas to make meals easy during the summertime.
1.
Minimal Ingredients
- the fewer ingredients that you have to take out of the cupboard, fridge or drawers, the less cleanup you'll have to do! Now, minimal absolutely does not mean unhealthy but is a nice balance for your children.
2.
Cut up Your Vegetables/Fruit on a Specific Day Each Week
- Set aside a specific day where you can cut up all the vegetables that your kids will eat at their lunches. That way you can rotate and pull out whatever vegetables you want and they're all cut up and ready to be served up on their plates.
3.
Make sure you have Enough Food for Lunches for the Upcoming Week
- I have to laugh at myself because there have been so many occasions where I'll open up my fridge and I'll be at a loss for what to feed my kids! I'll draw a blank. But lately, I've had a plan and made sure that I at least have everything that I need for that week, and most likely two weeks.
4.
Plan out What You're Going to serve the Day/Night Before
- Once you know that you have enough food for the upcoming week, have your kids plan out what they are going to pull out for lunch each evening. You could even label your fruit and vegetables and side dishes to be for a certain day to make everyone's life easier.
5.
Have Everyone do their Own Dish -
when your children are done eating their lunch, have them rinse off/wash their dish and put it in the dishwasher. Then have them each wash the spot where they were sitting. This saves on the cleanup that you have to do. :)
6.
Have a Lunch Day for Each of Your Children
- assign your children to the work and tell them what's for lunch and have them prepare it for their siblings. This teaches them responsibility and helps them to see what work actually goes into making lunch. If your kids are a little too young to handle making lunches for everyone then at least have them assist you in the kitchen, bringing things to you, helping you set up plates, and putting things away.
7.
Use Paper Plates Just at Lunch Time
- This can save a lot of time and energy. Yes, it's not especially thrifty but sometimes, your time is worth more than washing a bunch of dishes so consider using disposable tableware at lunchtime.
25 Easy Summer Lunches for Kids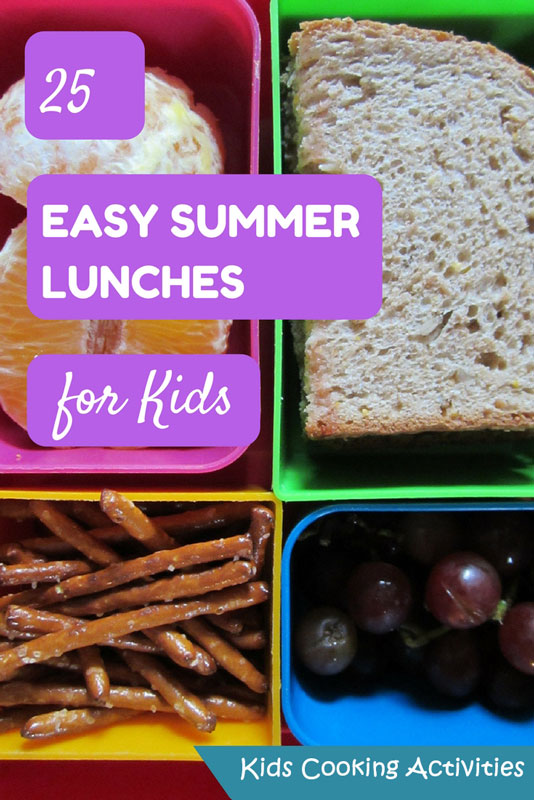 1. Grilled Cheese + Tomato Soup
2. Baked Potato + Sour Cream + Bacon Bits on top or You could even do Cheez Whiz + a Side of Broccoli. This is made easily in the microwave and the broccoli takes less than 5 minutes to also make in the microwave!
3. Ham and Cheese Sandwich + Pretzels + Baby Carrots with Ranch Dressing
4. Turkey and Cheese Sandwich + Trail Mix (Make your own Mixture of Peanuts + Raisins) + Broccoli with Ranch Dressing
5. Tuna Fish Sandwich + Pretzels + Orange Slices
6. Refried Bean Burro + Yogurt with a Can of Fruit Cocktail Mixed in
7. Black Bean Burro (heat can of black beans; put in a tortilla and top with shredded cheese) + Cantaloupe + Cheddar Cheese Slices
8. Crackers with Cream Cheese and Ham on them + Yogurt + Orange Slices
9. Box Pizza Splurge :)
10. Peanut Butter with Banana + Wheat Thins + Broccoli with Ranch Dressing
11. Egg Salad Sandwich + Cheese Chunk Slices + Little Cutie Oranges
12. Bologna and Cheese Sandwich + Hardboiled Egg + Celery with Peanut Butter
13. Hot Dogs + Potato Chips + Cantaloupe
14. Crackers + Cheese + Sausage + Grapes
15. Peanut Butter and Banana Sandwich + Hardboiled Egg + Applesauce
16. Apple with Peanut Butter + Triscuits + Cheese Slices
17. Cheese Crisp (Place a tortilla on a cookie sheet, top with cheese, salsa, black beans. Then, place in the oven at 400 degrees for 10 minutes.) + Applesauce
18. Ham, Cream Cheese and Pickle Roll Ups + Carrots with Ranch Dressing + Mini Marshmallows
19. Cheese Sandwich + Watermelon Chunks + Pretzel Sticks
20. Mini Quiche Muffins (that are leftover from the night before) + String Cheese + Mandarin Oranges
21. Corn Dogs + Potato Chips + Yogurt (Unhealthy Splurge Day!)
22. Peanut Butter and Honey Sandwich + Frozen Grapes + Popcorn
23. Pepperoni Slices, Cheese and Crackers + Trail Mix + Broccoli with Ranch Dressing
24. Tortilla chips with Shredded Cheese Sprinkled on Top + Frozen Grapes + Teddy Grahams
25. Spaghettios + Crackers with Peanut Butter + Apple Slices
Salads, grilled food and icy cold desserts all contribute to great, nutritious and delicious meals. Sharing and preparing summer dinner ideas is one more way of bringing the family closer together as the kids learn practical cooking skills.
Summer Beverage Ideas
Strawberry Lemonade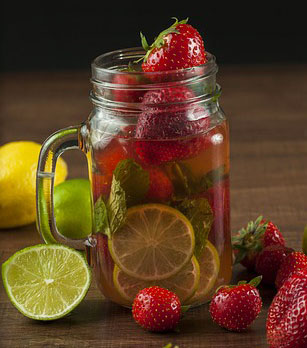 recipe by Faith
3 strawberries diced (You can put more if you want more fruit taste)
Sugar to taste
Cup of Water
2 teaspoons of lemon juice
First you take a cup of water and put it in a mini blender... then and lemon juice, strawberries, and sugar. Blend it up and put it in a cup. Drink up!!!
Lemon Lime Smoothie
Recipe by Miranda
Ingredients:
1 banana
1 lime
1/2 lemon
1/2 Cup plain yogurt
1/2 Cup diet 7UP
1 Cup ice cubes
Directions:
1. Cut lemon and lime in half and remove seeds.
2. Squeeze lemon juice and lime juice into cups.
3. Peel then slice bananas.
4. Combine all ingredients in blender.
5. Blend until smooth.
Adapted from jacolynmurphy.com
Homemade Slushies & Slurpees

Homemade Slushies and Slurpees are a great way to cool off on a hot day or just enjoy a cool treat. They really aren't hard to make and kids will love experimenting with different combinations.
Watermelon Cherry Slushie
by Cheryl
I make these watermelon cherry slushies for my grandkids.
1 medium watermelon, cut off the rind and take out as many seeds as you can.
Put it all in a blender and liquefy.
Strain it out so you don't have any seeds
Add one packet of watermelon cherry Koolaid.
About 3/4 cup of sugar (to taste)to watermelon puree
Add about 1 cup mixture in blender. Add ice about 1/2 way and let the ice crush up to make a slush.
Try this recipe for Watermelon Slushie also.
Fruit Punch Slushie
Ingredients:
1 can fruit punch frozen concentrate
2 Cups apple juice
3 Cups ice cubes
Directions:
Add ingredients to your blender and blend until ice cubes are crushed. You can mix and match ingredients as you would like such as different juice flavors or frozen juice flavors. 3 Cups of ice cubes are an estimate. Add more if you want more slush.
Kid's Slush
by Roxie
Ingredients:
46 oz can unsweetened grapefruit juice
46 oz can unsweetened pineapple juice
1 large can frozen lemonade made with 7-up
1 large can frozen orange juice made with 7-up
1 quart cranberry juice
Directions:
Start with 2 ice cream buckets and pour 23 ounce of unsweetened grapefruit juice in the first bucket and the remaining 23 ounces of grapefruit juice in the second bucket. Repeat the same process with the pineapple juice.
Pour the thawed frozen lemonade into a pitcher and fill the empty lemonade container three times with 7-up. Stir completely. Pour half of the prepared lemonade into each bucket. Repeat the same process with the orange juice.
Pour 1/2 quart of cranberry juice into each bucket.
Stir the contents of each bucket and place lid on top. Set in freezer and allow to freeze 1-2 hours before stirring. Return to freezer and freeze completely.
To enjoy: chip out a glass full of slush and top with 7-up.
Apple-Lemon Slushie
Ingredients:
2 Cups crushed ice
1 Cup frozen apple juice concentrate
4 Tablespoons lemon juice
Directions:
Take a blender, and put apple juice, lemon juice and crushed ice in a blender. Then blend until it become slushy.
Gatorade Recipe
Homemade Gatorade Recipe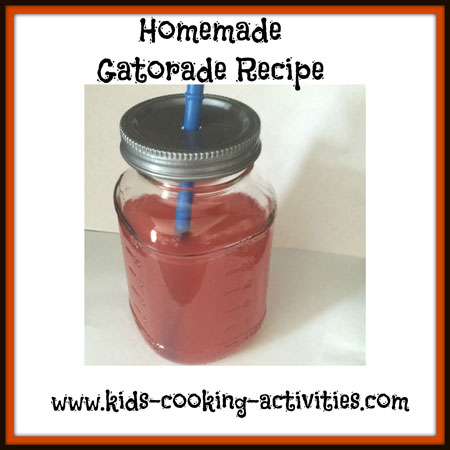 Try this
refreshing blueberry lemonade.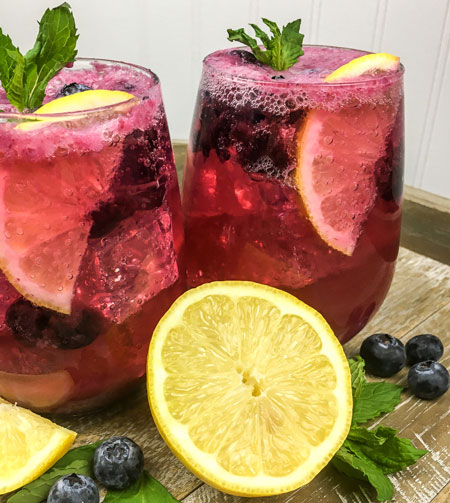 Try this
Strawberry Margarita Mocktail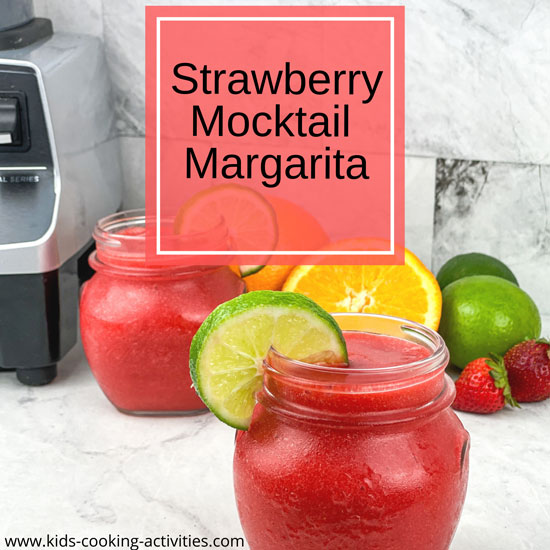 Smoothie Recipes
More Summer Recipe Ideas
Fun Summer Cooking Activities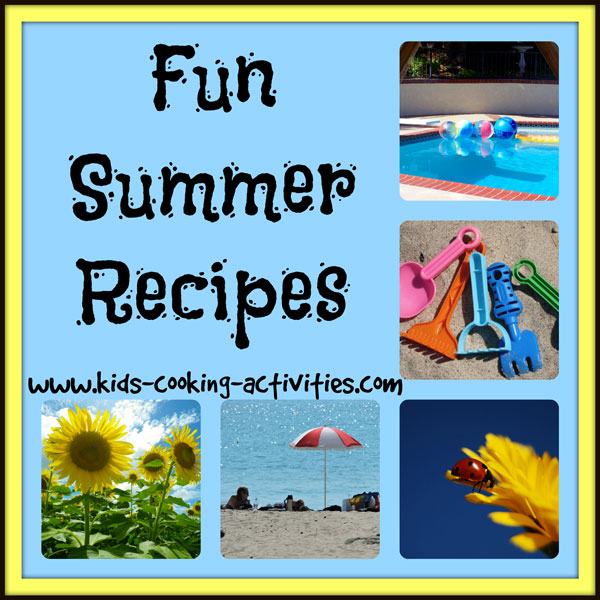 Summer Fun Cake Decorating Ideas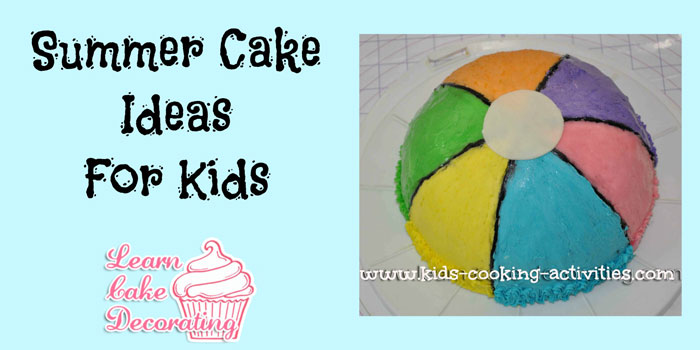 Share your Summer Meal Ideas
Submit your favorite kids recipe
Do you have a favorite recipe your kids love to make? Or a recipe your kids ask you to make again and again? Share it with us!
Reader's Submitted Recipes
Click below to see contributions from other visitors to this page...

Homemade Gatorade
If your kids like Gatorade, try having them make their own version. Store in the fridge ready to drink in a pitcher or pour into individual bottles. …
Follow Kids Cooking Activities