Healthy Dessert Ideas
Kids and adults alike love dessert. Here are some healthy ideas to craft desserts that are filling and fun. Desserts can be good for you. You are better off
making your own for enhanced flavor, larger portion size and lower calories.
Easy Desserts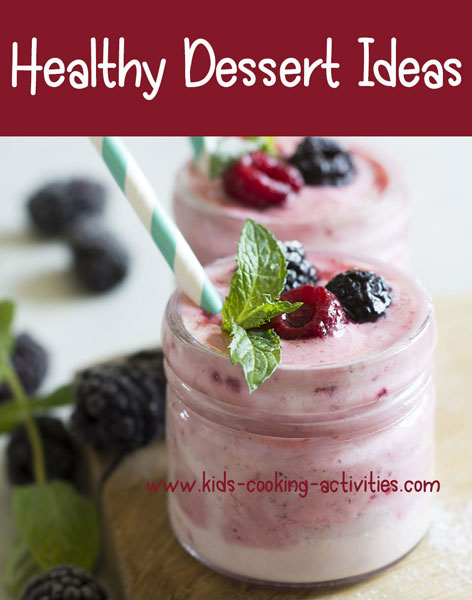 What is it about dessert that has everyone hooked? In the old days, it was probably the way that parents got their kids to eat foods that they didn't much care for at dinner. Today, it is a tradition that most don't want to move away from. But, just because it is sweet doesn't mean it has to be bad for you. Even fatty desserts are not bad in moderation, although you don't get a really big portion for your calories. Wouldn't it be better to eat more for less?
Kids Cooking Activities Teaching Materials
Make teaching easier with our activities and recipes compiled in theme sets and books with an easy to read format
Perfect for teaching!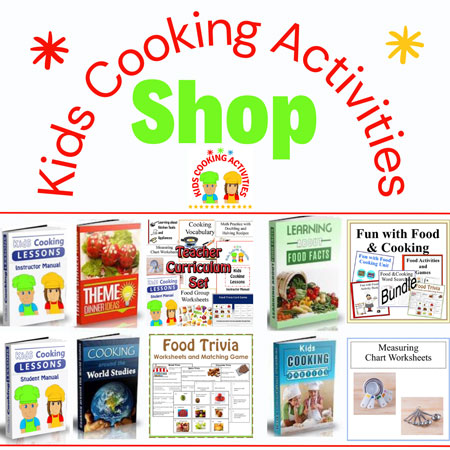 ~This post may contain affiliate links and I'll earn a small commission if you shop through them. There is no extra cost to you. This is how we help support our family and continue to bring you amazing content. To learn more see the
affiliates disclosure here.
~
Healthy Dessert Ideas
Fruit and Nuts
Fresh fruit has a natural sweetness that anyone will love. Combine it with a crumb topping of nuts and brown sugar and you have a tasty treat. Baking an apple and filling it with candied nuts and raisins is like eating a healthier deconstructed apple pie. Try sliced pears and peaches with a nut topping. Diced walnuts and almond slivers are healthier nut choices.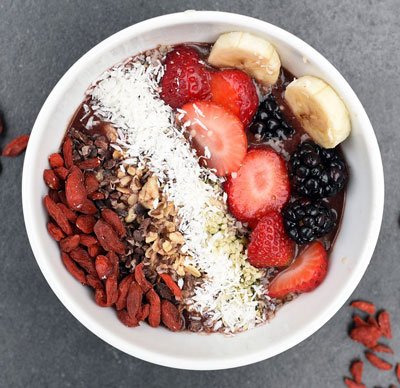 Parfaits
They are beautiful to look at and even better to eat. Use diced fruit and layer it with whipped cream (low fat or fat free, of course) or vanilla pudding made with skim milk. For a chocolate treat, layer fat free chocolate pudding with whipped cream and top with chocolate cookie crumbles or granola.
More parfait ideas here.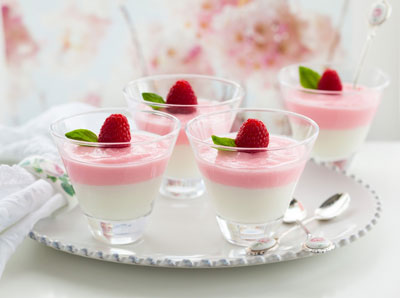 Dark Chocolate
Ongoing research shows that dark chocolate has many health benefits. Melt your own dark chocolate into candy molds and
create lollipop treats
for yourself and the kids.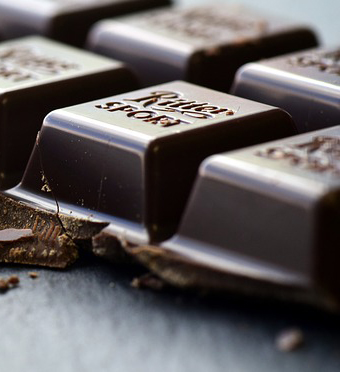 Fruit Popsicles & Icees
You can use fruit juice to create your own
shaved ice
or buy low fat popsicles from the store. They are full of fruit sweetness with fewer calories than ice cream pops.
Lots of popsicle recipes here.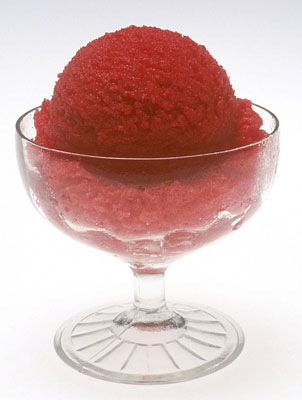 Strawberry Shortcake
Spongy angel food cake and strawberries with fat free whipped topping is a treat for anyone. Make it taste better by baking your own cake and adding fresh strawberries sweetened with Splenda to make syrup.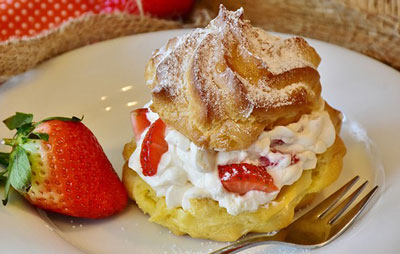 Fruit Pizzas
Take a sugar cookie and roll it out like dough. You can cut some calories by making your own sugar cookie dough at home. The "sauce" is made with sugar and cream cheese. You can also try peanut butter and low fat cream cheese. Top with slices of your favorite fruit. Drizzle with fat free caramel.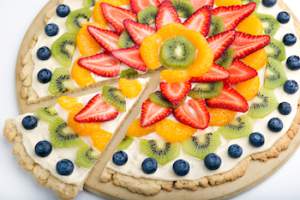 Gelatin
There's nothing like the old standby. Create your favorite gelatin dessert. Add fruit pieces if you like. Top with whipped topping and coconut.
Banana and Avocado Chocolate Mousse
See more
Dessert Recipes
Spectacular Dessert Kids Cooking Camp
Share your Ideas
Do you have a great homemade idea? Is it edible or food related. Go ahead and share it!
Reader's Submitted Recipes and Ideas
Click below to see contributions from other visitors to this page...

Oreo Double Stuffed Pizzelle Not rated yet
BUTTERCREAM- 1 Cup Softened Organic Butter 6 crushed Oreos 1 Vanilla Bean 1 tsp Fresh Lemon Juice 1/2 tsp Pink Himalayan Salt 2 1/2 cup Powdered …
Follow Kids Cooking Activities