How to Make Homemade Suckers
Suckers or homemade lollipops (whichever you call them) are perfect for any holiday or birthday. We have two versions of lollipops your kids can help you make.

Kids Cooking Activities Teaching Materials
Make teaching easier with our activities and recipes compiled in theme sets and books with an easy to read format
Perfect for teaching!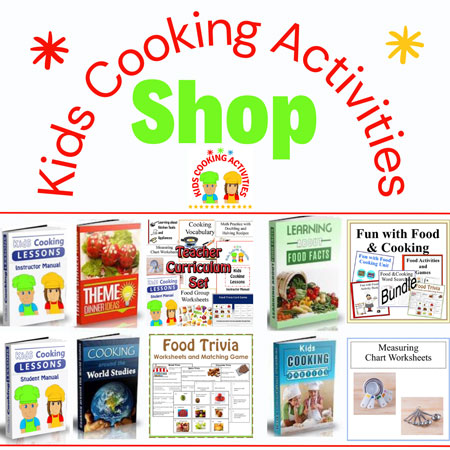 ~This post may contain affiliate links and I'll earn a small commission if you shop through them. There is no extra cost to you. This is how we help support our family and continue to bring you amazing content. To learn more see the
affiliates disclosure here.
~
Recipe for Homemade Suckers
Younger kids can still help with certain steps but let the adult do the cooking on the stove and any handling afterwards. Here is how one mom got her 4 year old involved in helping. Thank you Cindy G. for sharing!
Ingredients:
1 Cup sugar
1/2 Cup water
1/3 light corn syrup
1/2-1 1/2 teaspoons flavoring
Food coloring
Put your
sucker molds
with the sticks in them on a cookie sheet. You can buy sucker molds made from silicone or metal. **Don't use plastic molds as the heat of the suckers will melt the plastic!
Mix all the ingredients together in a saucepan. I let my son put everything in the pan before I turned the heat on.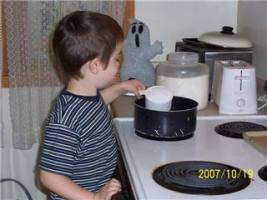 The stove wasn't on in this picture.
Cook it over med-high heat, stir until all the sugar is dissolved. Boil until it reaches the hard-crack stage, which is about 300 degree on a
candy thermometer.
Remove from heat and add food coloring slowly, then add the flavoring. (I've found that you need to add the color first and stir and then add the flavoring, that will give it a little time to cool before you put the flavoring in, because the flavorings can burn and then your suckers taste burnt)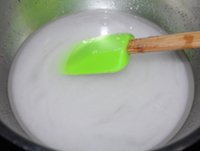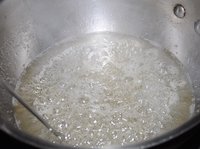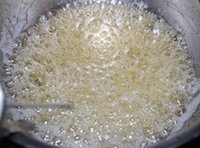 Stages of candy making sugar syrup
Pour slowly into the molds. Don't worry about any bubbles, they'll go away on their own.
You can also put sprinkles on the suckers by sprinkling them on right after you pour the syrup into the molds, don't wait too long or the suckers will start to set up and they won't stick.
Wait until the suckers are completely cooled and remove the molds. (be careful some of the hard candy can have sharp edges) Wrap them individually. We put them in little snack baggies so that they're airtight or the humidity ruins them. Enjoy, my kids did!
Chocolate Suckers
Another way to make homemade suckers is using chocolate. With these chocolate suckers, you can use
plastic molds
as well as silicone.

You will need:
Silicone or plastic molds
sprinkles, toppings if desired
In 30 second intervals melt chocolate wafers stirring often. Follow directions on package for more directions.
With a spoon add chocolate into molds. Do not overfill and wipe excess around edges. Tap molds on counter to get rid of air bubbles.
**If you want to add sprinkles or toppings do so while the chocolate is still wet. Place in freezer 10 minutes or until under side of mold is frosty.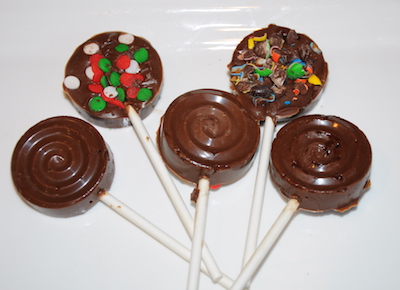 Share your Favorite Recipes
Submit your favorite kids recipe
Do you have a favorite recipe your kids love to make? Or a recipe your kids ask you to make again and again? Share it with us!
---
Related Seasonal Recipe Pages:
~
School Lunches
, ~
Apples
, ~
Autumn Activities
, ~
Pumpkins
, ~
Kids Halloween Recipes
, ~
Halloween Recipe Ideas
, ~
Thanksgiving
, ~
Hanukkah Recipes
, ~
Kids Christmas cooking
, ~
Christmas Candy Recipes
, ~
Reindeer
, ~
Make Homemade Chocolates
, ~
Jar Mixes
, ~
Gift Basket Ideas
, ~
Homemade Fudge Recipes
, ~
Homemade Suckers
, ~
Christmas Cookie Recipes
, ~
Gingerbread House Recipes
, ~
Food Gift Ideas
, ~
Dough Ornament Recipes
, ~
Hot Cocoa
, ~
Happy New Year
, ~
Snowman Theme Recipes
, ~
Valentine's Day
, ~
Valentine Dessert Recipes
, ~
St. Patrick's Day
, ~
April Fool's Day Recipes
, ~
Passover Recipes
, ~
Kids Easter Recipes
, ~
Sugar Eggs Recipe
, ~
Resurrection Cookies Recipe
, ~
Italian Easter Bread
, ~
Russian Easter Bread Recipe
, ~
Earth Day
, ~
Cinco de Mayo, May 5
, ~
Mother's Day Recipes
, ~
Father's Day Recipes
, ~
Summer Cooking
, ~
Kid's Campfire Cooking Recipes
, ~
Dutch Oven Cooking for Kids
, ~
4th of July Recipes
, ~
Ice Cream Recipes
, ~
Popsicle Recipes
, ~
Simple Smoothie Recipes
, ~
Picnic Ideas and Recipes
, ~
Easy Grilling Recipes
, ~
Grow your own Garden
---
Follow Kids Cooking Activities