Easy Recipes Kids Can Make
A compilation of easy recipes for kids to make for breakfast, lunch, dinner, dessert, snacks and vegetable dishes. We've also included a
25 "Mom and Dad are Away What Can I Fix for Dinner?" List
.
Kids Cooking Activities Teaching Materials
Make teaching easier with our activities and recipes compiled in theme sets and books with an easy to read format
Perfect for teaching!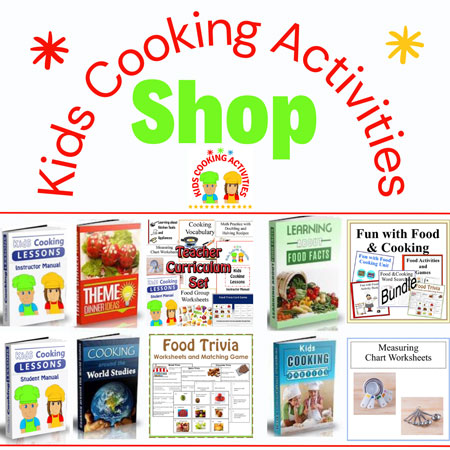 ~This post may contain affiliate links and I'll earn a small commission if you shop through them. There is no extra cost to you. This is how we help support our family and continue to bring you amazing content. To learn more see the
affiliates disclosure here.
~
10 Breakfast Recipes Children can Make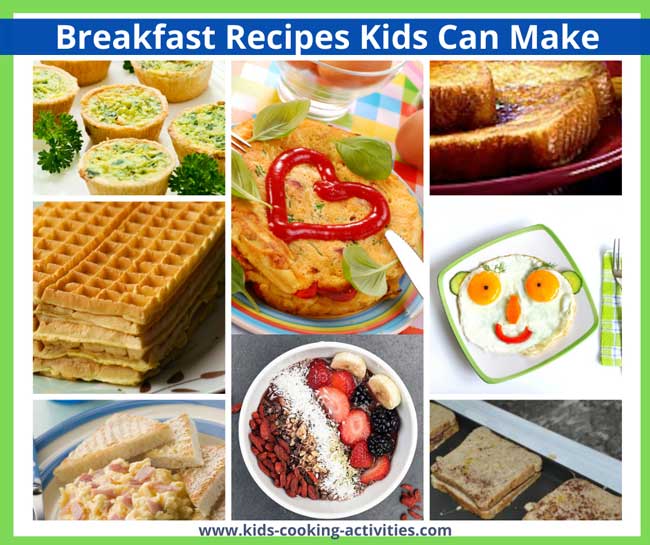 Scrambled Eggs
Oatmeal
Yogurt Parfait
Waffles
Smoothies
and
Smoothie Bowls
Egg Salad
Potato Egg Cups
Breakfast Kabobs
Monkey Bread
Breakfast Burritos
See more
breakfast recipes here.
10 Lunch Recipes Kids Can Make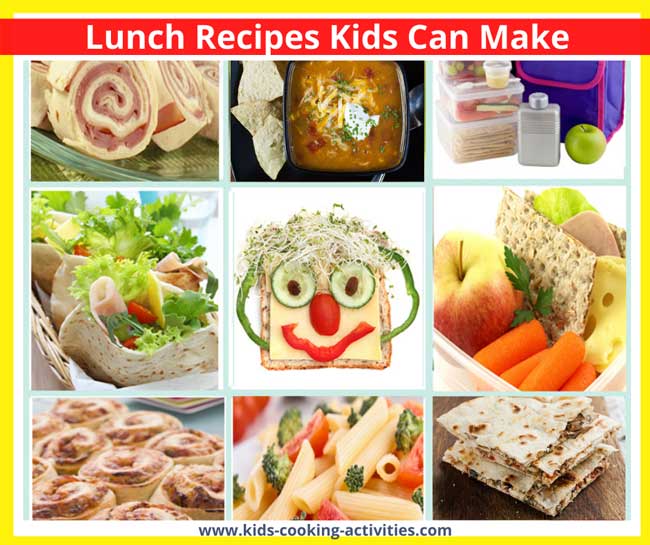 Chicken Noodle Soup
Ham Macaroni Chowder
Pizza Toast
Deluxe Nachos
Franks and Beans
Egg Drop Soup
Pizza Soup
Pork or Chicken Salad Sandwich
Quesadillas

Tuna Salad Sandwich
Find more
Lunch Recipes here.
Try our step by step
kids cooking lesson plans
with age appropriate tasks.
10 Dinner Meals Kids Can Make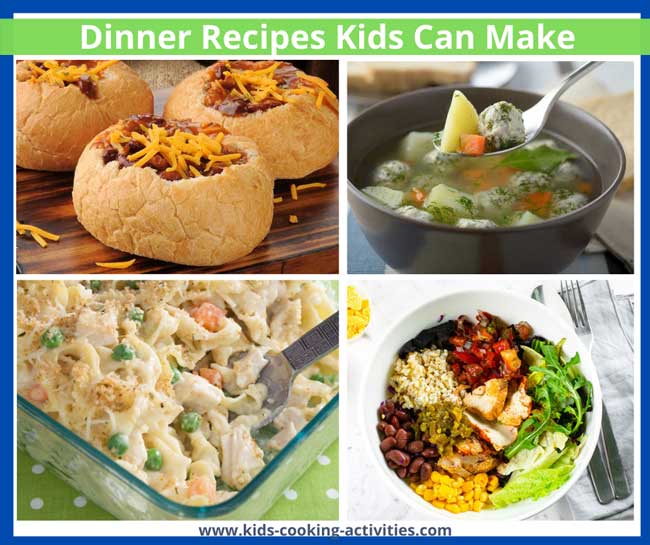 Chili Mac
Pizza Meatloaf
Creamy Beef Noodle
Chicken Casserole
Hot Chicken Dip
Monterey Chicken
Chicken Parmesan
Peach Pork Chops
Corn Chowder
Meatball Soup
25 Easy Dinner Ideas for Kids To Make
See our
kids recipe index
for more ideas.
10 Dessert Recipes for Kids to Make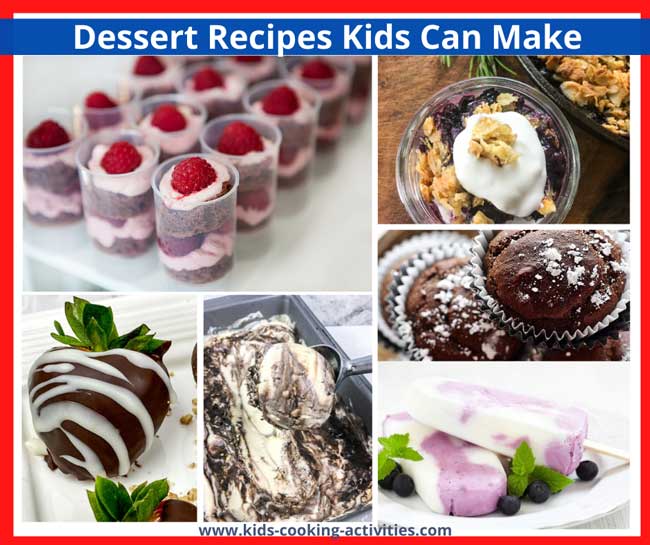 Push Pops
Popsicles
Homemade Ice Cream
Mini Cheesecakes

Chocolate cake in a mug
Blueberry Crisp
Dipped Oreos
Peach Cobbler
Chocolate Bark
Stuffed Strawberries
See our
kids recipe index
for more desserts.
10 Snack Recipes Kids Can Make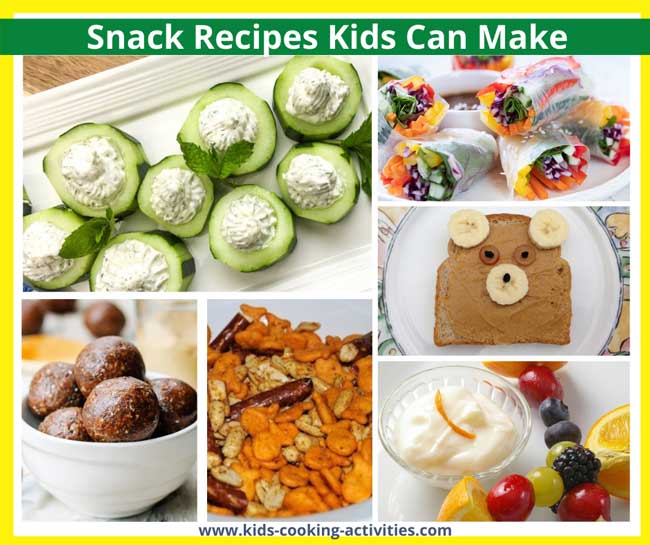 Fruit Dip
with sliced fruit
Taco Snack Mix
Banana Chips
Pizza Cups
Banana Roll Up
Veggie Roll
Spring Rolls
Pickle Deli Wrap
Snack Balls
Cucumber Cups
Here are more
snack recipes
and even more with
5 ingredients or less.
10 Vegetable Recipes Kids Can Make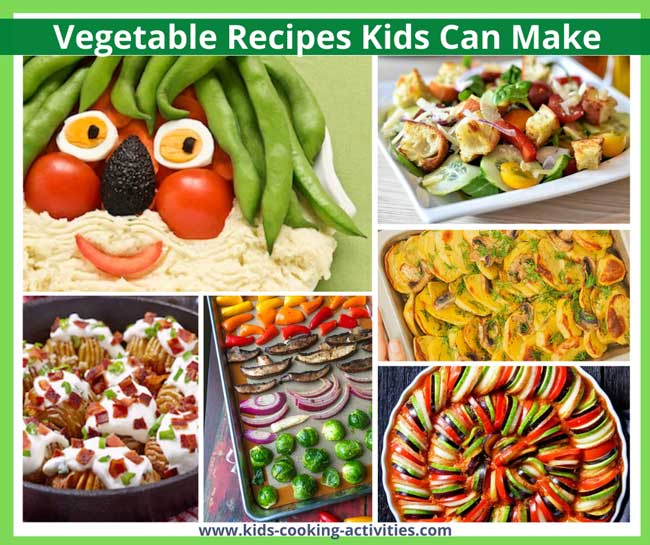 Roasted Sheet Pan Vegetables
Carrot Salad
Veggie Layered Dish
Cobb Salad
Potato Skins
Fanned Potatoes
Greek Salad
Pesto Salad
Acorn Squash
Sesame Snap Peas
Try more
Vegetable Recipes
or see our
Food Facts Pages.
25 "Mom and Dad are Away What Can I Fix for Dinner?" List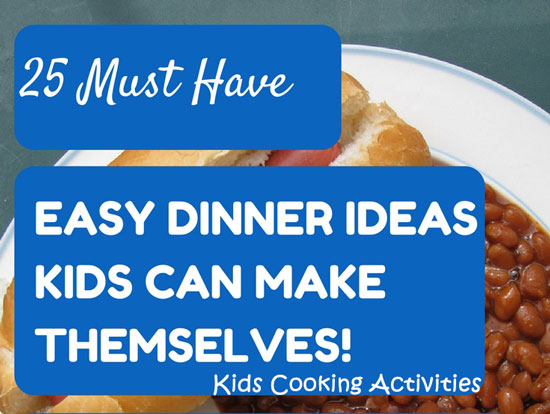 You need some easy dinner ideas for your kids. Maybe you're going to go shopping, or you're going to be getting home late from work, or your having a date night. Whatever the case your kids still have to eat!
Well, let your worries subside, because here are
25 easy dinner ideas
that your kids can make all by themselves! A few of these ideas are crockpot meals for when you are planning ahead.
And, if they have a sitter, it will make the sitter's life so much easier to already have a simple and easy dinner picked out and have the kids able to put it together.
What Makes These Easy Dinner Ideas "Easy"?
What makes these easy dinner ideas easy?!
1.
Fast
- these dinners are quick to put together, most of them can be ready in about 10 minutes!
2.
Simple
- the dinners I've created are incredibly simple being that they have few ingredients (usually just one) and the majority of them don't require following a detailed recipe. Some do have you follow the directions on a package but any reader should be up to the task. And if your kids are younger, then have the babysitter tell the kids what to do- i.e. "get out the pan for the stove."
3.
Fun
- the easy dinner ideas on this list are fun for kids to make because they are really comfort foods! Every child loves it when their favorite meal is up for dinner. This helps get them excited about actually making the meal and in turn this makes the dinner easy!
4.
Minimal Cleanup
- making sure that there are few dishes that have to be washed is a MUST when kids are in charge of making the meal! My 25 dinner ideas require very few dishes, at most about two pots.
Every dinner on my list of 25 dinners has the above characteristics. They are all fast, simple, fun and have minimal cleanup. These characteristics are definitely what defines them to be easy dinner ideas!
25 Easy Dinner Ideas
1. Grilled Cheese and Tomato Soup
- Preheat a pan on the stove or a griddle. Butter 2 slices of bread, get out 1 slice of cheese. Put 1st piece of bread (butter side down) in pan, then a piece of cheese, then 2nd slice of bread, butter side up. Heat up 1 can tomato soup according to directions on the can.
2. Bean Burritos -
heat up 1 can of refried beans according to the directions on the can. Spread on a tortilla. Top with Cheese. Roll Burrito up. Serve with a
Yogurt Salad
- pour 1 container of yogurt into a mixing bowl. Drain 1 can of fruit cocktail. Add the fruit cocktail to the yogurt and mix.
3.
Cheese Crisp
- Preheat oven to 400. Lay 1 flour tortilla out on a cookie sheet. Spread shredded cheese over it. Bake for 10 min.
4.
Hot Dogs
- heat according to package directions. Put in Hot Dog Bun. Serve with Chips and baked beans.
5.
Ham and Cheese Sandwich + Carrot Sticks
6. Macaroni and Cheese + Lemon Poppy seed Muffins -
Macaroni and Cheese - follow directions according to the box. Lemon Poppy seed Muffins - get the box mix that just calls for milk. Very easy to just follow directions then.
7.
Tuna Sandwich + Cottage Cheese + Cucumber Slices-
Tuna Sandwich - open 1 can of tuna and drain well. Add about 1 Tablespoon of Mayonnaise and a small amount of pickle relish. Mix together. Spoon onto sandwich bread. Serve with a scoop of cottage cheese on the side and cucumber slices.
8
. Pizza Toast
- Add a slice of bread, half a bagel or English muffin halves onto a cookie sheet. Spread tomato sauce on a slice of bread. Add a dash of oregano. Sprinkle top with cheese. Bake in a 400 degree oven for 3-5 minutes until browned as you like.
9.
Ragu + French Bread with Butter
- Fill a pot with water about 3/4 to the top. Turn stove burner on high. Bring water to a boil. Add spaghetti noodles. Cook noodles according to package directions. In a second saucepan, heat up 1 jar of spaghetti sauce. After the noodles are cooked, top them with the heated spaghetti sauce and some Parmesan cheese. Serve with bread and butter.
10.
Egg Salad Sandwich and an apple
-Egg Salad - peel 6 hardboiled eggs. Mash with a fork. Add 1/4 cup of mayonnaise and 1 Tablespoon of Mustard. Mix everything together. Spread on sandwich bread.
11.
BBQ Chicken and rolls-
Spray a crockpot. Put 6 chicken breasts in the crockpot and cook for about 6 hours on high. Remove chicken from crockpot and drain out any water. Put chicken back in crockpot and pour BBQ sauce over the chicken. Heat chicken with BBQ sauce about 30 minutes in crockpot. Serve with rolls.
12.
Chicken Noodle Soup + Rolls
- Chicken Noodle Soup - follow directions on the can. Serve with rolls or bread slice.
13.
English Muffin Pizzas
- cut 1 English Muffin in half. Toast in the toaster. Put on a plate and top with spaghetti sauce and cheese. Then heat in the microwave for about 45 seconds or until cheese melts.
14.
Nachos + Beans + Salsa-
For nachos spread tortilla chips on a plate. Top with shredded cheese and black beans and a little bit of salsa. Heat in microwave until cheese melts.
15.
Spaghetti and Meatballs
- pour frozen meatballs into a crockpot. Top with 2-3 jars of spaghetti sauce. When ready to serve, make some spaghetti noodles according to the package.
16.
Pork Chops in Crockpot
- Spray your crockpot. Place pork chops in crockpot. Top with 1 can of cream of mushroom soup. Cook about 6-8 hours on high.
17.
Ravioli with Yogurt Sauce
- Cook package of frozen ravioli according to package directions. Top with Greek or plain yogurt
18.
Fish Sticks + Applesauce
- follow the fish stick directions on the package. Serve with a side of ketchup. Add peas and applesauce for sides.
19.
Corn Dogs + Potato Chips + Baked Beans
- Cook Corn Dogs by following the directions on the package. Serve with a side of ketchup and mustard. For Baked Beans, heat on the stovetop or in the microwave according to the directions on the can.
20.
Baked Potato + Chili Beans
- Wash and scrub outside of potato. Poke with a fork several times on all sides of the potato. Cook potatoes in the microwave, using your potato button on the microwave.
Otherwise, cook the potato for 4-5 minutes. Heat some chili beans on the stovetop and spoon these over your cooked potato. Serve with a vegetable, such as carrot sticks or broccoli spears.
21.
Crockpot Chicken Tacos
-Put 4 chicken breasts in the crockpot, pour 1 package of taco seasoning over the chicken. Put 2 cups of salsa over the chicken. Cook for about 6-8 hours. When it is cooked, shred it with a fork and a knife. Then put the chicken in a taco shell.
22.
Fish Sandwich
- bake the fish fillets according to the package directions. Spread Mayonnaise on both sides of a hamburger bun. Then, put the fish patties on a hamburger bun. Top with a slice of cheese.
23.
Tacos and Refried Beans
- Tacos - brown 1 lb. of ground meat in a saucepan. Drain any fat that may be in the pan. Add 1 package of taco seasoning to the meat. Follow the directions on the taco seasoning package to add any other ingredients. Heat through. Serve meat in taco shells with cheese sprinkled on top.
24.
Sloppy Joes and Chips
- Sloppy Joes - brown 1 lb. of ground meat in a saucepan. Drain any fat that may be in the pan. Add 1 can of sloppy joe sauce to the meat. Follow the directions on the can.
25.
Scrambled Eggs with Ham
- Scrambled Eggs with Ham - crack 4 eggs into a bowl. Stir the eggs with a fork. Get out a frying pan, spray the pan, then add the eggs the pan. Next tear some slices of deli ham into the eggs. Sprinkle some cheese over the eggs. Cook the eggs over a medium-low heat.
GROCERY LIST
Bread
2 Flour Tortillas
1 can Tomato Soup
1 cream mushroom Soup
2 Chicken Noodle Soup
2 Refried Beans
2 Baked Beans
1 Chili Beans
1 Black Beans
1 Taco Shells
Salsa
2 Taco Seasoning Mix
2 Sloppy Joe Mixes (in can)
2 Dozen Eggs
2 Cheese Slices
Shredded Cheese
2 Cottage Cheese
Butter
4 Yogurts
plain or Greek yogurt
2 Deli Ham
1 pkg Hot Dogs
2 pkg Chicken Breasts
1 pkg Meatballs
1 Pork Chops
1 pkg frozen Ravioli
1 box Fish Sticks
1 box Fish Patties
1 box Corn dogs
1 can tomato sauce
Shredded cheese
2 cans Tuna
2 Boxes Mac & Cheese
1 box Spaghetti Noodles
1 pkg Quick Lemon Poppy Seed Muffin Mix
3 cans Fruit Cocktail
2 Apple Sauce
Chips
1 Tortilla Chips
8 Jar Spaghetti Sauce
1 Parmesan Cheese
Mayonnaise
Pickle Relish
BBQ Sauce
Ketchup + Mustard
2 Dinner Rolls
1 English Muffins
2 Loaves French Bread
2 pkg Hamburger Buns
1 pkg Hot Dog Buns
1 pkg Potatoes
fresh fruits, your favorites
fresh vegetables, your favorites
Start your Own Recipe Collection
Follow Kids Cooking Activities