How To Make Meatballs
Learn how to make meatballs and don't forget to freeze extra for the freezer.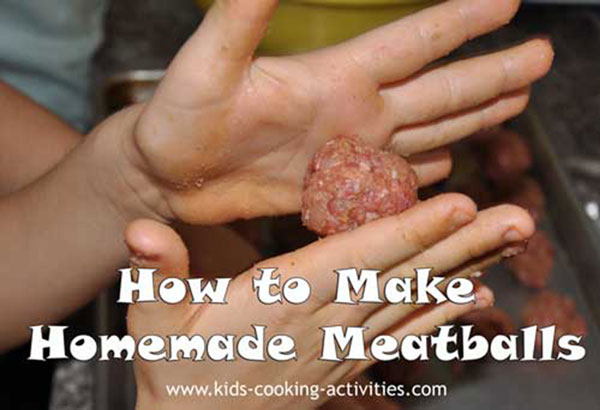 Kids Cooking Activities Teaching Materials
Make teaching easier with our activities and recipes compiled in theme sets and books with an easy to read format
Perfect for teaching!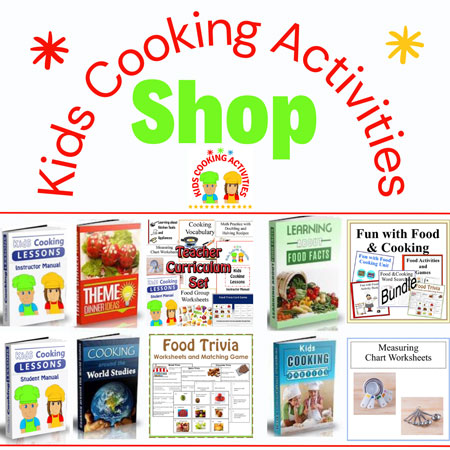 ~This post may contain affiliate links and I'll earn a small commission if you shop through them. There is no extra cost to you. This is how we help support our family and continue to bring you amazing content. To learn more see the
affiliates disclosure here.
~
How to Make Meatball Recipes
Basic Meatball Recipe
Ingredients:
1 egg, lightly beaten
1/2 Cup of bread crumbs
1 onion, chopped fine
1/2 tsp salt
1/4 tsp pepper
1 1/2 lbs. ground beef
Directions:
Mix together the egg, bread crumbs, onion, salt and pepper in a separate bowl.
Add the ground beef and mix with your hands until well combined. To make meatballs, take a piece of hamburger mixture the size of a golf ball or smaller. Roll between hands forming into a uniform ball.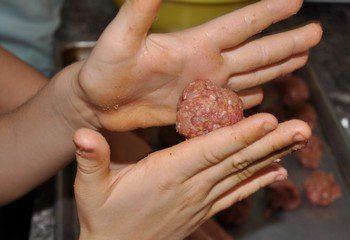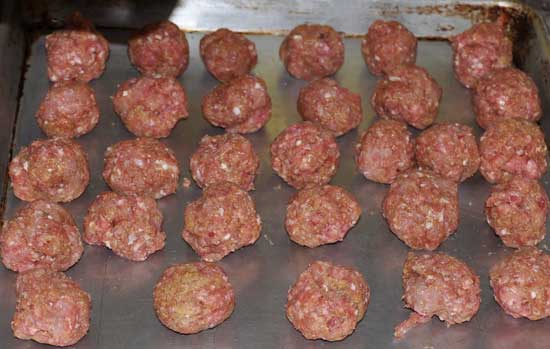 To cook meatballs, place in a skillet until browned on each side. Continue to cook until no longer pink. Or cook in a 13 x 9 or cookie sheet in the oven. Meatballs can also be cooked in the crock pot.

You can add whatever
seasoning or spices
you like to the meatballs.
Barbecue Meatballs
Ingredients:
1 egg, beaten
1/3 Cup milk
1/4 cup Barbecue sauce
¼ Cup crushed stuffing
1 Tablespoon onion soup mix or dried onions
1 1/4 lbs. Ground beef
Directions:
Combine all ingredients together and shape into meatballs. Flash freeze on cookie sheet then add to a Ziploc bag. When ready to bake, cook at 350 degrees until done about 30 minutes depending on size. Serve with cooked noodles or with a fresh vegetable on the side.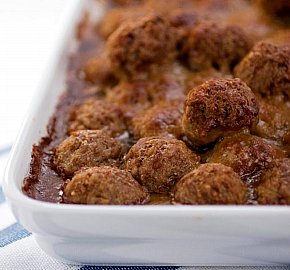 Easy Mini Meatball Muffins
For a quick way to make mini meatballs. Make your favorite or the basic meatloaf recipe above, roll into balls and place in mini muffin tins or regular size works for larger meatballs. Cook for 13-20 minutes, depending on the size, or until done. Flash freeze and place in freezer bag. When ready to eat warm up in oven or microwave in a safe dish.
I like to add
hidden vegetables
within my meatballs too:
pureed zucchini
cooked pumpkin
shredded or diced carrots
All work great in meatballs. If you're not sure how much to add start small -1/4 cup to 1 lb. of ground meat.

Meatballs also freeze well so make a large batch to have on hand in the freezer.
Meatballs Can be Added To:
Soups, try this meatball soup recipe.

Create a meatball sandwich and top with spaghetti sauce
Serve with cooked egg noodles and a mushroom sauce

As an appetizer on a toothpick
In lasagna
Try stuffing a cube of cheese inside a meatball

Place in a crock pot or cook in a skillet with a homemade sauce such as a sweet and sour sauce, barbecue sauce or tomato sauce.
---
Make teaching easier with our activities and recipes compiled in one easy to read format.
---
Readers How to Make Meatballs Recipes
Meatballs Florentine
by Christy Agnew (Stephenville, TX)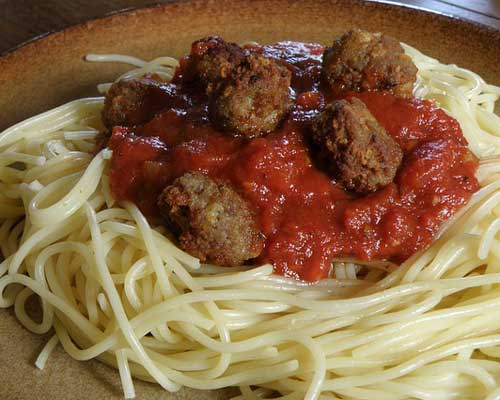 Ingredients:
1 lb ground beef
1/2 cup bread crumbs or crackers
1/2 tsp. garlic powder
1 egg
2 Tbsp. soy sauce
pepper to taste
1 can Italian style tomatoes
2 fresh tomatoes
1 Cup (1/2 pkg.) frozen chopped spinach or 1/2 bag baby spinach
2 Cups prepared spaghetti sauce
1/4 Cup fresh grated Parmesan cheese
Cooked whole wheat or regular spaghetti to serve 6
Preheat oven to 350 degrees. In a mixing bowl, combine beef, bread crumbs or crackers, garlic, egg, soy sauce, and pepper. Mix together thoroughly. Use a small ice cream style scoop with a scraper button; like the one sold by Pampered Chef; to make perfect meatballs. Place single layer of meatballs into a pan and bake at 350 degrees until cooked through, about 20 minutes. Remove from pan and place on a double layer of paper towels to drain.
In a large, deep skillet or sauce pan with a lid, combine the canned tomatoes, fresh tomatoes, and spaghetti sauce. Allow the tomatoes to cook down, then add the spinach. Add cooked meatballs and simmer on low heat until spinach is wilted and tomatoes are tender. Place cooked, drained pasta into the sauce and stir to coat. Serve with a small amount of fresh grated Parmesan on top.
Meatball and Ravioli Soup
Ingredients:
6 oz. ground turkey or ground beef
1 egg
3 Tablespoons bread crumbs
Parsley
1 teaspoon salt
¼ teaspoon pepper
6 Cup chicken broth
2 medium carrots, peeled and sliced
1 potato peeled and diced
Frozen or fresh ravioli or pasta, optional
Combine ground meat, egg, bread crumbs and parsley in bowl. Mix together and form into small meatballs. Set aside in the fridge while preparing the rest of this cold weather recipe. In saucepan add broth and carrots. Bring to a boil and add meatballs. Cook 5 minutes. Add ravioli. Simmer until raviolis are cooked. Make sure meatballs are done by cutting one in half or using a meat thermometer. Serve soup sprinkled with Parmesan cheese.
Pork Meatballs with Pasta
Check out the pork meatball recipe added to pasta.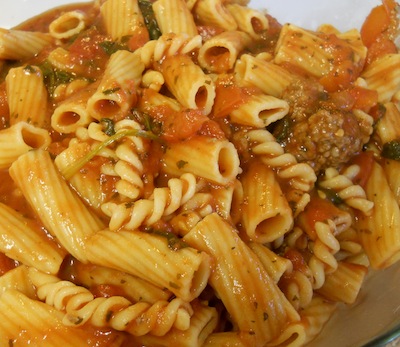 Fun Recipes with Meatballs
Mini Meatball Hamburgers
by Casa Di Bertacchi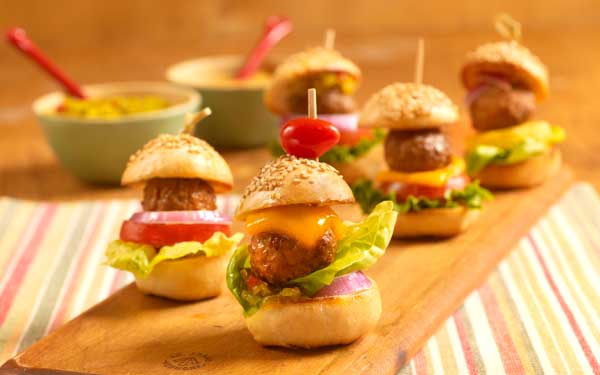 26 (1 lb) frozen Casa Di Bertacchi fully cooked meatballs
1 cup ketchup
3 tbs Dijon honey mustard
26 (2-inch) rolls, sliced in half horizontally
1 1/2 cups sweet pickle relish
Directions:
Preheat oven to 400 degrees. Place meatballs in a 8 x 8 or 9 x 9-inch pan. Bake for 25-30 minutes or until thoroughly heated. In a small bowl, combine ketchup and mustard. Place a heaping teaspoon of ketchup mixture on the bottom of roll. Place a meatball on top. Follow with a rounded teaspoon of pickle relish. Place top half of roll over top. Repeat for remaining meatballs and rolls. Serve immediately on a large platter.
Create some
fun
meatballs just by adding candy eyes and carrot noses.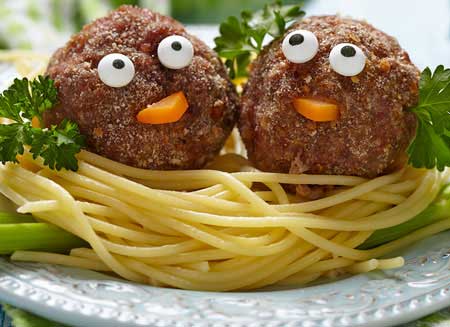 Try this
Beefy Mac and Cheese Recipe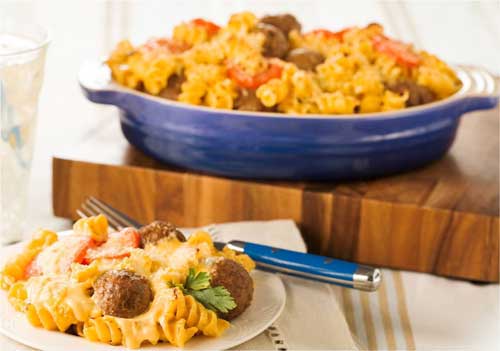 Make a
homemade pizza
and top with meatballs.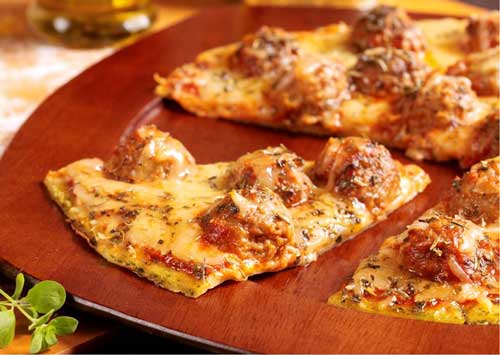 Share your Meatball Recipe
Submit your favorite kids recipe
Do you have a favorite recipe your kids love to make? Or a recipe your kids ask you to make again and again? Share it with us!
Follow Kids Cooking Activities