How To Make Quesadillas
Here you can learn how to make quesadillas. They are a great last minute meal and you there are a variety of different recipes and fillings for your quesadillas.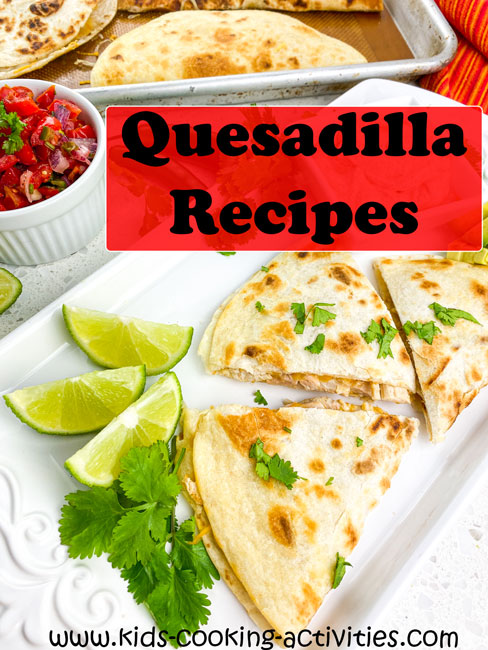 Kids Cooking Activities Teaching Materials
Make teaching easier with our activities and recipes compiled in theme sets and books with an easy to read format
Perfect for teaching!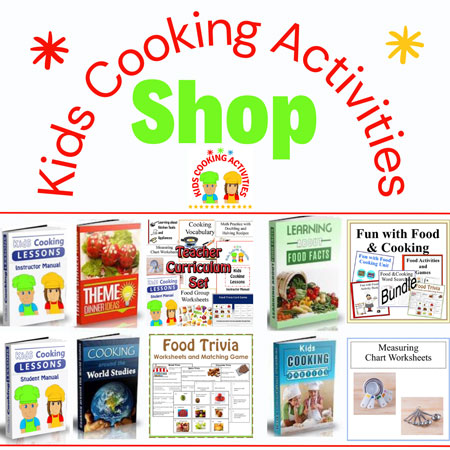 ~This post may contain affiliate links and I'll earn a small commission if you shop through them. There is no extra cost to you. This is how we help support our family and continue to bring you amazing content. To learn more see the
affiliates disclosure here.
~
How To Make Quesadillas
To make a quesadilla, layer filling on top of one tortilla. Top with a second tortilla. In a skillet, add cooking spray and bake tortilla on both sides for several minutes until golden brown. Or bake in the oven for 6-10 minutes until crispy. Cut in triangles and serve. It is that easy!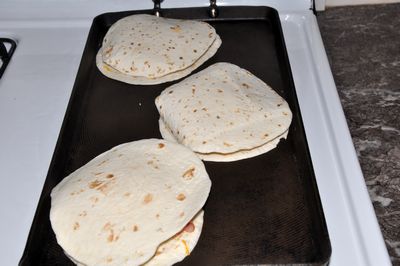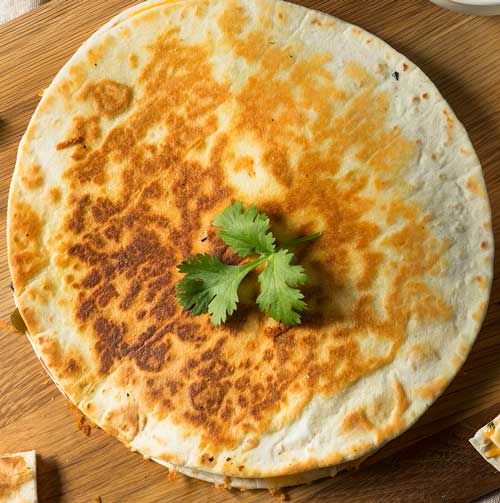 How to Make Quesadillas- Fillings
There are lots of different fillings you can create in a kids quesadilla recipe.
Bean Quesadilla

- Try refried beans and cheese.



Beef Quesadilla

- Mix in cooked ground beef to refried beans and a couple tablespoons of salsa.



Pizza Quesadilla

- pizza sauce, shredded cheese, pepperoni slices, whatever you like on your pizza go ahead and add it. See recipe below.




Cheese Quesadilla

- add whatever shredded cheese you'd like, cheddar cheese and Monterey cheese work well.



Easy Chicken Quesadilla

- add shredded cook chicken, shredded cheese, sliced or chopped vegetables.
How to Make Quesadillas - More Recipes
Pizza Quesadillas
8 flour tortillas
1 Cup of pizza sauce
1 Cup of cheddar cheese, shredded
Lay 4 tortillas into a non stick skillet and place over low heat. Spread 1/4 C of sauce evenly over each tortilla. Sprinkle each tortilla with cheese. Place a second tortilla over the top. Cook 5 minutes or until the bottom is lightly browned. Carefully flip the tortilla and cook an additional 3 minutes or until nicely browned. Remove and cut into triangles.
Bean and Vegetable Quesadilla
Saute vegetables you like such as chopped peppers, zucchini, onions or eggplant. Add cooked beans to mixture. Layer mixture between tortillas. Bake or toast in skillet.
Cheesy Chicken Quesadillas
2 small tortillas
1/4 c. sliced olives
1/4 c. chopped cooked chicken, shredded beef, pork, or seafood
1/2 c. shredded cheese
2 Tbsp tomato salsa, drained
Put ingredients (except tortillas) in a bowl and toss together.
Heat grill to medium heat.
Brush cooking oil on one side of each tortilla.
When grill is hot, lay one tortilla on grill, oiled side down.
Spread filling mixture over the tortilla and cover with the other tortilla, oiled side up.
Cook with grill cover closed, for about 3 to 4 minutes, or until cheese has started to melt, and you get nice grill marks, then flip and cook other side for another 3 to 4 minutes.
Remove and serve with taco sauce, guacamole sauce, or other favorite dipping sauce.
This makes 1 quesadilla – double, triple, or quadruple for more servings.
Chicken Mushroom Quesadillas
Ingredients:
2 Cups chicken, cooked and chopped
4 (10 in) flour tortillas
2 Cups fresh spinach, washed, squeezed dried and chopped finely or pureed
1 (6 oz.) jar mushrooms, drained and sliced
2 Cups Monterey Jack cheese, shredded
Directions:
Spread the chicken on to one half of each tortilla.
Add the spinach and mushrooms over the chicken.
Sprinkle with the cheese.
Fold the tortillas over and press to close around the edges.
Heat a griddle or large skillet over medium heat.
Place the quesadillas into the warmed skillet.
Cook 5 minutes or until lightly browned.
Turn the quesadillas over.
Cook for 5 minutes longer or until nicely browned and the cheese has melted.
Vegetable Quesadillas
by Patricia (USA)
Use wheat flour tortillas, any type of melty cheese and slice roasted tomatoes, zucchini, or green or red peppers and layer between cheese. Add salt to taste.
Cook on each side. Top with more vegetables, if desired.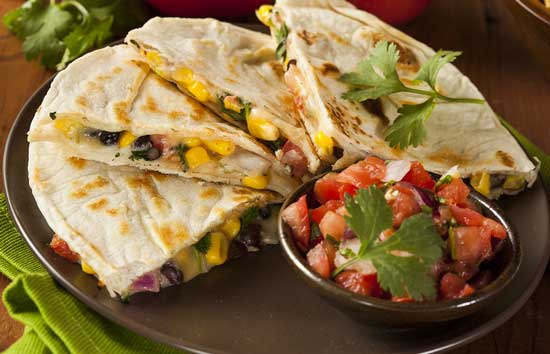 Taco Quesadilla
Ingredients:
kidney beans or refried beans
ground hamburger
salsa
shredded cheese
tortillas
Directions:
Layer beans, hamburger, salsa and cheese on top of a tortilla. Top with second tortilla. Fry in skillet or toast in oven until golden brown.
---
Make teaching easier with our activities and recipes compiled in one easy to read format.
---
How to Make Quesadillas Recipes
Chicken Cordon Bleu Quesadilla
This is an easy chicken quesadilla that you can prepare for dinner when you are in a hurry.
grilled chopped chicken or cooked chicken strips
deli ham slices
shredded cheddar cheese
Layer cheese on top of a tortilla, add cooked chicken, slices of ham and sprinkle with more cheese. Add top tortilla and bake or toast.
Chicken Quesadillas
by Chantal Haviland (USA)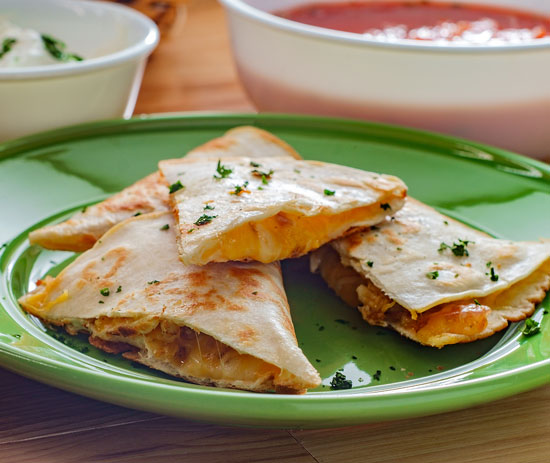 Our students made chicken quesadillas and loved them!
1-2 chicken breasts marinated in Italian dressing
1 bag Mexican cheese blend
1 bag mozzarella cheese
1-2 tomatoes chopped
1 package tortilla wraps
butter
Cook chicken in a fry pan. When half cooked, remove and dice into small pieces, return to pan and finish cooking. - Put aside and allow to cool heat a skillet on med- high heat place the buttered side of a tortilla down on skillet.

On 1 half of tortilla layer Mexican cheese, chicken, tomato, mozzarella cheese. Using a spatula fold tortilla in half and allow side to brown for a few minutes. Flip and allow other side to brown. Allow to cool and dip in sour cream/salsa and enjoy!!

Hawaiian Pineapple Quesadilla
by Myah (Columbus, Ohio)
You will need:
8 flour tortillas
butter or margarine
2 cups of pineapple,sliced
1 package of grilled chicken
3 cups of grated cheese whatever kind you like
Get a frying pan and put the butter on it then put tortillas and put the oven on 300 degrees. Next after the tortillas are done put the cheese,chicken and pineapple and flip the tortillas. Serve
Quesadillas 4 Ways Video
Dessert Quesadilla
Chocolate Banana Quesadillas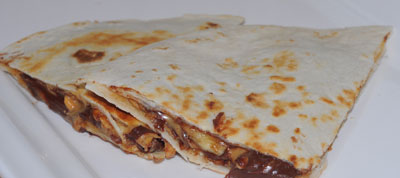 Ingredients:
2 8-inch whole wheat tortillas
4 tablespoons smooth peanut butter*
1 large banana, sliced*
2 tablespoons chocolate chips*
Directions:
Place the tortilla in front of you and spread over the peanut butter. Place the banana slices at one-half of the tortilla and sprinkle with chocolate chips. Fold in half and cook quesadilla in a non-stick skillet until crispy on both sides. Cut in half and serve.
*Instead peanut butter you can use: almond butter, hazelnut spread, pistachio spread
*Instead banana you can use: sliced apricot, strawberries, or raspberries.
*Instead of chocolate chips you can use: white chocolate chips, carob chips, caramel chips
Try any of these Mexican Recipes as well:
Mexican Cooking Recipes
Quesadillas
Chicken Enchiladas
Beef and Bean Enchiladas
Tacos or Burritos
Taquitos
Deluxe Nachos
Taco Salad
Learn
how to make homemade flour tortillas
now!
Share How to Make Quesadillas
Submit your favorite kids recipe
Do you have a favorite recipe your kids love to make? Or a recipe your kids ask you to make again and again? Share it with us!
Follow Kids Cooking Activities