Recipe for Chicken Enchiladas
This recipe for chicken enchiladas can be changed slightly by substituting white or brown rice for the cooked white beans. You can also leave the beans out if you'd like. This is a great recipe for freezing extra. It also can be prepared the night before or morning and left in the fridge until cooking time.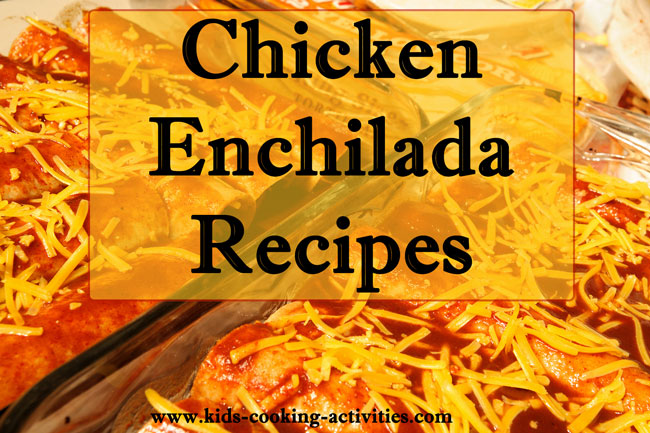 Kids Cooking Activities Teaching Materials
Make teaching easier with our activities and recipes compiled in theme sets and books with an easy to read format
Perfect for teaching!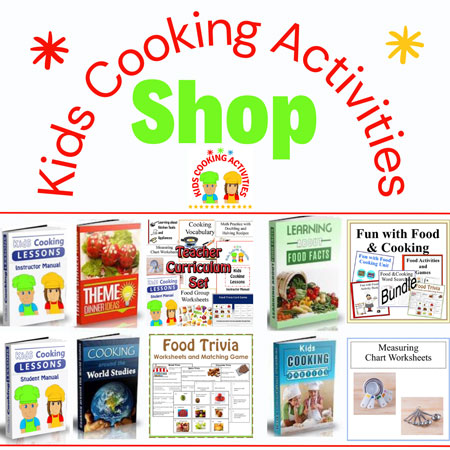 ~This post may contain affiliate links and I'll earn a small commission if you shop through them. There is no extra cost to you. This is how we help support our family and continue to bring you amazing content. To learn more see the
affiliates disclosure here.
~
Recipe for Chicken Enchiladas
Ingredients:
4 Cups shredded cooked chicken
8 oz. cream cheese, softened
1/2 Cup salsa
1 cup shredded cheese
1 cup cooked white beans
salt and pepper
1 can of cream of chicken soup
1 cup milk
whole wheat flour tortillas
In large bowl, blend chicken, cream cheese, salsa, cheese, beans and salt and pepper. Stir together to combine. In separate bowl, stir cream chicken soup and milk together until blended. Add 1/2 cup of cream of chicken soup to chicken mixture. Blend together.
Add 1/4 cup of chicken, or as much as desired, to a tortilla.
Roll up and place in casserole dish. Continue with remaining tortillas and chicken mixture. Pour remaining cream chicken sauce over the top of your tortillas. Bake at 350 degrees for 20 minutes.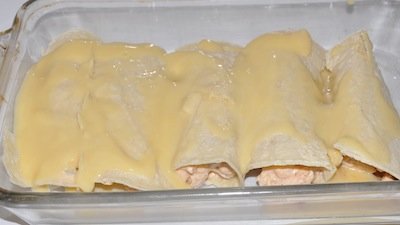 Serve with chopped avocado, tomatoes or prepared guacamole.
Make an
extra one for the freezer!
Chicken Enchiladas
Ingredients
2-3 Cup chopped cooked chicken
1 green pepper chopped, optional
Chopped olives, optional
Salsa
8 flour tortillas
Cheddar cheese
1-2 cans red enchilada sauce
1 Cup sour cream
Directions:
Place chopped cooked chicken in bowl. Stir in shredded cheddar cheese (as much as desired) chopped peppers or chopped olives. Sprinkle with salt and pepper and stir together. Spoon chicken mixture down center of each tortilla, roll up. Place seam side down in baking dish. Top with enchilada sauce and sprinkle with cheddar cheese. Bake at 375 degrees for 20-25 minutes.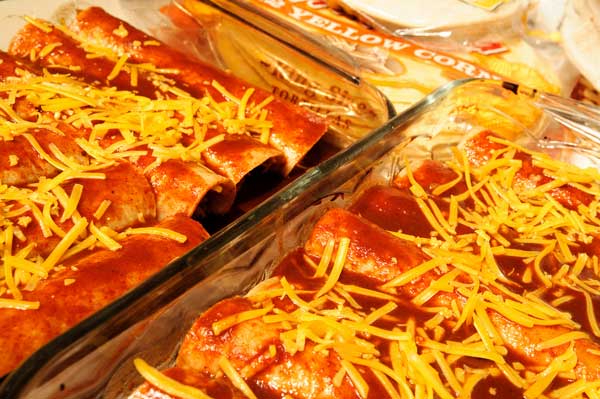 Turkey Enchilada Casserole
by Stanley Fisher (Guthrie, MN)
Ingredients:
5 Skinless boneless turkey
1 large can of green enchilada sauce
4 cups of shredded cheese (we use Colby jack)
1/2 cup milk
1 bag of flour or corn tortilla (we use flour)
Heat green sauce on low & add 1/2 cup milk stir until blended.
Ladle sauce into 9x12 pan about 1/2 inch thick. Start first layer of tortillas. Cook turkey in microwave until almost done, slightly pink in the middle (if using leftover turkey from holidays just shred). Shred one layer of turkey over tortillas. Add one layer of cheese over turkey. Ladle more sauce over cheese (about three ladles). Repeat this process two times. MAKE SURE TO SAVE ABOUT 1 CUP OF CHEESE FOR TOP. End with layer of tortillas. Add last cup of cheese and top with left over sauce.
You may add olives to top and/or green chilies to sauce.
Bake @ 350 until cheese is completely melted
Mom makes this with chicken also!!
Green Enchiladas
by Deseeray
(San Pedro, CA)
Lightly fry a single corn tortilla then dip it into Las Palmas green enchilada sauce, lay out the tortilla on a plate, spread shredded cheese all over the tortilla, add some boiled shredded chicken on top of the tortilla then you roll it up into taquito style then add a tablespoon of sour cream on top of enchiladas.
Here is a recipe for beef and bean enchiladas.

Shredded Chicken Enchiladas Recipe Video
Try any of these Mexican Recipes as well:
Mexican Cooking Recipes
Quesadillas
Chicken Enchiladas
Beef and Bean Enchiladas
Tacos or Burritos
Taquitos
Deluxe Nachos
Taco Salad
Learn
how to make homemade flour tortillas
now!
Add more fun to your tacos by making a
Homemade Taco Salad Bowl
Follow Kids Cooking Activities