Mexican Cooking
When we think of Mexican cooking, tacos are first on our mind. However Mexican recipes are much more diverse than that. Next time you want to have a Mexican taco try changing it a bit by adding different fillings such as fish, turkey or chicken. Shredded pork tacos, black bean tacos or shrimp and avocado are all Mexican cooking at its best.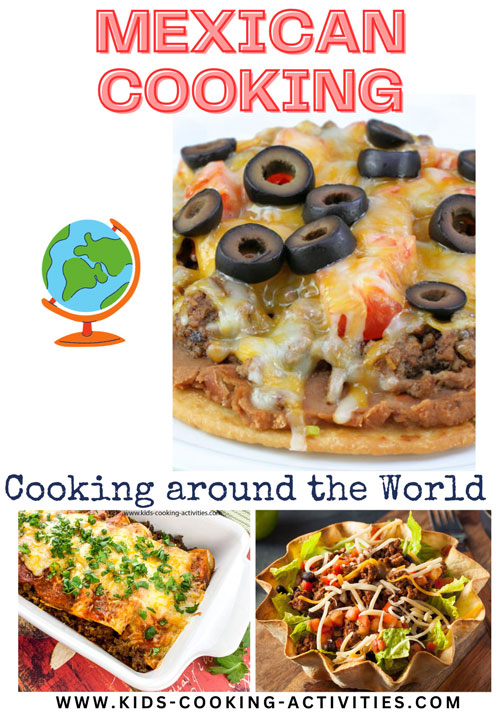 Some
common ingredients in Mexican food are lime juice, corn, cornmeal, flour tortillas, chili peppers, papaya, avocado, pineapple and beans.
---
Get all of our International Cooking Section plus more in
one ebook
, free of ads and easier to use in cooking activities. Included in the ebook:
20+ countries information and recipes
Dinner menu invitations to print off to create your own international night
International quizzes
World maps
Geography activities
---
Mexican Food Facts
Corn is the major food grown in Mexico
Mexico is famous for ice sherbets and drinks such as prickly pear cactus
Authentic Mexican and North American Mexican type food is different
Mexico is also Known for Several Famous Things:
Mexico City is one of the largest cities in the world
Mexico has many volcanoes
Mexico has frequent earthquakes
Learn a Little Language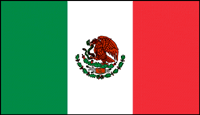 Comer con gusto means Enjoy the meal
Buenos dias means good day
Por Favor means Please
Mexican Cooking Recipes
Flour Tortillas
These take a little muscle work to roll out but they taste so good they are worth the extra effort.
4 Cups flour
2 teaspoons baking powder
2 teaspoons salt
4 Tablespoons oil
1 1/2 Cup warm water
In a mixing bowl add flour, baking powder and salt. Stir together. Pour in oil and warm water and blend together. Knead several minutes and let sit covered in plastic wrap or in a plastic container with a lid for 30 minutes. Pull off balls of dough and roll out each ball into desired size tortillas. Fry a few minutes on each side in a hot skillet. Prepare your favorite Mexican cooking recipes with your fresh tortillas.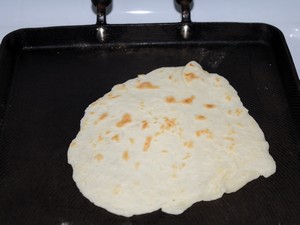 See more about
making homemade tortillas
Mexican Bean Dip
16 oz. Refried beans mixed with ground beef
Guacamole homemade or store bought
1 Cup sour cream whisked together with taco seasoning mix
Shredded lettuce
Grated cheddar cheese
Chopped tomatoes
Chopped olives
Chopped onions (optional)
Layer in each ingredient in order listed. Serve with tortilla chips.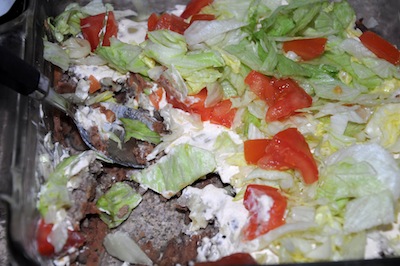 Authentic Mexican Food- Tamales Recipe
Enchiladas
Try these
chicken enchilada recipes
or
beef & bean enchiladas recipe.
Taquitos
Brown 1 lb. hamburger with one chopped onion and 1 clove garlic, minced. Drain and add 1 cup salsa, 2 teaspoons chili powder, if desired, 1/2 teaspoon salt, and 1/4 teaspoon pepper.
Warm up flour tortillas and place beef mixture and shredded cheese on one end of tortilla wrap up tightly and place on a foil lined cookie sheet. When all tortillas are filled and rolled up brush tops of tortillas with oil. Bake at 400 degrees for 8-10 minutes or until golden brown. This Mexican cooking recipe should be served with guacamole, sour cream and/or salsa.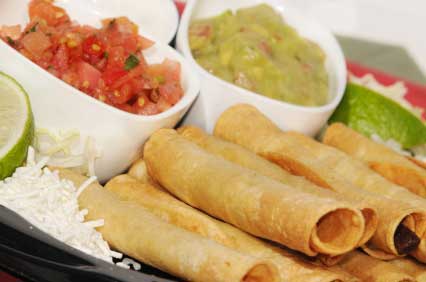 Guacamole
2 avocados
1 tablespoon lemon juice
1/2 chopped tomato or desired amount of salsa
1/4 teaspoon salt
¼ Cup sour cream, if desired.
Mash avocados and add remaining ingredients. Serve with tortilla chips.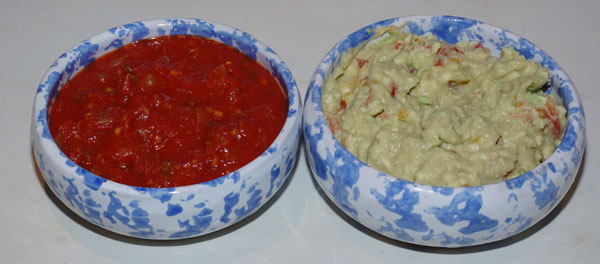 Salsa
Cut up tomatoes diced
Onions however much you want
One can mild green chilies
1-2 Garlic cloves, according to taste
Salt to taste
Use as much ingredients as desired and taste as you go for a quick Mexican cooking salsa.
Or try this
Pico De Gallo
recipe.
Cheese Quesadillas
1 cup shredded Mexican or Monterey Jack cheese
1 green onion, minced
1 tablespoon canned chopped green chilies or as much as desired
4 8-inch flour tortillas
On top of one flour tortilla mix cheese, onion and chilies. Scatter over tortilla to the edges. Top with second tortilla. Brush tops with olive oil and bake in the oven at 400 degrees until golden brown. Or fry in a tablespoon of oil in a skillet. Top with sour cream , salsa or tomatoes.
**Make this a chicken quesadillas by adding chopped marinaded chicken with the cheese.

See more quesadilla recipes.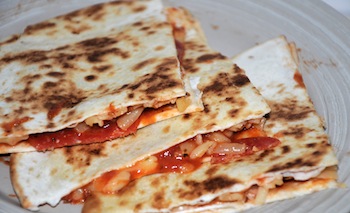 Fajitas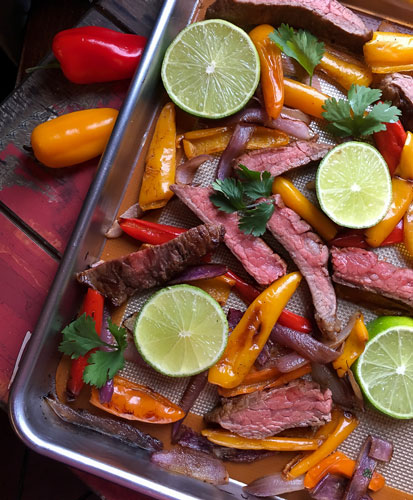 Ingredients:
1½ lb. flank steak, sliced into thin strips
1 lb. bag mini sweet peppers, cut in half lengthwise and seeded
1 large red onion, thinly sliced
2 T. extra virgin olive oil
1 T. ground cumin
2 t. chili powder
½ t. cayenne pepper
1 t. red pepper flakes
Sea salt and black pepper, to taste
½ c. fresh cilantro leaves, roughly chopped
1 large lime, sliced
Optional:
1 large avocado, diced
Corn tortillas or large lettuce leaves
Directions:
1. Preheat oven to 400°F and line a large, rimmed baking sheet with parchment paper or a Silpat® baking mat. Set aside.
2. In a large mixing bowl, combine sliced flank steak, peppers, red onion, olive oil, cumin, chili powder, cayenne, and red pepper flakes. Generously season with salt and pepper, to taste, and mix until everything is well coated.
3. Spread the steak and pepper mixture onto the prepared baking sheet and roast in pre-heated oven for 15-20 minutes, or until the steak reaches the desired level of doneness and the peppers are soft and slightly caramelized.
4. Remove sheet pan from oven and sprinkle with fresh cilantro and a squeeze of fresh lime juice. Serve immediately with diced avocado, corn tortillas, or lettuce wraps for a low-carb option, if desired. Enjoy!
Simple Chilaquiles
Empanadas
1 ½ Cup flour
1 Cup cornmeal
1 teaspoon baking powder
¼ teaspoon salt
1 teaspoon sugar
1/3 Cup butter, softened
½ Cup milk
1 lb. Ground beef
1 onion chopped
½ Cup shredded cheese
Brown hamburger and onion together in skillet. Season with salt and pepper or other taco seasoning if you choose. Drain and set aside.
Heat oven to 400. In a mixing bowl add flour, cornmeal, baking powder, salt and sugar. Stir together and add soft butter. Blend together. Slowly add milk until dough forms a ball. If dough is sticky add more cornmeal. On a floured surface roll out dough and cut 3-4 inch circles with a bottom of a glass or biscuit cutter. Add cheese to the beef mixture. Place 1 teaspoon of beef in each circle. Fold each circle in half and seal edges with a fork. Place on a cookie sheet and bake for 12 minutes or until golden brown.
This Mexican cooking recipe is very versatile as you can add whatever fillings you desire to change the recipe. Try ham and cheese, pizza toppings or a fruit filling for a non Mexican recipe empanada.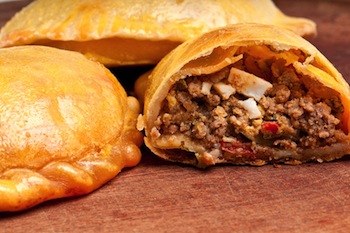 Corn and Tomato Side Dish
One can of corn, drained
1-2 tomatoes, diced
1 avocado diced
2 tablespoons olive oil
1 tablespoon lime juice
1/4 cup cilantro
1/4 teaspoon salt
1/4 teaspoon pepper
diced red onion, optional
In serving bowl add corn, tomatoes, avocado, and onion. In measuring cup or bowl add olive oil, lime juice, cilantro, salt and pepper together. Pour over salad and toss to coat. Serve immediately.
Churros
This Mexican cooking dessert is delicious and kid friendly.
1/2 Cup water
2 Tablespoons butter or margarine
pinch of sugar
6 Tablespoons flour
l egg yolk
2 whole eggs
Oil for frying
Powdered sugar
In saucepan heat water, butter and sugar until butter has melted and sugar is dissolved. Add flour and blend together. Turn heat to low and cook continuing to stir until mixture forms a ball. It will be dry enough to leave the pan clean. In a small bowl whisk together eggs and egg yolk. Take off heat and slowly stirring in beaten eggs. Allow to cool and then place in a ziploc bag or pastry bag. (Clip a hole at the corner if using a ziploc bag). Squeeze dough out into long sticks. Fry in hot oil until golden brown and crisp. Place on paper towel to drain. Then sprinkle with powdered sugar.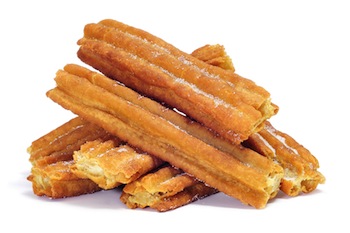 Baked Not Fried Ice Cream
It is still unsure if this is an ethnic Mexican cooking.
3 Cups Cornflakes, crushed
Vanilla ice cream
Place cornflakes in a ziploc bag and crush with a rolling pin or kitchen mallet. Scoop vanilla ice cream in small scoops and roll in a ball. Coat with cereal. Place on a cookie sheet lined with waxed paper. Freeze several hours. Before serving broil for 30 seconds to until the cornflakes are light brown.
Easy Huevos Rancheros
Try any of these Mexican Recipes as well:
Quesadillas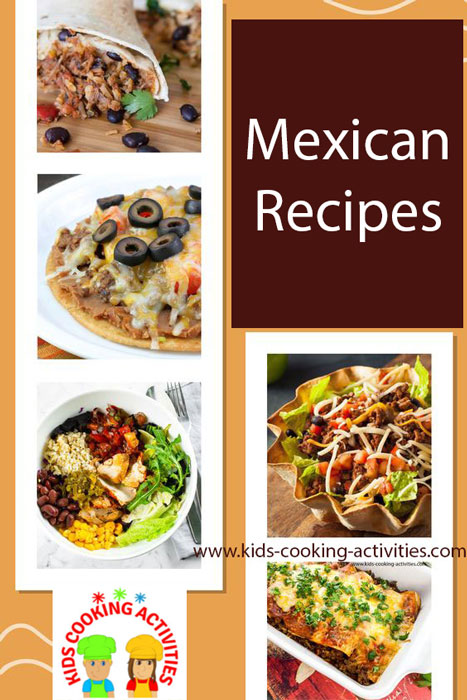 Chicken Enchiladas
Beef and Bean Enchiladas
Tacos or Burritos
Taco salad bowls
Taquitos
Nachos
Taco Salad
Burrito Bowls
Chalupas
Fajitas
Shredded Beef Tacos
Taco Pie Cup
Black Bean Lettuce Wraps
Pico De Gallo
Strawberry Margarita Mocktail
Have a Mexican
Fiesta Dinner complete with Pinata Cookies.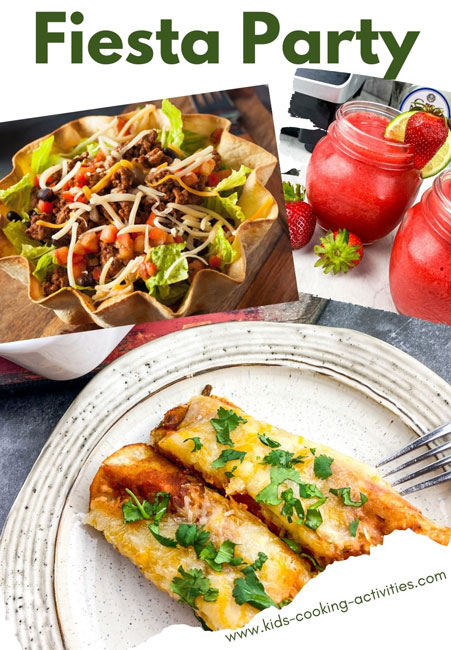 Cooking Around the World Studies
Do you have an International Recipe or World Studies Fact?
Do you have an International recipe or know a lot about a country we could add to our world studies section? You can create your own page.
Reader's Submitted Recipes
Click below to see contributions from other visitors to this page...

Crock Pot Chicken Corn Tortillas Not rated yet
Ingredients rotisserie chicken, shredded 1 (19 oz) can of enchilada sauce 2 (11 oz) cans cream of chicken soup 1 small can black olives, sliced, …
---
Related Cooking around World Pages:
~
International Cooking for Kids
, ~
American
, ~
Asian
, ~
British
, ~
Eastern Europe
, ~
French
, ~
Greece
, ~
India
, ~
Irish
, ~
Italy
, ~
Mexico
, ~
Middle East
, ~
South Africa
, ~
Southern USA
~
World Studies Unit
---
Follow Kids Cooking Activities