Recipe for Making Tacos
Included on this Taco recipes page:
Ground beef recipe
Ground beef with beans

Chicken tacos

Easy taco salad recipe
Fajitas

Tacos are easy, fun and a healthy dinner that most kids really enjoy.
Arrange your toppings around the table and prepare your meat. The family can assemble their own tacos.
Kids Cooking Activities Teaching Materials
Make teaching easier with our activities and recipes compiled in theme sets and books with an easy to read format
Perfect for teaching!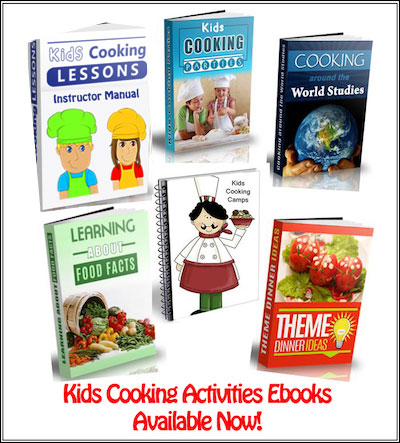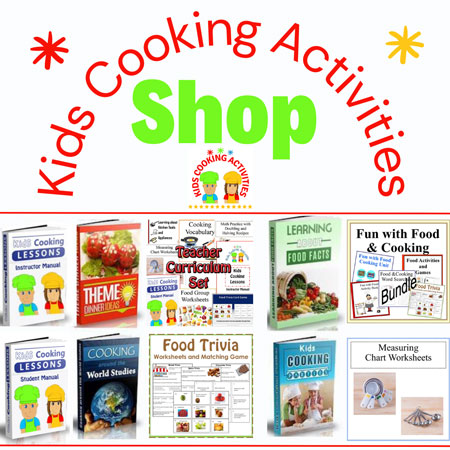 ~This post may contain affiliate links and I'll earn a small commission if you shop through them. There is no extra cost to you. This is how we help support our family and continue to bring you amazing content. To learn more see the
affiliates disclosure here.
~
Taco Topping Ideas
Shredded cheese
Shredded lettuce
Sliced olives
Chopped onions
Salsa
Sour cream
Guacamole

Simple Ground Beef Taco Recipe
There a couple ways you can make your ground beef for your tacos.
1 lb. hamburger
1/4 Cup water
Brown hamburger and drain. Add in seasoning and 1/4 cup water. Let simmer 5 minutes.
Ground Beef Taco Recipe with Beans

This is how we make ground beef tacos at our house.
Brown hamburger and drain off grease. Stir in refried beans and water. Stir in taco seasoning mix and heat several minutes.
Simple Chicken Taco Recipe
Shredded cooked chicken (great with leftover chicken or a rotisserie chicken meat)
Salsa
Kidney beans or black beans
Shredded cheese
Stir salsa into shredded chicken. Use as much salsa as your family likes. To assemble your tacos top tortillas with chicken, beans and cheese.
Making Fajita Tacos
Cut chicken or beef into strips and marinade in a plastic Ziploc baggie overnight or prepare in the morning.


Marinade ingredients:


2 tablespoons lime juice
3 tablespoons olive oil
2 teaspoons chili powder
1 garlic clove, minced
1 1/2 teaspoon seasoning salt
1 1/2 teaspoon oregano

Cut 2 green, yellow, red or a combination of peppers into slices.

Cut 1 onion into rings.

Cut 1-2 carrots into sticks.
To prepare, cook marinade meat including the juice,pepper slices, carrot sticks and sliced onions in a pan for about 10 minutes until meat is cooked through.

Serve on flour tortillas with sour cream or guacamole.
More Fajata Recipes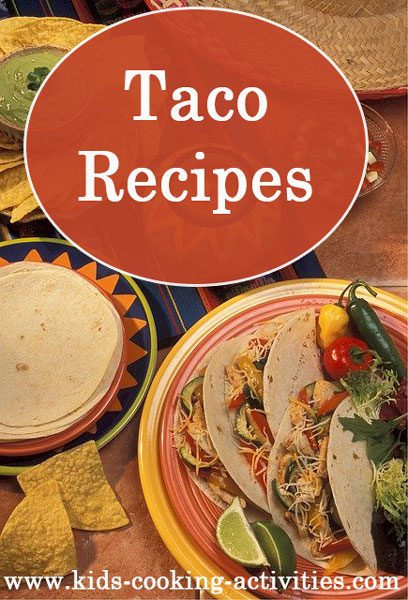 Pork Roast Burritos
Ingredients:
Pork roast (you can substitute beef roast)
1 onion, chopped
1/2 small can green chilies
1/2 Cup salsa
Tortillas
Shredded Cheese
Sour Cream
Place your pork roast in a crock pot. Season with salt and pepper. Cook on high about 6 hours. Take out meat and allow to cool slightly. Pour out cooking broth and save. Shred meat with two forks or with fingers.
Place shredded meat in crock pot. In a mixing bowl, add 1/4 cup cooking broth, chopped onion, salsa and green chilies (as much as desired). If desired, place 1/2 the meat in the crock pot with the above ingredients and reserve the other 1/2 of the meat to be eaten plain. If you split the meat in two, everyone can choose if they want the spicy version or the plain.
Serve meat with tortillas, shredded cheese and sour cream. If you'd like you can also have salsa, guacamole or other toppings.
Try any of these Mexican Recipes as well:
Mexican Cooking Recipes
Quesadillas
Chicken Enchiladas
Beef and Bean Enchiladas
Tacos or Burritos
Taquitos
Deluxe Nachos
Taco Salad
Learn
how to make homemade flour tortillas
now!
Add more fun to your tacos by making a
Homemade Taco Salad Bowl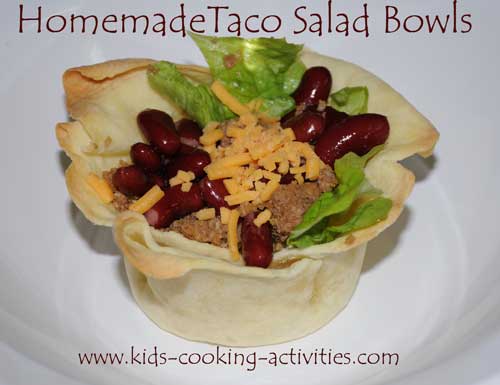 Taco Recipes Video
Follow Kids Cooking Activities