Beef and Bean Enchiladas
Beef and bean enchiladas can be prepared the night before or in the morning and placed in the fridge until dinner time. You can also make extra and freeze for another night.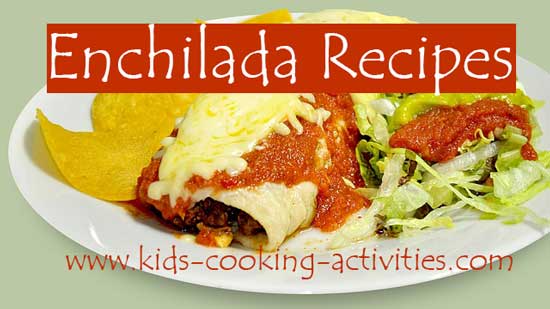 Planned Kids Cooking Curriculum
~This post may contain affiliate links and I'll earn a small commission if you shop through them. There is no extra cost to you. This is how we help support our family and continue to bring you amazing content. To learn more see the
affiliates disclosure here.
~
Making Enchiladas
1 can of refried beans (see note below)
Ground hamburger
2 cups cooked rice
1 medium onion
Shredded cheddar cheese
Whole wheat tortillas
Salsa
Grate one medium onion with a cheese grater into a skillet. Add hamburger and brown until no longer pink.
This is a great recipe for adding hidden vegetables to the meat mixture.
Drain and stir in refried beans and cooked rice until well combined. Place a large spoonful on a tortilla and roll up. Sprinkle with cheese.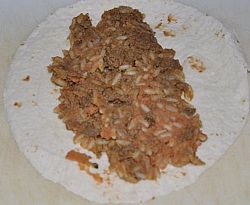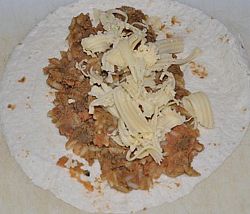 Place seam side down in a casserole dish. Continue with remaining mixture and spread salsa on the top. Sprinkle tortillas with cheese. Bake at 350 degrees for 20 minutes.
~Serve with sour cream, salsa or guacamole.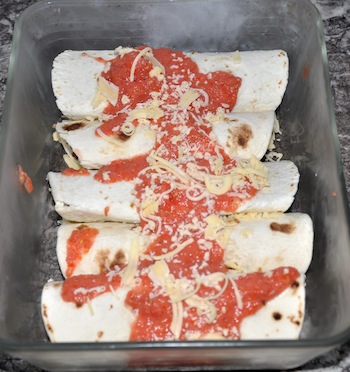 If you are going to freeze your enchiladas flash freeze, then place in ziploc bag. When ready to cook take out of freezer place in casserole dish and bake for 1 hour.


You can change the beans around by using kidney beans, chili beans, white beans or black beans in place of the refried beans. Or for more nutrition and super delicious try a variety of two beans such as refried beans and black beans.
---
Make teaching easier with our activities and recipes compiled in one easy to read format.
---
More Enchilada Recipes
Green Enchiladas
by Deseeray (San Pedro, CA)
Lightly fry a single corn tortilla then dip it into Las Palmas green enchilada sauce, lay out the tortilla on a plate, spread shredded cheese all over the tortilla, add some boiled shredded chicken on top of the tortilla then you roll it up into taquito style then add a tablespoon of sour cream on top of enchiladas.
Tex Mex Enchiladas with Red Sauce Video
Try any of these Mexican Recipes as well:
Quesadillas
Chicken Enchiladas
Beef and Bean Enchiladas
Tacos or Burritos
Taco salad bowls
Taquitos
Nachos
Taco Salad
Submit your favorite kids recipe
Do you have a favorite recipe your kids love to make? Or a recipe your kids ask you to make again and again? Share it with us!
Follow Kids Cooking Activities