Fish Recipes for dinner
A compilation of our best fish recipes for dinner.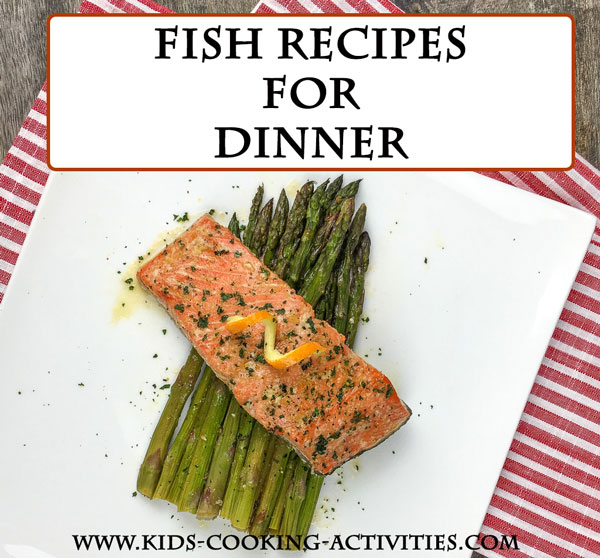 Kids Cooking Activities Teaching Materials
Make teaching easier with our activities and recipes compiled in theme sets and books with an easy to read format
Perfect for teaching!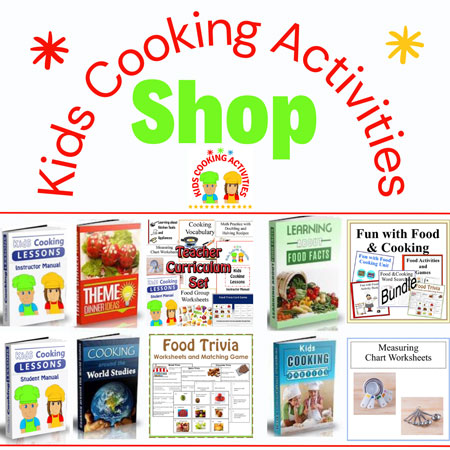 ~This post may contain affiliate links and I'll earn a small commission if you shop through them. There is no extra cost to you. This is how we help support our family and continue to bring you amazing content. To learn more see the
affiliates disclosure here.
~
Snapper with Mango Salsa
Cajun Seasoning Ingredients:
1 T. paprika
1 t. garlic powder
1 t. onion powder
½ - 1t. cayenne pepper* adjust amount of cayenne pepper to reach desired level of heat
¾ t. dried thyme
¾ t. dried oregano
1½ t. sea salt
¾ t. ground black pepper
mango salsa, optional
In a small bowl, combine the ingredients for the Cajun seasoning. Stir to combine and set aside.
Sprinkle the Cajun Seasoning onto both sides of the snapper fillets. Rub gently to ensure the seasoning is evenly distributed and adheres well.
Heat a tablespoon of olive oil in a large skillet over medium heat. Place the seasoned fillets into the hot skillet and cook until they are nicely browned and flake easily with a fork, approximately 3-5 minutes per side. Cook time will depend on the thickness of the fillets. Serve with mango salsa.
Try this
Cajun catfish recipe.
Orange Salmon
Ingredients:
4 6-oz. each salmon filets
3 T. fresh orange juice
2 t. honey
3 T. extra virgin olive oil
2 T. balsamic vinegar
2 garlic cloves, finely minced
1½ lb. asparagus, tough end removed
Sea salt and black pepper, to taste
Directions:
1. Preheat oven to 400°F and line a large, rimmed baking sheet with a piece of parchment paper or a Silpat® baking mat. Place the salmon filets skin side down in the center of the baking sheet and set aside.
2. In a medium bowl, whisk together the orange juice, honey, olive oil, balsamic vinegar, and garlic. Generously season with salt and black pepper, to taste, and brush over the salmon.
3. Add the asparagus to the bowl with the orange juice mixture and gently toss to combine. Season with additional salt and black pepper, to taste.
4. Arrange asparagus around the salmon fillets in a single layer and place sheet pan in pre-heated oven. Bake for 15-18 minutes, or just until the salmon is flaky and the asparagus develops a bit of color, being careful to not overcook the salmon.
5. Remove from oven and serve immediately.
Fish in Foil Packet Recipe
An easy way to cook fish is to make a
tin foil dinner
with your choice of fish. Start with a sheet of aluminum foil. Place your piece of fish on top of foil. Top with your choice of cut vegetables. We like to use bell pepper strips, diced carrot, asparagus, onion slices, but most any vegetable you like to eat with your fish will work. Season with salt and pepper, garlic or other seasonings of your choice. Fold in edges to completely seal. Place on baking sheet and bake at 350 degrees for 15-20 minutes or until your fish is done. Here is another
fish in foil packet recipe
with potato and beans.
You can also cook this over the campfire.
Fish with Lemon Butter Sauce
Ingredients: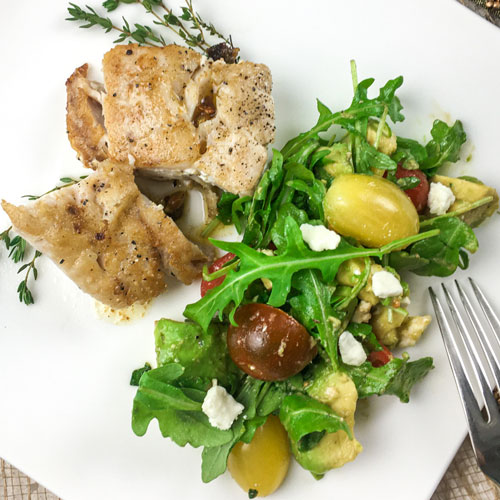 Sea salt and black pepper, to taste
2 T. extra virgin olive oil, divided
1 lbs. grouper or other white fish, cut into 4 pieces
¼ c. vegetable, fish or chicken broth
3 T. unsalted butter
2 T. fresh lemon juice
1 t. lemon zest
4-6 fresh thyme sprigs
Optional: ½ c. Feta cheese, crumbled
Directions:
Place a large cast iron skillet over medium-high heat. Once hot, add the oil and swirl to coat the bottom of the skillet. Add the fish and cook for 4-5 minutes, or until it releases easily from the bottom of the skillet.
Turn the heat down to medium and flip each fillet. Cook for another 4-5 minutes, or until the fish is cooked through and flakes easily with a fork. Transfer to a platter and set aside.
Deglaze the skillet by adding the broth and gently scraping the bottom with a plastic spatula to release the browned bits. Add the butter, lemon juice, zest, and thyme sprigs. Generously season with salt and black pepper, to taste, and stir to combine. Cook for 1-2 minutes, or until heated through. Remove from heat and discard the thyme stems in the sauce.
Briefly return the fish to the skillet to absorb some of the warm butter sauce. Transfer to individual serving plates and spoon some the pan sauce on top. Serve immediately with a salad, if desired.
How to Cook Salmon
By a Reader - My Grandmother Taught Me How to Cook Salmon
Learning how to cook salmon from my grandmother was so simple because she showed me how it can be prepared in any number of ways--oven-roasted, poached, grilled or broiled. So, if you are not good at grilling or broiling, you can always cook salmon using another method.
To oven-roast salmon,
sprinkle seasoning such as lemon pepper or garlic on the fillets and brush them lightly with olive oil. Place in roasting pan and bake about 10 or 15 minutes at 350 degrees Fahrenheit. If you purchase wild salmon, make sure you thoroughly de-bone the fillets. I later found out that the thicker the salmon fillet, the longer it will need to cook. You can tell when salmon is not quite done cooking because of the slightly oily taste is has.
Poaching salmon
involves cooking fillets for about 10 minutes in a simmering pot of white wine or water. Fully cooked salmon appears opaque as well. Do not let the water come to a boil because the extreme heat will cause the fillets to fall apart in the pot. Other flavor enhancers I often add when poaching salmon include dried leaf thyme, pepper and I even tried orange juice one day and loved it.
Besides poaching,
grilling salmon
is the method to use when you are on a low-fat diet. Be aware that whole salmon is more difficult to grill than salmon steak but neither takes very long to cook and both retain much of their original flavor when grilled. Brush salmon fillets with oil before placing them on the grill to reduce sticking and situate them so they are not close to the strongest part of the heat.
Like many people, I love the taste of grilled salmon because it is crispier, but learning how to cook salmon on the grill takes a little practice because it tends to burn easily.
How To Cook Tilapia
By Cheryl H.
When I learned how to cook tilapia I didn't realize that the instructions for cooking other fish, like catfish and salmon, was pretty much the same. However, unlike some other fish, tilapia doesn't have that "fishy" taste of some of the other popular fish. In fact, because it has a more neutral flavor it's the perfect substitute fish to use in recipes calling for perch, salmon, whitefish and even catfish. Because tilapia is flaky and delicate, it does better in recipes where it is broiled, steamed or baked, rather than grilled. So here's my favorite recipe for baked tilapia.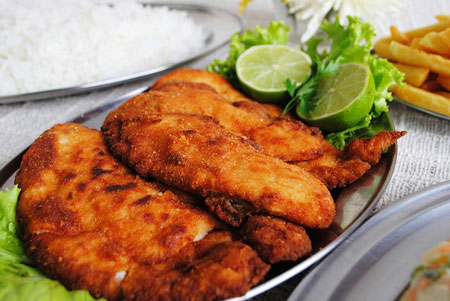 Cheesy Baked Tilapia
Ingredients:
4 tilapia fillets (fresh or frozen)
1 cup of bread crumbs
2 eggs
1/2 cup of grated Parmesan cheese (can also use shredded)
4 pats of butter
1 tablespoon minced garlic
¼ teaspoon marjoram
1 teaspoon lemon juice
Salt and pepper to taste
Preheat oven to 400° F
Mix the breadcrumbs, Parmesan cheese, marjoram, and minced garlic in a shallow bowl. In another bowl mixed the eggs, salt and pepper with a fork. Use a paper towel to pat the tilapia fillets dry, then dip each fillet in the egg mixture. Put each egg-covered fillet into the breadcrumb mixture and scoop more of the breadcrumbs over the fillet.
Remove fish from the breadcrumbs and lay on a cookie sheet, which you previously sprayed with a non-stick cooking spray. Drizzle a little lemon juice along the length of the fish, then place a pat of butter on top of the fish.
Repeat for the rest of the fillets, then place the cookie sheet in the oven and back for 10 to 12 minutes.
When the tilapia is slightly golden brown on top, and flakes easily when poked with a fork, place on a bed of brown and wild rice and serve with French-cut green beans and a salad. Yum.
One taste of this and you'll be glad you learned how to cook tilapia.
More Fish and Seafood Recipes
Clam Chowder
Cajun Catfish
Fish Chowder
Fish Filet Sandwich
Fish in Foil Packet
Fish Sticks
Fish with Lemon Sauce
Gumbo Seafood Stew
How to Cook Salmon
Orange Salmon
Salmon and Veggies
Shrimp Broccoli Pasta
Shrimp Kabobs with Salsa
Shrimp Pizza
Shrimp Po Boys
Shrimp Scampi with Spaghetti
Shrimp Skewer
Snapper with Mango Salsa
Tilapia
Submit your favorite kids recipe
Do you have a favorite recipe your kids love to make? Or a recipe your kids ask you to make again and again? Share it with us!
Follow Kids Cooking Activities