Chicken Dinner Recipes
Some of our favorite recipes dedicated to chicken!
Kids Cooking Activities Teaching Materials
Make teaching easier with our activities and recipes compiled in theme sets and books with an easy to read format
Perfect for teaching!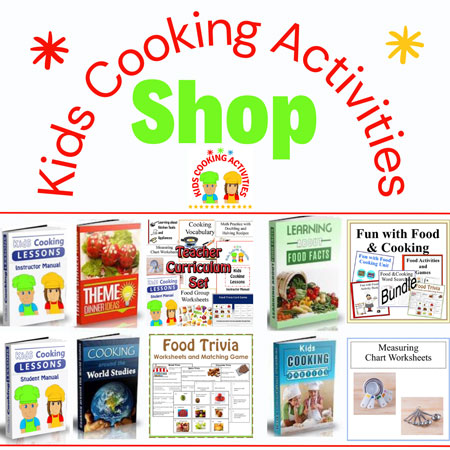 ~This post may contain affiliate links and I'll earn a small commission if you shop through them. There is no extra cost to you. This is how we help support our family and continue to bring you amazing content. To learn more see the
affiliates disclosure here.
~
40+ Recipes
Alfredo Lasagna
Broccoli Braid
Casseroles
Quiche
Cordon Bleu
Crepes
Curry
Enchiladas
Lo Mein
Chicken Parmesan
Piccata
Pot Pie
Roll Ups
Chicken Salad Recipe
Panini
Satay
Soup Recipes
Chick Strawberry Salad
Chicken Wings
Coconut Balls
Cream Soup
Fried
or
Non Fried Chicken
General Tso's
Hawaiian Haystacks
Herb Chicken One Sheet Recipe
Honey Mustard Recipe
Hot Chicken Dip
Italian Strips
Kung Pao
Monterey
Chicken Panini
Parmesan
Peanut Orange
Peanut Sauce Drumsticks
Roast Chicken
Sweet and Sour
Tandoori
Teriyaki
or
Teriyaki Chicken Wraps
Tortilla Soup
Easy Herb Butter Chicken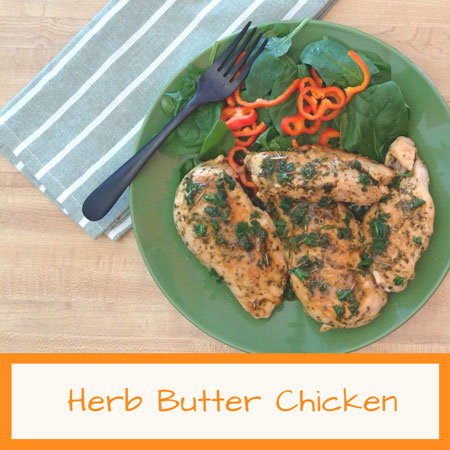 Ingredients:
4 boneless skinless chicken breasts
1 Tbsp olive or avocado oil
1/2 tsp of dried Rosemary
1/2 tsp of dried Thyme
1/2 tsp of dried Sage
1/2 tsp of dried Parsley
1/2 cup chicken broth
1 Tbsp butter
handful fresh parsley, chopped for garnish
Directions:
Heat a skillet over medium high. Add oil to coat the skillet.
Add the chicken breast and cook for 5 minutes on each side until they are seared and golden.
Remove the chicken breast from the skillet
Add the chicken broth and bring to a boil.
Make sure to "scrape" the bits that are at the bottom of the skillet
Add the herbs and cook for 2 more minutes
Add and stir the butter (this will create a yummy sauce) until melted
Put the chicken breast back in the in the skillet/sauce
Make sure to spoon some sauce over the chicken breast
Finish your dish by sprinkling some fresh parsley on top
NOTE: Make sure internal temperature of chicken is 165F. If not, put chicken/skillet in oven for 10 minutes at 400F
Raspberry BBQ Chicken
by Delaney Walker (Tampa, Florida)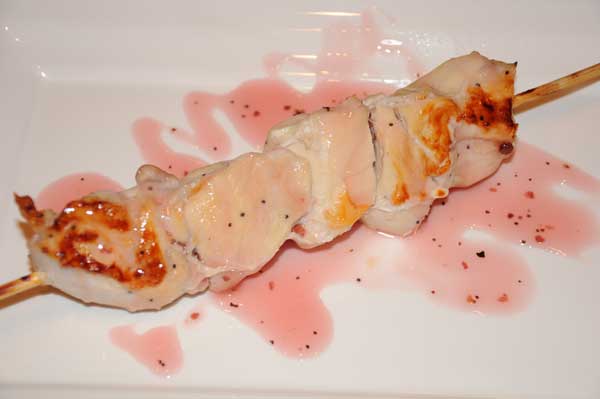 1/4 cup raspberry vinegar
2 Tbsp. vegetable oil
1 Tbsp. dried tarragon
Salt and pepper to taste
4 large boneless, skinless chicken breast halves
Raspberry Sauce (recipe follows)
Measure vinegar, oil, tarragon, salt and pepper into Quick Shake Container. Shake until well blended.
Place chicken in bottom of Season-Serve Container; pour Quick Shake mixture over top of chicken. Close top tightly; refrigerate for 30 minutes to 1 hour, flipping container over once.
Grill chicken over hot coals, brushing with marinade, until chicken reaches 170F. discard remaining marinade after grilling.
While chicken is cooking, prepare Raspberry Sauce. Serve sauce with chicken and garnish with fresh red raspberries.
RASPBERRY SAUCE
Whisk together 1/4 cup orange juice and 1 Tbsp. cornstarch in medium saucepan. Stir in one 10-oz. pkg. frozen red raspberries, thawed. Cook over medium heat, stirring constantly, until bubbly. Cook and stir 2 minutes or until thickened.
Chicken and Rice Peach Sauce
Ingredients:
2 T. extra virgin olive oil
1 lb. boneless, skinless chicken, cubed
1 t. garlic powder
Sea salt and black pepper, to taste
1¼ c. peach jam
To serve:
3 c. cooked rice
2 t. sesame seeds (optional)
Directions:
1. Heat olive oil in a large, high-sided skillet over medium heat.
2. Add chicken and season with garlic powder, salt, and black pepper. Stir to combine and cook, stirring occasionally, until the chicken is browned on all sides, approximately 4-5 minutes.
3. Add the savory peach compote to the skillet and stir to combine. Cook, stirring occasionally, until the chicken is cooked through and the sauce is warm throughout, approximately 8-10 minutes.
4. Remove from heat and serve immediately over cooked rice and topped with some sesame seeds, if desired. Enjoy!
Follow Kids Cooking Activities