Mango Facts
Mango facts and general information about mangoes.
Kids Cooking Activities Teaching Materials
Make teaching easier with our activities and recipes compiled in theme sets and books with an easy to read format
Perfect for teaching!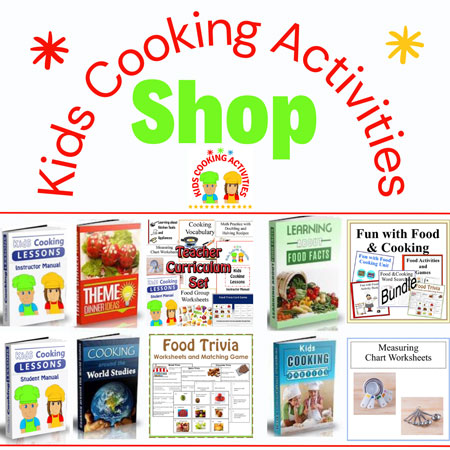 ~This post may contain affiliate links and I'll earn a small commission if you shop through them. There is no extra cost to you. This is how we help support our family and continue to bring you amazing content. To learn more see the
affiliates disclosure here.
~
Mangoes are Available:
June is peak season through August
How Does a Mango Grow:
Mangoes grow on tall evergreen trees in tropical areas.
What to Look for When Buying a Mango:
Choose mangoes that are plump without blemishes. Avoid soft or shriveled ones. They should yield gently when pressed or buy and ripen them at home.
Mango Storage Tips:
If ripe, a mango can be stored in the fridge. To ripen, leave at room temperature.
How to Cook with Mangoes:
Cut up in chutneys, salsas, fruit salads. They also can be canned or frozen.
Mango Nutrition Facts:
Mango is high in Vitamin B6, fiber, Vitamin C and Vitamin A. They also aid in digestion and provide potassium.
Mango Recipes:
Mango Cake
by Meliser
(Austraila QSL )
5 Cups of flour
3 tsp sugar
1 Cup of milk
2 mangoes
2 eggs
cream
Get a bowl and put the flour the milk the sugar and the eggs in.
Mix and pour into pan.
Then cook it in the oven for half an hour.
Then let it cool a bit.
Cut the mangoes and decorate it with the cream. Put the cream all over the cake and then you can put the mangoes on top.
Mango-Peach Smoothie
by Elizabeth (Stephens City ,Virginia)
2 mangoes, peeled and diced
2 peaches, sliced
1 Cup of vanilla soy milk
1 Cup of orange juice
Blend everything together and enjoy!!!
yield 4
Mango Topped Cracker Snack
Recipe by Allie Yost, (Emily MN USA )
Ingredients:
Mango
Turkey or ham slices
Pepperoni slices
Honey
Ritz crackers
Directions:
Take the mango and chop it up into tiny pieces.
Mix it with the honey.
Warm it up until warm and let cool.
Spread on a cracker.
Add a slice of pepperoni but make sure that the pepperoni is cooled.
Then warm up the turkey and add to top.
Mango Salsa
3 ripe mangoes, diced
1/2 red onion, diced
3 Tablespoons cilantro, chopped finely
red bell pepper, chopped small
1/2 medium jalapeno, minced small
Juice of 1 lemon or lime or equivalent to 2 Tablespoons
Add diced and chopped ingredients together in serving bowl. Pour juice of lemon over top and serve with chicken, fish or pork chops.
Kids Cooking Videos: Mango Salsa
Mango Cooking Ideas
Share your food facts and recipes
Do you have a food facts or recipe to share?
---
Related Food Facts Pages:
~
Apple
, ~
Apricot
, ~
Avocado
, ~
Banana
, ~
Berry
, ~
Cherry
, ~
Coconut
, ~
Cranberry
, ~
Dates
, ~
Figs
, ~
Grapefruit
, ~
Grapes
, ~
Kiwi
, ~
Lemon and Limes
, ~
Mango
, ~
Melon
, ~
Orange
, ~
Papaya
, ~
Peach
, ~
Pear
, ~
Pineapple
, ~
Plums
, ~
Tomato
, ~
Artichoke
, ~
Asparagus
, ~
Beets
, ~
Broccoli
, ~
Brussels Sprouts
, ~
Cabbage
, ~
Carrot
, ~
Cauliflower
, ~
Celery
, ~
Corn,
~
Cucumber
, ~
Eggplant
, ~
Garlic
, ~
Green Beans
, ~
Kale
, ~
Lettuce/Salad Greens,
~
Mushrooms,
~
Okra
, ~
Onion
, ~
Parsnip,
~
Peas,green
, ~
Peppers,
~
Potato
, ~
Radish
, ~
Rhubarb
, ~
Spinach
, ~
Summer Squash and Zucchini
, ~
Sweet Potato
, ~
Turnip
, ~
Winter Squash, including Pumpkins
, ~
Beans
, ~
Eggs
, ~
Nuts
, ~
Seeds
, ~
Meat
, ~
Dairy
, ~
Grains
---
Follow Kids Cooking Activities