Southern Cooking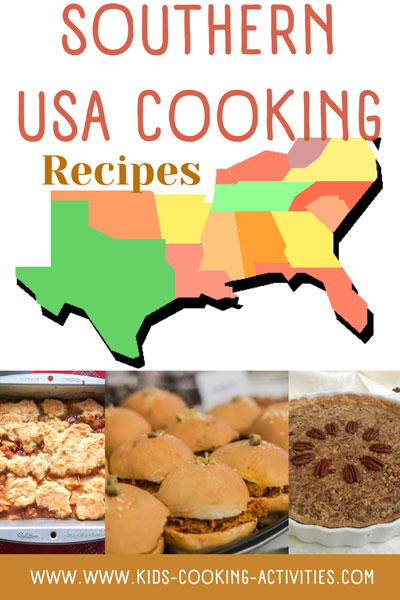 Southern Cooking in the United States covers many types of food such as soul food, Creole cooking/Cajun and barbecue. In Florida you will hear of the popular key lime pie whereas Texas is known for great steaks and chili.
---
Get all of our International Cooking Section plus more in
one ebook
, free of ads and easier to use in cooking activities. Included in the ebook:
20+ countries information and recipes
Dinner menu invitations to print off to create your own international night
International quizzes
World maps
Geography activities
---
Food Facts about Southern USA
Collard greens, turnips and okra are popular vegetables eaten in the Southern USA.
Boiled peanuts are a favorite snack. Another name for these are goober peas.
Biscuits with a milk gravy is a favorite breakfast food in the South.
Some Famous Things about the Southern United States
Growing Cotton, peanuts, pecans
Coca Cola was invented in Georgia
American Civil War
Blues, Jazz and Country music
Common Ingredients or Special food in Southern USA
Cayenne pepper
Bay leaf
Grits
Crawfish
Okra
Andouille sausage
Frog legs
Green peppers
Onion
Celery
Cabbage
Black eyed Peas
Crawfish
Southern Cooking Recipes
Fried Chicken
1-2 lbs. Chicken pieces, cut up
2 Cups buttermilk
1 teaspoon black pepper
¼ teaspoon Salt
1 ¼ Cups flour
1 ½ teaspoons seasoned salt
1 lb. Vegetable shortening or vegetable oil
½ Cup butter
Combine buttermilk, ¼ teaspoon pepper, and salt. Add chicken pieces and refrigerate overnight. Combine flour, seasoned salt and ¾ teaspoon pepper in baking dish. Heat shortening and butter in pan until it reaches 365 degrees on a thermometer. Take chicken out of buttermilk and coat in flour mixture. Fry until golden brown and cooked through.
Grits
A common Southern cooking recipe in the southern USA is grits.
2 cups water
1/4 cup quick cooking grits
1/4 cup shredded cheddar cheese
1 tablespoon butter
1 egg, separated
1/4 cup milk
In a saucepan boil 2 cups water then stir in grits. Turn heat down and cover with a lid. Cook about 5 minutes. Stirring occasionally. After 5 minutes add butter and cheese. Separate egg yolk from egg white. Set aside egg white for later. In a small glass beat egg yolk with milk. Add into grits mixture. Stir to combine. In a mixing bowl whip egg white until stiff peaks form. Stir into grits. Pour grits into a greased casserole dish. Bake at 350 degrees for 1 hour. You can also add cooked crumbled sausage to the grits before baking.
Southern Spoon Bread Cooking Video
Peach Cobbler
Peaches grow in Georgia making peach cobbler a common southern cooking recipe.
1/2 cup sugar
1 tablespoon cornstarch
1/4 teaspoon ground cinnamon
¼ teaspoon nutmeg
4 cups sliced peaches
1 teaspoon lemon juice
3 tablespoons shortening
1 cup all-purpose flour
1 tablespoon sugar
1 1/2 teaspoons baking powder
1/2 teaspoon salt
1/2 teaspoon milk
In a mixing bowl blend together flour, 1 tablespoon sugar, baking powder and salt. Mix until flour mixture resembles fine crumbs. Stir in ½ teaspoon milk and set aside. In saucepan mix ½ cup sugar, cornstarch, cinnamon and nutmeg together. Add peaches and lemon juice. Cook over medium heat and constantly stir until mixture thickens and comes to a boil. Allow to boil about 1-2 minutes. pour into a small casserole dish. Spread flour mixture over the top of peaches. Bake at 400 degrees for 25 minutes or until golden brown.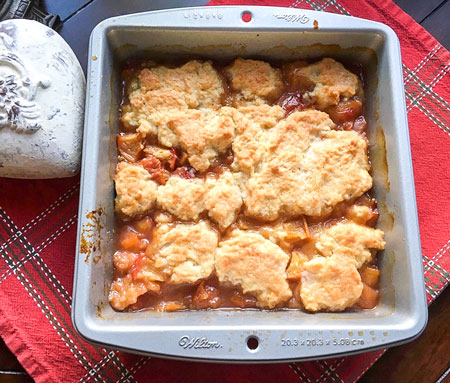 Macaroni and Cheese Recipe
Homemade Macaroni and Cheese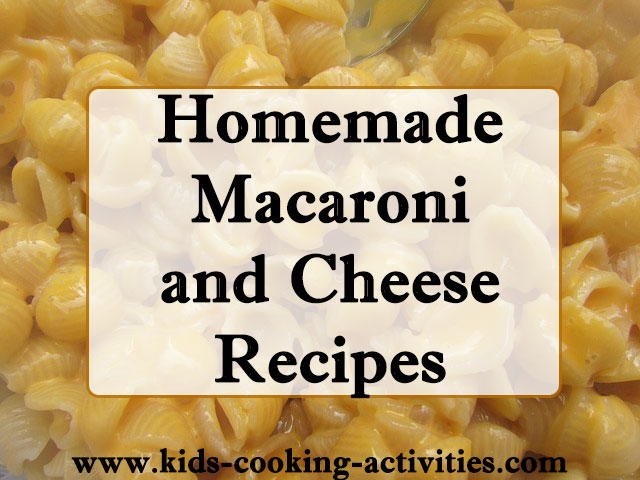 Pecan Pie
This southern cooking recipe uses pecans that grow in Texas.
Pie crust for one layer pie
2/3 cup white sugar
1/3 cup butter, melted
1 cup corn syrup
½ teaspoon salt
3 large eggs
1 cup pecans
Prepare pie crust for bottom of pie. Set aside and preheat the oven to 375 degrees. In mixing bowl, blend sugar, melted butter, corn syrup, salt and eggs together. Stir in pecans. Pour into prepared pie crust. Bake for 40-45 minutes until center is set.
For a Chocolate Pecan Pie,
add 1 1/2 Cups semisweet chocolate chips to butter, syrup mixture. Then follow directions as listed above.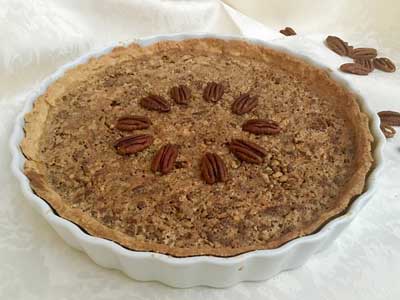 Barbecue Beef
Barbecue beef or pork is famous in Southern Cooking and contests are often held to see who has the best barbecue recipe.
Beef or pork roast
2 onions, chopped
½ Cup water
Place meat, onions and water in crock pot and cook 6-8 hours. Drain and set broth aside for later. Shred meat with a fork. Prepare barbecue sauce.
Southern Cooking: Barbecue Sauce
¾ Cup meat broth (broth you drained and set aside from above)
2 Cups ketchup
2 teaspoon mustard
2 Tablespoons vinegar
3 Tablespoons brown sugar
3 Tablespoons Worcestershire sauce
½ teaspoon liquid smoke
Salt and pepper to taste
Combine all sauce ingredients in a bowl. Stir shredded meat into the sauce and pour back in the crock pot for about 20 minutes. Serve shredded meat on buns or rolls.
See more recipes on
making roast beef.
New Orleans Cooking -Cajun Cooking- Creole Cooking
In the New Orleans, Louisiana area southern cooking can be called Cajun cooking or creole cooking.
Cajun Catfish
1 pound catfish filet
1/4 cup yellow cornmeal
1/4 cup dry bread crumbs
1 teaspoon chili powder
1/2 teaspoon paprika
If you have Cajun seasoning spice substitute that for the paprika and chili powder. In shallow dish or pie plate add cornmeal, bread crumbs and seasonings. You can also season with salt and pepper if desired. Cut catfish into small strips. Coat both sides of fish in cornmeal mixture. Place on cookie sheet or casserole dish and broil at 450 degrees for about 15 minutes until a fork inserted in the fish shows it is done. (it will be flaky)
More fish recipes.
Broiled Catfish Southern Cooking Video
Jambalaya Recipe
1 package polish kielbasa or sausage, whatever your family likes
1 1/2 cups uncooked white rice
1 1/2 cups chicken broth
1/4 tsp dried thyme
1/4 teaspoon chili powder
Green pepper or other color, chopped
One carrot, grated
1 small onion, quartered
1 can chopped tomatoes, undrained
Cut sausage into slices. In large skillet, cook sausage flipping over and browning each side. Set aside and wipe out grease from pan. Add uncooked rice, chicken broth, thyme, chili powder,chopped pepper, grated carrot, quartered onion and chopped tomatoes with juice to your skillet. Stir all together and add sausage back to the pan. Cover with a lid and simmer on medium about 10-15 minutes until rice is done.

If you are using brown rice keep in mind the cooking time will be different as brown rice takes much longer than white rice.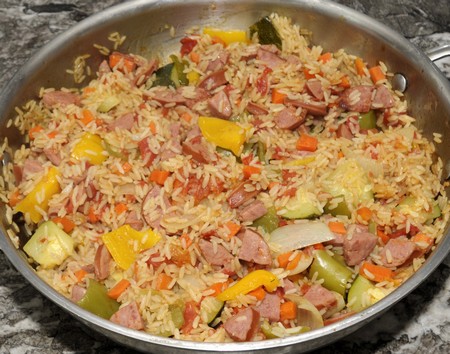 **If desired, add quick cooking shrimp along with the southern cooking ingredients before simmering.
Red Beans and Rice Soup
You'll often see this Southern Cooking recipe called Red beans and rice. This recipe is a kid friendly version for soup.
4 slices of bacon
2 celery stalks
1 Leek
1 green bell pepper
2 cans red kidney beans, drained or equivalent to 2-3 cups
1 teaspoon thyme
1-2 bay leaves
6 cups water
1 teaspoon salt
¼ teaspoon pepper
2 Cups rice, cooked
Cook and chop bacon. Cut leek, celery and bell pepper in small pieces. Combine vegetables, beans, thyme and water in large pot. Cook covered on medium-low until vegetables are soft. Season with salt and pepper and stir in cooked rice. Top each serving with bacon pieces.
See more Cajun foods such as
Shrimp Po Boys, King Cake and Dirty Rice
on our our
Mardi Gras page.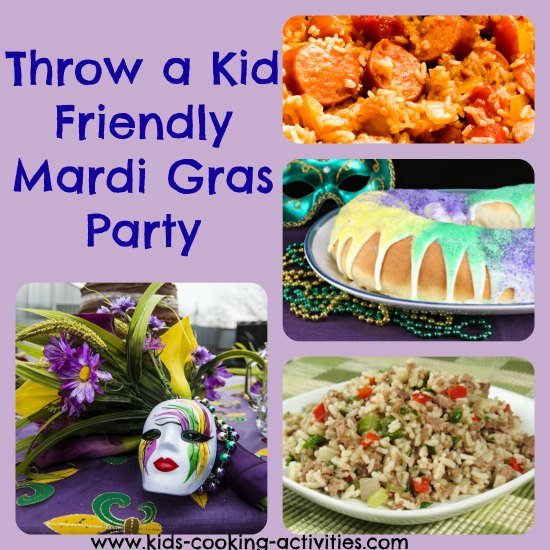 Do you have an International Recipe or World Studies Fact?
Do you have an International recipe or know a lot about a country we could add to our world studies section? You can create your own page.
Reader's Submitted Recipes
Click below to see contributions from other visitors to this page...

Gumbo- Seafood Stew in the Crockpot Not rated yet
Makes 8 servings Ingredients 1 bottle clam juice 2 Cups chopped onion 6 Cups water 1 can tomato paste 2 cloves garlic, minced 28 oz. can crushed …
---
Related Cooking around World Pages:
~
International Cooking for Kids
, ~
American
, ~
Asian
, ~
British
, ~
Eastern Europe
, ~
French
, ~
Greece
, ~
India
, ~
Irish
, ~
Italy
, ~
Mexico
, ~
Middle East
, ~
South Africa
, ~
Southern USA
~
World Studies Unit
---
Follow Kids Cooking Activities