Low Carb Meal Ideas
Low carb meal ideas are a way of cooking foods using certain food groups that are low in carbohydrates. Although we all need a certain amount of carbohydrates included in our daily diet, we tend to eat far too many which leads to an unhealthy lifestyle. As carbohydrates store body fat in your body if you cut down on them then you will be guaranteed to lose weight. You should not try to eliminate them entirely as you will need a certain amount but attempt to cut back and learn how to cook the low carb way.
Kids Cooking Activities Teaching Materials
Make teaching easier with our activities and recipes compiled in theme sets and books with an easy to read format
Perfect for teaching!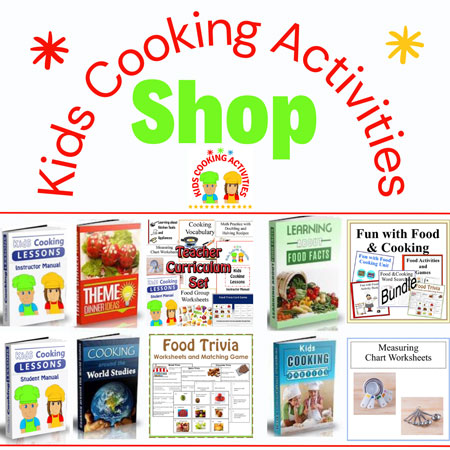 ~This post may contain affiliate links and I'll earn a small commission if you shop through them. There is no extra cost to you. This is how we help support our family and continue to bring you amazing content. To learn more see the
affiliates disclosure here.
~
Help with Low Carb Meal Ideas
Keep your low carb meal ideas and recipes interesting and always have basic low carb foods available. There are several of your favorite meals that you can easily adapt to low carb and although they may taste a little different. There are several products available to purchase including low carb chocolate, bread, yogurt and pasta all of these will help you to continue to cook as normal. You simply need to adapt your cooking to include these alternatives.
Ensuring that you and your family eat a balanced and nutritional meal is essential, you need to teach your children from a young age what is a healthy diet and what is bad for them. If you do this then they will grow up understanding food and continue to eat well. Although you will take some time to adapt to your new lifestyle if you include a low carb diet and some exercise then you will see great results. More people need to take control and change the way they eat and low carb meal ideas are an ideal way to do so.
Low Carb Food Lists
Foods that you can eat
a great deal of as they are low in carbohydrates include:
tomatoes
green leaves
broccoli
cauliflower
carrots
cabbage
mushrooms
peppers
squash
peas
cucumber
bean sprouts
carrots
beets
onions
avocado
turnips
pumpkin
radishes
fish
meat
eggs

cheese

berries
apricots
plums
peaches
pears

grapefruit
melons

Great Low Carb Snack Ideas
Nuts and Seeds - Jammed full of protein and antioxidants, nuts and seeds are a great convenience food for the low carb diet.To avoid high sugar and sodium go for raw or natural on the label.

Jerky - Jerky is low carb and low fat, even the beef jerky. That is because all the fat is trimmed off before smoking to keep the product from becoming rancid. Of course, turkey and venison are naturally low in fat. Go for plain jerky versus the flavored type.

Cheese - A great snack to carry around, cheese is not only filling, but also a great source of calcium and protein. If you're worried about calories, choose cheeses made with skim milk.

Foods to try and avoid
- eating these in moderation is fine but cutting back is essential. Try to swap them for an healthier alternative.
pasta
rice
bread
potatoes
starchy vegetables such as white potatoes
anything made with white flour and sugar
processed foods

foods with trans fats

full fat dairy products
sweetened drinks

dried fruit
You do not need to eat bland boring food simply because it is low in carbs. Once you know which foods are allowed and how to cook them, then you can experiment with several different recipes and create your own low carb meal ideas.
---
Make teaching easier with our activities and recipes compiled in one easy to read format.
---
Low Carb Meal Ideas and Recipes
Crab Deviled Eggs
1 dozen hard boiled eggs
1/2 Cup mayonnaise
1 Tablespoon mustard
1 teaspoon red hot sauce
1 (6 oz) container white crab meat
Peel, wash and cut hard boiled eggs in half. In a small bowl, mix egg yolks, mayonnaise, mustard and hot pepper sauce. Mix with a fork. Gently stir in crab meat. Fill egg half with mixture. Chill until ready to serve.
Stuffed Strawberries
About 25 Large strawberries
3 oz. package cream cheese
1/4 Cup granola or chopped nuts
1/2 teaspoon vanilla
For each strawberry, slice the top off. Then cut two slits on the narrow end making 4 wedges. Chop 3-4 strawberries in small pieces. In a bowl, add cream cheese, granola, vanilla and chopped strawberries. Blend together. Fill each strawberry wedge with the cream cheese mixture.
Shrimp kabobs with mango fruit salsa
3 ripe mangoes, diced
½ red onion, diced
¼ Cup cilantro, chopped finely
¼ cup lime juice
2 tomatoes, chopped finely
Chop tomatoes, mangoes, cilantro and onion finely. Stir in lemon juice.
Skewer shrimp on a stick and grill. Serve with the mango salsa above.
Low Carb Packed Burgers
4 slices bacon, cooked and cut into small pieces.
1 onion, chopped
small can mushrooms, drained and chopped fine or pureed
1 lb. lean ground beef
1 lb. ground turkey
1/4 Cup Parmesan cheese
sprinkle of salt, pepper and garlic powder
2 Tablespoons steak sauce
In a mixing bowl add bacon, onions, mushrooms, Parmesan cheese, meat, and steak sauce. Season with salt, pepper and garlic powder. Mix meat mixture together and form into patties. Grill or bake until no longer pink.
Smoothies
Try a
low carb smoothie recipe
. You can easily make a variety of smoothie flavors that will work well for eating healthy. Our favorite is strawberry mango flavor.
Low Carb Meal Ideas- Chicken Salad
Serve this easy recipe in a cucumber bowl for extra nutrition and fun.
3 large cucumbers
1-2 Cups chopped or shredded, cooked chicken
2 hard boiled eggs, chopped
1/2 Cup celery, chopped fine
1 tbsp sweet onion, chopped fine, optional
1/4 Cup mayonnaise
2 Tablespoons chopped pickles or relish
1 teaspoon lemon juice
sprinkle of salt and pepper
1/2 Cup Cheddar cheese, shredded
To make your cucumber bowls:
Cut the cucumber in half lengthwise. Remove the seeds and cut the bottom so the cucumbers set flat.
In a large bowl, combine chicken, eggs, celery and onion. Stir together. Add mayonnaise, lemon juice and pickles. Season with salt and pepper. Stir to mix well. Sprinkle in the cheese and fill each cucumber half with the chicken salad.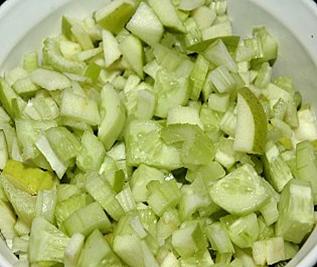 Apples and Cucumbers Salad
2 green apple, chopped
2 small cucumber, chopped
2 stalks of celery, chopped
1/2 Cup plain yogurt
1 Tablespoon oil
2 teaspoons lemon juice
1/2 teaspoon salt
In a small bowl add plain yogurt, oil, lemon juice and salt. Stir to combine and place in fridge.
Chop apple, cucumber and celery in small pieces. Add to a serving bowl. Pour sauce over top of salad and toss together.
**Stir in chopped nuts if you like them.
Low Carb Cauliflower Soup
1 small onion, minced or grated
4 Tablespoons butter
5 Tablespoons flour
1 teaspoon salt
3 Cups light cream or evaporated milk
1-2 Cups chicken broth
2 -10 oz. Pkgs frozen chopped cauliflower, slightly thawed or 2 cauliflower heads, chopped
1/2 teaspoon nutmeg
Sauté onion in butter. Blend in flour and salt. Gradually add cream, stirring constantly. Add broth according to desired thickness of soup. Add broccoli and nutmeg. Cook over low heat 25 minutes. Stir occasionally.
No Carb Cloud Bread
Share your Low Carb Meal Ideas or Recipes
Submit your favorite kids recipe
Do you have a favorite recipe your kids love to make? Or a recipe your kids ask you to make again and again? Share it with us!
---
Related Easy Kids Meals and Ideas:
~
Easy Kids Meals
, ~
Easy Meal Ideas
, ~
Breakfast
, ~
Breakfast 6 or fewer,
~
Side Dishes
, ~
Snacks
, ~
Main Dishes
, ~
Desserts
, ~
No Bake Recipes
, ~
Kids Lunches
, ~
Portion Sizes
, ~
Microwave Meals
, ~
Hidden Vegetable Recipes
, ~
Healthy Kids Meals
, ~
Picky Eater Tips
, ~
Family Dinner
, ~
How to menu plan
, ~
Diabetic
, ~
Toddler Ideas
, ~
Low Calorie
, ~
Gluten Free
, ~
Vegetarian
, ~
Low Carb
---
Follow Kids Cooking Activities