Under the Sea Party
For this Under the Sea party dress in beach attire, sunglasses and sandals.
Create a fun centerpiece and create a fish theme under the sea dinner.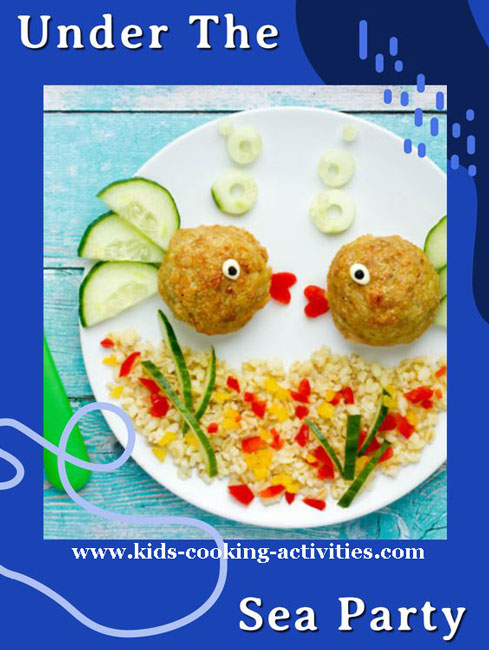 Kids Cooking Activities Teaching Materials
Make teaching easier with our activities and recipes compiled in theme sets and books with an easy to read format
Perfect for teaching!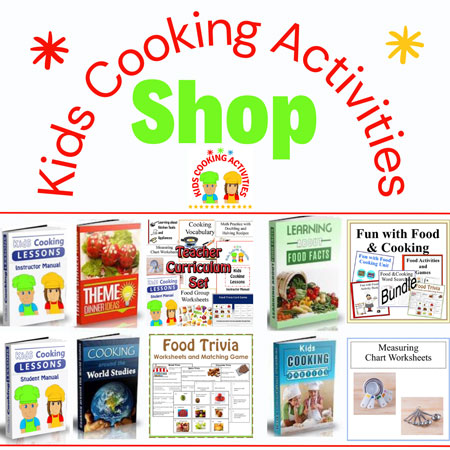 ~This post may contain affiliate links and I'll earn a small commission if you shop through them. There is no extra cost to you. This is how we help support our family and continue to bring you amazing content. To learn more see the
affiliates disclosure here.
~
Theme Party Centerpiece
Use a clean fish bowl and fill with blue Jell-O. Let set and place candy fish or sharks inside the Jello.
Or fill a fish bowl with seashells, colorful rocks, and plastic sea creatures.
Under the Sea Party Menu
Here are some under the sea menu ideas.
Under the Sea Collage
Color cool whip blue and spread over rice cakes. Decorate with fish crackers and make your own under the sea creation.

Tint cream cheese blue with food coloring and spread over mini bagels. Decorate with fish crackers or fish candies.
Try this edible sea for dinner by using meatballs, cooked rice and cut vegetables to create an under the sea scene.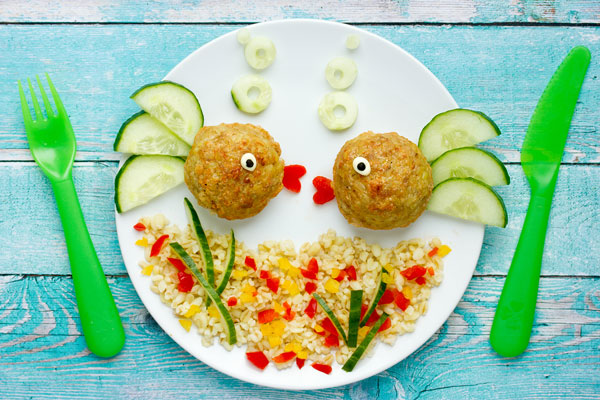 Fishes in the Ocean
For this craft you will need:
Blue frosting
Graham cracker squares
Gummy fishes or fish crackers
Directions:
Spread blue frosting over 1/2-3/4 of your graham cracker. Add fishes into the "water."
**The great thing about this craft is the fact that it allows you to teach your kid about the ocean, different types of sea creatures and do some math while counting the fishes.
Let's Go Fishing Snack
Use a pretzel rod or long sticks for a fishing rod. Place peanut butter on the end for bait and dip your fishing rod in a pond of fish.(fish crackers in a bowl.) I have also used these bread stick and cheese combos for this and they work great.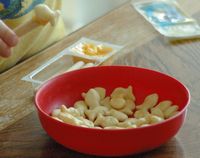 River of Fish
Celery stalks cut twice or three times
Cream cheese
Blue food coloring
Fish crackers
In a bowl add one or two drops of blue food coloring to the cream cheese. Fill celery sticks with cream cheese. Add fish crackers to the top of the sticks to resemble fish swimming in the river.
Cajun Catfish
Find the recipe here
on our Southern Cooking Page.
You can substitute another type of fish for catfish if desired. If you don't like spicy food try substituting 1 tablespoon Parsley for the chili powder.
See more fish recipes.
Pepperoni Pizza Fish
Shape pizza dough into mini fishes. Let each child prepare their fish. Use pepperoni to resemble scales and olives for eyes. Something quick, fishy and kid friendly for dinner.
*Find a recipe for
pizza dough here
Shrimp Skewer
1 lb. Uncooked deveined Shrimp
¼ cup olive oil
½ cup bread crumbs
1 teaspoon Italian seasoning
Pepper
Brush olive oil over shrimp. In a small bowl add bread crumbs, Italian seasoning and a dash of pepper. Coat both sides of shrimp in bread crumb mixture. Place on a skewer. Grill or bake.

---
Get all of our Theme Dinner Ideas in
one ebook
, free of ads and easier to use at parties and cooking activities with kids.
30 theme dinner ideas with recipe menu plans, decorating ideas and printable invitations all included in this 83 paged electronic book.
Theme Dinner Ideas
---
Oyster Cookies
Nilla Wafers or shell shaped cookies
Frosting tinted blue or color of your choice
Mini marshmallows
Add frosting to the bottom of one cookie and top with a mini marshmallow. Add top cookie.
Crab Cake
by Tabatha Persons (Boonville, NY, USA)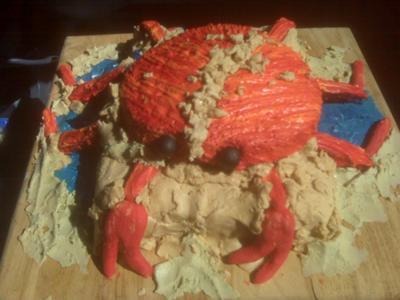 I made this cake for my mothers birthday because one of her favorite seafood dishes is king crab. The cake itself is chocolate cake. The sand is made out of my own peanut butter frosting recipe. The colored frosting is homemade buttercream frosting.
The cake started out as three cakes baked in pie tins. I placed two of them together and cut the cake to form the body of the crab. I then took the third cake and cut it into small slits and arranged them into the crabs claws.
The eyeballs and the front claws were hand molded and colored out of gumpaste. The water is made from blue and white buttercream frosting that I had swirled with a paint brush.
Mermaid Tail Pinata Cookies
Make your own Theme Dinner Party page.
Have you put together your own Theme Dinner Party? Do you have a theme menu or theme dinner idea to share? Tell us about it and we will create your own theme dinner party page.
---
Related Theme Dinner Ideas:
~
Theme Dinner Ideas
, ~
A-Z
, ~
Animals
, ~
Backwards
, ~
Dinosaur
, ~
Disney
, ~
Farms
, ~
Fiesta
, ~
Flowers
,~
Fondue
, ~
Frogs
, ~
Hawaiian Luau
, ~
Homes
, ~
Insects
,~
Italian
, ~
Mother Nature
, ~
Movie Theme
, ~
Mystery Party
, ~
Owls
, ~
Paris
, ~
Penguins
, ~
~Princess and Prince Dinner
, ~
Princess Tea Party
, ~
Rainbow
, ~
Reindeer
, ~
Sleepover Party
, ~
Snakes
, ~
Snowman
, ~
Space
, ~
Sports
, ~
Sunflowers
, ~
Teddy Bear Tea Party
, ~
Transportation
, ~
Under the Sea
, ~
Western Cowboy
---
Follow Kids Cooking Activities