Kid Friendly Instant Pot Recipes
I put off buying an
Instant Pot
and each year I would see the big sales and wonder if I should go for it. I had a stove top pressure cooker that doesn't get a lot of use after all. Overall, I've found the Instant Pot is a great purchase simply because it can do so many different things and the fact that it's extremely safe to use in the kitchen. Which makes it great for a house where kids are cooking! If the heat in the internal chamber proceeds higher than the safety limit, this pressure cooker will automatically shut off, which is a definite plus for people cooking that have animals or small children running around.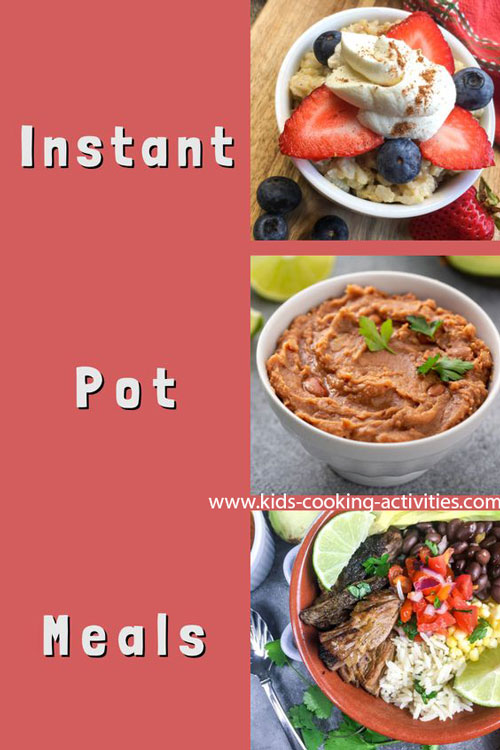 Learn more different
Instant Pot's
available here.
Kids Cooking Activities Teaching Materials
Make teaching easier with our activities and recipes compiled in theme sets and books with an easy to read format
Perfect for teaching!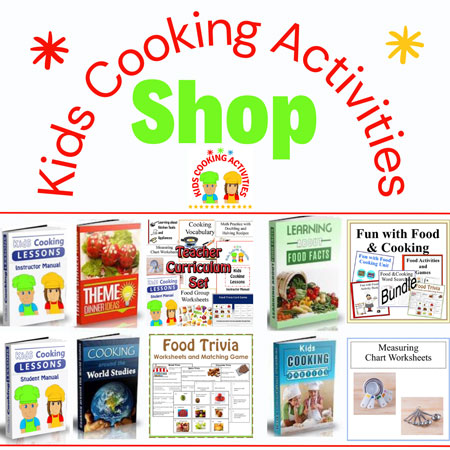 ~This post may contain affiliate links and I'll earn a small commission if you shop through them. There is no extra cost to you. This is how we help support our family and continue to bring you amazing content. To learn more see the
affiliates disclosure here.
~
Instant Pot Recipes
Rice Pudding
Ingredients:
2 T. extra virgin olive oil
1 C. rice
2½ c. almond milk, divided
2 T. maple syrup
1 t. real vanilla extract
1 t. ground cinnamon
¼ t. salt
2 eggs
Optional toppings and garnish:
Fresh berries
Whipped cream
Berry jam
Ground cinnamon
Real maple syrup
Cinnamon sticks
Directions:
1. Add olive oil to Instant Pot and press the "Sauté" button. Adjust heat setting to normal. Add rice and stir until coated in the oil and lightly toasted, approximately 2 minutes.
2. Turn Instant Pot off and add 2 cups almond milk, maple syrup, vanilla extra, cinnamon, and salt. Stir to combine.
3. Add lid and lock into place. Press the "Manual" button and adjust setting to high. Set cook time to 10 minutes and set the pressure valve to "Sealing." After a brief pause, the Instant Pot will automatically start building pressure.
4. Meanwhile, whisk the eggs with the remaining almond milk in a medium-sized mixing bowl and set aside. 5. When the cook time is complete, turn the Instant Pot off to prevent scorching. Allow pressure to release naturally for 15 minutes, and then release the remaining pressure manually.
6. Unlock and remove lid and transfer one heaping spoonful of the hot rice mixture to the beaten eggs and stir to combine. Repeat with another spoonful of rice before slowly whisking the tempered egg mixture into the Instant Pot.
7. Press the "Sauté" button and adjust the heat setting to normal. Stir the mixture continually until the pudding thickens and the egg is thoroughly incorporated, approximately 3-4 minutes.
8. Turn the Instant Pot off and immediately remove the cooking container to prevent scorching. Allow pudding to cool slightly before serving or transfer to a storage container and press a layer of plastic wrap across the surface before placing in the refrigerator.
9. Serve warm or chilled topped with fresh fruit or warm berry compote and a dollop of whipped cream, if desired. Enjoy!
Pork Chili
Ingredients: **adjust seasonings if your kids don't like too spicy.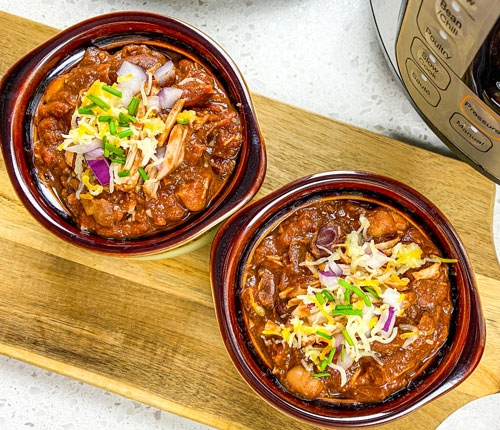 2½ -3 lbs. pork boneless pork loin roast
Sea salt & black pepper, to taste
1 T. extra virgin olive oil
½ medium red onion, diced (approximately 1 cup)
1 T. dark cocoa powder, unsweetened
1 T. chili powder
2 t. ground cumin
1 t. smoked paprika
1 t. garlic powder
2 t. dried oregano
1 c. beef or vegetable broth
1 28-oz. can diced tomatoes with green chilis, undrained
2 15-oz. cans dark kidney beans, drained and rinsed
1 15-oz. can Great Northern beans, drained and rinsed
1 c. chopped tomatoes
To serve:
Mexican cheese blend, finely shredded
avocado, diced
Directions:
1. Remove pork roast from refrigerator at least 30 minutes, but not more than 2 hours, before cooking. Remove excess fat and cut into four equal-sized pieces. Season with salt and black pepper, as desired, and set aside.
2. Select the "Sauté" function on the Instant Pot® and add olive oil. Once hot, add the red onion, cocoa powder, chili powder, ground cumin, smoked paprika, garlic powder, and dried oregano. Season with salt and black pepper, to taste, and stir to combine.
3. Cook, stirring occasionally, until the onion softens and the spices become very fragrant, approximately 3-4 minutes. Deglaze the pot by adding the broth and gently scraping the bottom with a plastic spatula to loosen any brown bits. Turn the unit off by pressing the "Keep Warm/Cancel" button.
4. Add the diced tomatoes with chilis, kidney beans, white beans, and strained tomatoes. Stir to combine and add the lid. Lock into place and position the vent toward "Sealing." Press the "Manual" button and adjust until it reads "High Pressure," if necessary. Set cook time to 55 minutes.
5. Once cook time is complete, allow the pressure to release naturally for 15 minutes, then do a quick release for any remaining pressure. Once the pin drops, carefully remove the lid and shred the pork with two forks. Stir to combine and let sit for 5-10 minutes for the flavors to blend. Serve warm topped with some shredded Mexican cheese blend and diced avocado.
Cinnamon Pear Applesauce
Prep time: 10 minutes Active cook time: 4 minutes (+ time to come to pressure) Natural release: 10 minutes Serves: 4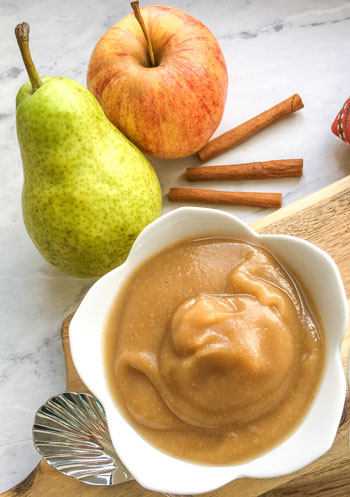 Ingredients:
4 large apples, cored and chopped
2 large pears, cored and chopped
¼ c. water or apple juice
2 t. ground cinnamon
1 T. fresh lemon juice
Optional: 1-2 T. maple syrup
Directions:
1. Combine apples, pears, water, ground cinnamon, and fresh lemon juice in Instant Pot® and stir to combine. Add lid and lock into place. Switch the vent to "Sealing" and set the "Manual" setting to 4 minutes.
2. When cook time is complete, allow pressure to release naturally for 10 minutes, then manually release any remaining pressure.
3. Taste and add maple syrup to sweeten, if desired. Carefully transfer mixture to a food processor or high-powered blender and blend until smooth. (For chunkier results, use an immersion blender instead).
4. Serve immediately, or transfer to airtight containers and place in the refrigerator until ready to serve. Can be stored in the refrigerator for up to one week. Enjoy!
5 Quick Instant Pot Cooking Ideas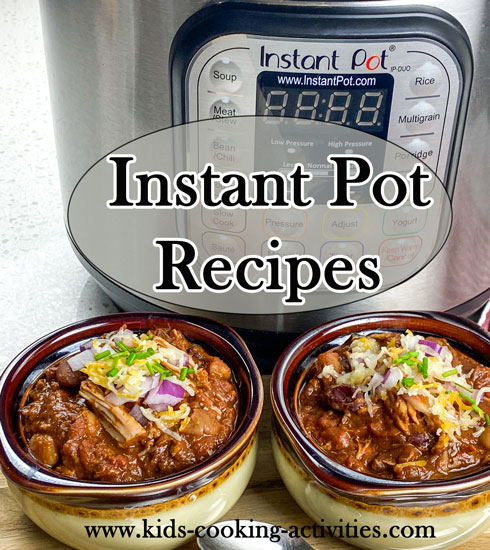 Refried Beans
Though refried beans are not a full meal they are the base for many Mexican meals. You can take pinto beans, broth, and some seasonings and place them in your instant pot. Cook the beans down until they are easy to blend. Blend them down and cook for a few more minutes. You will have an easy refried bean meal that can be added to rice, meat, or used a vegetarian base for burritos and taco salads.
Shredded Meat Taco
A quick and easy instant pot recipe for lunch is shredded meat taco meals. You simply place chicken, pork, or beef, add seasoning and cook your meat on the meat setting. Then shred meat with a fork. Mix in any taco sauce or other sauces that you may like. Dish out the meat mix and enjoy. Add some Spanish style rice, beans, avocado, chopped tomatoes or
Pico de Gallo
and each person can create their own taco salad bowl.
Broccoli and Cheese Soup
A simple meal that can really fill you up is a soup and sandwich or salad combo. One of the base soups for this type of combo is something you can make easily in your instant pot and have leftovers for later or freeze it for another meal. Broccoli and cheese soup can be made in less than an hour and using fresh superfood ingredients. Cut up a head of broccoli and mix with garlic, carrots, and onion. Add chicken stock, butter, cheddar, and heavy cream. Cook on the soup timer and enjoy.
French Dips
Instant pot french dips are a great way to use the meat setting on your instant pot and get used to how it handles your meat based meals. Just use a chuck roast along with beef broth and seasonings. Cook the meat until tender and carve or shred it. Place on the hoagie buns and make your dipping sauce. It is quick, easy, and it lets you have sandwich meat for several meals. This is ideal for make ahead lunches that can pair with soups or salads. When you make your own French dip, it is a lot healthier than you might imagine, especially if you put it on a whole wheat bun.
Coconut Steel Cut Oatmeal
Overnight oatmeal has become an increasingly popular dish, but you don't need overnight when you have your instant pot. Steel cut coconut oatmeal is packed with superfood properties and can give you a great start to your day. All you need is steel cut oatmeal, coconut milk, fresh shaved coconut, cinnamon, water, and bananas. Bananas give you a shot of potassium and a serving of fruit. Cinnamon, especially fresh ground, gives you a boost to your immune system but it also helps to regulate your blood sugar. Combined with the power of steel cut oatmeal you will be ready for the day.
---
Related Cook with Appliances Pages:
~
Appliances
, ~
Air Fryer
, ~
Blender
, ~
Bread Maker
, ~
Crock Pot
, ~
Instant Pot
, ~
Microwave
, ~
Toaster Oven
~
Waffle Iron
---
Follow Kids Cooking Activities