Teaching Kids to Use a Crock Pot
When you feel it's time to move your child onto making full meals, teaching kids to use a crock pot can be a great way to start. Crock pots will meet their short attention span needs, as you can put all the ingredients in and walk away for a few hours while it cooks itself.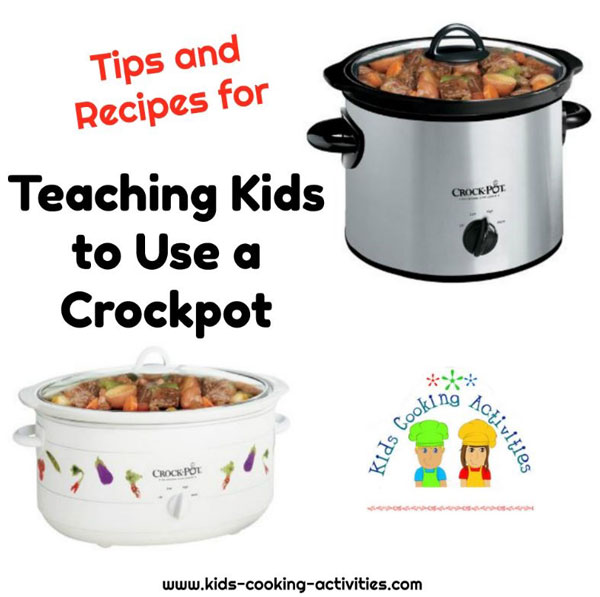 While the crock pot offers a safer alternative to stove top cooking, as there's no open flame or hot handles, when you're teaching your child how to use the crock pot, you will need to teach them about how to use it safely before they can start to cook with it.
Kids Cooking Activities Teaching Materials
Make teaching easier with our activities and recipes compiled in theme sets and books with an easy to read format
Perfect for teaching!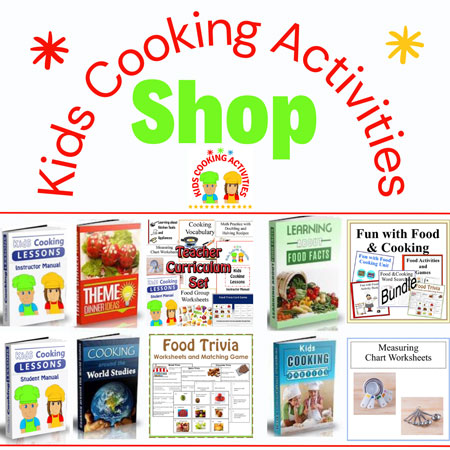 ~This post may contain affiliate links and I'll earn a small commission if you shop through them. There is no extra cost to you. This is how we help support our family and continue to bring you amazing content. To learn more see the
affiliates disclosure here.
~
Teaching Kids to Use a Crock Pot Safely
Teaching kids to use a crock pot comes with two main hazards: handling hot foods and electricity. The former requires a demonstration of how to handle the crock pot once the food is ready with oven gloves, and also making sure that the total weight of the contents can be carried comfortably by your child. The best way to get your child to test this is to ask them to pick up the cold crock pot before you turn it on and see how they cope. With electricity, you'll need to go through the same training as you would do for any other electrical appliance:
Make sure the area and your hands are dry when operating it
Turn it off when you're finished with it
Ask an adult for help if you're not sure
With those safety points in mind, you're ready to start cooking with your child.
Stews And Soups
The first step of teaching kids to use a crock pot is to make things that they will recognize and like. Stews are hearty meals, especially during the winter months, while soups are better for summer teaching. However, both will suffer being over or under cooked. Take a selection of your child's favorite meats and vegetables and ask them to pick out the ones that they like the best. Have your child chop them up small, put them in the crock pot then show them the right setting.
Once they've made a few of these, allow them to experiment with other vegetables and meat combinations, and introduce them to the idea of using herbs and spices to flavor stews. This can be a great way to get your child to realize the power of their nose when it comes to cooking to help them work out what flavors are needed.
Cooking Crock Pot Roasts
The next part of teaching kids to use a crock pot is to start making foods that they might not consider putting in the crock pot. Roast beef or pork are good examples of this and again, they will taste no worse for being left on too long. Roast chicken can dry out if it's not covered with enough stock, so make sure you're working alongside your child the first time they try to roast one. You can also use this as an opportunity to teach your child the importance of proper time management when planning a big meal, as they can start to prepare the other vegetables and trimming that go with a roast meat meal.
As with most teaching in the kitchen, teaching kids to use a crock pot requires time and patience. When they are first learning how to use it, make sure it's not going to be the center part of your meal so that if something does go wrong, you won't feel stressed out. Children learn best through praise and positive feedback, so make sure that you're focusing on what they've done well and how they could improve it for the next time around.
What type of Crock Pot to Buy
Depending on the size of your family and what type of things you'd like to cook will determine how type of crockpot you will want to buy. Look for crock pots that the inside crock comes out of the electrical base. This makes cleaning easier. Also choose a crock pot with at least 2-3 settings, usually the will be low, high and warm.
Crock pots range in size from 3 quart to 7 quarts. A 3 quart is fairly small and works well for dips, small soups or small families. For roasts, roast chickens or larger families you'll want at least a 6-7 quart.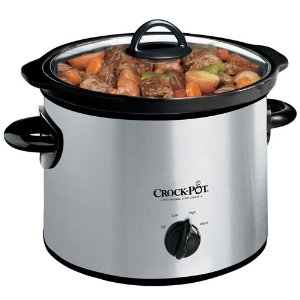 3 quart Crockpot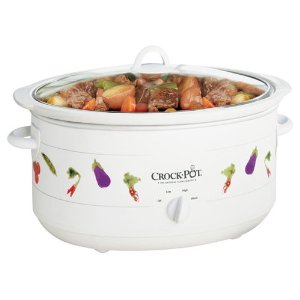 7 quart Crockpot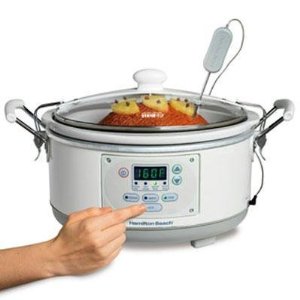 Electrical Setting Crock Pot
---
Make teaching easier with our activities and recipes compiled in one easy to read format.
---
Teaching Kids with Easy Crock Pot Recipes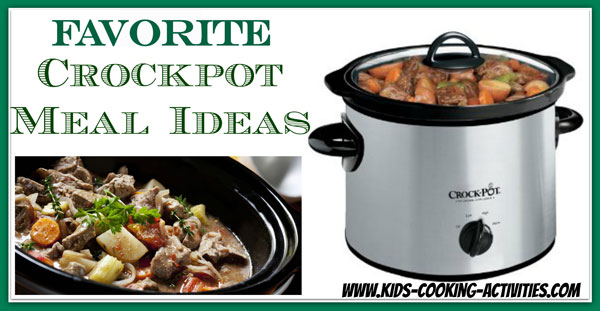 Teaching kids to use a crock pot can be simple with easy recipes to get them started.
Chalupa Recipe
Chalupas are similar to enchiladas or tacos but you use shredded roast mixed with pinto beans and salsa.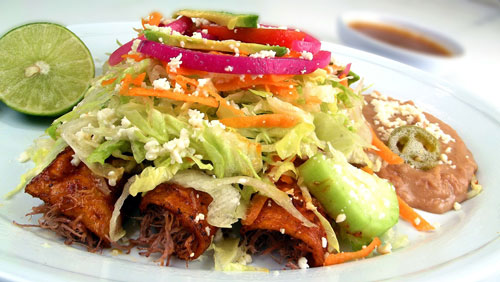 I love this recipe because it is a great crockpot recipe and freezes well.
1-2 lb. Beef Roast
1-2 lb. Pork roast
Season roasts with salt and pepper. Place in crock pot or in a large roasting pan. Cook beef and pork roast with a 1/2 cup of water several hours depending on your method of cooking. Allow to cool and shred meat.
Mix shredded meat together and stir in 2 Cups salsa and chopped onions, if desired. Mix in 2 Cups cooked pinto beans.
Serve meat mixture wrapped in a tortilla, on corn chips or tortilla chips, add shredded cheese, salsa, avocado, olives or sour cream.
**This recipe can be made ahead of time and half stored in the freezer for a later dinner. You can make shredded tacos or taco salad for future meals, also.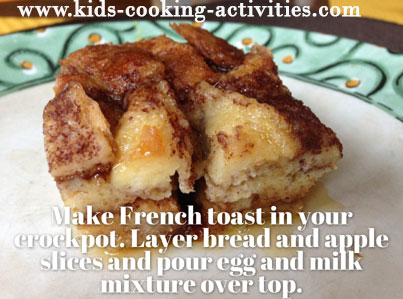 BBQ Pork Chops
You can prepare these barbecued pork chops in the crockpot such as the directions say below or in the oven for 45 minutes-1 hour or until tender. Either way makes a nice, moist pork chop.
1/2 Cup water
2 Tablespoons sugar
1 teaspoon salt
1/4 Cup vinegar
1 Tablespoon mustard
1/2 teaspoon pepper
1/2 Cup ketchup
2 Tablespoons Worcestershire sauce
Add all ingredients in a large measuring cup and whisk together.
Add 4-5 pork chops to crock pot and pour barbecue sauce over the top. Cook on low 6 hours.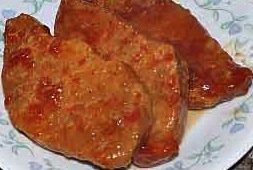 You can use this same barbecue recipe with chicken or roast and prepare in the crock pot same as above.
Crockpot Barbecue Pork Ribs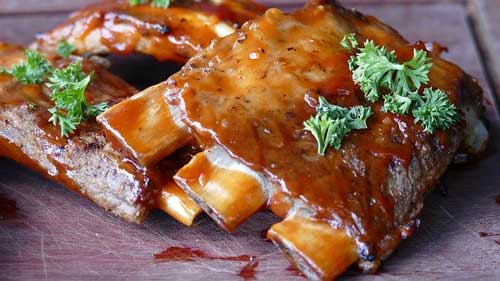 3 lbs pork loin ribs, cut into 3 rib sections
1 tsp smoked paprika
1 tsp salt
1 tsp black pepper
1 1/2 cup favorite barbecue sauce
1/2 cup water
Stir together paprika, salt and pepper in small bowl. Rub spice mix into ribs. Place in crock pot. Stir barbecue sauce and water together and pour over ribs. Cook on low for 8-10 hours.
Crockpot Chicken and Mushrooms
This recipe is a quick put together crockpot meal ideas. It makes a nice broth that can go over rice or noodles.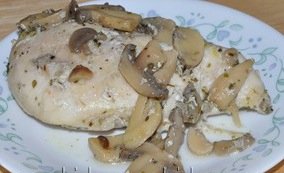 Ingredients:
5 chicken breasts
4 oz. fresh mushrooms, saute or use canned 16 oz. mushrooms and drain
1 cup chicken broth
1 teaspoon Italian seasoning
salt and pepper to taste
Directions:
Add chicken and mushrooms in crockpot. Pour chicken broth over top and stir in Italian seasoning, salt and pepper. Cook on low 8 hours or on high for 6 hours.
Easy Spaghetti and Meatballs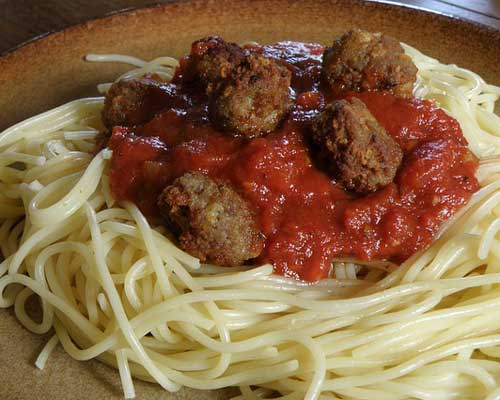 You can create this easy dish in the morning and place in the crockpot. When you come home or at dinner time cook your noodles and you're ready to eat.
Ingredients:
1 lb. frozen precooked meatballs
1 jar (26 oz) favorite spaghetti sauce or tomato sauce
1 onion, chopped, optional
1 clove garlic, crushed
1 tablespoon Italian seasoning or parsley
Directions:
Place meatballs in crockpot. Add in sauce, chopped onion if desired, seasoning and garlic. Cook for 6-8 hours on low.
Baked Pears in the Crockpot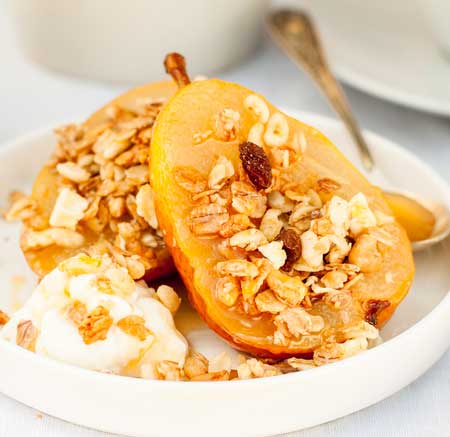 Ingredients:
4 ripe pears
1 Cup raisins
¼ Cup walnuts or pecans, optional
½ Cup maple syrup
1/4 Cup butter
½ teaspoon vanilla
cinnamon
Directions:
Core pears and place in crock pot. Fill the center of the pears with raisins and nuts. In bowl mix together syrup, melted butter and vanilla. Pour over pears. Sprinkle with cinnamon. Cook in crock pot on high for 2 hours.
Sweet Soy Sauce Chicken
2 Tablespoons catsup
1 Cup water
1/2 Cup white vinegar
1 Tablespoon soy sauce
1 Cup brown sugar, firmly packed
1/2 Cup carrots, chopped
1 1/2 lb chicken breasts, cubed
2 Tablespoons corn starch
2 Tablespoons cold water
Directions:
Pour the catsup into the crock pot.
Add the water, vinegar and soy sauce.
Stir well to combine.
Add the brown sugar and stir until most of the sugar lumps are dissolved.
Place the chicken in the mixture and stir to cover.
Cover and cook on low 8 hours.
Place the corn starch in a small mixing bowl.
Slowly add the water and stir until smooth.
Add mixture to the crock pot and stir well.
Cover and place temperature on high.
Cook 30 minutes longer being sure to stir about every 10 minutes.
Easy Cheesy Chicken and Ham Tomato Soup
1 1/2 lbs. chicken breasts, chopped
1 Cup diced cooked ham
1 can (10 oz) Cheddar cheese soup, condensed
1 can (14 oz) diced tomatoes
1/2 Cup water
Directions:
Brown chicken in heavy skillet with a little oil. Arrange chicken in crockpot then put ham over chicken. Mix together the soup, tomatoes, and water, then pour over all. Set crockpot to Low and cook covered for 6 to 7 hours or until chicken is cooked thoroughly.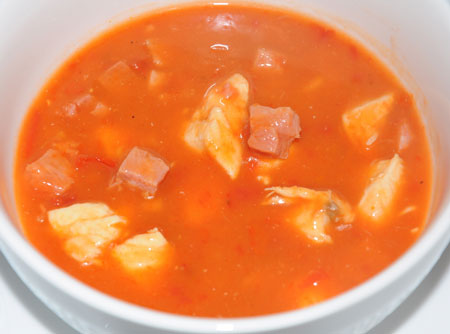 Easy Marinara Sauce
2 cans (28 oz each) crushed tomatoes
1 small onion, diced
2 garlic cloves, minced
1 tsp crushed oregano
hot cooked pasta
Directions:
Put tomatoes, onion, garlic, and oregano in crockpot. Turn heat to low, and let cook for 6 to 9 hours. Serve over hot cooked pasta with Parmesan cheese on top.
More Crock Pot Meal Ideas
Roast Beef in the Crock Pot
Crockpot Chili
Roast Chicken
Crockpot Mac and Cheese
Meatballs
Shredded Beef Tacos
Apple Butter
Baked Beans
Potato Soup
Applesauce Pork Chops
Homemade Spaghetti Sauce
Apricot Sauce with Pork Chops
Hamburger Vegetable Soup
Hungarian Goulash
Barbecue Beef
Bean Soup
Chicken Corn Tortillas
Make homemade yogurt
---
Related Cook with Appliances Pages:
~
Appliances
, ~
Air Fryer
, ~
Blender
, ~
Bread Maker
, ~
Crock Pot
, ~
Instant Pot
, ~
Microwave
, ~
Toaster Oven
~
Waffle Iron
---
Follow Kids Cooking Activities