Easy Waffle Iron Meals and Ideas
Meatless meals are a good way to save you a little money as well as cut back on calories. Here are some yummy recipes that won't have you missing meat.
Kids Cooking Activities Teaching Materials
Make teaching easier with our activities and recipes compiled in theme sets and books with an easy to read format
Perfect for teaching!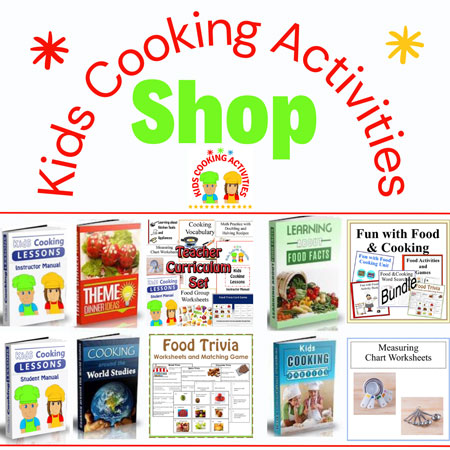 ~This post may contain affiliate links and I'll earn a small commission if you shop through them. There is no extra cost to you. This is how we help support our family and continue to bring you amazing content. To learn more see the
affiliates disclosure here.
~
Cooking with a Waffle Iron
The Waffle iron is an appliance with two hinged metal plates, molded to create honeycomb patterns we all know. A Waffle iron is the appliance we use for only one thing,
making waffles
, but this appliance has a few other menu ideas up its sleeves.
Other dishes can be prepared with this appliance like sandwiches, French toast, chewy cookies, and hash browns. With the waffle iron, you are cooking ingredients directly over the heat, so no pans, grills, or sauce pans are necessary. Think no bake cooking with kids!
Thanks to the direct heat source the cooking time is cut by half, as well as the cooling time, which is quite handy when you are hungry, having lack of time, or just want something sweet and you want it fast.
Do you want some grilled cheese, or fast brownies? A Waffle iron is the only appliance you need and within no time your favorite meal will be served. Another benefit of the waffle iron is that you do not have to wash big piles of dishes, or suffer with scrubbing browned bits.
A big plus is the waffle iron is easy to clean, if you spray your waffle iron with a cooking oil or spray. Also look for a waffle iron with removable plates for easy clean-up.
Waffle Iron Recipes
Waffle Omelet
Try a Waffle iron to cook the perfect omelet or Spanish frittata.
Preparation time: 2 minutes
Cooking time: 2 minutes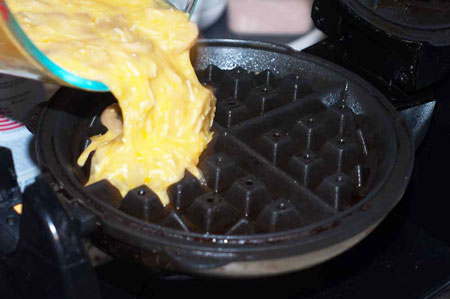 Servings: 1
Ingredients:
2 eggs
3 tablespoons heavy cream
1 tablespoon mozzarella cheese
1 breakfast sausage, chopped
Salt and pepper, to taste
Directions:
Preheat your waffle iron and coat with cooking spray.
Crack the eggs in a bowl and beat with heavy cream, salt, and pepper.
Stir in the remaining ingredients and slowly pour the egg mixture onto the iron, not covering more than ¾ of iron.
Cook for 2 minutes and serve after.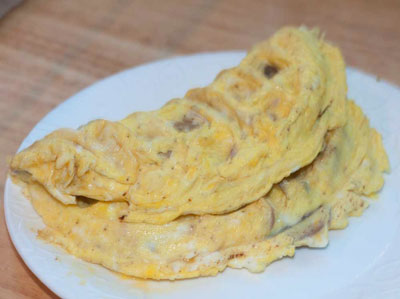 Waffle Iron Pizzas
Ingredients:
pizza sauce
bread slices
shredded cheese
pepperoni or other deli meat
Directions:
Create a pizza sandwich by spreading sauce over a slice of bread. Top with deli meat, and shredded cheese and top with more sauce. Add another slice of bread on top. Cook in a hot waffle iron until toasted.
More Waffle Making Meal Ideas
Quesadillas Waffles
Lay a tortilla on a hot waffle, top with shredded cheese and other ingredients you'd like in your quesadilla. Top with another tortilla. Press waffle iron closed and cook until golden brown.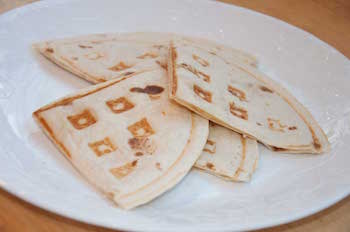 See more
quesadilla recipes to try.
Waffle Hash Browns
Using frozen shredded potatoes, Add onto a hot waffle iron. Sprinkle with seasonings. Cook until golden brown.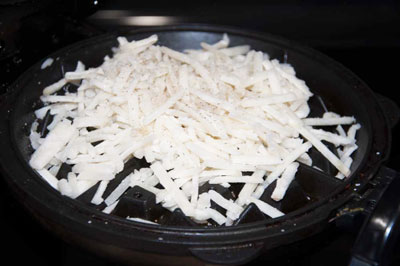 Waffle Brownie
Preparation time: 5 minutes
Cooking time: 5 minutes
Servings: 8 mini brownies
Ingredients:
¾ cup flour
¼ cup Dutch processed cocoa
¼ teaspoon baking powder
3 tablespoons chopped almonds
2 eggs
1/3 cup coconut oil, melted
2 eggs
¼ cup applesauce
1/3 cup brown sugar
1 pinch salt
3 oz. dark quality chocolate
**Don't have time for brownies from scratch, prepare a brownie mix and pour batter into hot waffle iron.
Directions:
In a bowl, combine all the dry ingredients, flour, cocoa, baking powder, almonds, brown sugar, and salt.
In a microwave, melt the coconut oil and chocolate until smooth.
Beat the eggs with applesauce, and melted chocolate. Fold the liquid ingredients into dry ones and stir until blended.
Heat the waffle iron and make sure to coat with cooking oil.
Drop the batter onto iron, making few small mounds and cook for 2 minutes.
Repeat with remaining batter and serve after.
Try These Ideas for Waffle Meals Too:
Corn dogs in the waffle iron
- Use corn muffin mix and add chopped hot dogs into the batter. Pour on hot waffle iron. Cook until firm.
---
Related Cook with Appliances Pages:
~
Appliances
, ~
Air Fryer
, ~
Blender
, ~
Bread Maker
, ~
Crock Pot
, ~
Instant Pot
, ~
Microwave
, ~
Toaster Oven
~
Waffle Iron
---
Share your Homemade Waffle Recipes
Submit your favorite kids recipe
Do you have a favorite recipe your kids love to make? Or a recipe your kids ask you to make again and again? Share it with us!
Follow Kids Cooking Activities