Freezer Meals for Easy Kids Meals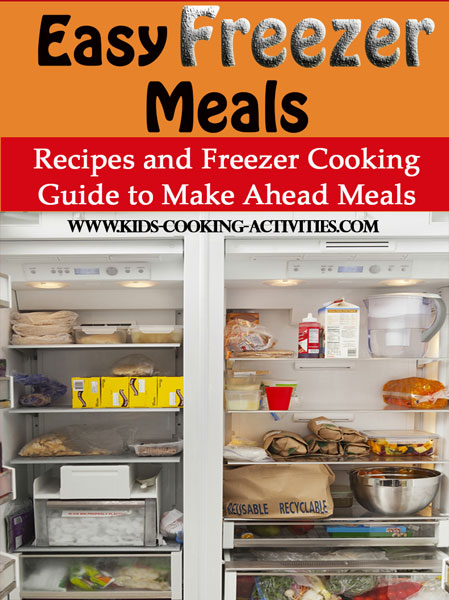 Freezer meals can make for lifesaver meals when it comes to needing something fast and quick for your kids school lunches or family dinners. Freezer meals are meals that are prepared ahead of time then frozen. This allows you to just pull the meal out of the freezer on a given night and warm it up in the oven or it can be taken out the night before.
Kids Cooking Activities Teaching Materials
Make teaching easier with our activities and recipes compiled in theme sets and books with an easy to read format
Perfect for teaching!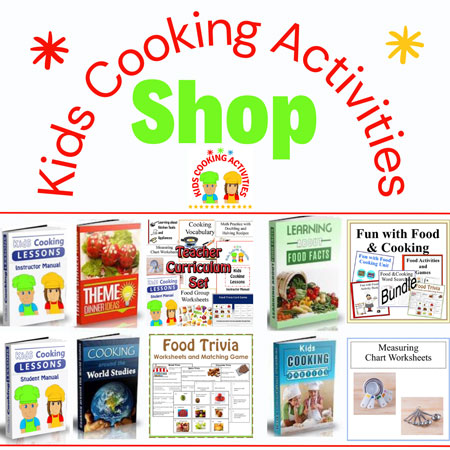 ~This post may contain affiliate links and I'll earn a small commission if you shop through them. There is no extra cost to you. This is how we help support our family and continue to bring you amazing content. To learn more see the
affiliates disclosure here.
~
How Freezer Cooking Can Help
How about saving money on your food budget? It will also cut back on those last minute, don't know what to eat, let's go get fast food moments. Instead you can pull out a spaghetti pie from the freezer and just add garlic bread or a salad to go with it.


It is much healthier than choosing fast food.


If you don't have time to spend in the kitchen every day, having prepared meals ready to go in the freezer is a great time saver. I found when my kids were young toddlers and babies it was especially helpful to not have to spend an hour in the kitchen around the "dinner hour."


How about all those tempting (expensive) convenience products available now a days? I'm thinking of marinated prepackaged meat or chopped shredded chicken. It is so easy to buy several pounds of meat and separate it into smaller portions yourself. You can add seasoning of your own place in a baggie, seal and freeze. Cook roast chickens and shred the meat or use chicken breasts and chop and cook. Freeze in baggies to be pulled out for your freezer recipes. Voila, you have your own convenience foods at a minimal price.

Doesn't Freezer Meals Take a Lot of Work?
Freezer meals don't have to be a difficult time consuming process. Many people spend one day a month cooking A LOT of meals and freezing them. My favorite freezer cooking method, which I think makes for easy freezer meals, is to just double or triple recipes every night or whenever I think about it. I figure if I'm making one quiche or homemade pizza I mind's well make two or three and freeze for another day. Sometimes a combination of both methods works great, too.
Don't think you have to have a freezer meal every night. Almost everyone is busier some nights more than others. Busy nights are perfect for easy freezer meals and not so busy nights can easily be used for cooking fresh or dinners that are good for the freezer.
What if I Don't Have Room in my Freezer?
If you don't have a large freezer just use plastic freezer bags. Make sure all the air is out and lay flat on your freezer shelf. Once frozen you can stack 5-10 on top of each other. This will work for soups and marinated meats also, if you be careful the bag is sealed. Take dinner out of the freezer the night before.
What to Stock in Your Freezer?
In addition to the
what to stock in your kitchen freezer section,
we recommend having these things available for freezer meals:
Homemade broth or stocks (we will talk about later on)


Already cooked ground hamburger to use in soups, tacos, or taco salads


Cooked shredded chicken for soups, chicken salads, sandwiches, casseroles


Frozen vegetables for sides, casseroles, stir fry
Tips and Ideas for Freezing Meals
When freezing cooked dishes slightly under cook casseroles or lasagna. Just take from the freezer to the oven and increase cooking time. You can also freeze unbaked casseroles. Cook for about 1 hour.


Sour cream, cooked potatoes, and pasta doesn't freeze well. Add those to any dishes after taking out of freezer.


Freeze extra rolls, bread dough, French bread or loaves of bread to have on hand for an accompaniment to freezer meals.


Store meals in freezer bags, wrapped up in several layers of tin foil or plastic storage containers.


Freezer meals can be stored individually in containers for easy lunches.


Make extra waffles or pancakes and freeze. Place in toaster and serve for quick breakfast freezer meals. A fun idea for breakfast is to freeze french toast cut in sticks. Warm up and kids can dip them in syrup.


Desserts, cakes, cookies also freeze well.
Preparing Freezer Meals Video
Freezer Meal Ideas and Cooking Tips
Label what your freezer meal is.


Rotate your freezer meals. New goes on the bottom of the stack or back of the freezer and older gets moved up.


Don't place your hot food directly in the freezer. Let it cool slightly, at least 30-45 minutes on the kitchen counter.


If you are adding your meal from the freezer to the oven, you will need to increase the cooking time.


If you are using potatoes combine with a liquid or moist ingredient. Potatoes don't always work well in freezer meals.


If you are including rice or noodles in a freezer meal, leave them out and add before cooking. Or under cook them slightly and make sure they're included in a sauce before freezing.


Include frozen vegetables, bread rolls, loaves of bread or dough for side dishes to your freezer recipes.


Try creating your own homemade frozen dinners by using dishes that are large enough to include side dishes. Place a meat and two side dishes in a freezer container and freeze. You have a healthy homemade frozen dinner for a busy night.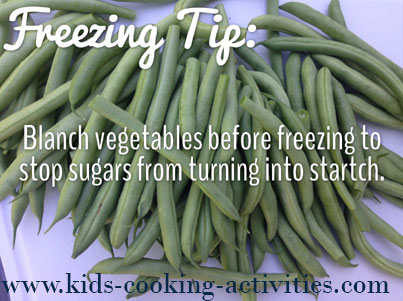 10 of Our Favorite Recipes for Freezer Meals
We have 10 recipes for easy kids meals. Get your kids involved by picking out the recipes they'd like to include on the next week's menu. Spend a weekend making and freezing meals for the next week or two with your kids. This gives them quality time with you and lets them feel like they are helping contribute to the family.
This also saves time during the week when you can take out a prepared meal and sit down together for dinner. These recipes can be doubled or tripled with school lunches or family dinners in mind.
1. Chicken Stock or Broth
Place roast chicken with chopped carrots, a quartered onion, 1-2 celery leaves and 2 bay leaves in a large soup pot. Cover with water and bring to a boil. Cook and simmer on medium-low 1 hour. Drain broth in freezer container. Allow to cool. Shred chicken. Use the shredded chicken for a casserole or other dish. When broth is cool store in freezer for a quick soup starter. You can also do this with Vegetable Stock by just adding vegetables such as carrots, celery, cabbage, mushrooms, onions, garlic, parsley and bay leaves. Cook the same as above and drain all vegetables and save broth for a freezer meal soup starter. Find out more information on
making stock and recipes.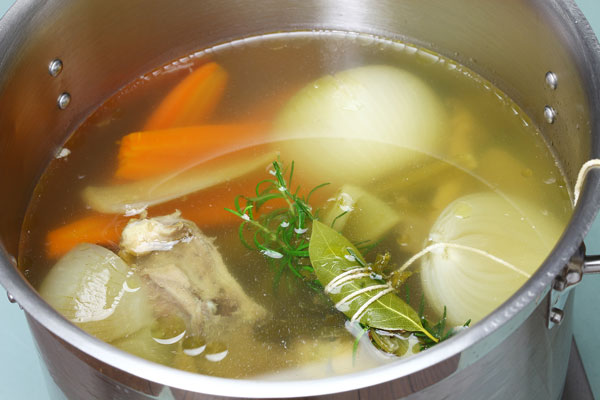 2. Homemade Spaghetti Sauce
This recipe can make a large amount. Let simmer in your crock pot and then freeze in smaller containers. Use for sauce on spaghetti noodles, pizza sauce, pasta sauce for lasagna, etc:
Ingredients:
2 Tablespoon olive oil
1 onion, chopped
1 garlic clove, crushed
1 teaspoon Italian seasoning
¼ teaspoon cayenne pepper
1 lb. Beef
Heat oil in pan and sauté onion and garlic. Stir in herbs and cayenne. Add beef and cook until browned. Set aside.
Pour next ingredients into crock pot or large soup pot.
28 oz + 1 small can of tomatoes equals 5 Cups chopped tomatoes that have been run through a blender.
1/4 Cup ketchup
2 teaspoon Worcestershire sauce
2 teaspoon dried oregano
1 Cup beef or vegetable stock
salt and pepper
Mix in bowl.
Cover pot and lower heat to medium-low. Simmer for at least 30 minutes or place in crock pot and cook 6-8 hours on low. Allow to cool completely and then freeze in desired proportions.
3. Meatballs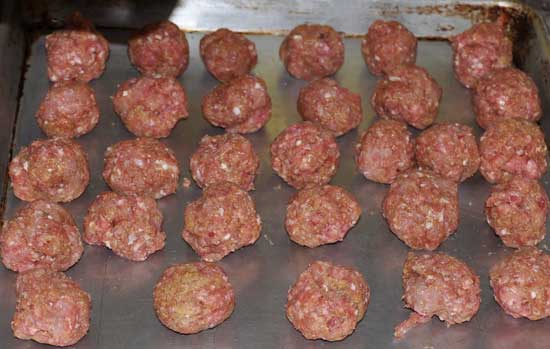 Ingredients:
1 lb. hamburger
1 egg
1/2 Cup dry bread crumbs
1/4 teaspoon salt
1/8 teaspoon pepper
1/2 teaspoon Worcestershire sauce
Directions:
In mixing bowl, mix by hand or with a spoon all ingredients together until well blended. Form into meatballs and place on a cookie sheet lined with wax paper. Put into freezer for 30 minutes until frozen then remove and stick into freezer bags. This recipe makes about 30 small 1/2 inch-1 inch meatballs so double or triple for a larger batch.
Learn more about
making meatballs and recipes.

Freezer meals for meatballs can be meatball soup, stroganoff meatballs with egg noodles, add to spaghetti sauce, sweet and sour meatballs, meatball sandwiches or add to kids lunches with a small container of sauce to dip.
4. Pizza Bites or Small Calzones
Ingredients:
Pizza dough store bought or homemade
8 ounces mozzarella cheese, cut in cubes
Slices of pepperoni or pepperoni chunks
Ham chunks or ham cut up in small pieces
1/4 cup olive oil
1 teaspoon dried Italian seasoning
3 tablespoons grated Parmesan cheese
2 cups pasta sauce
Directions:
Roll pizza dough onto a floured surface and roll into a large rectangle. For easier handling cut in two batches. Cut into approximately 4 inch squares. On top of each square place a pepperoni and ham slice or chunk and a cheese cube. Wrap dough around meat, fold sides in and roll up. Press together. Place on cookie sheets. In small bowl mix olive oil and seasoning together. With pastry brush brush oil over pizza bites. Sprinkle with Parmesan cheese. Use all dough and bake at 400 degrees for 15-18 minutes. Use pasta sauce for dipping. These are great for kids lunches or easy freezer meals. They freeze well and can be taken out individually.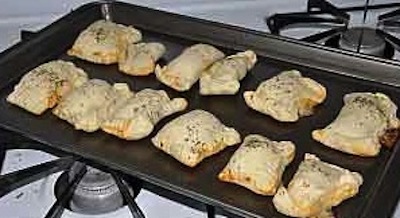 5. Muffins
Stock up your freezer with homemade
muffins
and quick breads. They are great snacks for kids lunches and can be served with scrambled eggs or
egg casserole
for a "breakfast for dinner night."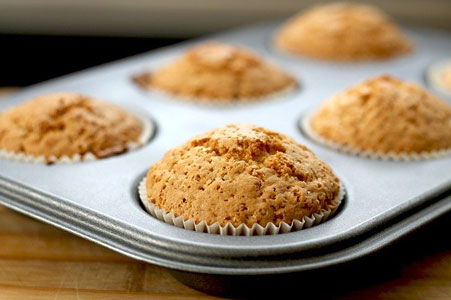 6. Double or Triple Soups
Try any of these three soup recipes for a soup that makes a great freezer meal and can be frozen individually for lunches.
7. Enchiladas
These are great doubled or tripled. Then freeze individually for lunches or as a whole extra freezer meal for a just pop in the oven kind of night.
Ingredients:
4 Cups shredded chicken
8 oz. cream cheese, softened
1/2 Cup salsa
Cream of Chicken soup
1 cup milk
1 cup shredded cheese
Salt and pepper
Directions:
In separate bowl mix 1-2 cans of cream of chicken soup (depending on how much you are making) and 1 cup milk. Add 1/2 cup - 1 cup of sauce mixture to shredded chicken. Stir to combine. Spoon chicken mixture down center of each tortilla and roll up. Place seam side down in greased baking dish. Pour remaining sauce mixture over top of enchiladas and top with shredded cheese and salsa, if desired. Bake at 350 degrees for 20 minutes.

More recipes for
chicken enchiladas
and
beef and bean enchiladas
that freezes well too.

If you want to make a larger amount you can add 1-2 Cups of cooked rice to chicken mixture.
8. Sloppy Joes
How to make Sloppy Joes.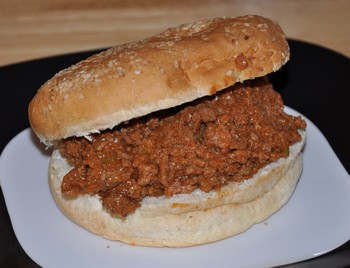 9. Lasagna or Manicotti
Another dish that can be doubled easily. Then freeze individually for lunches or as a whole extra freezer meal for a just pop in the oven kind of night.
Lasagna and Manicotti Recipe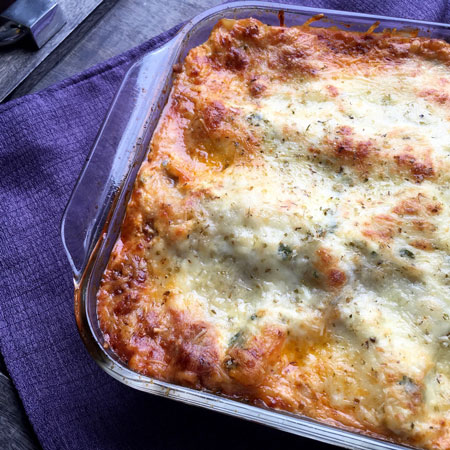 10. Chicken Roll Ups
These freeze well for kids lunches or easy freezer meals.
Ingredients:
crescent dough homemade or store bought
3-4 chicken breasts, cooked and chopped
8 oz. cream cheese
salt and pepper
1/4-1/2 Cup shredded cheese
Directions:
In a bowl, blend together cooked chicken, cream cheese and cheese. Sprinkle with salt and pepper. Roll crescent dough out into a circle and cut into triangles or unroll dough if using store bought. Place chicken mixture on the end of each triangle.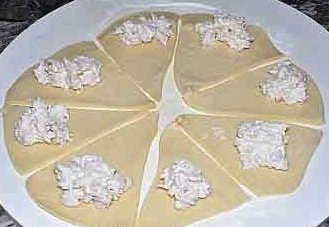 Roll fat end of triangle down to pointed end. Place on cookie sheet. Bake at 350 degrees for 10-15 minutes or until dough is golden brown. Serve with cream of mushroom soup, cream of chicken soup or without a sauce.

If freezing allow to cool and flash freeze on a cookie sheet. Place in ziploc baggies. Great for taking out individually for lunches. Reheat and add sauce.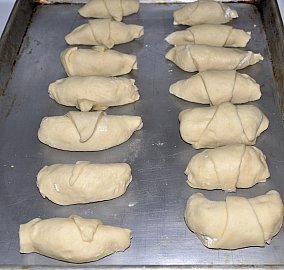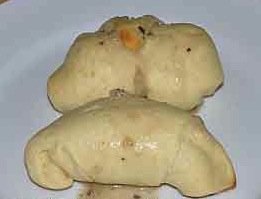 Freezer Meal Ideas Cookbook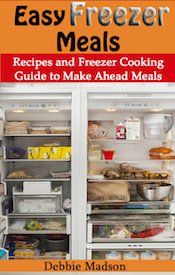 Freezer Cooking Ebook
Our freezer cooking guide will teach you:

What are freezer meals, anyway!?

Tips on what to freeze and what not to freeze

What meals freeze the best

How to store frozen food safely and successfully

What to stock in your freezer

Common freezer questions

Using your crock pot and your freezer for quick meals

Freezer breakfast recipes

Freezer lunch and dinner recipes

Freezing breads and what to do with bread dough

Soup recipes that freeze well

Freezer dessert recipes
Over 100 recipes for
freezer meals!
Benefits of Using Frozen Prep Meals
There are plenty of upsides to making meals and freezing them for later on. Let's take a look at a few of these.
For one thing, frozen meals can be a huge time saver. Some parents even get away with making a week's or even a month's worth of meals in a single day and freezing them. Can you imagine getting all the week's cooking out of the way on Saturday and then relaxing every evening for the rest of the week?


If you're an experienced budget shopper, you may have already hit on one of the other big benefits of preparing frozen meals: it can help you save money. We all know food is cheaper when you buy in bulk. Making frozen meals means you can buy more food at a time when you visit the supermarket, helping you save money - and further helping you save time by cutting down supermarket visits.


Another major benefit of frozen meals is the choice available to you on any given night. Imagine having a month's worth of frozen meals stored up - it would be like having your own personal buffet. Most parents tend to stick to a meal plan as they believe this is the easiest way to keep the kid happy and make dinner as stress-free as possible. But the simple fact is you don't want to eat macaroni every Tuesday night - no one does. When you have a whole lot of meals cooked in advance, you can change things up and don't have to be constricted by a meal plan.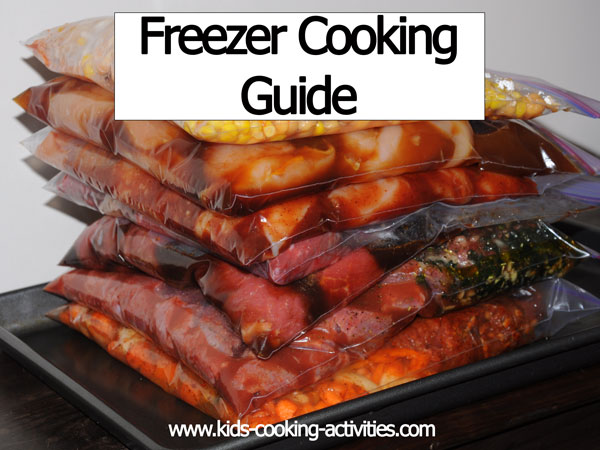 More Freezer Prepping Information
Stocking the freezer with hidden vegetables.
Do you have a recipe to share?
Submit your favorite kids recipe
Do you have a favorite recipe your kids love to make? Or a recipe your kids ask you to make again and again? Share it with us!
---
Related Easy Kids Meals and Ideas:
~
Easy Kids Meals
, ~
Easy Meal Ideas
, ~
Breakfast
, ~
Breakfast 6 or fewer,
~
Side Dishes
, ~
Snacks
, ~
Main Dishes
, ~
Desserts
, ~
No Bake Recipes
, ~
Kids Lunches
, ~
Portion Sizes
, ~
Microwave Meals
, ~
Hidden Vegetable Recipes
, ~
Healthy Kids Meals
, ~
Picky Eater Tips
, ~
Family Dinner
, ~
How to menu plan
, ~
Diabetic
, ~
Toddler Ideas
, ~
Low Calorie
, ~
Gluten Free
, ~
Vegetarian
, ~
Low Carb
---
Follow Kids Cooking Activities