Kids Homemade Pizza Party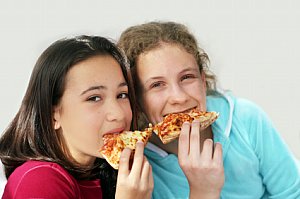 A kids homemade pizza party is fun for all ages. It is a great way to celebrate a birthday or any celebration by letting kids create their own pizza. For this kids cooking party you will want to download this
homemade pizza recipe card
for each child that will be at the party.
This will give them each a chance to follow the recipe while they are preparing the menu. It is also a good idea to include an extra one for them to take home, one that won't get messy. They can impress their own family with what they learned at the cooking party.
It is also a good idea to write the menu on a sheet of paper hung on the wall or chalkboard. You can even make this look like a restaurant menu.
Once you know the number of children coming go through the list of things needed especially utensils, bowls, etc. If you need extra ask friends or family if you can borrow some items for the kids homemade pizza party.
Items Needed for a Kids Homemade Pizza Party
Masking tape. To label kid chefs name on the pans.
Several pizza pans or cookie sheets
Spoons- one for each child for spreading and a few extras if needed
1 set of teaspoons
1 set of tablespoons
1 set of cups
Actual recipe ingredients
An assortment of pizza toppings
Rolling pin if desired
Paper plates, cups and eating utensils
Kids Homemade Pizza Party Planning To Do List:
Two weeks ahead:
Send out invitations
Order/sew/buy aprons or chef hats


One week ahead:

Make your shopping list for the party
Buy non perishable items, goody bags and any craft supplies you need if you are decorating aprons or hats
Prepare chef hats ahead of time


Several days ahead:

Put your goody bags together
Get a final number of how many children are coming to the party


One to two days ahead:

Do your grocery shopping for the remaining items


Day before:

Shred cheese if not done already
Prepare cooking party cake if you are having one
Line kitchen tables or any large table with a plastic tablecloth or white butcher paper.


Morning of party:

Prepare pizza dough
Prepare pizza toppings in bowls or trays
Set up table with toppings and spoons, a bowl of sauce and pizza pans.
---
Kids Cooking Parties Unit
Get all of our Kids Cooking Parties in
one ebook
, free of ads and easier to use at parties and cooking activities with kids.
Also included in the ebook unit is our
Theme Dinner Ideas
Section with invitations, cooking party games and party filler ideas. As well as our
Fun with Food
ebook.
Just For Fun Ebook Unit
---
Homemade Pizza Dough
If you have more than 6 children double this recipe.
2 ½ Cups flour
1 teaspoon Salt
1 Cup warm water
1 Tablespoon yeast
1 Tablespoon Italian seasoning or to taste, optional
1 Tablespoon oil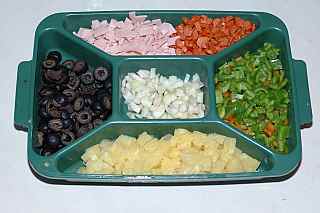 Pizza Topping Ideas:
spaghetti sauce
mozzarella cheese, shredded
pepperoni slices
ham slices or Canadian bacon
pineapple chunks
pepper slices
sliced mushrooms
sliced olives
Dissolve yeast in warm water and add a dash of sugar. Meanwhile, in mixing bowl add flour, salt, oil and Italian seasoning. When yeast is bubbly and ready pour into flour mixture and blend. Form into a ball and place in a oiled bowl. Let rise 30-60 minutes. Prepare pizza toppings and place in bowls on table.
To start this kids homemade pizza party divide dough into balls one for each child. Have each child roll with rolling pins or use their hands to shape their ball into a round circle. Place on cookie sheets or pizza pans. Several children can share a pan. Have each child put their name next to their pizza with masking tape. Prepare pizza by spreading sauce over their pizzas with a spoon, top with cheese and desired toppings. Have an adult bake at 450 degrees for 10-15 minutes. Depending on the size of your oven you might have to bake the pizzas one pan at a time. While waiting for all the pizzas to cook, prepare a dessert or other recipe you have planned, decorate aprons, chef hats or play cooking games.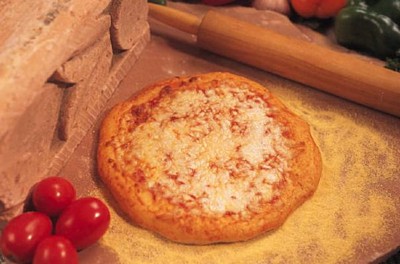 If you have an older group of kid chefs they might like to prepare the dough also. If doing this step, prepare dough in mixing bowl with children taking turns helping add and mix ingredients. While dough is rising do another scheduled activity.
Here are more
pizza dough recipes
and ideas of what you can create for a pizza party.
---
Related Kids Cooking Party Ideas:
~
Kids cooking parties
, ~
Birthday Cooking Party
, ~
Calzones
, ~
Chicken pot pies
, ~
Chicken salad crossiants
, ~
Homemade Pasta
, ~
Make your own pizzas
, ~
Manicotti
, ~
Mini cordon bleu
, ~
Mini meatloaf
, ~
Spaghetti pie
, ~
Breakfast buffet
, ~
Crepes with different fillings
, ~
French toast and homemade syrup
, ~
Soft pretzels
, ~
Cake Decorating
, ~
Cone cakes
, ~
Cookie Decorating party
, ~
Cookie pizza
, ~
Cookie Swap
, ~
Mini fruit pies
, ~
Supreme sundaes with cookie cups
, ~
Spaghetti and Meatballs cake
, ~
Kids Cooking Games
---