Spaghetti Party Cake with Meatballs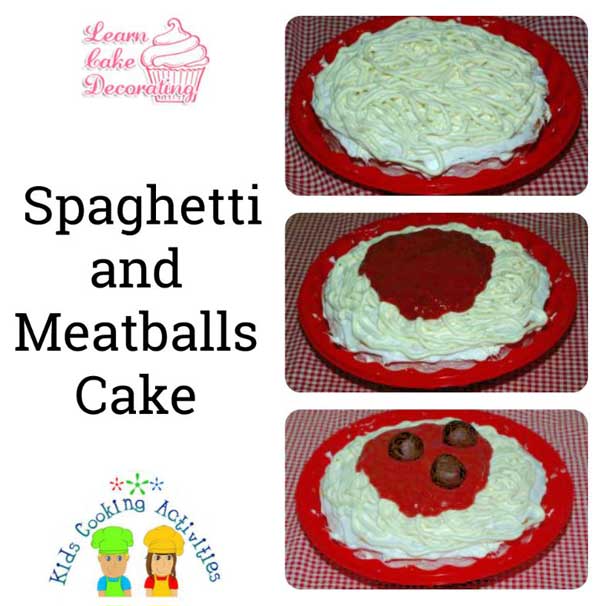 If your kids love to cook they will love this Spaghetti Party cake. Whether it is for a birthday, a kids cooking party or just for fun, kids will delight in this cake. This cake is great for an April fool's idea or backwards party because it is not quite what it seems.
Kids Cooking Activities Teaching Materials
Make teaching easier with our activities and recipes compiled in theme sets and books with an easy to read format
Perfect for teaching!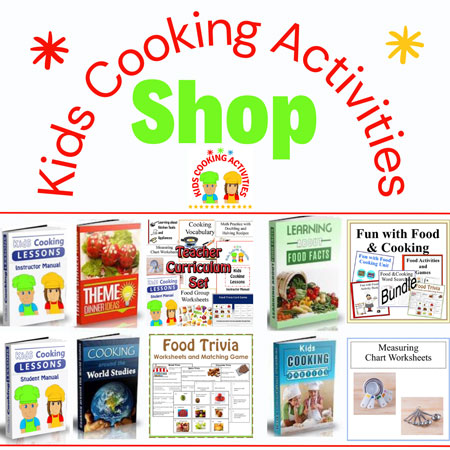 ~This post may contain affiliate links and I'll earn a small commission if you shop through them. There is no extra cost to you. This is how we help support our family and continue to bring you amazing content. To learn more see the
affiliates disclosure here.
~
Spaghetti and Meatballs Cake
Ingredients
Cake mix or homemade cake
White frosting
Fudge balls **see recipe below
1/2-1 cup Frozen strawberries, thawed and pureed in blender or strawberry jam
Directions:
Make and bake a round 9 inch cake. You can make it either single layered or double layered. Allow to cool. One cake mix or cake recipe will make two 9 inch cakes so if you don't use both you can freeze one round cake for another occasion.
Place cake on serving platter or dish. Frost an even layer of white frosting on the top and sides of the cake. Push frosting through a a potato ricer or use a decorating bag with a round tip to squeeze long noodle shapes. Squeeze frosting out and drape "noodles" over the cake. This doesn't have to look perfect or too fancy because you are just making it resemble a plate of spaghetti.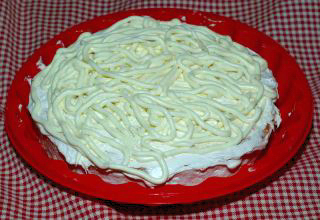 ---
Get all of our Kids Cooking Parties in
one ebook
, free of ads and easier to use at parties and cooking activities with kids. Also included with our Menu Party Plans are:
Party to do lists
Step by step directions
Complete recipes
Recipe cards
A list of items needed for the party
Party invitations
Tips and ideas to help your kids cooking party run smoothly
Filler ideas for parties
Kids cooking party games
---
Prepare fudge balls and chill. Meanwhile, puree strawberries in blender and pour over noodles.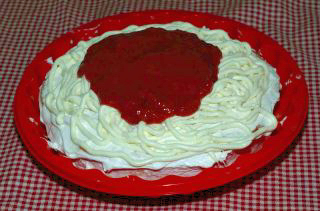 **Fudge Balls
Ingredients
1 cup semisweet chocolate chips
1/4 cup + 2 Tablespoons sweetened condensed milk
1/2 teaspoon vanilla extract
Directions
Melt chocolate chips with condensed milk in a microwave safe dish. Stir together until well combined. Add in vanilla extract. When it is cool enough to handle have kids butter hands. Butter will help the chocolate mixture not stick to your hands. Take a small amount of chocolate mixture and roll into a ball. Place on a cookie sheet or plate and allow to chill.
Place "meatballs" on top of your "sauce." Serve.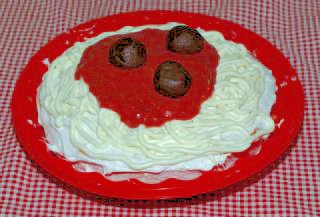 Create a Spaghetti Theme Cooking Party

Use this party cake with more of our spaghetti recipes for a whole
Spaghetti Theme Kids Cooking party
or family dinner.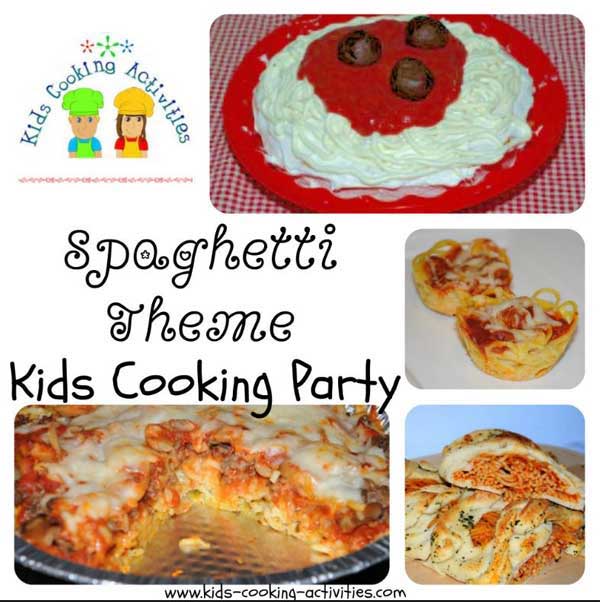 ---
Related Kids Cooking Party Ideas:
~
Kids cooking parties
, ~
Birthday Cooking Party
, ~
Calzones
, ~
Chicken pot pies
, ~
Chicken salad crossiants
, ~
Homemade Pasta
, ~
Make your own pizzas
, ~
Manicotti
, ~
Mini cordon bleu
, ~
Mini meatloaf
, ~
Spaghetti pie
, ~
Breakfast buffet
, ~
Crepes with different fillings
, ~
French toast and homemade syrup
, ~
Soft pretzels
, ~
Cake Decorating
, ~
Cone cakes
, ~
Cookie Decorating party
, ~
Cookie pizza
, ~
Cookie Swap
, ~
Mini fruit pies
, ~
Supreme sundaes with cookie cups
, ~
Spaghetti and Meatballs cake
, ~
Kids Cooking Games
---
Follow Kids Cooking Activities