Cooking Birthday Party
A cooking birthday party for children provides solutions to all the challenges of planning a child's party. Cooking activities keep children busy and occupied. It also allows the opportunity to introduce healthy eating and opens the door to all kinds of cooking activities. More importantly, a cooking party is just plain fun.
Kids Cooking Activities Teaching Materials
Make teaching easier with our activities and recipes compiled in theme sets and books with an easy to read format
Perfect for teaching!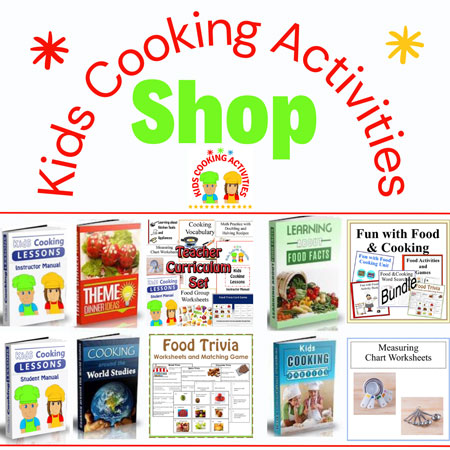 ~This post may contain affiliate links and I'll earn a small commission if you shop through them. There is no extra cost to you. This is how we help support our family and continue to bring you amazing content. To learn more see the
affiliates disclosure here.
~
Choose a Party Menu
Which comes first, the menu or the theme for the party? A cooking birthday party can be a theme party, but the preferences of the birthday celebrant provide the direction. With the selection of theme, menus fall into place and with the selection of food, a theme is developed. If
pizza
is selected as the food to prepare, you could set the theme of the party as an Italian bistro. However, if a
luau theme
is chosen first, the preparation of Hawaiian pizza complete with pineapple can be part of the menu.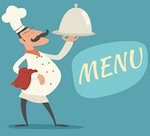 Making and
decorating cupcakes
are a versatile birthday party sweet. Guests can be as involved as mixing the ingredients and pouring the batter into the baking pan or simply decorating the cakes with various frosting, candies and sprinkles.
Menu Tips
At birthday parties, kids are hit-and-run eaters. Older kids might sit down to eat, but the younger kids will be playing food-in-hand. Don't forget to ask parents about any food allergies or lactose intolerance issues. Plan and prepare the kids party food as much as possible the day before the party. Also, keep the birthday cake out of sight until you are ready to serve it. Birthdays are a time to gratify the sweet tooth but it is best not to turn it into sugar-fest. If you are having cake and ice cream try not to include cookies in the menu as well.
Quick Treats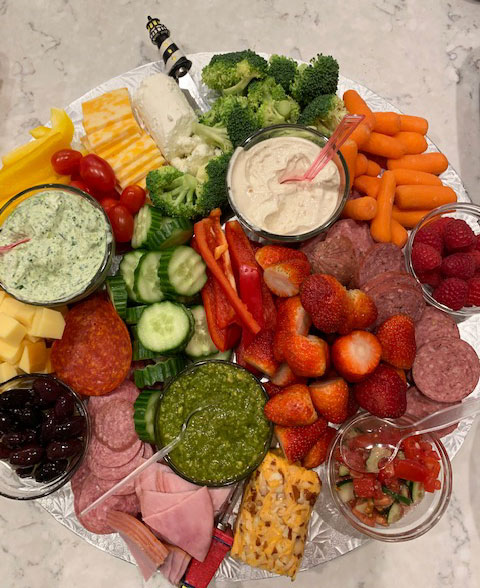 If you're short on time and need quick party food ideas, don't forget to consider these traditional snacks:
Party Supplies
Before shopping for the party supplies, make a list of items for the birthday party. A couple of items specific to a cooking birthday party are needed.
Chef hats and aprons are standard fare for the party. They provide good hygiene and can double as party favors for the guests to take home.


Parchment paper is a great idea. Each guest writes his or her name on the square of parchment paper that can be used to cradle the food as it is prepped and cooked. After the food is warmed or cooked in the microwave or conventional oven, the name of the creator is on the parchment paper.
Be sure to take the shopping list when purchasing the items. Buy two to three extra over the number of guests since items break, food falls, etc. If there needs to be a replacement, fears and tears are alleviated when a quick and easy replacement is available.
Cooking Birthday Invitations
Custom made invitations for the party can be a fun project. The invitation can model a menu or a recipe. Preparing for the party most of all should be fun and if making invitations is more stressful than it is an enjoyable activity, simply download one of our
party invitations
and fill out the information.
With the selection of guests, be mindful of food allergies. Besides sending out the invitations, asking parents and caregivers of the guests about this information is always a good idea.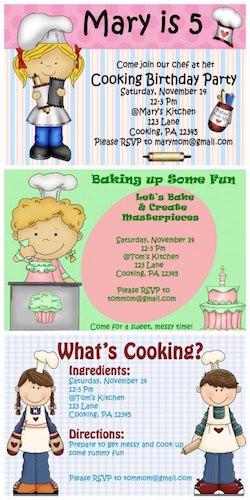 Cooking Birthday Preparation
All food preparation involving sharp objects and activities such as cutting, chopping and slicing should be done prior to the arrival of the guests regardless of their age. Depending on age and time to prepare the food determines how much preparation you need to do ahead of time.
All ingredients and condiments should be easily accessible to all the guest chefs.
Cooking Activities and Games
Decorating chef hats and aprons can be an enjoyable cooking birthday party activity. You can provide markers and crayons to allow guests to create and decorate.
While the food is baking, or after the meal, the kids can play some fun interactive games. Pin the tail on the donkey is a universal game that can be adapted for any party. "Place the chef hat on the cook" is an easy substitution. "Duck, duck, goose" can be adapted to "pizza, pizza, taco."

A memory game which shows multiple kitchen tools on a tray, removing the tray, then having guests try to remember all the objects is challenging and fun. These games can be used to entertain while allowing the food to cook and cool or after eating.

Here are even more party game ideas.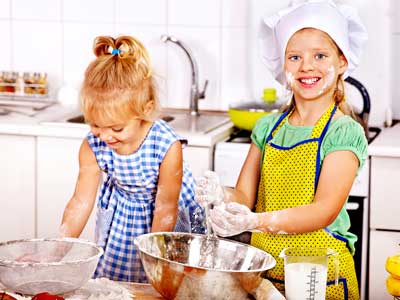 Birthday Cake
Don't forget to check out our
cake decorating section
for easy birthday cake ideas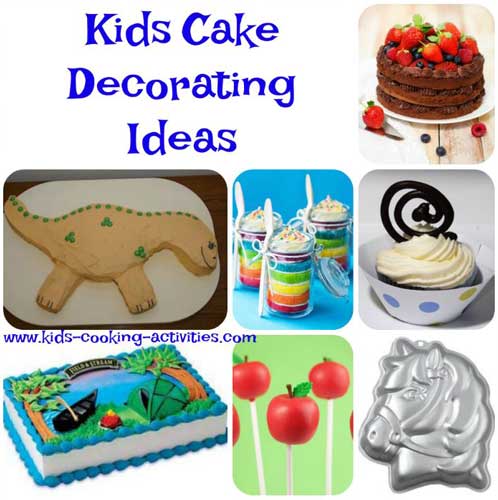 A cooking birthday party is a fun and busy celebration of annual event. It allows creative entertainment as well as an introduction to cooking.
---
Related Kids Cooking Party Ideas:
~
Kids cooking parties
, ~
Birthday Cooking Party
, ~
Calzones
, ~
Chicken pot pies
, ~
Chicken salad crossiants
, ~
Homemade Pasta
, ~
Make your own pizzas
, ~
Manicotti
, ~
Mini cordon bleu
, ~
Mini meatloaf
, ~
Spaghetti pie
, ~
Breakfast buffet
, ~
Crepes with different fillings
, ~
French toast and homemade syrup
, ~
Soft pretzels
, ~
Cake Decorating
, ~
Cone cakes
, ~
Cookie Decorating party
, ~
Cookie pizza
, ~
Cookie Swap
, ~
Mini fruit pies
, ~
Supreme sundaes with cookie cups
, ~
Spaghetti and Meatballs cake
, ~
Kids Cooking Games
---
Follow Kids Cooking Activities