Kids Cake Decorating Party
A cake decorating party makes a super fun kids cooking activity.
Make a cake for each guest ahead of time and prep your frosting in different colors and you'll be ready for the fun of decorating!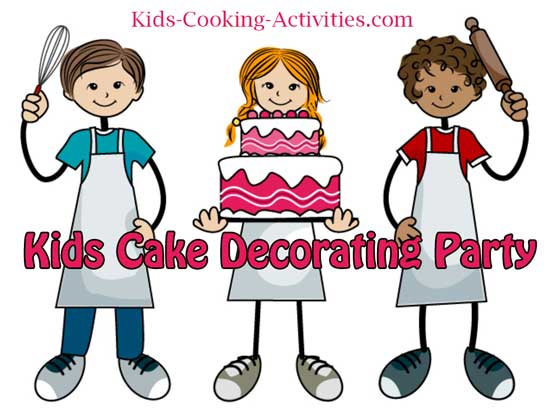 Items Needed for a Decorating Party:
prepared cakes and/or cupcakes- see below for details on deciding which you'd like to do- see recipes below

prepared frosting in 4-5 colors for decorating- see recipes below
prepared filling if making 2 layered

pastry bags 4-5 for each color
batch of frosting for sides and top of each cake- see recipes below

metal spatulas for spreading one per guest

serving plate - you can buy simple plates at $1.00 store- one per guest

sprinkles, candies, etc if desired for decorating
already prepared frosting tubes or cookie icing tubes, if you'd like to do this instead of pastry bags
box for taking home cupcakes or decorated cake. Make sure your plate will fit nicely into the box if doing this

Planning To Do List:
Two weeks ahead:
Send out invitations
Order/sew/buy aprons or chef hats

One week ahead:
Make your shopping list for the party
Buy non perishable items, goody bags and any craft supplies you need if you are decorating aprons or hats
Prepare chef hats ahead of time

Several days ahead:
Put your goody bags together
Get a final number of how many children are coming to the party
Check out our decorating ideas for what you'd like to do at the party.
One to two days ahead:
Do your grocery shopping for the remaining items

Day before:
Prepare cakes and allow to cool overnight
Morning of party:
Line kitchen tables or any large table with a plastic tablecloth or white butcher paper.
Set table with decorating items

Prep frosting, best if done the day of the party. Prepare white frosting for each cake, filling for each and various colored frosting for piping bags.
Fill frosting bags. These can be passed around to share and more color added as needed. Have piping bags with a star tip and a round tip. These two are easy to use and decorate with.

Recipes Needed for Decorating Party
Filling and cake combination ideas:
white with lemon frosting as filling
chocolate with mint frosting as filling
chocolate with chocolate filling
yellow with cream cheese filling
strawberry with strawberry filling
chocolate with peanut butter filling
yellow with peanut butter filling
Keep this in mind when preparing frosting:
One 6 inch 2 layer cake will need 3- 4 cups frosting
One 8 inch 2 layer cake will need 4- 5 cups frosting
If using a separate filling recipe you will need 1/2 -1 Cup filling for each cake
~This does not count for decorating you will need more frosting for decorating and piping details.
Easy Spreading Frosting

Use this recipe for spreading the top of the cakes. It is easy to spread for the kids. This recipe will frost 2- 8 inch 2 layer cakes. So if you are planning for each guest to create a 8 inch 2 layer cake this will be split in half for two guests. Prepare enough for each guest and have extra frosting colored in various colors for piping.
1 Cup butter, softened
1 Cup shortening
8 Cups or 2 lb bag powdered sugar or decorators icing
4-6 Tablespoons milk
1 teaspoon vanilla
Cream butter and shortening together. Add in sugar, milk and vanilla and continue to beat several minutes until fluffy.
Kids Decorating Cupcakes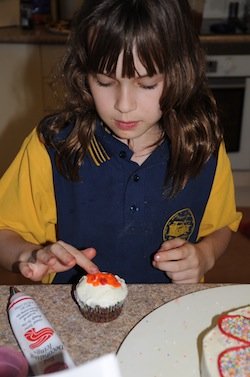 For the party one option is to have the kids decorate cupcakes which will be a simpler idea. They can decorate cupcakes in their own style with the colored frosting, piping bags and candies.
For cupcakes, it is fun to have a variety of sprinkles and small candies for decorating ideas.
Or you can have a few already made examples that they can try to duplicate. You can set this up in stations with the cupcake example and the ingredients needed in different areas.
Have 4-5 cupcakes per guest to decorate. One cupcake they can eat at the party and the rest they can take home in a cake box.
Kids Cupcake Decorating Ideas
See our
cupcake decorating ideas
for some cupcake fun
Gourmet cupcake recipes and icing ideas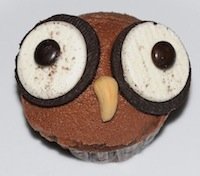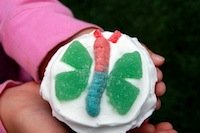 Kids Cake Decorating - 2 Layer

For this you will need two circle cakes for each guest. It doesn't have to be a 6 inch cake you can buy cake pans that are 3-4 inches that would make a fun small 2 layer cake for each child. A small cake size will cut down on the amount of frosting needed as well.
The steps to take are:
Fill the bottom cake layer
Stack the cake with the top
Frost top and sides
Decorate

Which ever size cake you use, give each guest a cake plate and place a small bit of frosting on the bottom of the cake plate. Place one cake layer on top. Now have kids add filling to the top of cake, spreading to the sides. Add a second cake layer to the top and continue to frost top and sides of whole cake with a metal spatula. They may need help in getting this technique down. Start by adding 1 Cup, estimated, to the top and spread toward edges and down the sides. Add more frosting as needed.
Now that their cake is filled and frosted have them step back and think of what they'd like their design to be. The cake is like a canvas that they can start designing.
You can also just have them decorate a simple one layer cake.
You might just be surprised what designs they come up with.
More Decorating Help
Fun Cupcake Ideas
Cake & frosting recipes
Cake decorating techniques
Cake in a Jar
Cake Pops
Cookie Cake
- decorate on a smaller scale
Cookie Decorating
- use decorating skills on sugar cookies
10 favorite decorating borders
Buttercream Frosting Decorating Ideas
- how to decorate your cake with piping techniques
Color your batter
10 Fun Cake Decorating Ideas
---
Related Kids Cooking Party Ideas:
~
Kids cooking parties
, ~
Birthday Cooking Party
, ~
Calzones
, ~
Chicken pot pies
, ~
Chicken salad crossiants
, ~
Homemade Pasta
, ~
Make your own pizzas
, ~
Manicotti
, ~
Mini cordon bleu
, ~
Mini meatloaf
, ~
Spaghetti pie
, ~
Breakfast buffet
, ~
Crepes with different fillings
, ~
French toast and homemade syrup
, ~
Soft pretzels
, ~
Cake Decorating
, ~
Cone cakes
, ~
Cookie Decorating party
, ~
Cookie pizza
, ~
Cookie Swap
, ~
Mini fruit pies
, ~
Supreme sundaes with cookie cups
, ~
Spaghetti and Meatballs cake
, ~
Kids Cooking Games
---
Follow Kids Cooking Activities