Cookie Swap Kids Cooking Party
When deciding which type of cookie swap party you'd like to have take in consideration the size of your kitchen, the space provided and how many children can be baking, mixing and decorating cookies together comfortably.
There are a few ways we recommend doing a kids cookie exchange. Of course you can make this a traditional baking exchange party by having each child bring several dozens homemade cookies baked and ready to hand out. This might be best for a very small house and kitchen that won't allow room for baking and mixing dough. In the ideas below we have steered toward a more cooking party experience with getting kids mixing and baking in an actual kids cooking party.
Kids Cooking Activities Teaching Materials
Make teaching easier with our activities and recipes compiled in theme sets and books with an easy to read format
Perfect for teaching!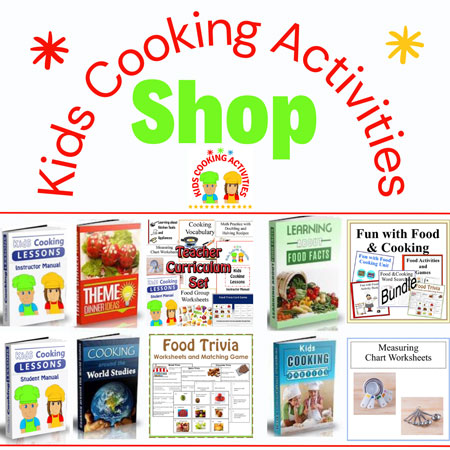 ~This post may contain affiliate links and I'll earn a small commission if you shop through them. There is no extra cost to you. This is how we help support our family and continue to bring you amazing content. To learn more see the
affiliates disclosure here.
~
Cookie Swap Bake Off

For this type of exchange party kids will prep their dough at home and bring their dough ready to bake. If choosing this option write on the invite, or make sure you speak with the parents of the guests, that you would like them to prepare their favorite cookie dough. Have guests bring it in a plastic baggie, wrapped in a bowl, etc. Also have them bring a copy of the recipe for each guest to be handed out with the cookies to take home.
The pros of this baking swap party:
The party won't be as long as the next option
Hopefully mom or dad and their child will have a little at home cooking time together.


You won't need all the cookie ingredients as you will just be baking.

When planning a cookie swap party you will need to allow at least 15-30 minutes cooking time per guests cookies. It will of course be dependent on how many batches their dough makes and how big your oven is.

Once all the cookies have been baked and cooled, divide the variety of cookies evenly among the guests to take home.
Swap Baking Day
This type of exchange party could become an all day affair, depending on the number of children and the recipes you decide to create so keep that in mind when planning.

Depending on the number of children I recommend splitting into groups of 2-3 children per cooking group. Each group can prepare the dough, bake the cookies and decorate if desired. If you have one stove it is probably best to have one group starting first with the mixing and once they are ready to bake bring in another group to start mixing while the other is baking. Decide what works best for your kitchen and space.

You'll most likely want an extra adult or two to help with the different groups.

Each cooking group will make a basic cookie dough recipe. If you'd like you can use this recipe with the whole group and then divide the dough into equally portions. Each group will then create different types of cookies.
Once all the baking is done and cooled, divide the variety of cookies evenly among the guests to take home.
Basic Sugar Cookie Recipe

1 Cup butter softened
2 Cups powdered sugar
2 eggs
1/2 Cup milk
1 teaspoon vanilla extract
1 teaspoon almond or lemon extract
5 Cups flour
2 teaspoon baking soda
1 teaspoon cream of tartar
In mixing bowl, cream together butter, sugar, eggs, and extracts. Blend together. In separate large bowl, add flour, baking soda and cream of tartar. Add to creamed mixture and blend together. Chill at least 20-30 minutes.

For the 7 layer bars and fruit pizza it isn't necessary to chill as it will be easier to press into pan.

* This batch will make approximately 3 dozen cookies, depending on the size of your balls of dough or cutters you'll be using.

~You can clean up the kitchen and get ready to make different types of cookies or do a cooking game while you are waiting.

Now you can create any of these recipes at the swap baking day with your basic sugar cookie dough:
Rolled out cookies
Jam filled cookies
Snowballs
Thumbprints
7 layer bars
Fruit pizza
Cookie Pops

---
Get all of our Kids Cooking Parties in
one ebook
, free of ads and easier to use at parties and cooking activities with kids. Also included with our Menu Party Plans are:
Party to do lists
Step by step directions
Complete recipes
Recipe cards
A list of items needed for the party
Party invitations
Tips and ideas to help your kids cooking party run smoothly
Filler ideas for parties
Kids cooking party games
---
Cookies you can make with this basic sugar recipe

Rolled Out Cookies
You will need for these:
basic cookie dough
rolling pin
2 baking sheets
cooling rack
frosting or royal icing for decorating if desired
sprinkles
Roll cookie dough out on a floured surface. Cut out with cookie cutters. Place on a baking sheet and bake at 350 degrees 8-10 minutes until light golden. Place on cooling rack. Allow to cool before decorating.
Makes about 3 dozen cookies depending on size of cutters.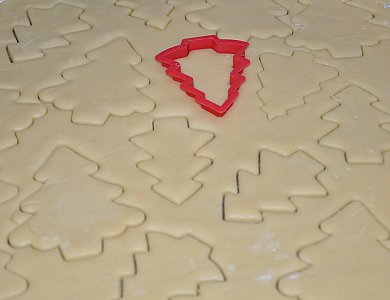 Jam Filled Cookies
You will need for these:
cookie cutters with a smaller size cutter for the middle
basic cookie dough
rolling pin
2 cookie sheets
cooling rack
jelly or jam
powdered sugar for dusting tops
You will need to use the same cookie cutter for the top and bottom so it will be easier to stick to the same cookie cutter for the whole batch. Roll out cookie dough on floured surface and cut out cookies with cutter. Place on cookie sheet. For every other cookie cut out a middle for the "window". Bake cookies at 350 degrees for 8-10 minutes. Allow cookies to cool slightly. Dust powdered sugar on window cookies, the ones with holes in the middle. Add a spoonful of jam on top of the whole cookies and place a second one with a window on top. Set on cooling rack.
Makes about 16 finished cookies.

Snowball Cookies
You will need for these:
basic cookie dough
optional, add chocolate chips, Craisins or chopped nuts to your cookie dough
2 cookie sheets
cooling rack
powdered sugar for rolling
Roll cookie dough into balls. Bake at 350 degrees for about 15 minutes until golden brown. Roll balls in powdered sugar while they are warm.
Makes about 3 dozen snowballs.

Thumbprint Cookies
You will need for these:
basic cookie dough
2 cookie sheets
cooling rack
jam or red cherries, pitted
Form into balls and place on cookie sheet. Bake 8-10 minutes until golden brown. Take out of oven and using a tablespoon press the top of your cookie in. Fill with a spoonful of jam or place a cherry in the indention. Allow to cool.
Makes about 3 dozen.

7 Layer Bars
You will need for these:
basic cookie dough
13x9 pan
sweetened condensed milk
1 Cup chocolate chips
1 Cup butterscotch or other flavored baking chips
1 Cup shredded coconut
1/2 Cup chopped nuts, optional
Press cookie dough into bottom of 13x9 pan. Top with baking chips, coconut and nuts. Pour condensed milk over top. Bake 350 degrees at 25 minutes.
~ We also added 1 Cup mini baking M&Ms for some color.
Please note: 1/2 batch of the basic cookie dough recipe will make one 13x9 pan.

Cookie Pizza
Pizza pan
cookie dough
assorted fruit
frosting
Press dough in pizza pan. Bake at 350 degrees for 8-10 minutes or until golden brown. Allow to cool. Then frost and top with an arrangement of cut fruit slices.
Please note: 1/2 batch of the basic cookie dough recipe can be spread into a small pizza pan.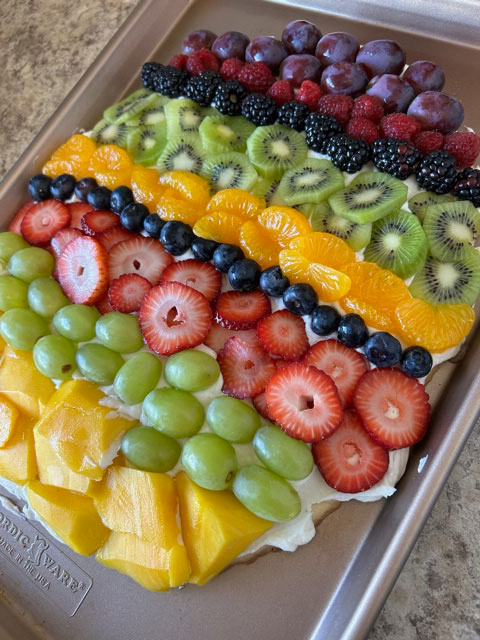 Swap Party Planning To Do List:
Two weeks before the cookie swap:
Send out invitations
Order/sew/buy aprons or chef hats

One week ahead:

Make your shopping list for the party
Buy non perishable items, goody bags and any craft supplies you need if you are decorating aprons or hats
Prepare chef hats ahead of time

Several days ahead:

Put your goody bags together
Get a final number of how many children are coming to the party

One to two days ahead:

Do your grocery shopping for the remaining items

Morning of party:

Line kitchen tables or any large table with a plastic tablecloth or white butcher paper.


Set table with ingredients
Would you like different
cookie recipes
to use in your swap?
---
Related Kids Cooking Party Ideas:
~
Kids cooking parties
, ~
Birthday Cooking Party
, ~
Calzones
, ~
Chicken pot pies
, ~
Chicken salad crossiants
, ~
Homemade Pasta
, ~
Make your own pizzas
, ~
Manicotti
, ~
Mini cordon bleu
, ~
Mini meatloaf
, ~
Spaghetti pie
, ~
Breakfast buffet
, ~
Crepes with different fillings
, ~
French toast and homemade syrup
, ~
Soft pretzels
, ~
Cake Decorating
, ~
Cone cakes
, ~
Cookie Decorating party
, ~
Cookie pizza
, ~
Cookie Swap
, ~
Mini fruit pies
, ~
Supreme sundaes with cookie cups
, ~
Spaghetti and Meatballs cake
, ~
Kids Cooking Games
---
Follow Kids Cooking Activities