Cookie Decorating
Kids Cooking Party
For a cookie decorating kids cooking party kids get a chance to get a hands on experience, decorate the finished product and be able to eat what they created. Another option for the party is to make the dough ahead of time and just have the cooking party do the rolling out the dough and decorating.
Once you know the number of children coming go through the list of things needed especially utensils, bowls, etc. If you need extra ask friends or family if you can borrow some items for your cookie decorating kids cooking party.
Kids Cooking Activities Teaching Materials
Make teaching easier with our activities and recipes compiled in theme sets and books with an easy to read format
Perfect for teaching!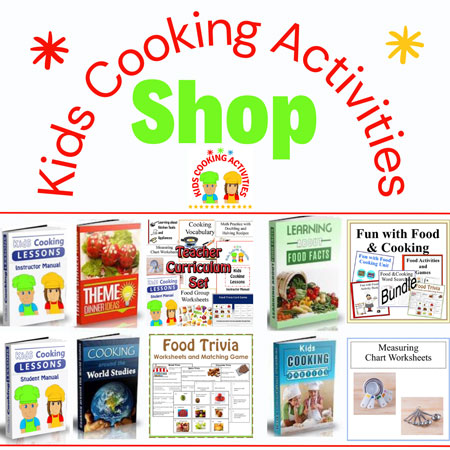 ~This post may contain affiliate links and I'll earn a small commission if you shop through them. There is no extra cost to you. This is how we help support our family and continue to bring you amazing content. To learn more see the
affiliates disclosure here.
~
A cookie decorating party is a get-together where kids come together to join in the fun and excitement of decorating sugar cookies!
5 Simple Steps to Hosting a Kid's Cookie Decorating Party
1. Pick a Party Date - pick your date, set up your grocery list to make sure that you have all the ingredients in the house to make sugar cookies. Make sure you have sprinkles, frosting, and anything else that you might want to use to decorate your cookies with. Head to the store and purchase anything that you might need. Oh, and it is a bonus if you have extra paper towels on hand for any messes that might occur!
2. Invitations - If this is a party for your kid's friends you might consider having them send/pass out some invitations. Invitations always make kids excited and filled with anticipation when they receive one. We have a few invitations to choose from.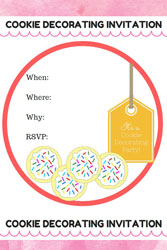 3. Plan a Few Games- it will make your cookie decorating party a lot of fun if you have a couple of games planned out for the kids to partake in! Here are some kids cooking party games.
4. Make the Cookie Dough- sometime before the party - either the day of your cookie decorating party or a couple days before - make your cookie dough. I've included a freezable recipe for sugar cookie dough in my packet so maybe you'll want to give that a try to minimize any stress on your part on the day of the party. It's a plus if you can have the cookie dough all made up before the children arrive because that saves on one step. If you only want the kids to do the actual decorating and not the rolling and cutting out of the cookies, then you could also bake the cookies before the guests arrive and have them cooled and ready to be decorated.
5.Set out Decorations-you can make separate bowls and fill them with all the different cookie decorations that the kids can use to spruce up the cookies. You'll want enough bowls to hold each individual decoration. This will make it easier for the kids to carry the bowls to their decorating station without too much of a hassle.
Items Needed for a Cookie Decorating Kids Cooking Party:
Cookie sheets 2-3
Mixing Bowl and mixer or bowl and wooded spoon
1 set of teaspoons
Set of tablespoons
1 set of cups
Actual recipe ingredients
Frosting and cake decorations/sprinkles
Paper plates, cups and eating utensils
Several rolling pins
Extra flour for rolling out dough
Party Planning To Do List:
Two weeks ahead:
Send out invitations
Order/sew/buy aprons or chef hats

One week ahead:

Make your shopping list for the party
Buy non perishable items, goody bags and any craft supplies you need if you are decorating aprons or hats
Prepare chef hats ahead of time

Several days ahead:

Put your goody bags together
Get a final number of how many children are coming to the party

One to two days ahead:

Do your grocery shopping for the remaining items

Morning of party:

Line kitchen tables or any large table with a plastic tablecloth or white butcher paper.


Set table with ingredients
---
Get all of our Kids Cooking Parties in
one ebook
, free of ads and easier to use at parties and cooking activities with kids. Also included with our Menu Party Plans are:
Party to do lists
Step by step directions
Complete recipes
Recipe cards
A list of items needed for the party
Party invitations
Tips and ideas to help your kids cooking party run smoothly
Filler ideas for parties
Kids cooking party games
---
Cookie Decorating Recipe
We are going to follow the recipes from the following page-
cookie recipes.
You can choose one of the three cut out cookie recipes on this page- basic sugar cookie dough, simple sugar cookie recipe, or brown sugar and spice cut out cookies. Any of these recipes will make a great dough for the cookie decorating kids cooking party.
When preparing the recipe allow kids to take turns adding and stirring ingredients in a large mixing bowl so everyone gets a turn. You should be able to use the dough without chilling it for several hours. When dough is complete give each child a portion of the dough and allow them to roll out the dough on a floured surface. Cut out cookies with cookie cutter and place on cookie sheet. Have an adult bake and allow cookies to cool. While you are waiting for cookies to cook and cool, prepare another recipe you have planned, decorate aprons, chef hats or play cooking games.
Set table with frosting, table knives and sprinkles. Allow kids to decorate and place on a paper plate or shallow box to take home.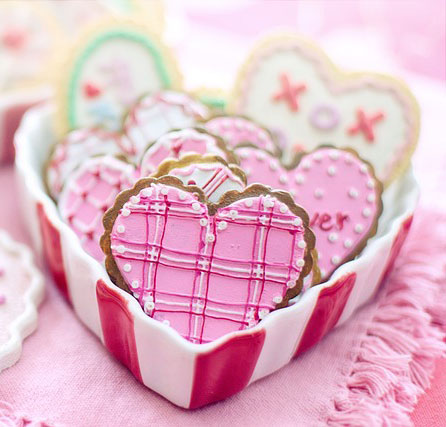 Learn more about decorating sugar cookies.
12 Decorations to Use on Your Cookies
The following is a list of 12 fun decorations to use at the cookie decorating party. And, if they inspire you I've created little labels that you can cut out and set up around your bowls that contain your decorations. You'll find my labels in the party kit that I've created!
Sprinkles - variety of different colors, shapes, etc.
Pretzels cut into tiny pieces
Chocolate Chips
Butterscotch Chips
Andes Mint Pieces
Marshmallows - you can cut these up with a scissors to get smaller pieces
Raisins
Mini M&M's
Oreo Cookies diced into fine pieces
Licorice - cut this up into small pieces
Red Hots
Candy Bar cut up into small pieces
Cookie Decorating Kids Cooking Party- Cookie Pops
If you'd like to keep the cookie party simpler have the kids prep cookie pops and decorate when they have cooled.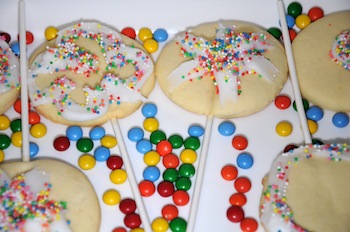 They are easy to make using the same cookie dough recipes suggested above, cut circles out of the rolled dough. Place on a cookie sheet leaving room for sucker sticks. Press a stick into each cookie and bake. The cookie will rise over the stick and hold it in place.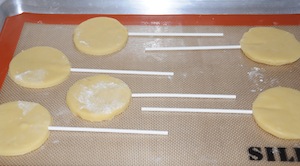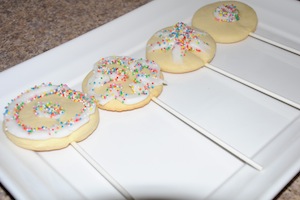 Allow to cool and decorate. You can place the kids decorated cookies in a sandwich baggie tied with ribbon to take home.
You can also make a
cookie bouquet
with your cookies.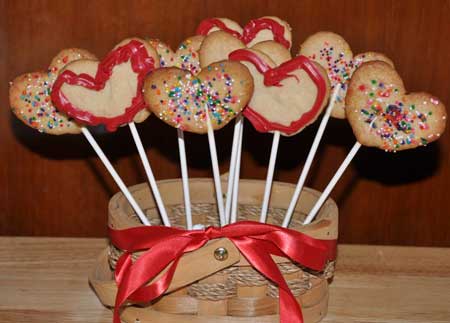 ---
Related Kids Cooking Party Ideas:
~
Kids cooking parties
, ~
Birthday Cooking Party
, ~
Calzones
, ~
Chicken pot pies
, ~
Chicken salad crossiants
, ~
Homemade Pasta
, ~
Make your own pizzas
, ~
Manicotti
, ~
Mini cordon bleu
, ~
Mini meatloaf
, ~
Spaghetti pie
, ~
Breakfast buffet
, ~
Crepes with different fillings
, ~
French toast and homemade syrup
, ~
Soft pretzels
, ~
Cake Decorating
, ~
Cone cakes
, ~
Cookie Decorating party
, ~
Cookie pizza
, ~
Cookie Swap
, ~
Mini fruit pies
, ~
Supreme sundaes with cookie cups
, ~
Spaghetti and Meatballs cake
, ~
Kids Cooking Games
---
Follow Kids Cooking Activities