Fruit Pies Kids Cooking Party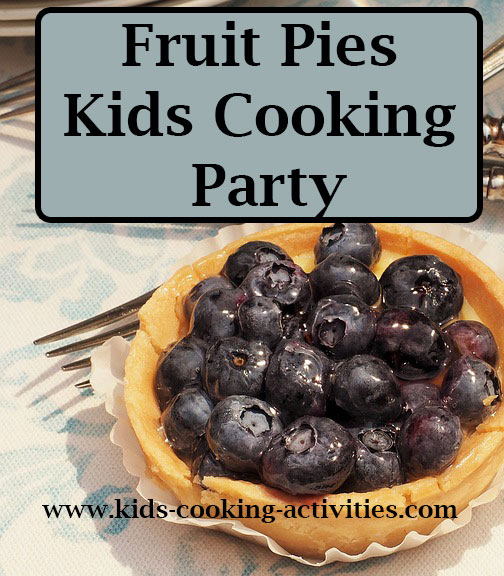 Fruit pies can be made mini size for a mini fruit pies kids cooking party. You can make this as simple or complex as you choose. You can prepare your own homemade pie dough and give each child a ball of dough to work with. Or you can cut circles out of already made pie crusts to fit into small pie pans.
Once you know the number of children coming go through the list of things needed especially utensils, bowls, etc. If you need extra ask friends or family if you can borrow some items for a mini fruit pie kids cooking party.
Kids Cooking Activities Teaching Materials
Make teaching easier with our activities and recipes compiled in theme sets and books with an easy to read format
Perfect for teaching!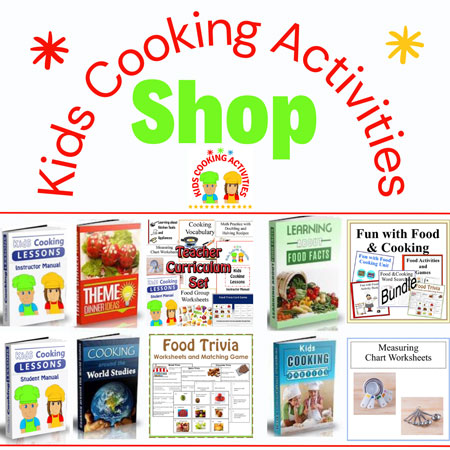 ~This post may contain affiliate links and I'll earn a small commission if you shop through them. There is no extra cost to you. This is how we help support our family and continue to bring you amazing content. To learn more see the
affiliates disclosure here.
~
Items Needed for this Kids Cooking Party
Small individual size pie pans

,

if you don't have these available use a muffin pan and label each child's pie along the edges with masking tape.
Masking tape. To label kid chefs name on the pans.
Several pizza pans or cookie sheets
Mixing Bowl
Spoons- one for each child for mixing and a few extras if needed
1 set of teaspoons
1 set of tablespoons
1 set of cups
Actual recipe ingredients
Several rolling pins
Paper plates, cups and eating utensils
Extra flour for rolling out pie dough
Pastry brushes for brushing top of pie
Mini cookie cutters for top of crust or just cut slits
Fruit Pies Kids Cooking Party Planning To Do List
Two weeks ahead:
Send out invitations
Order/sew/buy aprons or chef hats

One week ahead:

Make your shopping list for the party
Buy non perishable items, goody bags and any craft supplies you need if you are decorating aprons or hats
Prepare chef hats ahead of time

Several days ahead:

Put your goody bags together
Get a final number of how many children are coming to the party

One to two days ahead:
Do your grocery shopping for the remaining items

Day before:

Prepare cooking party cake if you are having one
Line kitchen tables or any large table with a plastic tablecloth or white butcher paper.

Morning of party:

Prepare homemade pie dough or cut circles out of already made pie crusts to fit into small pie pans. If you are doing this during the mini fruit pies kids cooking party skip over this prep step.
Set up table with cooking items
---
Get all of our Kids Cooking Parties in
one ebook
, free of ads and easier to use at parties and cooking activities with kids. Also included with our Menu Party Plans are:
Party to do lists
Step by step directions
Complete recipes
Recipe cards
A list of items needed for the party
Party invitations
Tips and ideas to help your kids cooking party run smoothly
Filler ideas for parties
Kids cooking party games
---
Mini Fruit Pies Recipe
Ingredients:
Pie dough homemade or store bought
Aluminum individual pie pans
2-3 cans of Pie filling
Egg white
Sugar
Directions:
You will need to make several batches of pie dough (if homemade) depending on the number of children. One batch of dough should make 3-4 mini pies with a bottom and top crust. It is a good idea to have extra on hand in case you need it.
Give each child two balls of pie dough and a mini pie pan. Sprinkle the table with flour and allow them to roll out a ball of pie dough into a small circle. Place dough into the small pie pans. If you are using already rolled out pie dough circles skip the above step and just add circle to pie pan. Roll out the second ball of dough into a circle for the top crust.
Have each child spoon pie filling into their pie shell. With the second circle use mini cookie cutters or cut slits in the circle. Top pie with second pie crust. Cut off the excess dough around the edges and pinch the edges together. With a pastry brush, brush tops of pie with egg white and sprinkle with sugar before cooking. Place on a cookie sheet and label with masking tape each kid chef's pie. Several children can share a cookie sheet. Bake at 375 degrees for 30 minutes or until crust is golden brown.
While waiting for all the pies to cook, prepare another recipe, decorate aprons, chef hats or play cooking games.
---
Related Kids Cooking Party Ideas:
~
Kids cooking parties
, ~
Birthday Cooking Party
, ~
Calzones
, ~
Chicken pot pies
, ~
Chicken salad crossiants
, ~
Homemade Pasta
, ~
Make your own pizzas
, ~
Manicotti
, ~
Mini cordon bleu
, ~
Mini meatloaf
, ~
Spaghetti pie
, ~
Breakfast buffet
, ~
Crepes with different fillings
, ~
French toast and homemade syrup
, ~
Soft pretzels
, ~
Cake Decorating
, ~
Cone cakes
, ~
Cookie Decorating party
, ~
Cookie pizza
, ~
Cookie Swap
, ~
Mini fruit pies
, ~
Supreme sundaes with cookie cups
, ~
Spaghetti and Meatballs cake
, ~
Kids Cooking Games
---
Follow Kids Cooking Activities