Homemade Pie Recipes
A collection of our favorite homemade pie recipes.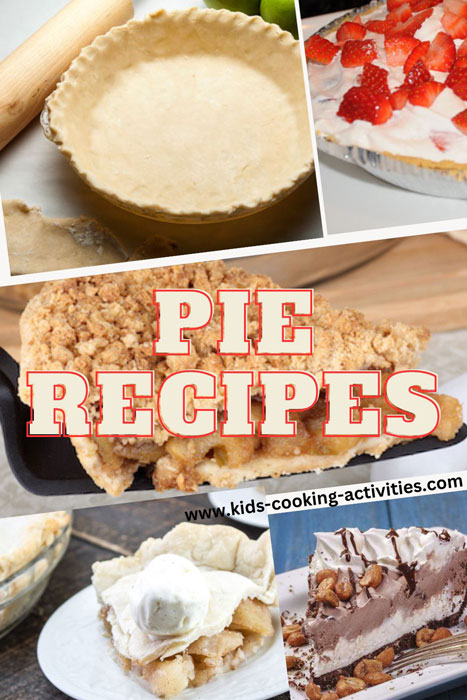 Kids Cooking Activities Teaching Materials
Make teaching easier with our activities and recipes compiled in theme sets and books with an easy to read format
Perfect for teaching!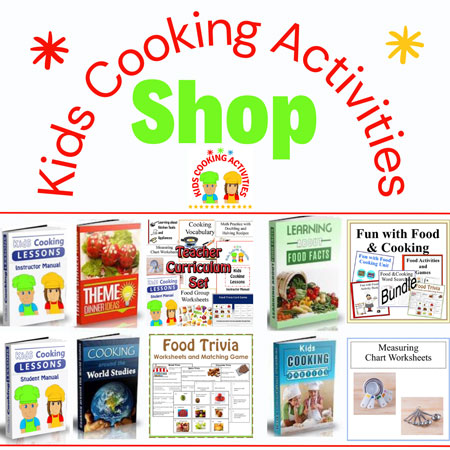 ~This post may contain affiliate links and I'll earn a small commission if you shop through them. There is no extra cost to you. This is how we help support our family and continue to bring you amazing content. To learn more see the
affiliates disclosure here.
~
More Recipes Throughout Our Site
Pumpkin pie recipes
Apple Pie
Banana Pie
Pump Apple Fried Pies
No Bake Pies
Fruit Pie
Spaghetti Pie
Chicken Pot Pie
Mini Chicken Pie Kids Cooking Party
Shepherd's Pie
Individual Meat Pies
Meat Pie Boat Recipe
Yogurt Pie
Strawberry Rhubarb Pie
Mini Tarts
Pie Pops
Quiche Pies
Ice Cream Pie
Coconut Cream Pie
Pecan Pie
Pie Crust Recipe
Pie Crust Ingredients: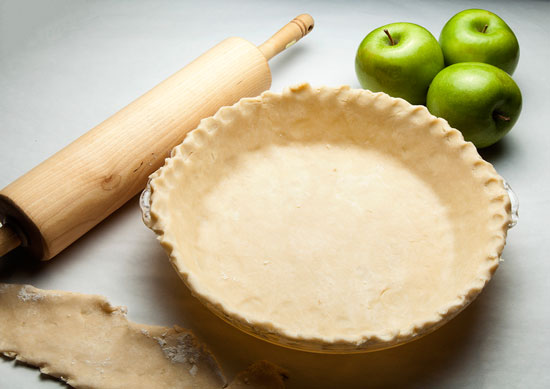 3 c. all-purpose flour
1 t. salt
1¼ c. vegetable shortening
7-12 T. ice-cold water
Directions:
To prepare pie crust, add flour, salt, and vegetable shortening to a large bowl and mix with a hand mixer. Gradually add ice-cold water until the dough binds together and can form a ball. Place in the refrigerator and chill for 30 minutes. Remove the dough from the refrigerator and divide into 2 even sections. Roll out each piece of dough into a 10-11 inch diameter for a 9-inch pie. Prepare your pie filling and transfer filling to your pie crust.
Apple Pie Recipe
Pie Filling Ingredients:
6 c. peeled and sliced apples
2/3 c. granulated sugar
1 t. ground cinnamon
1/8 t. ground nutmeg
2 T. unsalted butter, cut into 4 or 5 pieces
Add sliced apples, sugar, cinnamon, and nutmeg to a large bowl and toss gently to combine. Line a 9-inch pie pan with a pie crust. Transfer the apple filling to the pie crust. Place top crust over the pie and crimp the edges together. Cut 4-5 vents into the top crust with a sharp knife and place a small piece of butter in each. Cover edges with foil or a pie crust protector to prevent over browning.
Bake for 10 minutes at 450°F. Reduce temperature to 350°F and continue baking for another 35-40 minutes. Remove from oven and cool for at least 15 minutes before slicing and serving with
ice cream
for a Pie a la Mode.
Try this variation for an
apple pizza pie.
Mini Pies
This is a fun way for kids to have a small pie portion and works well for making pies in a classroom setting. Make pie crust according to your recipe. Roll dough out and cut into small circles about 5-6 inches around. You can find a bowl or large glass with about that diameter.
Have each child press your pie dough inside a greased muffin tin making sure dough comes up along the top edge. Add pie filling and add a second circle for the top or create a decorative top.
Bake at 375 degrees F for 15-20 minutes or until pie is golden brown.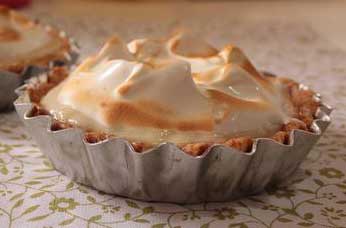 Banana Pie with Chocolate Pie Crust
Ingredients
1 partially baked prepared chocolate pie crust or chocolate Oreo crust
1/4 Cup sugar
1 1/2 Tablespoon flour
1/8 tsp. of salt
2 egg yolks
1 1/2 Cups whole milk
1 1/2 tsp banana extract, optional
1 tsp. vanilla extract
1 banana
Directions:
Add sugar into a saucepan. Add in the flour and salt and toss with a fork to combine.
Stir in the egg yolks and milk then place the pan over medium heat.
Stirring constantly, cook 4 minutes or until the mixture thickens and just begins to boil.
Remove the pan from the heat and blend in the banana and vanilla extracts.
Allow to cool to lukewarm, stirring it occasionally.
Slice the banana into thin slices onto bottom of the prepared pie crust.
Spread custard mixture over banana slices.
Mixture won't fill pan.
Cover the pie and chill for at least 2 hours or until very cold. Before serving add a layer of whipped topping. Top with banana slices, chopped Oreos or chocolate curls.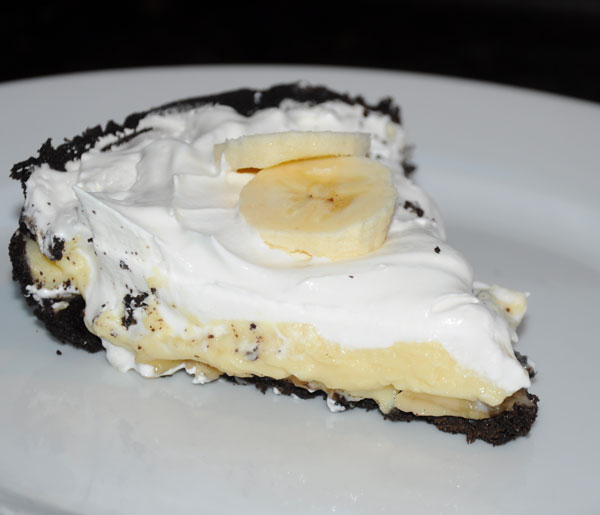 Classic Pumpkin Pie
by Jessa (California)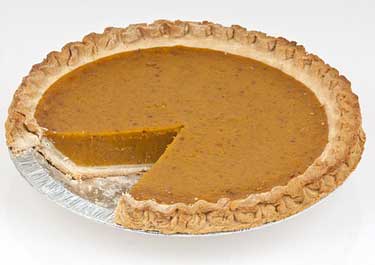 Ingredients:
1 C. all purpose flour
1/4 tsp. salt
1/3 C. butter
3 T. cold water
3 eggs
1 C. pumpkin
1/2 C. sugar
2/3 C. evaporated milk
1/3 C. maple syrup
1/4 C. packed brown sugar
1/2 tsp. vanilla
dash of salt
Directions:
Crust:
Mix flour and salt in small bowl. Cut in butter until mixture is the size of small peas. Slowly add water, tablespoon at a time, until mixture holds together with a fork. Press into a circle, wrap in plastic wrap and refrigerate for at least 20 minutes.
Filling:
Beat 2 eggs in a medium bowl. Stir in pumpkin, sugar, evaporated milk. Set aside. In another bowl, beat the remaining egg. Stir in maple syrup, brown sugar, vanilla and salt. Mix well.
Preheat oven to 425F. Roll out dough on to a lightly floured surface to a 12 inch circle. Transfer to a 9 or 10 inch pie plate. Trim crust allowing a 1/2 inch overhang. Fold under the edge and press with a fork. Place on baking sheet. Pour mixture into pie crust. Bake for 25 minutes. Reduce heat to 350F. and continue to bake for another 20 minutes. Knife inserted must come out clean. Cool.
No Bake Pie Recipes
Mud Pie
Ingredients:
1/2 packet chocolate cream icing (enough to spread over the crust)
1 chocolate pie crust
4 Cups sugar free dark chocolate mousse or pudding
1/2 Cup mini chocolate morsels or candies
Directions:
Step 1: Spread icing evenly over bottom of crust.
Step 2: Top with a layer of mousse or pudding on top.
Step 3: Sprinkle with candies.
Step 4: Chill pie for 20 minutes.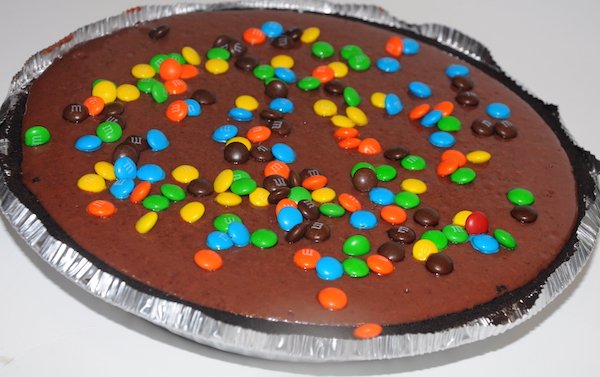 Yogurt Pie
Ingredients
1 graham cracker crust
2 containers of 8 oz. yogurt
1- 3 oz. small pkg sugar free Jello
1 -8 oz. Cool Whip
Directions:
Dissolve jello in 1/2 cup water Add yogurt and Cool Whip. You may use any flavor jello and add fresh fruit.
EXAMPLES:
Strawberry jello with fresh berries
Blue jello with blueberries
Lime jello with kiwi
Orange jello with oranges
Very easy and a hit with kids and adults.
Ice Cream Pumpkin Pie
by Jennfier Alphin ( WY, United States)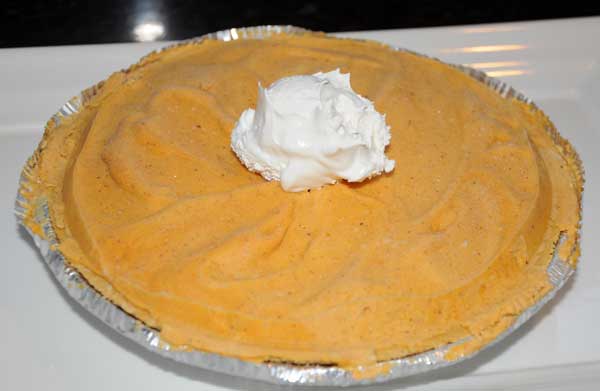 Ingredients:
1 already made graham cracker crust
1 (1.5 quarts, softened but not too runny) vanilla ice cream
1 cup can pumpkin
1 tsp. nutmeg
1 tsp. cinnamon
1 can of whipped cream
Directions:
Mix ice cream, pumpkin, nutmeg and cinnamon together well.
Fold into graham cracker crust. Freeze for 3 hours or overnight. Just before serving, place whipped cream on top and enjoy.
More Ice Cream Pies
Mint Chocolate Chip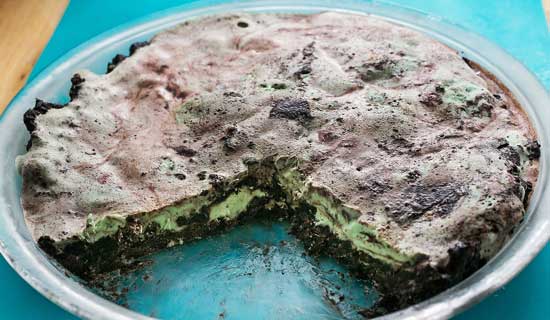 Pink Lemonade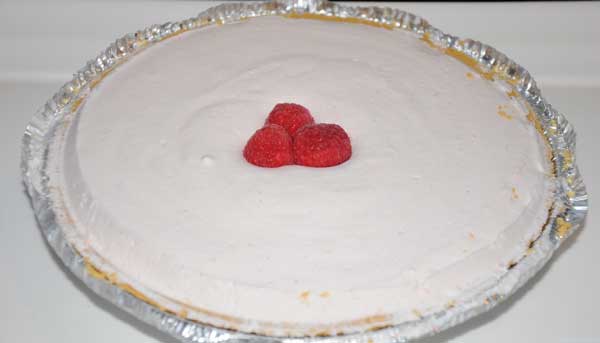 Peanut Butter Chocolate Layer Ice Cream Pie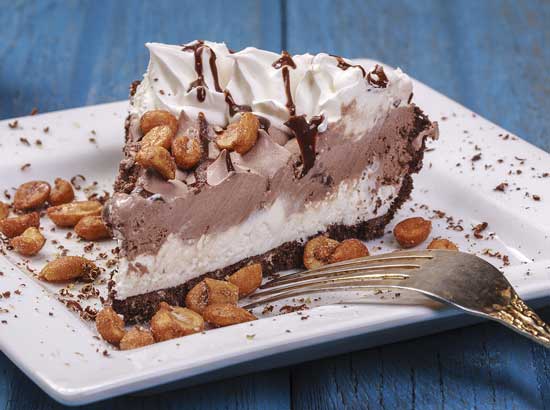 Double Chocolate Pudding Pie
1 ½ Cups cold milk, divided
1 pkg. 4 serving size chocolate pudding and pie filling
1 pkg. 4 serving size white chocolate flavor pudding and pie filling
8 oz. Cool whip, thawed
graham cracker crust
Pour ¾ C. cold milk into medium bowl. Add chocolate pudding mix and beat 1 minute. Mixture will be thick. Gently stir in ½ of the whipped topping. Spoon evenly into crust. Pour remaining ¾ C. cold milk into different bowl and add white chocolate pudding mix. Whisk 1 minute. Stir in remaining ingredients. Spread on top crust and chill 4 hours.
Lemonade Pie
by Melinda
Makes 2 pies.
Ingredients:
2 graham cracker crusts
1 small can of frozen lemonade
16 ounces of lite cool whip
1 can sweetened condensed milk
yellow food coloring(optional)
lemons for garnish
Directions:
Mix lemonade, cool whip, milk, and food coloring together until well blended and everything is melted together. Pour evenly into 2 crusts and garnish with thin lemon slices or sliced berries. Great summer pie and easy to make!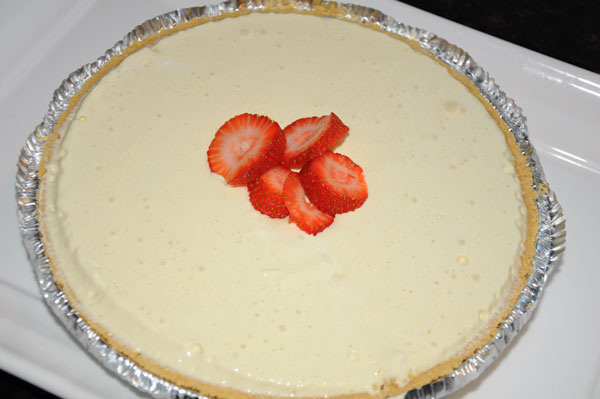 Berry Pie
by Nancy (USA)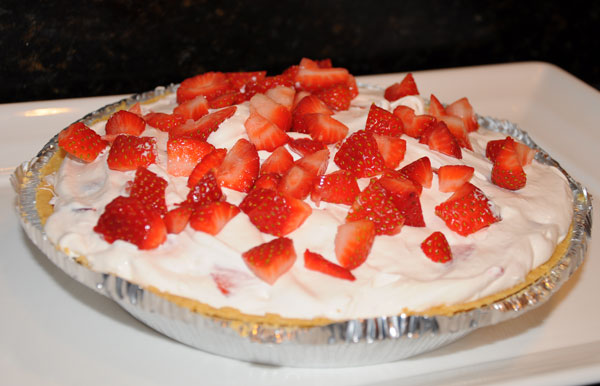 Ingredients:
1- 8 oz. block cream cheese, softened & at room temp
1/2 cup powdered sugar
1/2 teaspoon vanilla extract
3-4 Cups assorted berries ( your favorite or whatever is in season)
Dash of salt
1 -8-12 oz container Cool Whip
1prepared Graham cracker crust
Directions:
Whip cheese until no lumps remain. Add sugar, salt, and vanilla. Blend well, on low speed to begin ( to avoid sugar flying everywhere). Add about 1/3 of cool whip,

Blend well. Fold in remaining cool whip. Gently fold in selected berries ( if using strawberries, slice into smaller pcs.). Pour into the crust & refrigerate about 1 hour or until firm. Slice & serve.
Peanut Butter Pie
by Jo (US)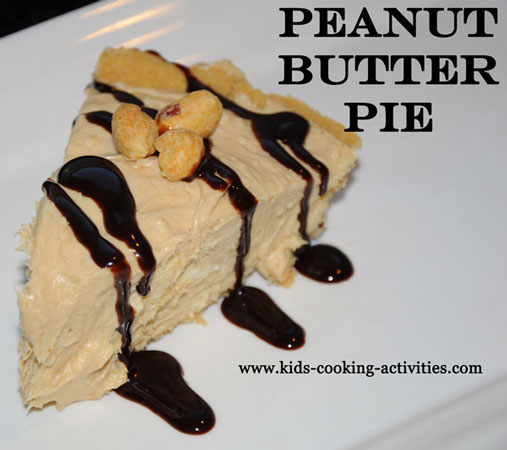 Ingredients:
1 cup peanut butter
1 pkg cream cheese (softened)
1 cup powdered sugar
1 8oz container whipped topping
1 graham cracker crust
Directions:
Cream peanut butter and cream cheese together. Mix in powdered sugar until blended. Add whipped topping to mixture until well blended and creamy. Pour into the crust and refrigerate.
Serve with a drizzle of chocolate syrup and chopped peanuts, if desired. Serves eight.
Follow Kids Cooking Activities