Pancake Recipe For Kids
spreads and Syrups for Pancakes
A combination of pancake recipes for kids as well as homemade spreads and homemade syrups to top off your yummy pancakes!
Kids Cooking Activities Teaching Materials
Make teaching easier with our activities and recipes compiled in theme sets and books with an easy to read format
Perfect for teaching!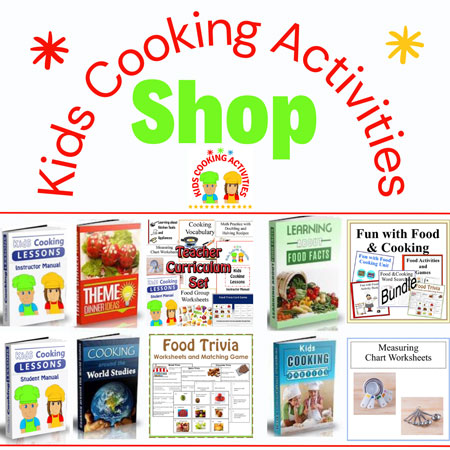 ~This post may contain affiliate links and I'll earn a small commission if you shop through them. There is no extra cost to you. This is how we help support our family and continue to bring you amazing content. To learn more see the
affiliates disclosure here.
~
Easy Buttermilk Pancake Recipe
by Judy (USA)
1 cup all-purpose flour
1 tablespoon sugar
1 teaspoon baking powder
1/2 teaspoon baking soda
1/2 teaspoon salt
1 1/2 cups buttermilk, at room temperature
3 tablespoons vegetable oil
1 large egg
1. In a large mixing bowl, mix together dry ingredients: flour, sugar, baking powder, baking soda and salt. Set aside.
2. In a medium mixing bowl, whisk the buttermilk, oil and egg. Stir into dry ingredients. The batter should be slightly lumpy.
3. Heat a nonstick griddle over medium heat. Scoop about 1/4 cup of the batter for each pancake on top the griddle, allowing plenty of space for spreading.
Cook until bubbles form on the surface, 2-3 minutes; turn and cook until golden brown, 2 minutes longer. Repeat with remaining batter; serve right away.
Dairy Free Pancake Recipe
Ingredients: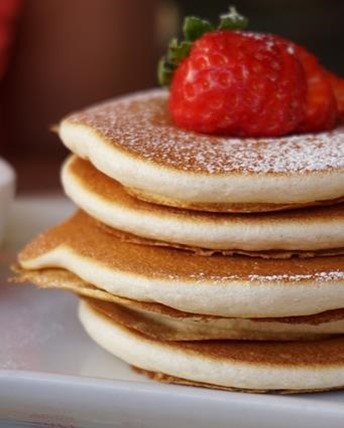 1 ½ Cup flour
1 tsp salt
2 T. sugar
2 ½ tsp baking powder
1 egg
3 T. butter, melted
1 ¼ Cup almond or coconut milk
Mix all ingredients together and fry on a hot skillet.Top with berries and powdered sugar or one of the pancake spreads below.
Yogurt Pancakes
1 egg
2/3 cup plain yogurt
2/3 cup milk
3/4 cup flour
2 Tablespoon maple syrup
Mix all ingredients together until well blended. Cook on a hot griddle or skillet.
Cream Cheese Pancakes
Ingredients: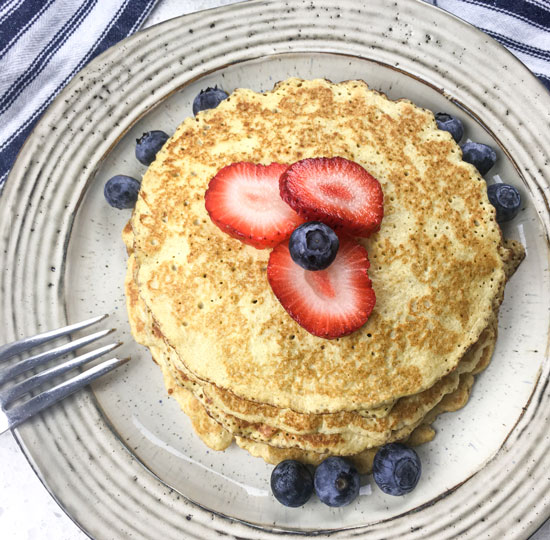 8 oz. cream cheese, softened and cut into cubes
6 large eggs
½ t. ground cinnamon
1 t. real vanilla extract
3 T. extra virgin olive oil, divided
1 C. fresh blueberries
1 C. fresh strawberries, sliced
Real maple syrup, to serve
Directions:
1. Add cream cheese, eggs, cinnamon, and vanilla extract to a high-powered blender. Cover and blend on high until completely smooth.
2. Heat a cast iron griddle or large skillet over medium heat. Once hot, add ½ tablespoon olive oil to griddle and spread around with a rubber spatula.
3. Pour 3 small pancakes onto the griddle (approximately 2-3 tablespoons each), leaving enough space in between so they don't run together. Cook until the edges just begin to turn brown and the pancakes are set, approximately 3-4 minutes.
4. Carefully flip each pancake and continue cooking for another 1-2 minutes or just until golden brown on the bottom. Transfer cooked pancakes to a platter and keep warm. Repeat this process with remaining olive oil until all batter is cooked.
5. To serve, divide the pancakes among individual serving plates and top with fresh berries, a sprinkle of powdered monk fruit, if desired, and some real maple syrup. Enjoy!
---
A great way to prepare your pancakes is with this
2 sided grill pan or skillet.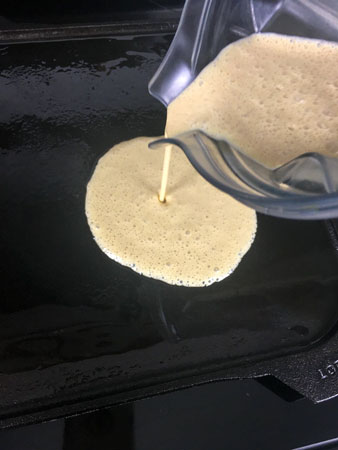 affiliate link
Gluten Free Pumpkin Spice Pancakes
Prep time: 10 minutes Cook time: 10 minutes Serves: 4-6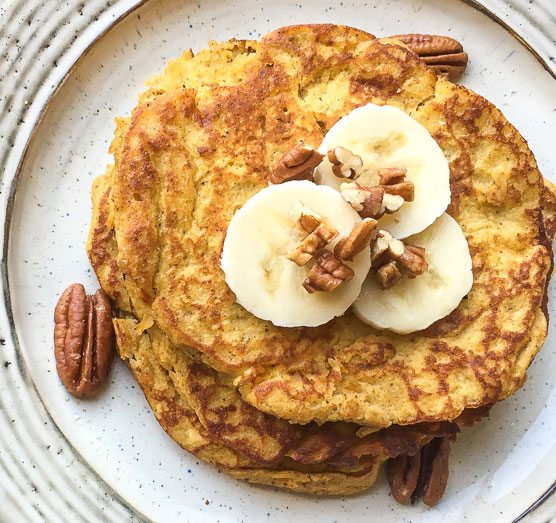 Ingredients:
6 large eggs
2/3 c. pure pumpkin puree
2 T. honey
½ c. almond flour
½ c. coconut flour
1½ t. baking powder
1 T. pumpkin pie spice
1/8 t. salt
3 T. coconut oil, divided
To serve:
1 banana, sliced thin
1/3 c. pecans, chopped
Optional: Real maple syrup
Directions:
1. In a large mixing bowl, whisk the eggs, pumpkin puree, and honey until thoroughly combined.
2. In a separate bowl, combine the almond flour, coconut flour, baking powder, pumpkin pie spice, and salt.
3. Add the dry ingredients to the bowl with the egg mixture and gently fold the two together until blended.
4. Heat one tablespoon coconut oil in a large griddle over medium heat. Once hot, spoon 2-3 tablespoons per pancake and cook for 3 minutes on the first side, then flip and cook for another 2-3 minutes on the other side. Repeat this process with remaining coconut oil and pancake batter.
5. To serve, stack 2-3 pancakes per serving and top with sliced bananas, chopped pecans, and a drizzle of maple syrup, if desired.
Oven Puffy Pancake
Try this
easy oven pancake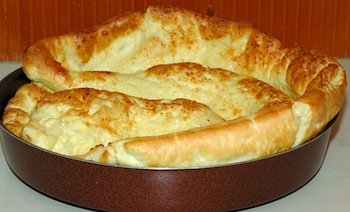 Here is a recipe for a
Homemade Pancake Mix
to stock your pantry with.
Purple Blueberry Pancakes
Ingredients:
1 Cup flour
1 large egg
1 Cup milk
2 T. melted butter
1 T. sugar
2 tsp. baking powder
1/2 tsp salt
1/8 tsp cinnamon
1/8 tsp allspice
1/8 tsp ground cloves
1/2 Cup blueberries
1/8 tsp purple liquid food coloring
Directions
:
Prepare batter: Add milk, melted butter and egg to a large mixing bowl and mix until well combined. Add sugar, flour, baking powder, spices, and salt. Stir to combine. Mix in the food coloring. If it is not the color you desire, add 1 to 2 additional drops until you achieve your desired color. Gently fold in the blueberries. Let rest 10 minutes. Preheat skillet or griddle over medium heat. Add one tablespoon of butter. Once butter is melted and hot, ladle approximately 1/4 cup per pancake and cook for 3 minutes on the first side or until the edges look slightly dry and bubbles begin to form in the middle, then flip and cook for another 1 – 2 minutes on 2nd side. Remove to a platter and keep warm. Add additional butter if necessary. Repeat this process until all the batter has been used.
Easy Spreads or Pancake Toppings
Here are
ideas on spreads
to add to your easy pancake recipes.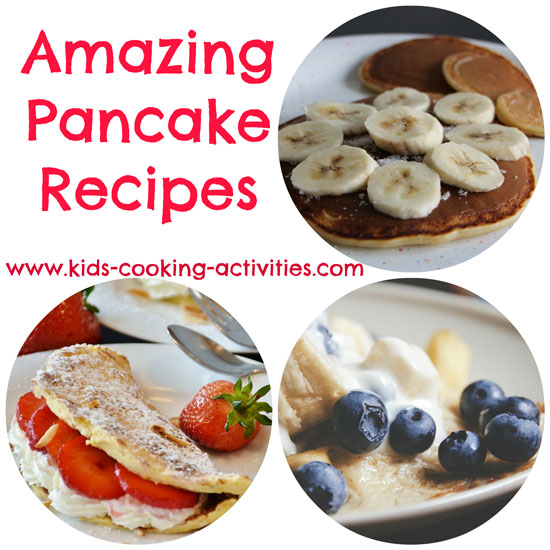 Homemade Cinnamon Shaker

1/2 Cup brown sugar
1 teaspoon cinnamon

Mix sugar and cinnamon together and place in a shaker jar or plastic container. This is great sprinkled on homemade oatmeal too.





Cheese Filling.
I love this inside crepes. Stir 1 cup of cottage cheese or ricotta cheese with 1 teaspoon or more to your liking of sugar or honey. Stir until well blended.


Puree chopped fresh fruit, no need to add sugar. Or use sliced peaches, sliced pears or fresh berries for a spread or topping. Check out this pancake recipe idea to make a dinosaur pancake.


Honey Butter


1/2 Cup butter
1/4 Cup honey

Add butter and honey to small saucepan and stir together until butter is melted and mixture is well blended. You can also microwave in 30 second intervals.


Orange Butter
Try the honey butter recipe above and add 1-2 teaspoons orange juice.


Pineapple Sauce
I found this recipe in the cookbook More with Less. I recommend this cookbook for a lot of made from scratch recipes.
Melt 3 Tablespoons butter. Stir in 1 Cup crushed pineapple and 2 tablespoons brown sugar. Heat 5 minutes, stirring until clear and thickens. Great on pancakes or waffles.


Fruit flavored or plain yogurt topped with granola or chopped nuts. Another favorite of ours in crepes or waffles.


Decorate a pancake with fruit such as strawberries, melons, bananas, blueberries and chocolate chips.




Homemade Maple Syrup Recipe
¾ Cup White Sugar
¾ Cup Brown sugar
1 Cup corn syrup
1 Cups water
1 teaspoon maple extract
1 teaspoon vanilla extract
In large saucepan have kids take turns adding syrup ingredients. Start with white sugar, brown sugar, corn syrup and add water. Have an adult cook on the stove top stirring until sugar is dissolved about 10 minutes. While waiting for French toast and syrup to cook, prepare another recipe you have planned, decorate aprons, chef hats or play cooking games. When syrup is done cooking add in maple and vanilla extract. Allow to cool slightly.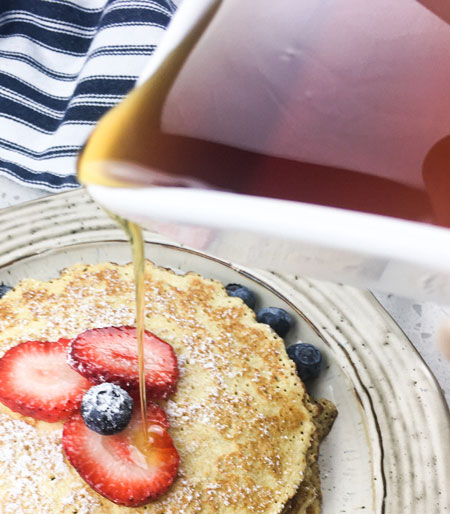 Strawberry Homemade Syrup Recipe
1 pint or 2 Cups fresh or frozen strawberries (thawed)
2 Cups sugar
¼ teaspoon lemon juice
Add strawberries to blender and puree. Pour into saucepan and add sugar and lemon juice. Stir together until sugar dissolves. Cook over medium heat about 5 minutes. With spoon skim foam off top and allow to cool. For the crepe kids cooking party you may choose to prepare this ahead of time or after the crepes are done cooking. It may be difficult to cook the crepes and the homemade syrup at the same time.
Chocolate Homemade Syrup Recipe
1 Cup cocoa powder
1 ½ Cups sugar
dash of salt
1 ½ Cups water
1 teaspoon vanilla
In saucepan add cocoa, sugar and salt together. Pour in water and vanilla and mix until well blended. Heat on the stove for 5 minutes on medium high until sugar dissolves and syrup thickens.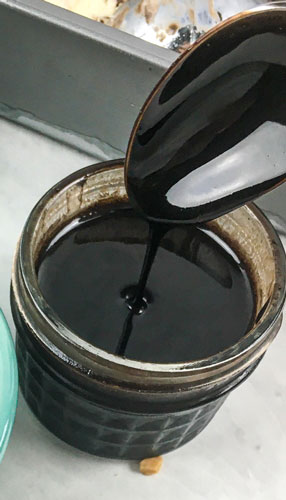 Check Out More Breakfast Recipes
Quiche
Omelets
Waffles
Smoothies
Breakfast Meals
Crepes
Oatmeal
Granola
Breakfast Burritos
25+ breakfast ideas
Share your Easy Breakfast Meals and Recipes
Submit your favorite kids recipe
Do you have a favorite recipe your kids love to make? Or a recipe your kids ask you to make again and again? Share it with us!
Follow Kids Cooking Activities