Apple Facts
Apple facts and general information about apples.
Kids Cooking Activities Teaching Materials
Make teaching easier with our activities and recipes compiled in theme sets and books with an easy to read format
Perfect for teaching!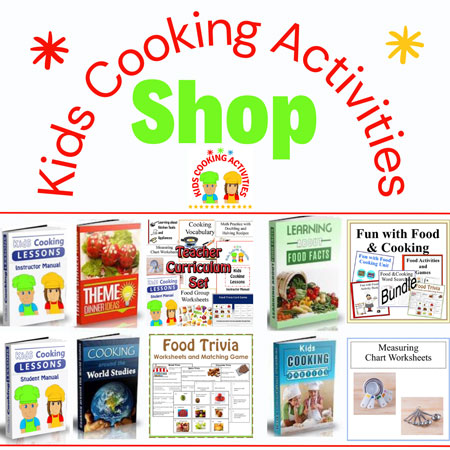 ~This post may contain affiliate links and I'll earn a small commission if you shop through them. There is no extra cost to you. This is how we help support our family and continue to bring you amazing content. To learn more see the
affiliates disclosure here.
~
Apples are Available in Season:
Depending on the variety of apples, they are harvested fresh August through September and October. They can be found in the grocery store throughout the year.
How do Apples Grow:
Apple Trees blossom in the spring and the blossom grows into an apple by autumn time.
What to Look For When Buying Apples:
Pick apples that are firm and well-colored. Avoid shriveled, bruised or soft apples.
Apple Storage Tips:
Store apples in the refrigerator. They can be stored at room temperature but will soften faster. Don't store with green vegetables and salad greens because of ethylene gas that apples give off can damage the vegetables. Apples can last up to 6 weeks in your fridge.
How to Cook Apples:
Wow! There are so many ways to cook apples. Shredded in quick breads, chopped in apple pies, whole in baked apples, eat as is!
Apple Nutrition Facts:
1 medium apple is one serving. Apples are high in fiber and Vitamin C. They also contain potassium, antioxidants, iron, calcium and Vitamin A.
Apple Recipes:
Apple Butter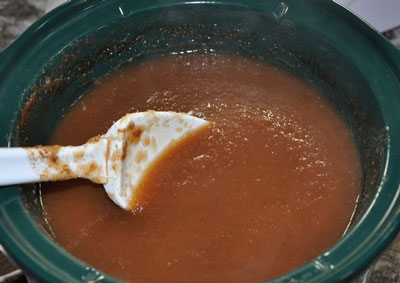 8 lbs. apples, peeled, cored, diced
1 1/2 Cups apple juice
2 teaspoons cinnamon
1/2 teaspoon cloves
1/4 teaspoon nutmeg
Add ingredients together in crock pot. Cook on low 10 hours or until deep brown color. If you'd like a smoother texture, run through the blender. Freeze in containers. You can also mix varieties of apples for your 8 lbs. Enjoy!
Easy Baked Apples Topped with Granola
Baked Candy Apples
4 apples
red hot candy pieces
mini marshmallows
Core apples half way. In a microwave safe dish, place cored apples. Place red hots and mini marshmallows into the center of each apple. Cover with plastic wrap. Cook 5-7 minutes. Turn apples and cook another 6 minutes. Let cool about 5 minutes. Drizzle each apple with caramel sauce if desired. Serve.
See another recipe for
stuffed apple
Apple Nachos
apples
caramel sauce
melted chocolate
chocolate chips
chopped nuts
Cut apples into slices and lined in a serving dish. Drizzle with caramel sauce. Then drizzle with chocolate sauce. Sprinkle top with nuts and chocolate chips. Let everyone take out a apple slice with all the toppings, like they would nachos. See more recipes for
caramel apples.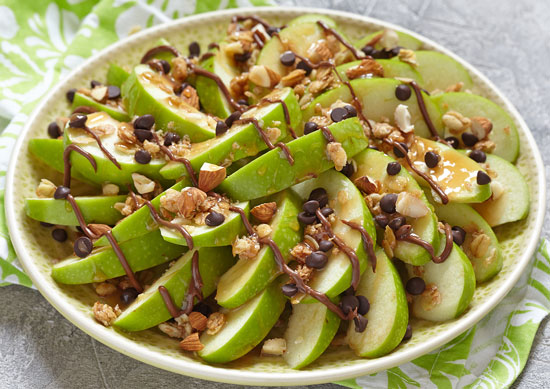 Sweet Apple Dessert
1 crisp Gala apple
1 tbsp of sweet dried cranberries
1 tbsp of brown sugar
2 tsp of margarine
1/2 C of granola
Directions
Cut the apple in half, cut out the core, scoop out the seeds and place the halves in separate bowls.
Sprinkle the cranberries evenly over both halves of the apple.
Sprinkle each apple with brown sugar.
Place 1 tsp of margarine onto each apple half.
Cover the bowls with plastic wrap leaving a little of the bowl uncovered so steam can be released.
Microwave on high for 3 minutes or until the apple is just beginning to soften.
Sprinkle with the granola before serving.
Makes 2 servings
Visit our seasonal cooking
apple recipes page
for more ideas.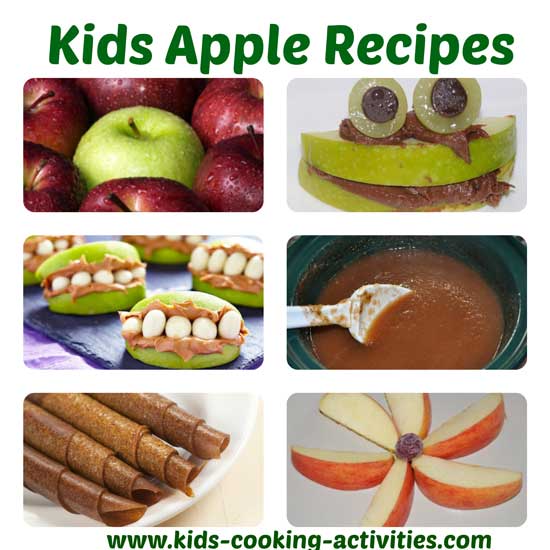 Kids Cooking Video: Fresh Applesauce
Share your food facts and recipes
Do you have a food facts or recipe to share?
Reader's Submitted Recipes
Click below to see contributions from other visitors to this page...

---
Related Food Facts Pages:
~
Apple
, ~
Apricot
, ~
Avocado
, ~
Banana
, ~
Berry
, ~
Cherry
, ~
Coconut
, ~
Cranberry
, ~
Dates
, ~
Figs
, ~
Grapefruit
, ~
Grapes
, ~
Kiwi
, ~
Lemon and Limes
, ~
Mango
, ~
Melon
, ~
Orange
, ~
Papaya
, ~
Peach
, ~
Pear
, ~
Pineapple
, ~
Plums
, ~
Tomato
, ~
Artichoke
, ~
Asparagus
, ~
Beets
, ~
Broccoli
, ~
Brussels Sprouts
, ~
Cabbage
, ~
Carrot
, ~
Cauliflower
, ~
Celery
, ~
Corn,
~
Cucumber
, ~
Eggplant
, ~
Garlic
, ~
Green Beans
, ~
Kale
, ~
Lettuce/Salad Greens,
~
Mushrooms,
~
Okra
, ~
Onion
, ~
Parsnip,
~
Peas,green
, ~
Peppers,
~
Potato
, ~
Radish
, ~
Rhubarb
, ~
Spinach
, ~
Summer Squash and Zucchini
, ~
Sweet Potato
, ~
Turnip
, ~
Winter Squash, including Pumpkins
, ~
Beans
, ~
Eggs
, ~
Nuts
, ~
Seeds
, ~
Meat
, ~
Dairy
, ~
Grains
---
Follow Kids Cooking Activities