Dinosaur Theme Party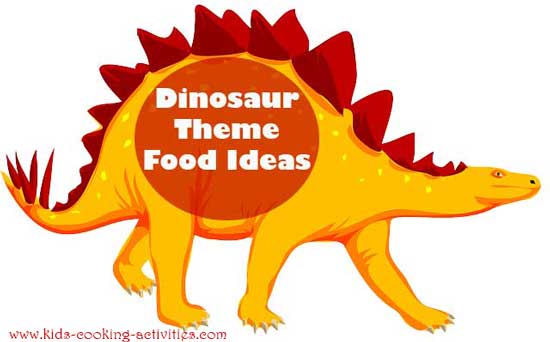 Ideas for a dinosaur theme party can move beyond a bag of dinosaur chicken nuggets or cold cut sandwiches cut out with a dinosaur cookie cutter. Kids will be able to use their own imagination in many of these dinosaur food ideas below. Before the party or dinner, have kids create a dinosaur menu and party invitation.
Kids Cooking Activities Teaching Materials
Make teaching easier with our activities and recipes compiled in theme sets and books with an easy to read format
Perfect for teaching!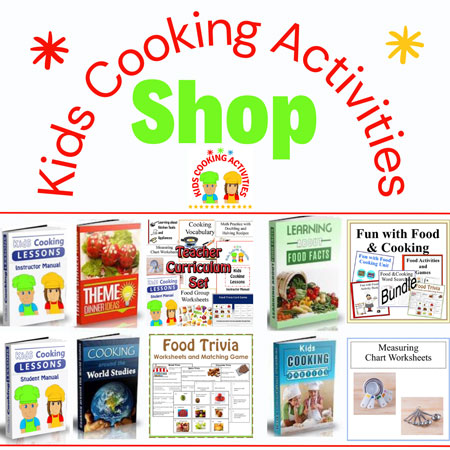 ~This post may contain affiliate links and I'll earn a small commission if you shop through them. There is no extra cost to you. This is how we help support our family and continue to bring you amazing content. To learn more see the
affiliates disclosure here.
~
Dinosaur Centerpiece Idea
Dinosaur Eggs
A simple dinosaur centerpiece is to place boiled eggs on a platter of salad greens. We added a few toy dinosaurs along with them.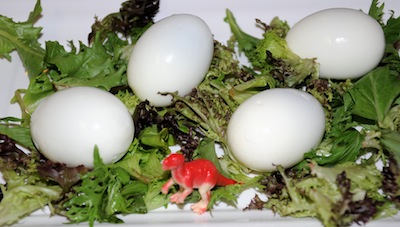 Dinosaur Theme Party Menu
Dinosaur Skeletons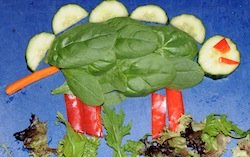 Arrange cut vegetables in various shapes and sizes. Let kids form their own dinosaur skeleton.
Vegetable Ideas could include:
carrot sticks and carrot circles
cucumber circles
olives
asparagus spears
lettuce and salad greens
celery leaves and sticks
tomato slices
water chestnuts
red and green pepper slices
green onions
Their imaginations will come up with a variety of different dinosaurs that they can eat when they are done creating.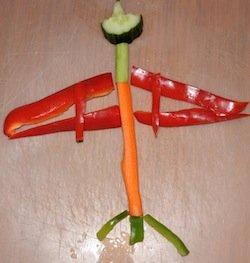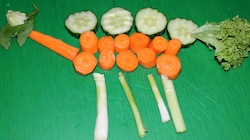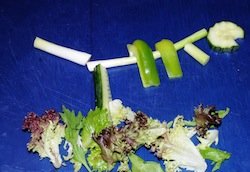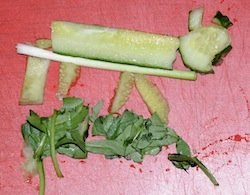 Dinosaur Fruit Pancakes
Create a dinosaur breakfast with pancakes and cut fruit like this one.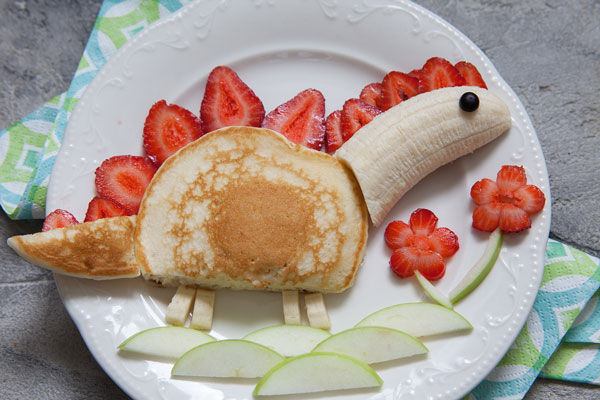 Dinosaur Wings AKA chicken wings

5 lbs. chicken wings
1/2 Cup brown sugar
1/4 Cup soy sauce
1/4 Cup water
1 Tablespoon Worcestershire sauce
1 teaspoon lemon juice
1 teaspoon ginger
1 clove garlic, minced
Mix all ingredients together in a ziploc baggie. Seal and marinate several hours. Pour wings onto a baking sheet and bake at 425 degrees for 30 minutes, drain excess liquid and continue to cook for 30 minutes.
Sticky Dinosaur Wings
5 lbs chicken wings
2 envelopes onion soup mix
1 Cup molasses
1/2 Cup soy sauce
1/2 Cup salsa
3 teaspoons hot sauce, or as much as desired
1/2 Cup lemon juice
2 garlic cloves
Stir all ingredients together and combine until chicken wings are well coated. Pour wings onto a baking sheet and bake at 425 degrees for 30 minutes, drain excess liquid and continue to cook for 30 minutes.

You can also serve Veggie sticks in small paper cups for the herbivores. (plant eaters)
---
Get all of our Theme Dinner Ideas in
one ebook
, free of ads and easier to use at parties and cooking activities with kids.
30 theme dinner ideas with recipe menu plans, decorating ideas and printable invitations all included in this 83 paged electronic book.
Theme Dinner Ideas
---
Dinosaur Theme Party Desserts
Dinosaur Fossil Cookies
You will need
clean
toy dinosaurs
and other toy creatures or shells for imprinting fossils into cookie dough.
Shortbread Cookie Dough
1 1/2 Cups flour
1/2 Cup powdered sugar
1 Cup softened butter
1 teaspoon vanilla
Blend all ingredients together. Form into a log shape and wrap in waxed paper. Place in freezer 20 minutes. Slice into circles.

Place circles on cookie sheet. Press a toy dinosaur into your cookie dough leaving a print behind.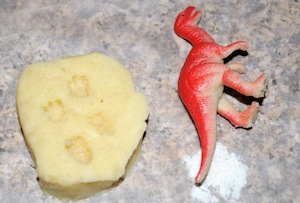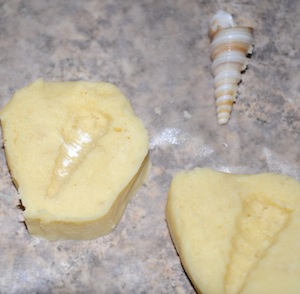 Chill 30 minutes then bake at 375 degrees for 10 minutes or until golden brown. After cookies come out of oven you can imprint with your cleaned toys again if you think it is needed.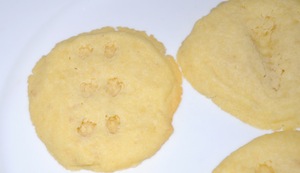 Dinosaur Cake
You can try your hand at shaping a dinosaur cake. Bake a 13x9 cake and 2 small loaf pans. Cut and shape the dinosaur body and use the small loafs for legs. Frost and decorate.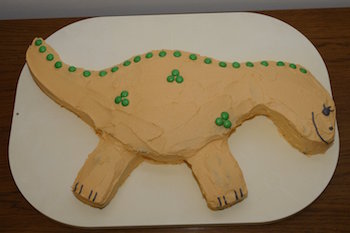 Dinosaur Party Ideas
Dinosaur Playdough
Make homemade playdough
and create your own dinosaurs.
Digging for Dinosaurs
Hide
toy dinosaurs
in a large tupperware box of brown rice. Have kids dig for dinosaurs.
Dinosaur Pinata
You can easily create a pinata shaped like an
dinosaur egg
by using a balloon and
paper mache.
We made a
pinata dinosaur
starting with a balloon and paper mache on toilet paper rolls for legs and other features made from cardboard. Then paint.
However, make sure you start this project at least a week before your dinosaur party!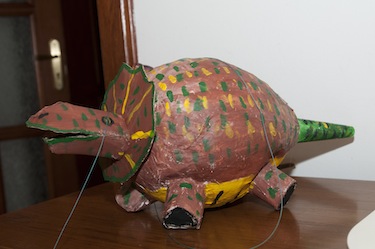 Need Dinosaur Party Supplies?
Here are some we like.
Dinosaur Bento Box
Make your own Theme Dinner Party page.
Have you put together your own Theme Dinner Party? Do you have a theme menu or theme dinner idea to share? Tell us about it and we will create your own theme dinner party page.
---
Related Theme Dinner Ideas:
~Theme Dinner Ideas, ~ A-Z, ~ Animals, ~ Backwards, ~ Dinosaur, ~ Disney, ~ Farms, ~Fiesta, ~ Flowers,~Fondue, ~Frogs, ~ Hawaiian Luau, ~Homes, ~Insects,~Italian, ~Mother Nature, ~Movie Theme, ~Mystery Party, ~ Owls, ~Paris, ~ Penguins, ~~Princess and Prince Dinner, ~ Princess Tea Party, ~Rainbow, ~Reindeer, ~Sleepover Party, ~Snakes, ~Snowman, ~ Space, ~Sports, ~Sunflowers, ~Teddy Bear Tea Party, ~Transportation, ~Under the Sea, ~Western Cowboy
---
Follow Kids Cooking Activities