Nut Facts
Nut facts and general information about nuts.
Kids Cooking Activities Teaching Materials
Make teaching easier with our activities and recipes compiled in theme sets and books with an easy to read format
Perfect for teaching!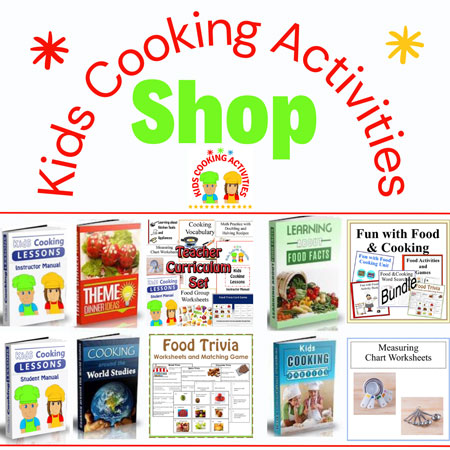 ~This post may contain affiliate links and I'll earn a small commission if you shop through them. There is no extra cost to you. This is how we help support our family and continue to bring you amazing content. To learn more see the
affiliates disclosure here.
~
Nuts are Available:
Traditionally nuts were only available in autumn time. (Just think of the squirrels gathering nuts in autumn time and storing up for the winter) Now they are available year round.
How Do Nuts Grow:
Peanuts grow on a plant that flowers on top but the peanuts actually grow under ground.
Walnuts, pecans, chestnuts, almonds and other nuts all grow on trees just like the pictures below.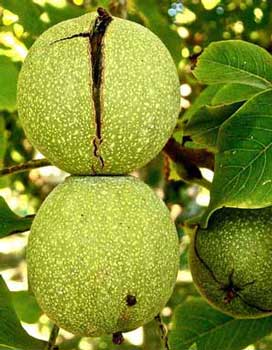 What to Look for When Buying Nuts:
You can buy nuts already packaged throughout the year. If you are buying nuts in their shells look for shells with no cracks or holes. They should have no rattling noise if shaken.
Nut Storage Tips:
Store nuts in a cool, dry place or in the freezer for longer storage.
How to Cook with Nuts:
Nuts are used as toppings. They are great in
breads
, toppings, cakes, casserole dishes and they are a great snack. They are available to us year round thanks to the conveniences of today but autumn time is their true peak season.
Nut Nutrition Facts:
Nuts are high in protein and fiber.
Nut Recipes:
Nutty Chicken Fingers
1/3 Cup cornflakes crumbs
½ Cup finely chopped pecans or other nut
1 Tablespoon dried parsley flakes
1 lb. chicken, cut in strips
2 Tablespoons milk
Combine cornflakes, pecans, and parsley together in bowl. Pour milk into flat bowl or pie plate. Dip chicken in milk and then coat in crumb mixture. Place in baking pan and bake at 400 degrees for 15 minutes until crispy and no longer pink in the middle.
Zucchini Bread
Bake
zucchini bread
and add chopped nuts to the batter before baking.
Sugared Nuts
1 Tablespoon, slightly beaten, large egg whites
4 Cups pecans halves, whole almonds or walnut halves
1/4 Cup sugar
2 teaspoons ground cinnamon
1/4 teaspoon ground nutmeg
1/4 teaspoon ground cloves
Beat egg white in small bowl. Toss egg whites with nuts to coat. Add sugar, cinnamon, nutmeg and cloves to the bowl. Toss to coat. Arrange nuts in cookie sheet, laying flat, and toast at 300 degrees for 30 minutes.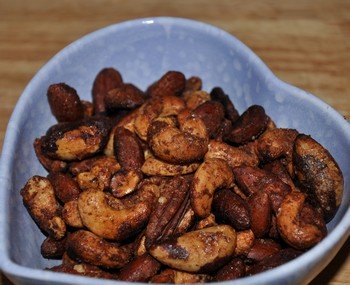 Homemade Peanut Butter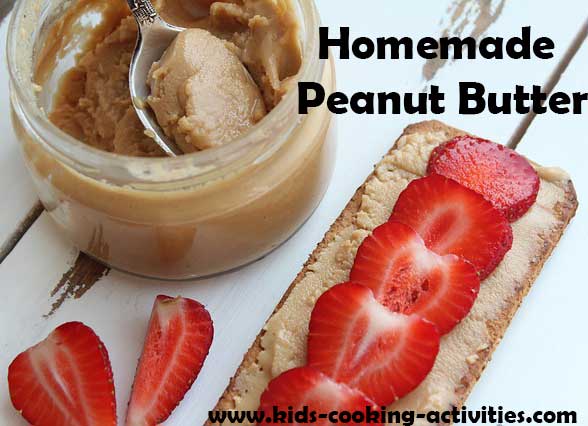 Making homemade peanut butter from scratch is easier than you may think. A few quick steps and you'll be ready for a quick healthy snack without the added sugar.
1 1/2 Cups salted dry roasted peanuts
1 tablespoon peanut oil
Add peanuts and oil to food processor or blender. Blend about 5 minutes.
Place in bowl or plastic container and cover. Chill in fridge and keep for about 2 weeks.
Nut Cooking Video: Spiced Nut Recipes
Share your food facts and recipes
Do you have a food facts or recipe to share?
Reader's Submitted Recipes
Click below to see contributions from other visitors to this page...

Making Homemade Almond Butter Not rated yet
Make your own almond butter for breakfast on an as-needed basis for almost half the cost of store-bought almond butter. It's perfect when spread over your …
---
Related Food Facts Pages:
~Apple, ~Apricot, ~Avocado, ~Banana, ~Berry, ~Cherry, ~Coconut, ~Cranberry, ~Dates, ~Figs, ~Grapefruit, ~Grapes, ~Kiwi, ~Lemon and Limes, ~Mango, ~Melon, ~Orange, ~Papaya, ~Peach, ~Pear, ~Pineapple, ~Plums, ~Tomato, ~Artichoke, ~Asparagus, ~Beets, ~Broccoli, ~ Brussels Sprouts, ~Cabbage, ~Carrot, ~Cauliflower, ~Celery, ~Corn, ~Cucumber, ~Eggplant, ~Garlic, ~Green Beans, ~Kale, ~Lettuce/Salad Greens, ~Mushrooms, ~Okra, ~Onion, ~Parsnip, ~Peas,green, ~Peppers, ~Potato, ~Radish, ~Rhubarb, ~Spinach, ~Summer Squash and Zucchini, ~Sweet Potato, ~ Turnip, ~ Winter Squash, including Pumpkins, ~Beans, ~Eggs, ~Nuts, ~Seeds, ~ Meat, ~ Dairy, ~ Grains
---
Follow Kids Cooking Activities