Simple Chicken Salad Recipe
This is my favorite simple chicken salad recipe. You can change it around by taking out celery, almonds or pickles, if your family prefers. This is how to make chicken salad.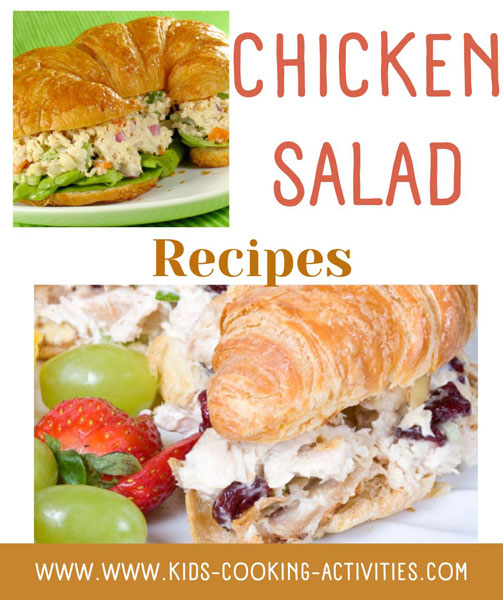 Kids Cooking Activities Teaching Materials
Make teaching easier with our activities and recipes compiled in theme sets and books with an easy to read format
Perfect for teaching!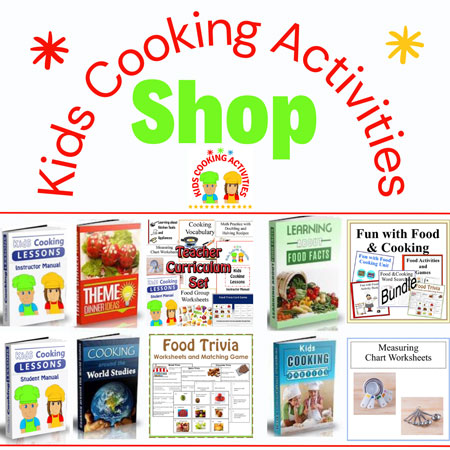 ~This post may contain affiliate links and I'll earn a small commission if you shop through them. There is no extra cost to you. This is how we help support our family and continue to bring you amazing content. To learn more see the
affiliates disclosure here.
~
Loaded Up Chicken Salad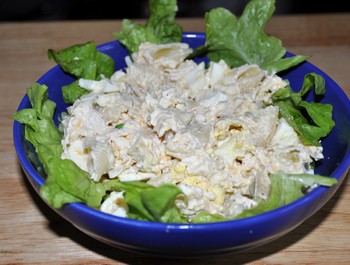 Ingredients:
3 cups chicken cooked and shredded or cubed
2 cups chopped celery
1 cup slivered or chopped almonds
4 hard boiled eggs
1 cup chopped pickles
1 Tablespoon lemon juice
1/4 teaspoon salt
1 1/4 Cup mayonnaise
1 Cup shredded cheddar cheese
In mixing bowl, add cooked chicken, celery, cheese, almonds, chopped eggs, and pickles. Stir ingredients together.
In separate bowl, add mayonnaise, salt, and lemon juice together. Mix into chicken mixture. Spread on croissant, hard roll or pita bread.

This recipe can be made ahead of time. It can also be served warmed up in the oven.

Kids can help by adding ingredients and chopping hard boiled eggs with a table knife.
More Chicken Salad Recipes
Fruit Chicken Salad
Ingredients:
4-5 chicken breasts cubed or shredded chicken
1 tbsp + 1 tsp dry Caribbean jerk seasoning, divided
1 tsp lime zest, grated
1/4 C lime juice
1 tbsp honey
1 (8 oz.) can pineapple chunks, drained
8 Cups of mixed salad greens
1/2 cantaloupe, diced
Directions:
Mix together seasoning, lime zest, lime juice and honey. Pour into sealable ziploc bag or container and marinate chicken several hours. Cook chicken and pour off excess marinade. In a serving bowl, mix chicken, pineapple, salad and cantaloupe.
Milena's Quick an' Simple Chicken Salad Recipe
by Milena Betencourt (Johannesburg)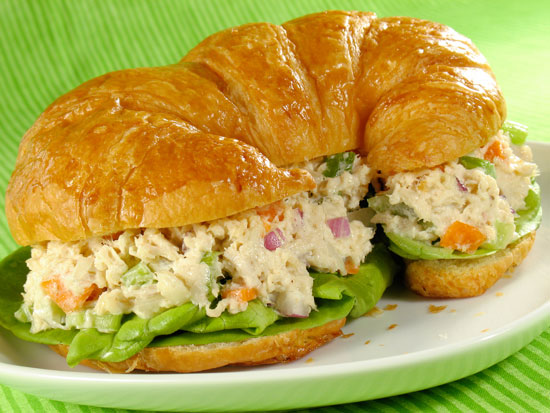 Quick an' Easy Salad
I love this salad because it has all the ingredients I like and its easy.
Ingredients:
2 cooked chicken breasts skinned and cut into thin strips.
1 bunch of baby spinach leaves torn into pieces.
225g (or just 2 potatoes per person) small potatoes cooked.
1 cup mayonnaise
1 cup sour cream
salt ( to taste)
freshly ground pepper (to taste)
half a cup cashew nuts (optional)
Directions :
Mix the chicken with the potatoes,spinach leaves,and cashew nuts.
Blend the sour cream with mayonnaise, salt, and pepper.
Mix the sauce in with the chicken mixture. Sprinkle a little bit of cashew nuts on top to decorate.Spoon into a salad bowl and pop into fridge to chill.
Spicy and Zesty Chicken Salad in a Bell Pepper Cup
by Jane Kyerematen
(Abington, PA)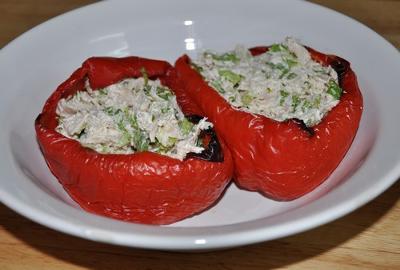 Well, I had family coming over and I needed to get some Hors d'oeuvres for them. So I quickly whipped up a simple chicken salad recipe with a twist!
Ingredients:
2 Skinless Boneless Chicken Breast Cubed
3 Jalapeno Pepper(Pickled and Finely Chopped)
1 Leave worth of Chopped Lettuce
3 Tablespoons Ranch Dressing
1/4 cup Mayonnaise
1 Teaspoon Dried Parsley Flakes
Salt 'n' Pepper
4 Red Bell Peppers
Directions:
1. Sear chicken on both sides in a skillet until fully cooked. Then lay aside.
2. Cut Tops off of Bell Peppers. Take seeds out and place on lightly greased baking sheet and roast for approximately 5 minutes.
3. Cube up chicken and take peppers out of the oven.
4. Combine jalapenos, chicken, lettuce, ranch dressing, mayo, parsley, salt 'n' pepper in a bowl until completely blended.
5. Stuff peppers with salad and well, ENJOY!!!!!!!!!!!!
Try a chicken salad twist.
Its easy and delicious!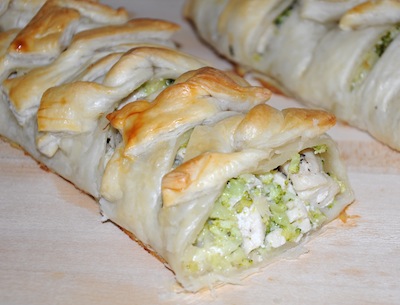 Try this
Chicken Strawberry Salad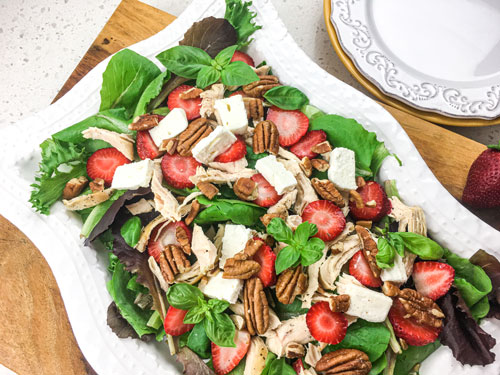 Homestyle Chicken Salad Recipe Video
Chicken Salad Croissant Kids Cooking Party
Create a
kids cooking party making chicken salad.

Share your easy and simple salad recipe?
Submit your favorite kids recipe
Do you have a favorite recipe your kids love to make? Or a recipe your kids ask you to make again and again? Share it with us!
Reader's Submitted Recipes
Click below to see contributions from other visitors to this page...

Chicken Salad
Ingredients: Half an onion chopped A whole chicken picked off the bones 2 teaspoons of sweet pickle relish 1/4 of a cup of mayo Half a cup of grapes …
---
Related Salad Recipe Pages:
~
Best Salad Recipes
, ~
Chicken Salad
, ~
Taco Salad
, ~
Tuna Salad
, ~
Egg Salad
, ~
Pasta Salads
, ~
Potato Salad
, ~
Carrot Salad
, ~
Cobb Salad
, ~
Chinese Salad
, ~
Fruit Salads
---
Follow Kids Cooking Activities