Cobb Salad Recipes
These Cobb salad recipes can be served as lunch or dinner. They also work well for bringing to a dinner party or potluck. You can change up your recipe how you like it also by adding something different or taking something out you don't like.
As the history of Cobb salad goes it is said to have been created by the Brown Derby Restaurant in Hollywood. While a chef was looking for a midnight snack he threw a little of this and that together until voila a Cobb salad was born.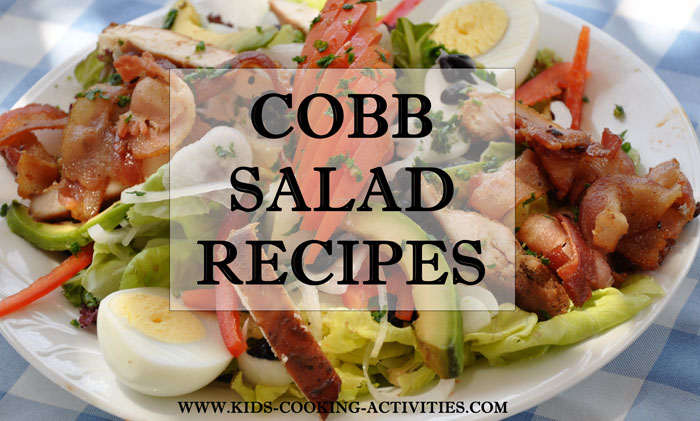 Please share your Cobb recipe too!
Kids Cooking Activities Teaching Materials
Make teaching easier with our activities and recipes compiled in theme sets and books with an easy to read format
Perfect for teaching!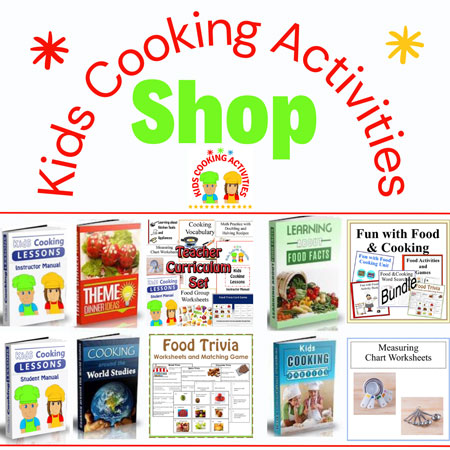 ~This post may contain affiliate links and I'll earn a small commission if you shop through them. There is no extra cost to you. This is how we help support our family and continue to bring you amazing content. To learn more see the
affiliates disclosure here.
~
Cobb Salad Ingredients
Ingredients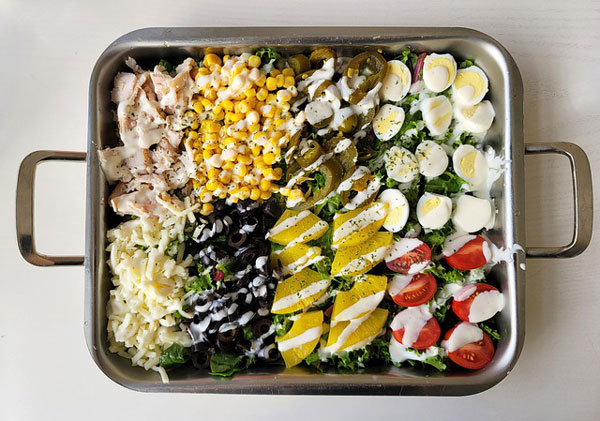 Romaine lettuce
Fresh baby spinach
Shredded cheddar cheese or other type
Chicken breasts, cooked and sliced
diced ham
diced turkey
cooked bacon
2 hard boiled eggs, sliced in quarters
avocado, cut in slices
tomatoes cut in quarters
In a serving bowl add lettuce and spinach to bottom. Sprinkle with cheese and arrange remaining ingredients attractively in your bowl.
For the
dressing try a homemade ranch dressing.
Grilled Chopped Salad with Prawns
by Tamar (Corona Del Mar, CA, USA)
2 heads Grilled Romaine Lettuce
1 ear Corn (husk and silk removed)
1 zucchini halved lengthwise
12 jumbo shrimp/prawns (peeled and deveined)
2 red peppers
dash garlic powder
2 ripe avocados (peeled and diced into 1/2 inch pieces)
1 bunch chopped cilantro
1 cup peeled & diced jicima
2 cups tortilla strips
1/2 cup roasted pepitas (out of shell)
1/2 cup crumbled cojita or feta cheese
Dressing:
3 tablespoons olive oil
2 tablespoons fresh lemon juice
1 tablespoon fresh lime juice
1 tablespoons agave or honey
sea salt and fresh ground pepper to taste
Lightly coat both heads of romaine, corn, zucchini, red peppers, and shrimp with olive oil, dust with garlic powder, and grill until done. Chop/dice the vegetables into 1/2" pieces.
Prepare the dressing by blending ingredients together thoroughly.
Set aside the shrimp and cheese.
In a large bowl, mix together the chopped grilled vegetables with the remaining ingredients and the dressing.
Divide the salad onto 4 plates, and top each salad with 3 jumbo shrimp. Sprinkle cheese on the tops of the salads.
Serve, pray, & enjoy!
Turkey and Avocado Salad
Ingredients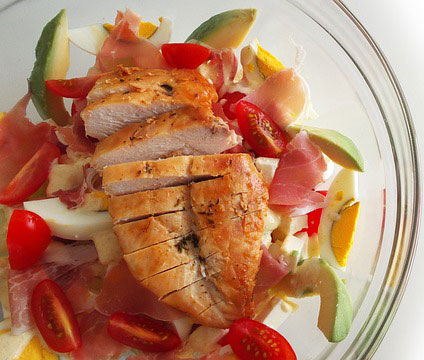 2 cups of cooked and sliced turkey
1 large avocado sliced
2 red apples, cored and sliced
Bunch of mixed salad leaves
2 apples, cored and cut in chunks
1/2 Cup pecans, chopped
4 oz. blue cheese, crumbled
Dressing:
3 tablespoons apple juice
3 tablespoons natural unflavored yogurt
1 teaspoon honey
1 teaspoon mustard
2 oz of toasted pine nuts for garnish
Place all the salad items in a large bowl and gently toss together. In a separate bowl mix all the dressing ingredients together except the pine nuts. Pour dressing over the salad and top with toasted pine nuts. To toast the pine nuts place a little olive oil or non stick spray in a non stick frying pan and toast the pine nuts for approximately 2 minutes.
Cobb Recipe Video
Do you have recipe to share?
Submit your favorite kids recipe
Do you have a favorite recipe your kids love to make? Or a recipe your kids ask you to make again and again? Share it with us!
---
Related Salad Recipe Pages:
~
Best Salad Recipes
, ~
Chicken Salad
, ~
Taco Salad
, ~
Tuna Salad
, ~
Egg Salad
, ~
Pasta Salads
, ~
Potato Salad
, ~
Carrot Salad
, ~
Cobb Salad
, ~
Chinese Salad
, ~
Fruit Salads
---
Follow Kids Cooking Activities