Tuna Salad Sandwich Recipes
These tuna salad sandwich recipes are great for kids lunches or dinners, picnics, road trips or outings when you have a cooler.
Please share your best tuna salad recipe, too!
Kids Cooking Activities Teaching Materials
Make teaching easier with our activities and recipes compiled in theme sets and books with an easy to read format
Perfect for teaching!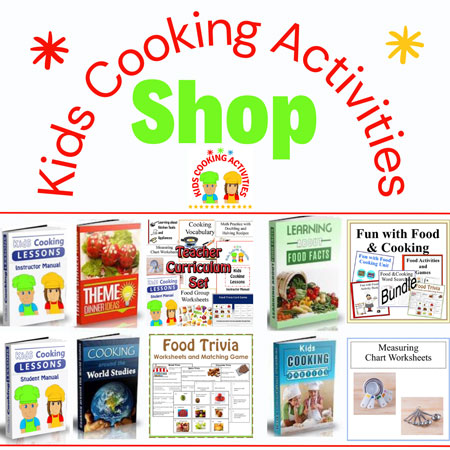 ~This post may contain affiliate links and I'll earn a small commission if you shop through them. There is no extra cost to you. This is how we help support our family and continue to bring you amazing content. To learn more see the
affiliates disclosure here.
~
Recipes for Tuna Salad Sandwich Recipes

Traditional Tuna Salad
1-2 cans of tuna (depending on how many you are feeding), drained
2-3 Tablespoons mayonnaise, as much as desired
chopped pickles
Stir all ingredients together and serve on bread or crackers. We like our bread toasted with our tuna salad sandwich.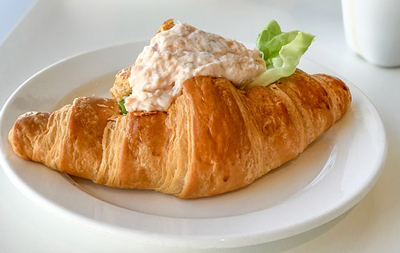 No Mayo Tuna Sandwich
1 can tuna, drained
1/3 package cream cheese
1/4 cup cheddar cheese, shredded
Bread
Mix together and place on toasted bread.
Apple and Tuna Sandwiches
by Deborah (Newtown, PA)
Combine a can of tuna, chunks of a tart apple (Granny Smith is good) and mayo. Combine and pack separately from pitas. After a hike or when you get to your picnic site spoon the mix into the pitas and enjoy!
Tuna Melt Wrap
Use a tortilla for your wrap. Layer cheese slices, tuna salad or plain tuna, lettuce and cucumber slices. Microwave 15-30 seconds to melt cheese slightly. Roll up and eat!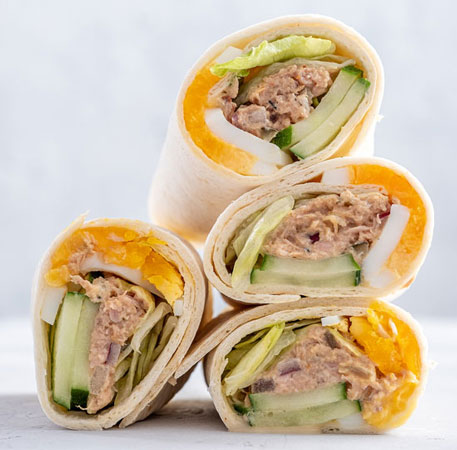 Egg Tuna Salad Sandwich
2 hard boiled eggs
1 can tuna, drained
2 Tablespoons mayonnaise, as much as desired
salt and pepper
Chop eggs and tuna together in bowl with a fork. Stir in mayonnaise and season with salt and pepper. Add to bread, roll or croissant.

Add chopped celery for an additional nutrition. If you chop it finely kids will be more likely to eat it, too.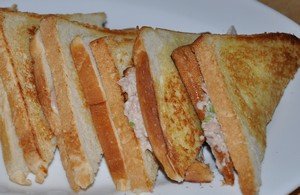 Tuna Turnovers
Ingredients:
2 cans tuna, drained and flaked
1/2 Cup shredded cheddar cheese
1/3 Cup mayonnaise
1/3 Cup chopped pickles
1/8-1/4 teaspoon lemon pepper seasoning
Refrigerated buttermilk biscuits
1 egg, beaten
1 1/4 Cups crushed potato chips
In bowl, combine tuna, cheese, mayo, pickles and seasoning. Flatten biscuit into 5 inch circle. Spoon 2 Tablespoons of tuna mixture onto one side of each circle. Fold dough over filling. Press edges with a fork to seal. Place egg and potato chips in separate bowls. Dip turnovers in egg, then coat with chips. Place on baking sheet and bake 375 for 18-20 minutes or until golden brown. Allow to cool, then place in freezer bags. They are perfect for lunches so you can freeze 1-2 in a bag and take it out for lunch. Heat in the microwave or oven.

Stuff an avocado with tuna salad!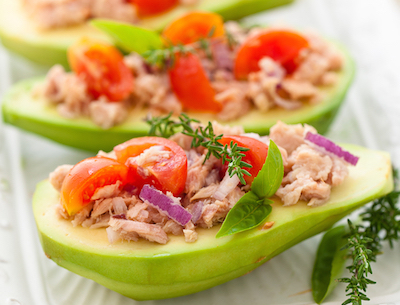 Find more
sandwich recipes here.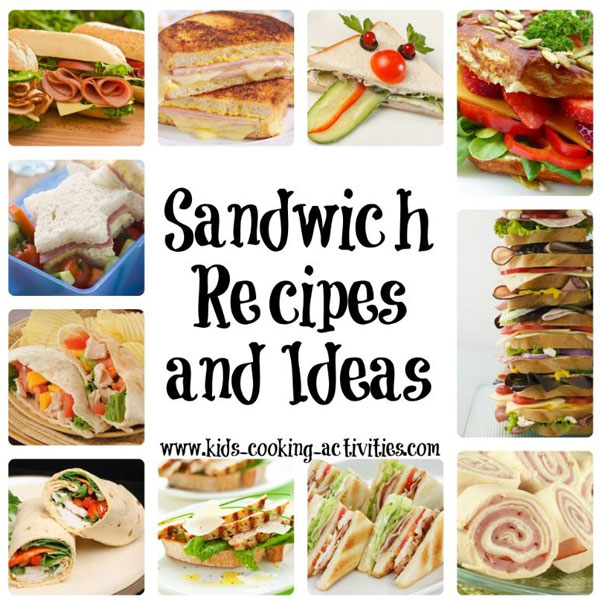 3 Tuna Salad Lunches
Submit your favorite kids recipe
Do you have a favorite recipe your kids love to make? Or a recipe your kids ask you to make again and again? Share it with us!
---
Related Salad Recipe Pages:
~
Best Salad Recipes
, ~
Chicken Salad
, ~
Taco Salad
, ~
Tuna Salad
, ~
Egg Salad
, ~
Pasta Salads
, ~
Potato Salad
, ~
Carrot Salad
, ~
Cobb Salad
, ~
Chinese Salad
, ~
Fruit Salads
---
Follow Kids Cooking Activities