How to Make Potato Salad
Want to learn how to make potato salad? There is no wrong way to creating this, here are some of our favorite recipes and tips on it.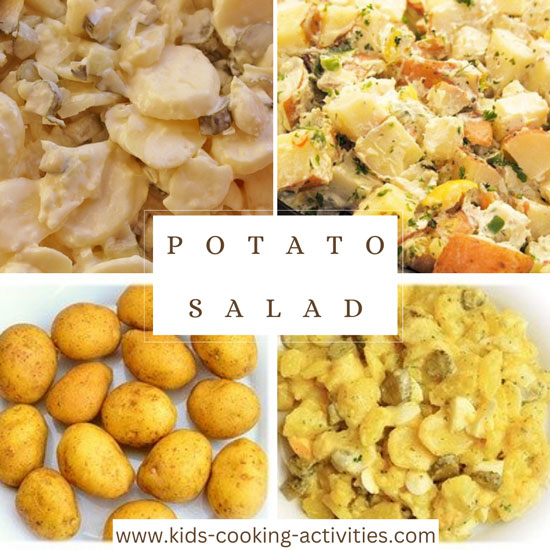 Please send in your favorite salad recipe below.
Kids Cooking Activities Teaching Materials
Make teaching easier with our activities and recipes compiled in theme sets and books with an easy to read format
Perfect for teaching!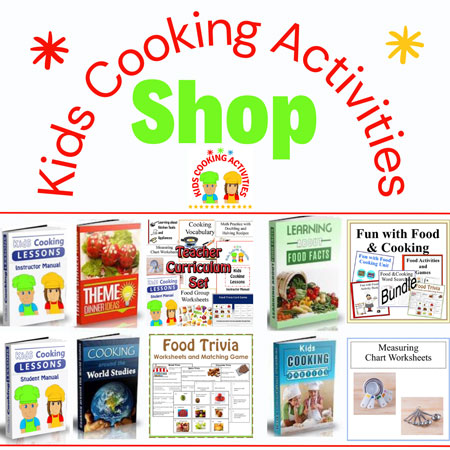 ~This post may contain affiliate links and I'll earn a small commission if you shop through them. There is no extra cost to you. This is how we help support our family and continue to bring you amazing content. To learn more see the
affiliates disclosure here.
~
Potato Salad Tips
Add toppings such as cooked, crumbled, bacon.
Allow potato salad to chill to marinade the flavor.
Chopped celery or chopped onion can be added or left out according to your preference.
Recipes for Potato Salad
Basic Potato Egg
4 medium potatoes, diced and cooked
2 boiled eggs, chopped
*optional ingredients could be chopped onion or chopped celery
Dressing:
1 Cup mayonnaise or miracle whip or mixture of both (whichever you prefer)
2 Tablespoons vinegar
2 Tablespoons mustard
1 teaspoon salt
1 teaspoon sugar
1/4 teaspoon pepper
In serving bowl add cooked potatoes and diced boiled eggs. Set aside. Add all dressing ingredients together and blend well. Stir dressing into potato egg salad and chill for several hours before serving. You can also sprinkle the top with paprika.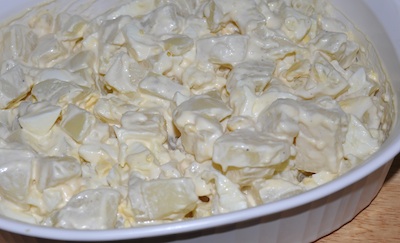 Red Potato Salad Recipe
2 lbs. red potatoes, diced and cooked
2 boiled eggs, chopped
Dressing:
1/2 Cup plain yogurt
1/4 Cup sour cream
Add diced, cooked potatoes and chopped eggs together in serving bowl. Blend yogurt and sour cream together and mix into potato salad.

This creamy dressing is a nice change from the mayonnaise type dressing. Try it on any type of potato salad.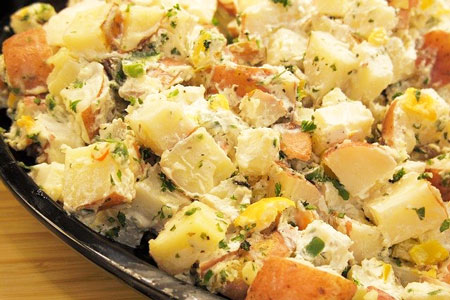 Polish Potato Dish
Try this recipe for
Polish Potato Salad
with a few added vegetables.
Sweet Potato Salad
3 sweet potatoes, diced and cooked
1 egg, hard-boiled and sliced
1/4 cup green onions, chopped
Dressing:
1/4 cup sugar
1/4 cup vinegar
Add potatoes, onions and egg in serving bowl. Mix sugar and vinegar together and drizzle over sweet potato salad. Chill.
Southern Potato Salad
Submit your favorite kids recipe
Do you have a favorite recipe your kids love to make? Or a recipe your kids ask you to make again and again? Share it with us!
---
Related Salad Recipe Pages:
~
Best Salad Recipes
, ~
Chicken Salad
, ~
Taco Salad
, ~
Tuna Salad
, ~
Egg Salad
, ~
Pasta Salads
, ~
Potato Salad
, ~
Carrot Salad
, ~
Cobb Salad
, ~
Chinese Salad
, ~
Fruit Salads
---
Follow Kids Cooking Activities