Cooking Tips For College Students
If you are eating on a tight budget, there are a few things that you can focus on without sacrificing your health. Whether it is using up leftovers to smart pantry stocking -Here are frugal tips for college
Cooking in College
Kids Cooking Activities Teaching Materials
Make teaching easier with our activities and recipes compiled in theme sets and books with an easy to read format
Perfect for teaching!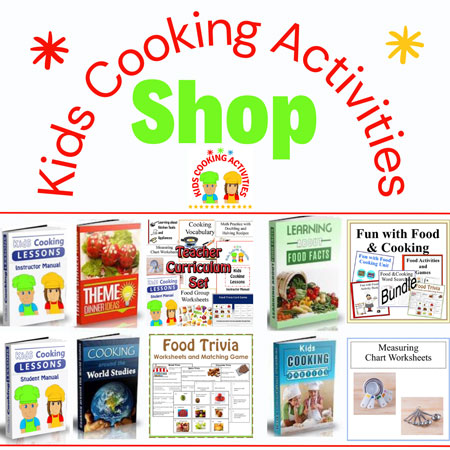 ~This post may contain affiliate links and I'll earn a small commission if you shop through them. There is no extra cost to you. This is how we help support our family and continue to bring you amazing content. To learn more see the
affiliates disclosure here.
~
7 Eating Frugally Ideas for College Students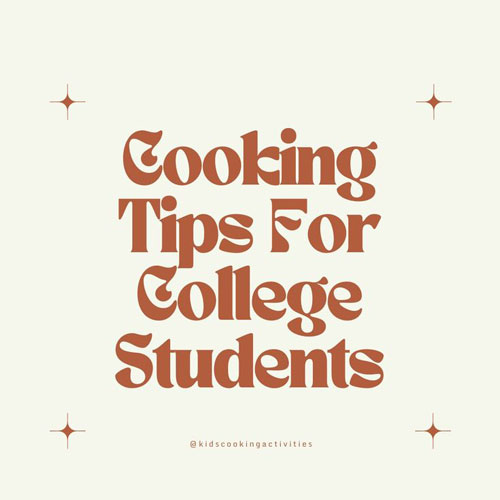 Check your Dorm Kitchen:
Many universities today are apartment-style living quarters that are well equipped with modern cooking facilities. While such quarters have well-equipped built-in kitchens, college student's resources are usually limited. It's totally different when you cook in your mom's kitchen than on your own.
Equipment Essentials:
Always
stock up the basics
: a plate, silverware, bowls, and a can opener. If you can access a kitchen, also get a good knife -a steak knife or even a chef's knife -and a big pot. If you lack bowls for mixing, you can use a large pot to mix the ingredients.
Keep Cooking Basics on Hand:
Keep some of your favorite foods
on hand to avoid late night fast food visits. Canned products are great -especially canned beans -as they always works well in microwaves. Supplement the canned goods with rice and you've got a good meal. Always stock your pantry with salt and pepper, and other seasonings, such as Cajun mix, to keep your meals interesting.
Also
remember to always stock the basic starches
, such as pastas, rice and even potatoes as they keep for longer time. You can always make something with these starches plus a few fresh and canned veggies. It's good to learn to substitute especially if carrying or getting supplies is a problem. For example, you can purchase bouillon cubes instead of canned stock.
Shop smartly to save:
Your budget will be tapped out after paying for tuition and purchasing textbooks. While fast foods might seem cheaper and time saving, it's more economical and even healthier to prepare your own meals. Always buy in bulk the items that are on sale especially if it's something you love eating regularly. A great cost-cutting tip: even when cooking for yourself, it doesn't mean that you reduce a recipe for one serving.
Make the full recipe and have the leftovers for lunch
the following day or even freeze it for a future dinner.
Take advantage of
coupons
alongside sales if possible to save as much money as you can. You may find generic or store brand items best for you, so do some math before choosing.
See more
grocery shopping tips here.
Avoid the Freshman Fifteen:
While it might seem easy to eat pizza for every meal and very tempting to chow down on fries and ice cream, it doesn't mean you should. You should
get some variety in your daily diet
. Ensure your diet includes all the essential nutrients: eat your vegetables and some fruits to stay healthy.
Avoid wasting food:
Make use of all your leftovers
. You can use leftovers for lunches, for the next dinner, or to create another recipe. For instance, use leftover meat and veggies with a few new ingredients to make an excellent casserole or soup. If you can't eat something you prepared right away, freeze it for later use.
Draw a budget:
Make a
reasonable budget for food
, and always try to stay within the set budget. Set aside a few coins on a weekly basis for
stocking your pantry
as well.
$5 Meal Cookbook
Frugal Tips
Substitute ground turkey with ground beef
Plan your meals around what is on sale each week
Buy extra of what is on sale to stock up your pantry
Eat less meat each week and add more beans or lentils in your weekly meals
Use your leftovers in meals the next day
25 Frugal Meal Ideas
Chili
Spaghetti
Rice and Chicken Casserole
Chili Mac Supper
Lo Mein noodles
Baked Ziti
Twice Baked Potatoes
Sloppy Joes
Bean Soup
Tuna Casserole
Beef Barley Soup
Pork Fried Rice
Frugal Lunches
Macaroni and Cheese
Tomato Soup
Cream of Broccoli Soup
Easy Goulash
Chicken noodle soup
Taco Salad
Egg Salad
Egg Drop Soup
Spring Rolls
Frugal Breakfast
Omelets or scrambled eggs
French Toast
Quiche
Homemade Oatmeal
See more Low Cost Recipes Here.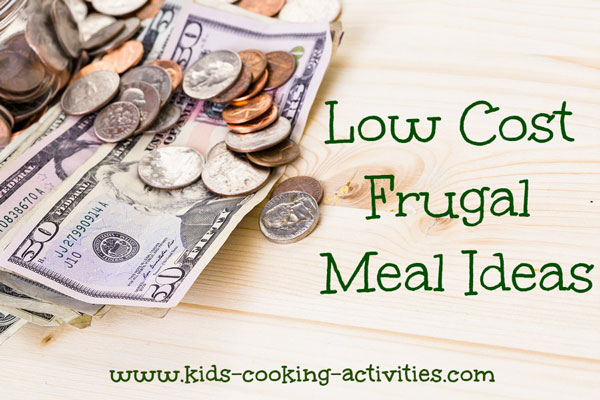 Follow Kids Cooking Activities