Teddy Bear Tea Party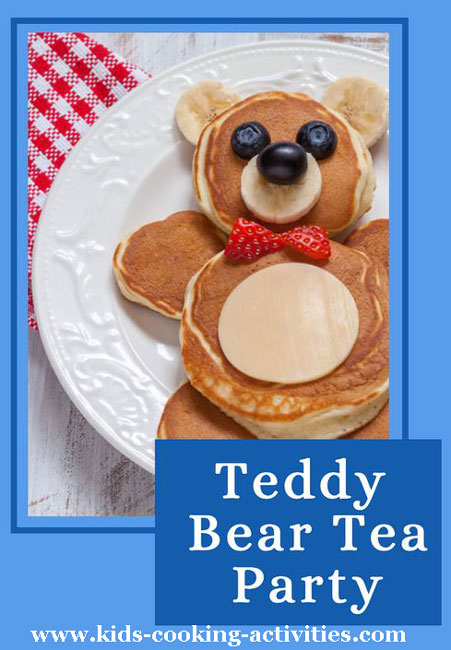 Even if you don't drink tea this teddy bear tea party can be a fun theme dinner idea. Include in your invitation an invitation for a teddy bear or stuffed friend to join the party.
Go ahead and wash those small play dishes and set the table with them. Don't forget to use a fun drink and serve in tea cups and serve fancy little sandwiches and mini size desserts.
Kids Cooking Activities Teaching Materials
Make teaching easier with our activities and recipes compiled in theme sets and books with an easy to read format
Perfect for teaching!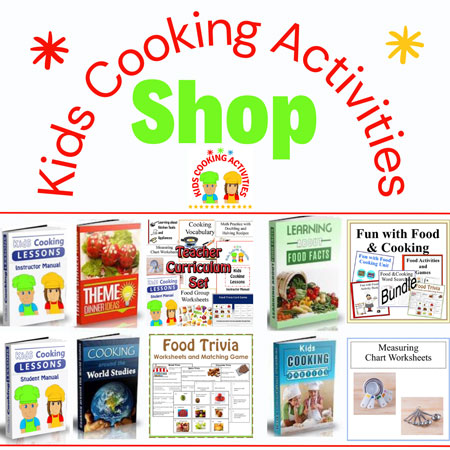 ~This post may contain affiliate links and I'll earn a small commission if you shop through them. There is no extra cost to you. This is how we help support our family and continue to bring you amazing content. To learn more see the
affiliates disclosure here.
~
Dinner Party Centerpiece
Place a toy tea pot or a decorative tea pot in the center.
Or make a display of small teddy bears in the middle of the table.
Tea Party Recipes
See our
Mother's Day Recipes
for
tea party,
recipes including pretend tea, drinks, salad and sandwich recipes. Also visit our
Princess tea party
for more recipes.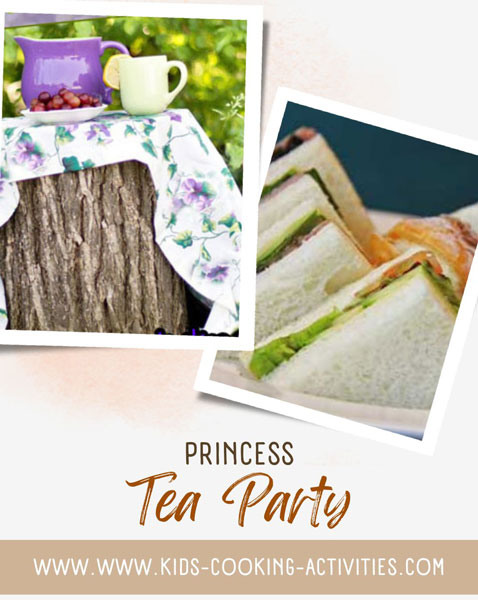 Teddy Bear Tea Party Menu Ideas
Teddy Bear Cheese Biscuits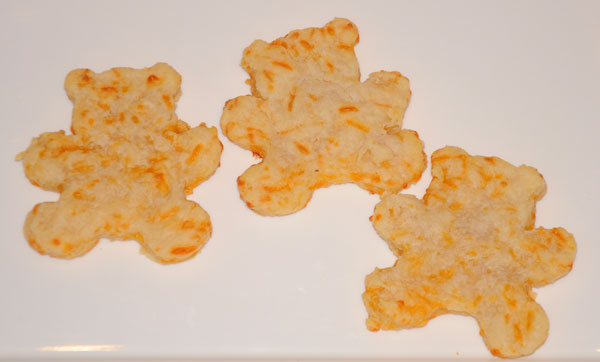 1 cup margarine, melted
1 cup shredded sharp Cheddar cheese
1 cup sour cream
2 cups flour
1/2 teaspoon baking powder
Add ingredients together in a mixer and blend well. Pat into a ball and roll dough out flat. Cut out biscuits with teddy bear cookie cutters or other shaped cookie cutters. Bake at 350 degrees for 15-20 minutes until golden brown.
A perfect appetizer, snack for this tea party, cat's eyes. Just call them teddy bear eyes instead.

Roll Up Sandwiches
by Marnie
Roll a piece of WW bread thin with a rolling pin or use a tortilla, spread with cream cheese or butter or peanut butter - top with fresh fruit or veggies diced tiny or shredded or all fruit spread or nuts/seeds crushed or anything your child likes really - the variations are endless. Roll up and slice into cinnamon roll type slices. Serve as part of a tea party.

Teddy Bear Toast
Spread peanut butter on toast or bread and use cut bananas, grapes, and dried fruit to make a bear face. This makes an easy snack for kids!
Pie Pops
pie dough
pie filling
egg beaten, brushing tops
Preheat oven to 375 F. Roll out pie dough and cut out circles with a biscuit cutter or round cookie cutter. Add a spoonful of filling to the middle, less is better. Insert a popsicle stick. Press edges together with a fork sealing shut. Place on baking sheet. With a pastry brush, brush beaten egg on top of each pie circle. Bake until golden brown.
For added detail you can add cut out shapes to the front of your pop before baking.
Fruit Kabob Straws
by DM
You will need:
Cut up fruit of choice, such as sliced bananas, watermelon or melon balls, peach chunks, grapes, etc.
straws or skewers
Thread your fruit onto a straw to form a kabob. You can use toothpicks or long skewers if you'd rather.

Peanut Butter and Jelly Sandwich Desserts
Try these mini
peanut butter and jelly desserts.

Bear Pancakes
Have fun with the bear theme by creating bear pancakes with different size pancakes and fruit.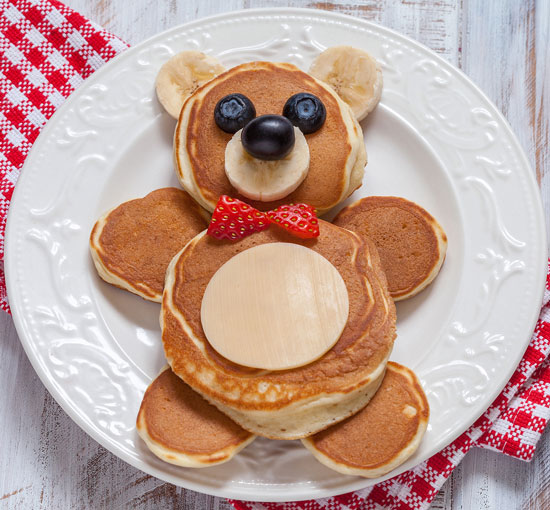 Rice Bear
Create
rice balls
into bear body shapes. These are fun to make for lunches and parties.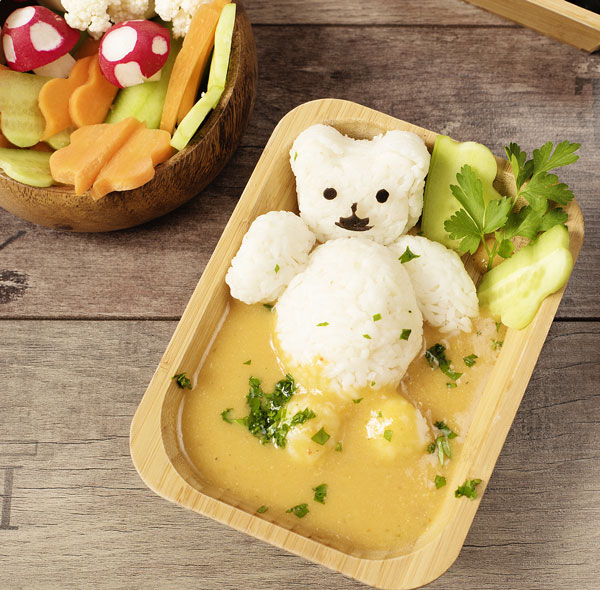 Using the Teddy Bear Cake Pan
You can prepare a fun teddy bear cake by using a teddy bear cake pan. First, prepare your cake batter. It is suggested to use a pound cake recipe mixed with a cake mix. Grease your bear cake pan and add clips along edges to seal. Place in on a cookie sheet or large pan.
Add 6 cups of batter into your clipped together pan. Place baking core inside and fill with batter.

Bake for about 45 minutes-1 hour. Allow to cool in pan for 15 minutes. Take off clips and remove top cover. After 30 minutes take pan off the bear and allow to cool standing on a cooling rack.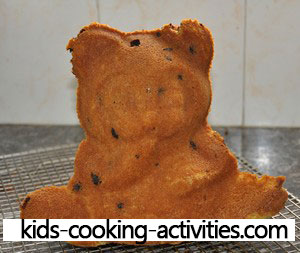 Add a crumb coat of frosting to your bear and allow to dry several hours.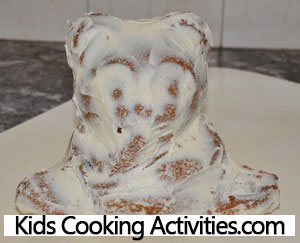 Your cake is ready to decorate!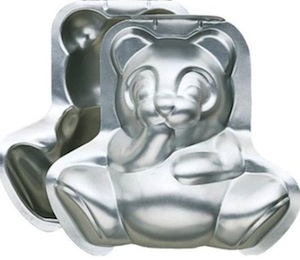 Wilton Stand-Up Cuddly Bear Pan Set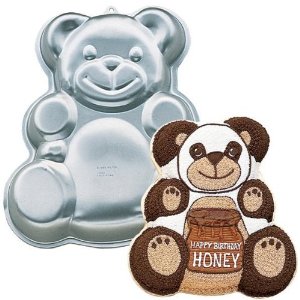 Wilton makes a teddy bear cake pan that is a little easier to work with. This one isn't a stand up and it is fun to decorate for different occasions, birthdays, showers, etc.
---
Get all of our Theme Dinner Ideas in
one ebook
, free of ads and easier to use at parties and cooking activities with kids.
30 theme dinner ideas with recipe menu plans, decorating ideas and printable invitations all included in this 83 paged electronic book.
Theme Dinner Ideas
---
Teddy Bear Towel Craft
Make your own Theme Dinner Party page.
Have you put together your own Theme Dinner Party? Do you have a theme menu or theme dinner idea to share? Tell us about it and we will create your own theme dinner party page.
Reader's Submitted Recipes and Ideas
Click below to see contributions from other visitors to this page...

Valentine Raspberry Drink Not rated yet
Ingredients 1/2 tub Raspberry Ice Drink Mix 1 C cranberry juice, cold 1 C water, cold 2 C sparkling water Frozen raspberries or sliced lemons …
---
Related Theme Dinner Ideas:
~
Theme Dinner Ideas
, ~
A-Z
, ~
Animals
, ~
Backwards
, ~
Dinosaur
, ~
Disney
, ~
Farms
, ~
Fiesta
, ~
Flowers
,~
Fondue
, ~
Frogs
, ~
Hawaiian Luau
, ~
Homes
, ~
Insects
,~
Italian
, ~
Mother Nature
, ~
Movie Theme
, ~
Mystery Party
, ~
Owls
, ~
Paris
, ~
Penguins
, ~
~Princess and Prince Dinner
, ~
Princess Tea Party
, ~
Rainbow
, ~
Reindeer
, ~
Sleepover Party
, ~
Snakes
, ~
Snowman
, ~
Space
, ~
Sports
, ~
Sunflowers
, ~
Teddy Bear Tea Party
, ~
Transportation
, ~
Under the Sea
, ~
Western Cowboy
---
Follow Kids Cooking Activities