Rhubarb Facts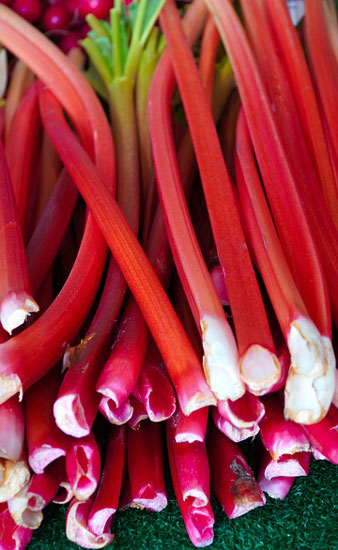 Rhubarb facts and general information about rhubarb.
Kids Cooking Activities Teaching Materials
Make teaching easier with our activities and recipes compiled in theme sets and books with an easy to read format
Perfect for teaching!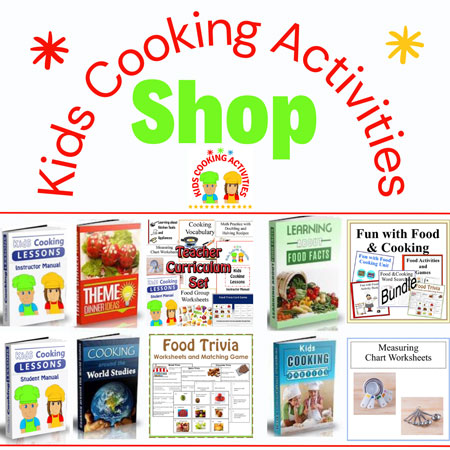 ~This post may contain affiliate links and I'll earn a small commission if you shop through them. There is no extra cost to you. This is how we help support our family and continue to bring you amazing content. To learn more see the
affiliates disclosure here.
~
Rhubarb is Available:
In springtime April-May
How Does Rhubarb Grow:
Rhubarb grows on a plant. It is a perennial which means it keeps growing year after year.
What to Look for When Buying Rhubarb:
Rhubarb plants look like deep red celery. They should be thick and crisp with a deep red color.
Rhubarb Storage Tips:
Store in plastic bags in the fridge.
How to Cook with Rhubarb:
Rhubarb is cooked with sugar because of its tart acidic taste. It is used in pies, jams, and fruit desserts.
Nutrition Facts:
Rhubarb has potassium and a small amount of Vitamin C.
Rhubarb Recipes:
Strawberry Rhubarb Pie
2 Cups sugar
2/3 Cup flour
3 Cups 1/2 -inch pieces rhubarb
3 Cups sliced strawberries
Prepared pie crust
1 Tablespoon butter or stick margarine, if desired
In mixing bowl, add sugar and flour. Add rhubarb and strawberries. Stir together. Prepare pie crust in pie plate. Pour rhubarb mixture into pie crust. Top with butter. Cover with top crust and add slits. Bake at 425 degrees for 50 minutes or until crust is golden and pie is bubbly.
Rhubarb Custard
submitted by a reader
Cook the rhubarb in water with sugar and make custard or pudding (From a packet) It is nice also with a pinch of salt.
Everything you need to know 101
Share your food facts and recipes
Do you have a food facts or recipe to share?
Reader's Submitted Recipes
Click below to see contributions from other visitors to this page...

Rhubarb Pizza Not rated yet
1/4 c. sugar 1 c. flour 1 t. baking powder 1/4 t. salt 2 T. butter 1 egg 2 T. milk 3 cups rhubarb, chopped into 1 inch pieces 1 3-oz. pkg. strawberry …
---
Related Food Facts Pages:
~Apple, ~Apricot, ~Avocado, ~Banana, ~Berry, ~Cherry, ~Coconut, ~Cranberry, ~Dates, ~Figs, ~Grapefruit, ~Grapes, ~Kiwi, ~Lemon and Limes, ~Mango, ~Melon, ~Orange, ~Papaya, ~Peach, ~Pear, ~Pineapple, ~Plums, ~Tomato, ~Artichoke, ~Asparagus, ~Beets, ~Broccoli, ~ Brussels Sprouts, ~Cabbage, ~Carrot, ~Cauliflower, ~Celery, ~Corn, ~Cucumber, ~Eggplant, ~Garlic, ~Green Beans, ~Kale, ~Lettuce/Salad Greens, ~Mushrooms, ~Okra, ~Onion, ~Parsnip, ~Peas,green, ~Peppers, ~Potato, ~Radish, ~Rhubarb, ~Spinach, ~Summer Squash and Zucchini, ~Sweet Potato, ~ Turnip, ~ Winter Squash, including Pumpkins, ~Beans, ~Eggs, ~Nuts, ~Seeds, ~ Meat, ~ Dairy, ~ Grains
---
Follow Kids Cooking Activities